Deadline
September 30, 2023
Enter Now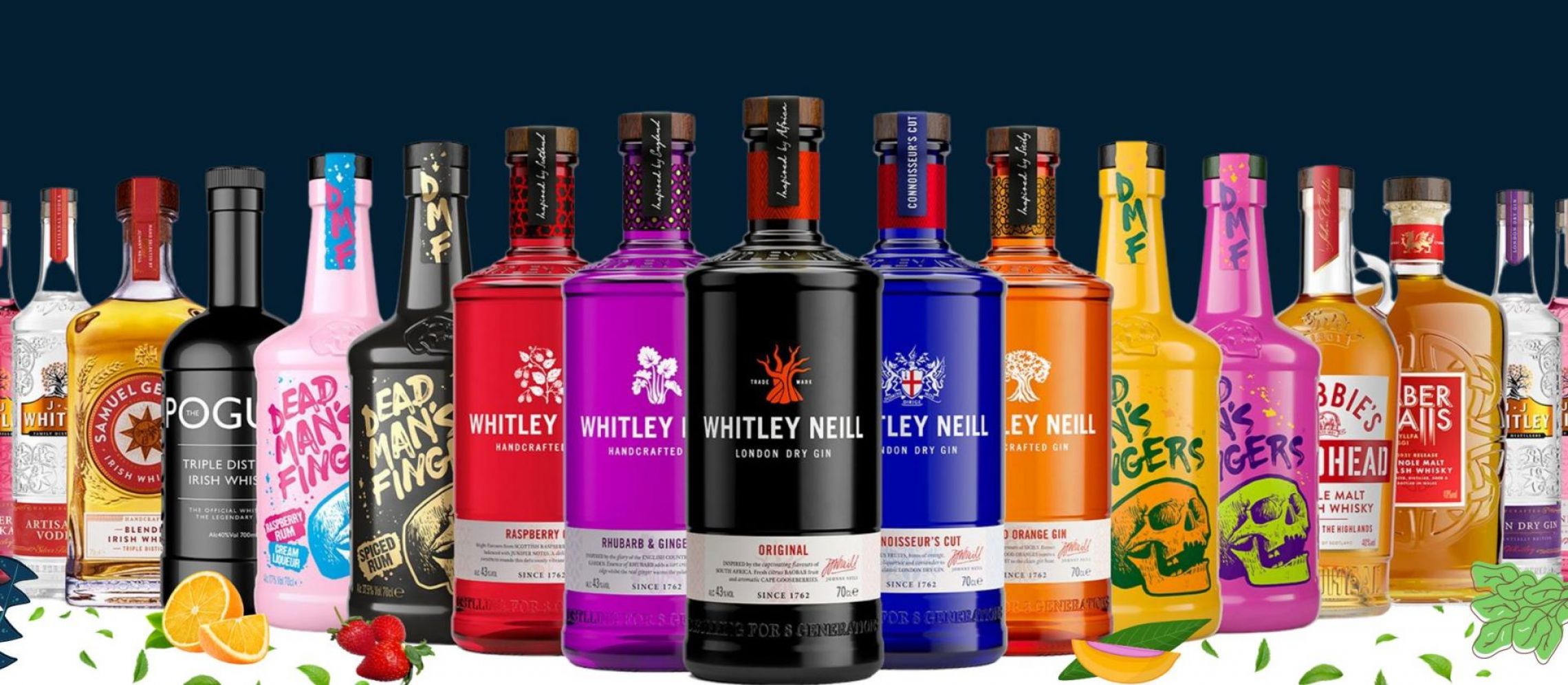 Halewood Artisanal Spirits take away more 15 medals at the London Spirits Competition 2022
Spirit of The Year, Vodka of The Year and more accolades are claimed by the stellar UK based distillery.
At the London Spirits Competition 2022, Halewood Artisanal Spirits impressed the panel of judges that recognised and rewarded more than 2000 spirits from over 30 countries as per their quality, value and packaging.
Halewood Artisanal Spirits is one of the UK's leading independent distillers. Still family-owned, Halewood's brands are distributed in 75 countries, with a turnover of £400m+ and 950+ employees. With a global footprint, Halewood's core markets are the United Kingdom, South Africa, Russia, Canada, Australia, China and Germany.
The business has proven its ability to develop, acquire, incubate, and grow high-quality spirits brands globally due to its well-invested end-to-end UK platform, including distilling, distribution, marketing, traditional retailing and ecommerce.
15 Halewood Artisian Spirits' including Whisky, Vodka and Gin won medals across - Gold, Silver and Bronze, aside from 3 Category winners.
At 93 points, stands the Gold Winner - Samuel Gelston's Single Malt Irish Whiskey.
This led way to category winning awards like
Best in show by Country (Irish)
Spirit of the Year 2022.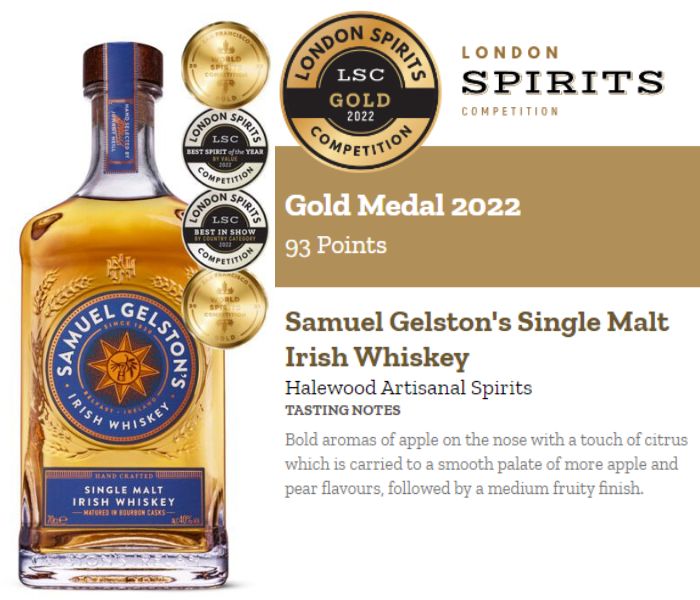 Classic style of triple distilled Irish Malt aged in first fill ex-bourbon casks that exemplifies Samuel Gelston's distinctive flavour profile.
TASTING NOTES -
Bold aromas of apple on the nose with a touch of citrus which is carried to a smooth palate of more apple and pear flavours, followed by a medium fruity finish.
Another 93 point scorer, and Gold Medal winner is Vestal Vodka, also awarded VODKA OF THE YEAR 2022.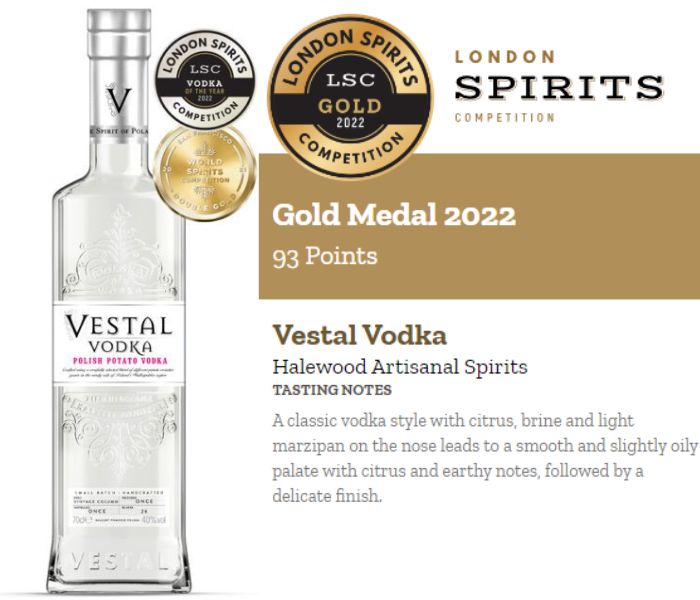 Vestal Vodka is a craft, 'batch produced' Polish vodka with a simple yet unique approach to vodka production.Made from Innovator, Asterix and Russet Burbank varieties of potato, Vestal Polish Potato Vodka is a balanced vodka that has been filtered once and is made specially as a base for cocktails and all other drinks that include vodka. We suggest you try this in a Vestal vodka martini.
It is a classic vodka style with citrus, brine and light marzipan on the nose leads to a smooth and slightly oily palate with citrus and earthy notes, followed by a delicate finish.
The third spirit in line with 93 points is the Whitley Neill Connoisseur's Cut Gin.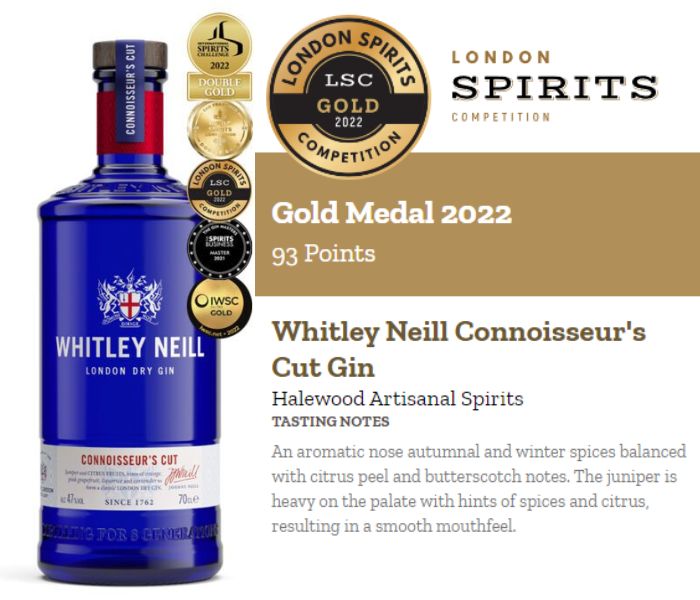 Inspired by London, Johnny Neill has focused and refined the most beautiful of Traditional London Dry Gins, letting the rich juniper and citrus notes hero. This Connoisseur's Cut Gin pays homage to the Whitley Neill family and its distilling beginnings. Bottled at a higher ABV of 47% to ensure all botanicals shine and carefully cutting the gin at precisely the right point, provides us with an exceptional Gin to add to the Whitley Neill Gin range.
What to expect?
An aromatic nose autumnal and winter spices balanced with citrus peel and butterscotch notes. The juniper is heavy on the palate with hints of spices and citrus, resulting in a smooth mouthfeel.
The next Gold Medal Winner is Whitley Neill London Dry Gin at 90 points.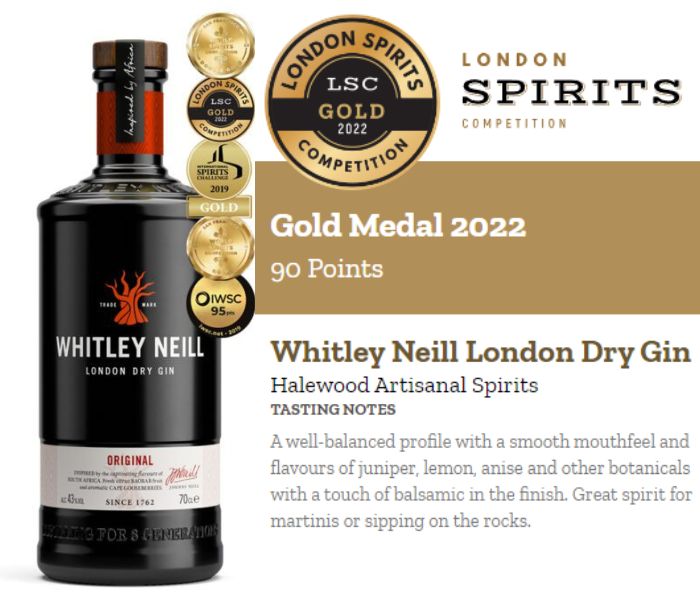 Whitley Neill London Dry Gin is slightly softer and much smoother than traditional Gins, with rich notes of juniper and citrus, pot pourri and exotic spices.
The finish is a long one, with a subtle fade of herbs, cocoa and candied lemon peels, while the nose is both citrus-sweet and peppery, with a distinctive floral aroma.
[[relatedPurchasesItems-39]]
This multi award winner and star gin at Halewood Artisinal Spirits has a well-balanced profile with a smooth mouthfeel and flavours of juniper, lemon, anise and other botanicals with a touch of balsamic in the finish. Great spirit for martinis or sipping on the rocks.
To see more category winners at London Spirits Competition 2022, head to LondonSpiritsCompetition
Written by Stuti Khetan, Beverage Trade Network

The London Spirits Competition is now open for submissions. Register your spirits today to save BIG on super early bird pricing. Ship your samples later.