Deadline
September 30, 2023
Enter Now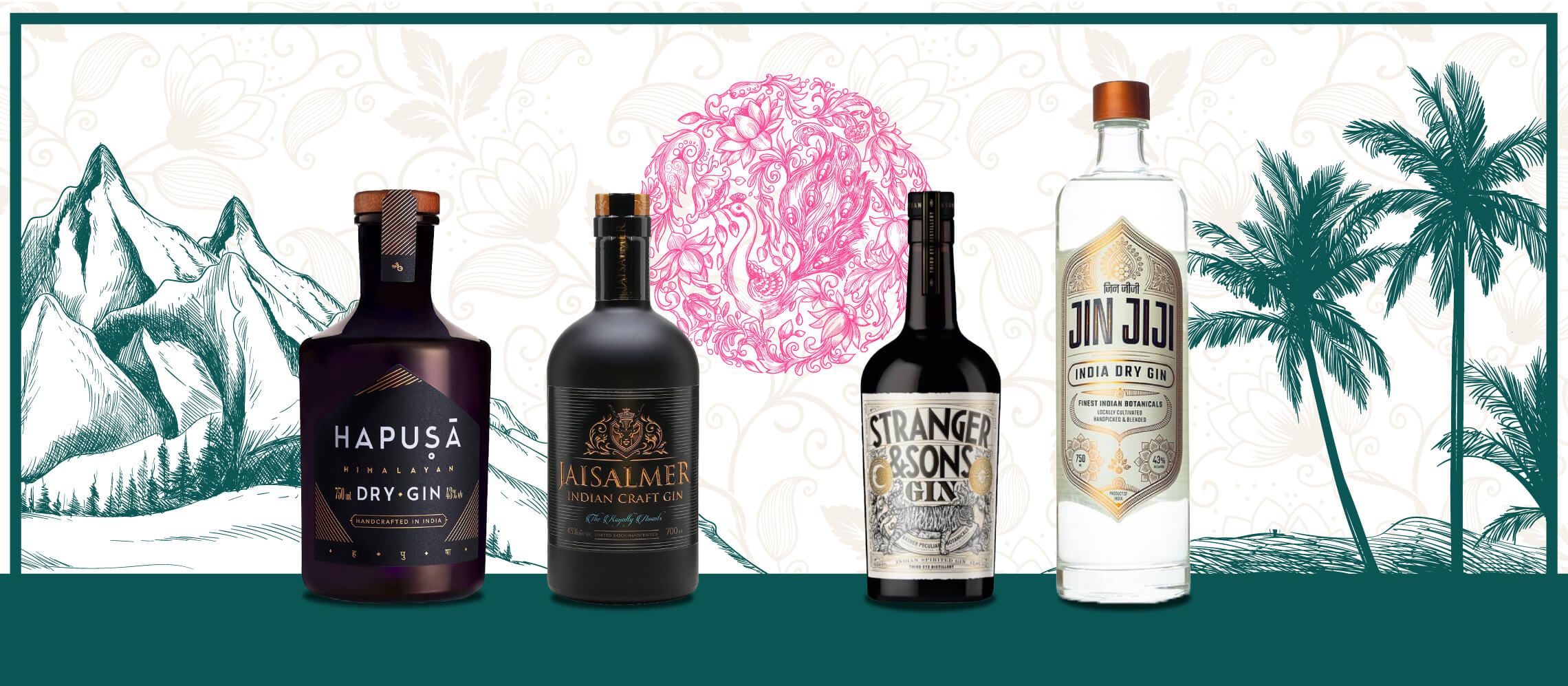 4 Indian Gins That Are Making A Global Mark
There is now a growing desire in the craft distillers of India to make the world's greatest gin
Gin is booming in India, already the fifth largest consumer of gin worldwide, but the past 5 years have seen somewhat of a Ginissance revolution. There is now a growing desire in the craft distillers of India to make the world's greatest gin.
Local availability of both classic and unique botanicals makes this an achievable dream. Most botanicals used in Gin around the world come from India already. After all, the first Gin and Tonic was born in India. Besides this, the discovery of the Himalayan Juniper adds unique taste profiles that are uncommon yet enchanting.
Gin has the ability to express terroir so here are a few Gins from India that are making a mark globally.
1. Jaisalmer Gin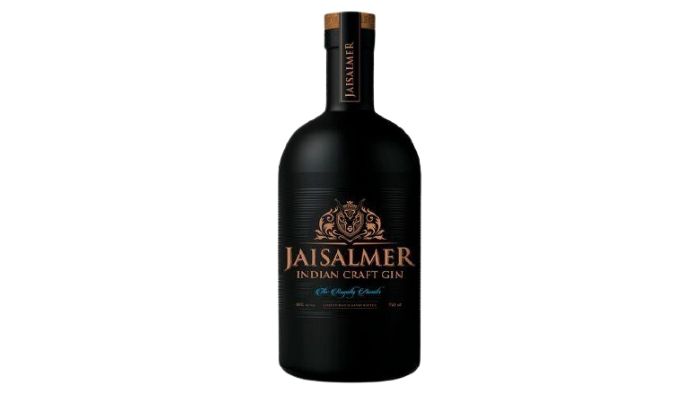 ("Best Gin in Asia 2019"- Gin Guide, UK)
Produced by Radico Khaitan, one of the oldest Distilleries in India comes Jaisalmer Gin prepared with 11 botanicals, 7 of which are sourced from the 4 corners of India. Named after the Golden city, The Bottle pays tribute to the opulence and Royal lifestyle of the Imperial Clan.
Botanicals: 11 including juniper, cubeb, caraway seeds, vetiver, lemongrass, sweet orange peel, lemon peel, Darjeeling green tea.
Nose: Delivers classic aromas on the nose, lemon, spicy coriander, juniper is mellow on the nose but adds a nice rhythm. There's a herbal - grassy undertone to it as well.
Palate: The spices pack a real punch, soft undertones of lemon and juniper, mild hints of peppercorn and woodruff. The liquorice roots add an unmissable earthy sweetness. Delicate yet an opulent balance of flavors.
Price; £30 - £35
2. Hapusa Himalayan Dry Gin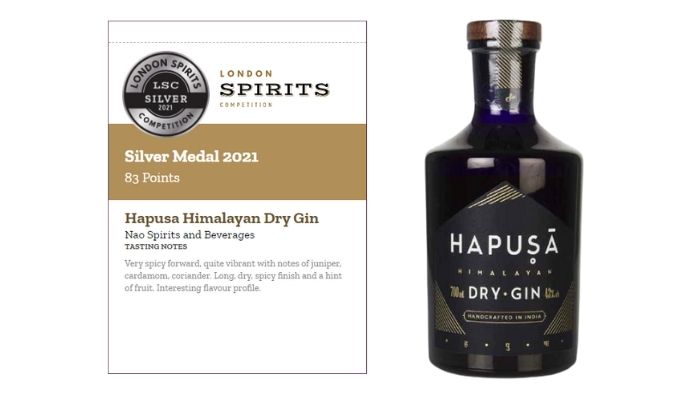 (Gold Medal - International Wines & Spirits Competition 2021)
Nao Spirits, a company that has been spearheading the craft Gin Revolution brings the World's first Himalayan Dry Gin. Hapusa Himalayan Dry Gin is the Sanskrit name for Juniper and is found near snow line in the Himalayas. This Gin establishes itself as a contemporary gin by using unique botanicals that are unheard of in Gin Production expressing true Indian flavors.
Botanicals: Local juniper, turmeric, mango, ginger, cardamom, coriander seeds, gondhoraj limes, and almonds.
Nose: Juniper dominates right off the bat with notes of pine forest and a backbone of lime zest. The unique botanicals make it an extremely fragrant and complex gin.
Palate: Citrusy on the palate like orange pith, Spicy florals, wildflowers, ginger, there's an earthiness and minerality to it, finishes well with a kick of Juniper.
Price: £35 - £40
3. Jin Ji Ji India Dry Gin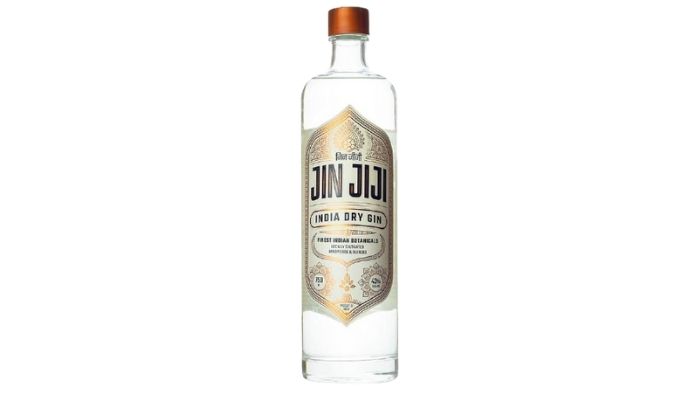 Another fascinating Gin specially designed and crafted in India. Traditional London Dry style making - but made using primarily Indian botanicals. The distillers wanted to create a spirit that would pack the richness and diversity of Indian botanicals in each sip hence Jin Ji Ji India Dry Gin.
Botanicals: Himalayan juniper, Bulgarian juniper, coriander seed, black tea, angelica root, orris Root, cashew nut, tulsi, chamomile
Nose: Well-balanced aroma with soft tones of juniper and sweet spices combined with citrus rind
Palate: An elegant soft yet structured mouthfeel allowing the delicate nuances of chamomile and mint to appear on the palate.
Price: £25 - £30
4. Strangers and Son Gin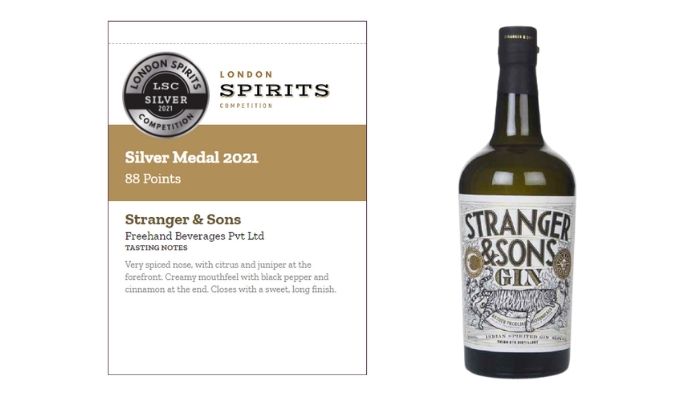 (Silver Medal, 88 Points – London Spirits Competition)
From Third Eye Distillery comes this intriguing single shot craft gin from Goa, India. One of the most awarded Indian Gins, their vision was simple, to provide Gin drinkers in India something to be proud of - The Stranger & Sons Gin.
Apart from the juniper extract, this Gin like others mentioned in the list bear the stamp of brilliant local ingredients available in India. The most peculiar thing about the Gin are the 3 types of Indian citrus including the distinctive Gondhoraj lemon from Kolkata.
Botanicals: Juniper, nutmeg, mace, coriander, liquorice, angelica, Indian citrus peel, black pepper, and cassia bark
Nose: Extremely fresh and vibrant aromas, perfumed citrus, earthy juniper, and lingering sweet spices
Palate: Extremely citrus-forward, an outstanding freshness of lemon pith, black pepper, coriander give this gin a nice spicy edge while the mid-palate is cassia, nutmeg balanced beautifully with some sweet tones.
Price: £40 - £45
Prithvi Nagpal is one of the youngest sommeliers and critics in the world and is on course to complete his WSET level 4/ diploma in wines and spirits from Hong Kong. Extremely passionate about wines and spirits, He runs a beverage consultancy and a luxury wine and spirits review page on social media where he reviews premium, artisanal wines, and spirits to create awareness and help grow the culture.