Deadline
September 30, 2023
Enter Now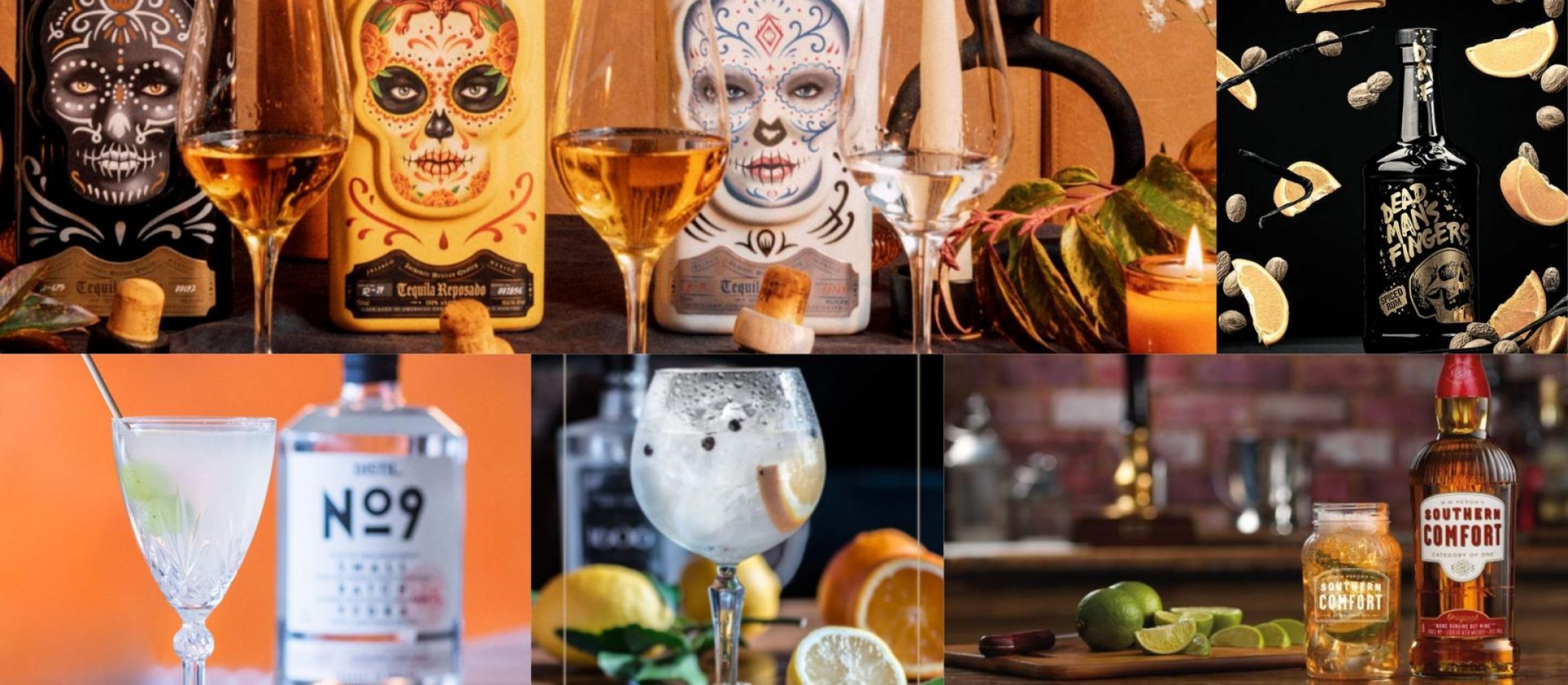 7 Leading Spirits Distributors of The UK in 2022 To Pay Attention To
Want to grow your spirits company in the UK? Learn more about these leading English distributors of spirits.
Here are a few of the best UK distributors of spirits listed below.
Hi-Spirits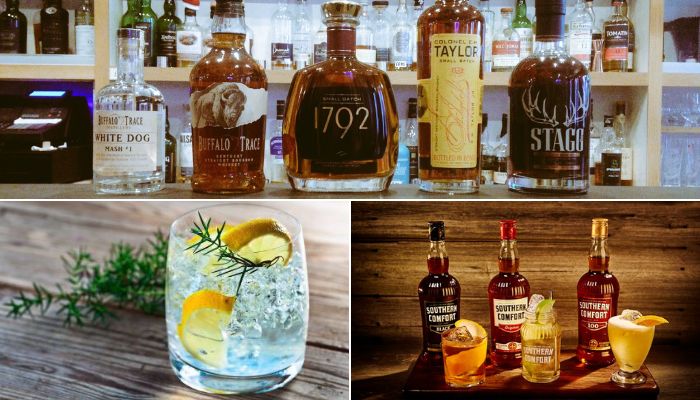 Image: Hi-Spirits
Hi-Spirits, with an extensive portfolio of award-winning brands, is one of the leading spirits distributors in the UK. It takes pride in working with its associates to bring the brands to life. Building relationships with customers has always been at the core of what it does.
Hi-Spirits portfolio includes:
- Aperitifs & Digestifs
- Cognac
- Gin
- Liqueur with Whiskey
- Rum
- Shots
- Tequila & Mezcal
- Vodka
- Whiskey
Emporia Brands Ltd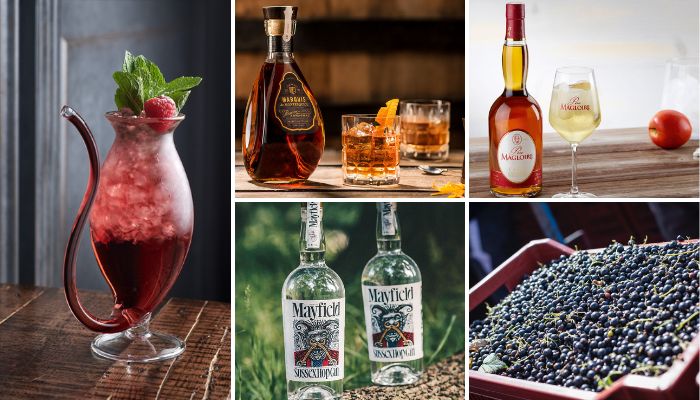 Image: Emporia Brands Ltd
A family-owned spirits importer, exporter, and innovator, Emporia Brands is unrelenting in its search for distillers that uphold artisan traditions in quality—in both the ingredients and the production process—and avoid taking industrial short-cuts in the pursuit of really excellent beverages. In addition, Emporia develops its brands, such as Jindea Single Estate Tea Gin, Hoxton Gin, and Mayfield Sussex Hop Gin, which it sells domestically and abroad. Emporia Brands Ltd's portfolio includes some well-known brands for gin, rum, tequila, liqueur, whiskey, vodka and brandy.
Beverage Boys
Beverage Boys Ldn was initially an events-based business founded in 2018 to challenge the status quo in the industry. In addition to those mentioned above, the company now distributes new brands worldwide to the trade and public sectors.
Current Brands in their portfolio are:
- Prosecco Millage
- Tesla Sljivo
- El Tinieblo Mezcal
- VIP Norway Wines
Mangrove UK
Mangrove is a premium spirits distributor Nick Gillett, and John Coe founded to cultivate a portfolio of speciality spirits and liqueurs. If you're trying to build a brand in the UK market, Mangrove has you covered with over a thousand customers in both the UK and off-trade. Each product in the Mangrove catalogue has a meticulous hand-selection process by industry professionals. All of their brands are of the greatest calibre, genuine, inventive, and sustainable.
- Aperitif & Digestif
- Arrack
- Cachaca
- Brandy
- Bitters
- Ecospirits
- Cognac
- Pisco
- Rum
- Syrups
- Tequila
- Vermouth
- Vodka
- Calvados
- Gin
- Liqueur
- Empirical
- Mezcal
- Ready to Drink
- Whiskey
Amber Beverage UK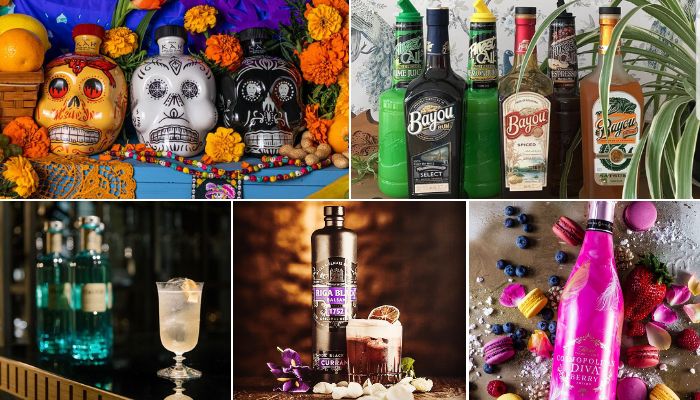 Image: Amber Beverage Group
Amber Beverage Group is a rapidly expanding global spirits company. ABG produces, bottles, markets, distributes, exports, and sells a wide variety of alcoholic beverages, of which it owns more than 100. In addition, it is in charge of marketing and distributing 1,300 third-party beverage brands, including everything from premium vodka and sparkling wines to speciality Mexican tequilas and Irish whiskeys.
The Group has had a substantial growth over the past seven years, nearly doubling its business and becoming global through a number of acquisitions. By creating and expanding its footprint in the Americas, Asia Pacific, and Europe, the Group has further improved its global operations, from which it will continue to profit.
The Group actively promotes its flagship brands, including Moskovskaya Vodka, Rooster Rojo Tequila, KAH Tequila, The Irishman, Writers' Tears, Riga Black Balsam, Cross Keys Gin, Gradus Vodka, and Cosmopolitan Diva, with the help of partners in over 185 countries. The spirits from the Amber Beverage Group can be found on millions of bar, restaurant or home shelves throughout the world.
Love Drinks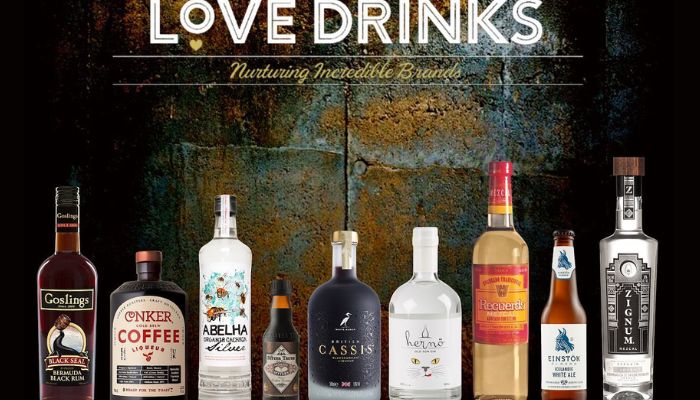 Image: Love Drinks
Love Drinks is an importer, distributor, and marketing firm providing premium spirits, liqueurs, and craft brews. Love Drinks was founded in 2007 and are a wholly independent business, allowing them to adapt quickly to the market.
Their range comprises family-owned or craft-distilled products with a deep pedigree, history, and tradition. Their brands naturally appeal to the premium retail and on-trade markets and the more selective customer seeking the brand's origin. Love Drinks portfolio includes Spirits, Liqueurs, Bitters, Craft Beers and Non-Alcoholic drinks.
Amathus
Amathus Drinks Plc, founded in 1978, is a family-owned importer, distributor, and speciality retailer of alcoholic beverages.
Amathus wants to offer its clients top-notch goods and services in the on-trade, speciality retail, and direct-to-consumer markets. Their services to improve your shopping experience include special events, masterclasses, free local delivery, and a click-and-collect option on its newly redesigned website. Additionally, they are now servicing a rising number of independent retail stores with their expanding wine selection and well-known liquor brands.
Amathus spirits portfolio includes Gin, Vodka, Tequila, Mezcal, Rum, Cachaça,
Cognac, Pisco, Grappa, Calvados, Aquavit, Absinthe and Soju, along with some of the already popular brands in the market such as Bacardi, Ciroc, Patron and Bombay Sapphire
Halewood Artisanal Spirits PLC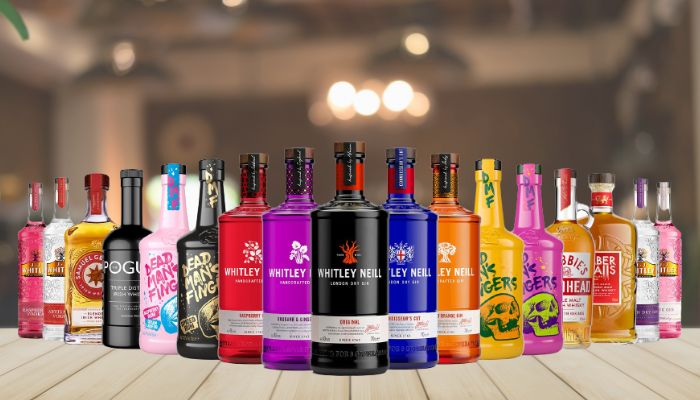 Image: Halewood Artisanal Spirits
Family-owned Halewood Artisanal Spirits are one of the top independent distillers in the UK. With over 80 gold, double gold, and silver medals in 2022's most prominent industry competitions, such as the International Wine and Spirit Competition, San Francisco World Spirits Competition, and International Spirits Challenge, it boasts a highly-awarded range. With a revenue of more than £396 million and over 700 people, its brands are sold in more than 90 countries. Halewood has a global presence; its main markets are China, Australia, and North America.
Due to its well-invested end-to-end UK infrastructure, which includes distilling, distribution, marketing, traditional retailing, and online, the company has demonstrated its capacity to develop, acquire, incubate, and expand high-quality spirits brands abroad.
[[relatedPurchasesItems-39]]
Their spirits portfolio includes gin, vodka, whisky, rum and ginger beer in a variety of ranges such as spirits from these brands Whitley Neill Gin, J.J Whitley Artisanal Vodka, Vestal Vodka, Crabbie's Yardhead Single Malt Scotch Whisky, Samuel Gelston's Blended Irish Whiskey, Single Malt and Single Pot Still Pinot Noir Finish, Dead Man's Fingers Rum and Crabbie's Alcoholic Ginger Beer.
Article by Aakriti Rawat, Beverage Trade Network