A List of Leading Liquor Importers in the UK
02/03/2018
Beverage importers and distributors are the important entities in the alcohol industry. Here is a list of leading liquor importers in the UK.
Beverage importers and distributors are the important entities in the alcohol industry. Their role is very crucial as rules and regulations of importing and distributing alcohol may vary from country to country.
We have a list of a few leading liquor importers in the UK, here you go.
Marussia Beverages UK
Marussia Beverages UK is an importer of the finest spirits from around the world. They have been sourcing wonderful premium spirits since 1984. Their portfolio is built up of Bourbon, Scotch, Irish and World Whiskies, rare American and London Dry Gin, French and Italian Liqueurs, premium Rums and Traditional Brandy from Cognac and Armagnac.
Emporia Brands Ltd
Emporia Brands is a spirits importer and exporter in the United Kingdom. Spirits at Emporia are sourced from every market of fine spirits including independent merchants and retailers. The extensive portfolio of Emporia includes Gin, Rum, Tequila, Liqueur, Vodka, Whisky, Aperitif, Vermouth, Calvados, Armagnac, Cognac, Grappa and Absinthe and Pastis.
Nectar
Nectar is one of the leading drinks importers in the UK for over 30 years. It specializes in premium ciders, liquors, beers and wines. Portfolio of Nectar comprises of 3,000 products supplied to restaurants, bars and nightclubs all over southern England and Wales.
Amathus
Amathus, established in 1978, is a family owned drinks importer, distributors and specialist retailer. Product line at Amathus is more than 3,000 including Spirits, Liqueurs, Canned Beers, Bottled Beers, Wines, Fine Wines, Spirits, Liqueurs, Cider and other beverages.
JBE Imports
JBE Imports is a UK importer and distributor of premium spirits. JBE first started importing in 2013, with Ron Cubay Rum, Palma Cristal and Cubanero Beers. Today, JBE has expanded outside of Cuba with a fine collection of spirits. The product line of JBE includes Santiago de Cuba, Ron Cubay, ISF Jord, and Ms Better's Bitters, Skin Gin, Bareksten and many more.
Casa Julia
Casa Julia was founded by Vincenzo Santomauro in 1976. Casa Julia started by importing and selling wines from Italy. Products of Casa Julia include spirits, bottled beers, draught beers, wines, ciders, minerals and other soft drinks. All their beverages come from the popular regions of the USA and UK.
Cellier
Cellier is an importer of fine wine and spirits. It has an ever-expanding range of spirits, beers and wines from lesser known brands around the world. Products of Cellier range from the Okanagan Valley in British Columbia to Marlborough in New Zealand. Producers such as Haswell London Distilled Dry Gin add a real artisan flavour to Cellier's international collection.
Fells
Fells is one of the leading drinks importers in the UK. Fells, founded in 1858, is owned by Symington Family Estates. The team at Fells works with UK wine trade including supermarkets, departmental store, cash and carries, off licenses as well as restaurants and hotels.
Berry Bros. & Rudd
Berry Bros. & Rudd is Britain's oldest spirit and wine merchant, having traded from the same shop for over 310 years. Today the company also has offices in Japan and Hong Kong, two Wine Schools and an exclusive fine wine & dining venue in London's St James's.
Product line of Berry Bros. & Rudd includes award-winning single malt whisky, The Glenrothes, Penny Blue XO, Single Estate Mauritian Rum, the Pink Pigeon Rum, classic No.3 London Dry Gin and the King's Ginger Liqueur. Berry Bros. & Rudd's spirits experts select exceptional spirits to bottled and sold under their own label. From Cognac, Armagnac, rum and whisky to, most recently, a Calvados, these represent some of the most unique and unusual spirits on the market, sometimes with only a handful of bottles released.
Strandgarden Wine & Spirits A/S
Strandgarden is a constantly expanding and developing Company. With approx. 25 people who deal in selling Wine, Spirits and Mineral Water etc. to domestic, Export and Tax Free markets.
Strandgarden is one of the largest importers and distributors of Wine and Spirits in Denmark. They have a very wide range of products and represent some of the World's major Wineries and Spirit brands.
In 1993 as a part of the new brand strategy Strandgarden invented a new exciting drink in the vodka shot category: Hot n' Sweet, based on a new idea of mixing original candy with vodka. Hot n' Sweet quickly became a success across Scandinavia and has established itself among the two biggest in the vodka shot segment. Also in Germany, Norway, Sweden, Finland and Holland sales of hot n' Sweet is continuously increasing.
Today they have a strong foothold in all sales areas of the market, which they have, divided into the following categories: Brands Domestic, Duty Free Scandinavia, Export, Wholesale Border Trade, Wholesale, retailers and restaurants.
SC Luxury Goods Import SRL
SC Luxury Goods Import is a Romanian based company specialized in importation and distribution of premium and super premium spirits. The categories of masters include Porto, Tequila, Mezcal, Bourbon, Baijiu, Cognac, whisky. They have master of each category.
Van Caem Klerks Group
Van Caem Klerks Group is an international trading house consisting of four all-round import and export divisions; Van Caem Liquor, Van Caem prestige, Van Caem Luxury and lifestyle, Klerks Fine Wines.
Through their existing global network and by taking full advantage of international price fluctuations and exchange rates, Van Caem Klerks Group is able to offer a vast range of products to their clients at excellent prices and with competitive delivery terms. Company aftersales service is well-known as being the best, with a total focus on maintaining and building long-term relationships with clients and suppliers. This strategy has proved to be successful and has resulted in a proud company history of more than 45 years. Their head-office located in the centre of Amsterdam and warehouses located near the Port of Rotterdam, Van Caem Klerks Group is strategically located to provide the best and most efficient service.
Highball Brands Luxury Spirits
Highball brands are a distribution agency that imports and distributes some of the most exciting global brands available. Strive to offer a high quality standard of service across all touch-points.
From boutique start-ups to rulers of the drinks business looking to break into the Uk, their combination of supreme organisation, along with sales and marketing expertise, will assist brands of any size to achieve their objectives.
So, these were some of the dominant liquor importers in the UK beverage industry. Keep an eye on this article as we often update our articles with newer information.
Related Topics that might interest you,
Sales Strategy and Programming Tips For Distilleries and Importers Of Premium Spirits
Suppliers Tool Kit: Must Have Support Tools For Your Importers and Distributors
Did you know this?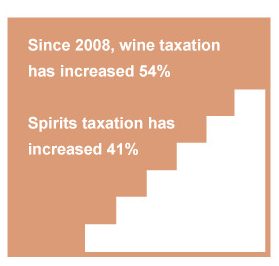 Image Source: WSTA