Deadline
September 30, 2023
Enter Now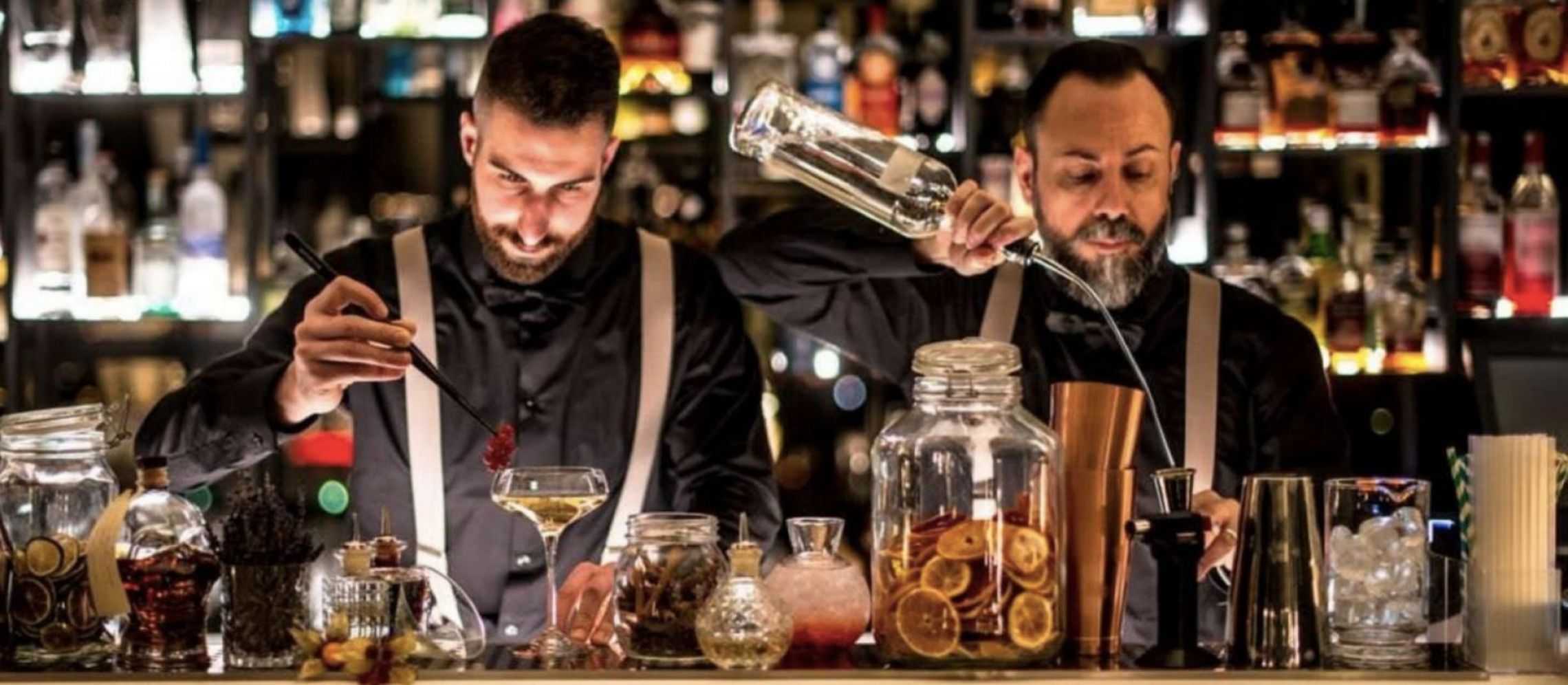 A Night in Notting Hill - List of top 10 bars in West London
Looking for bars in West London? Don't worry, we've got you covered. This article includes the top 10 bars in Notting Hill to have the night of your life.
West London, England's Royal Borough of Kensington, and Chelsea includes the neighborhood of Notting Hill. With laid-back cafes bordering Portobello Road, a bohemian street known for its bustling market selling antiques and vintage clothing, Notting Hill is a vibrant, stylish neighborhood. Around Westbourne Grove are upmarket restaurants and shops, and the Electric Cinema has elegant couches to welcome moviegoers.
West London is a sizable region that is crammed with must-visit bars. You're likely to find everything you need in this part of town, whether you're going out for a drunken brunch, after-work drinks, or trying to swoon on a romantic night. Browse through our list of the best bars in West London for a memorable experience.
The Elgin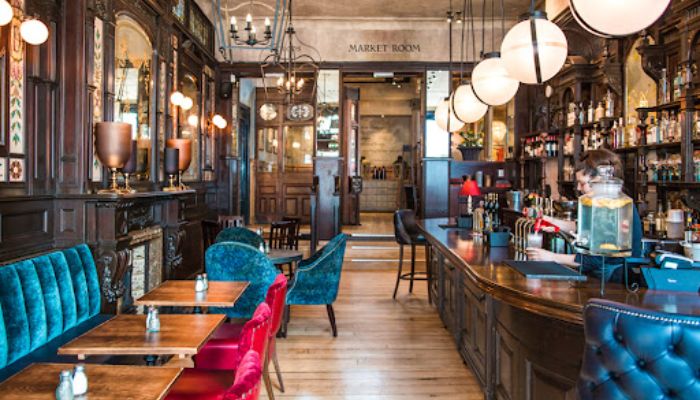 Image Source: The Elgin
With a staggering 40+ gins behind the El Gin bar, they've maintained faithful to their legacy as one of London's classic Victorian gin palaces. A sizable and well-considered assortment of wines, beers, and other spirits exist. Elgin is one of the area's more unusual attractions with live music performances that are very popular in the neighborhood.
One of Notting Hill's top pubs, The Elgin, consistently receives high ratings. Its beer garden is well-liked by both locals and tourists, and its cuisine includes scrumptious Sunday roasts and seasonal British delicacies. This Grade II listed building on Ladbroke Grove includes stained glass and engraved mirrors that showcase its Victorian origins.
Address: 96 Ladbroke Grove, London W11 1PY, United Kingdom
Tel: +44 20 7229 5663
Website: The Elgin, Notting Hill
The KPH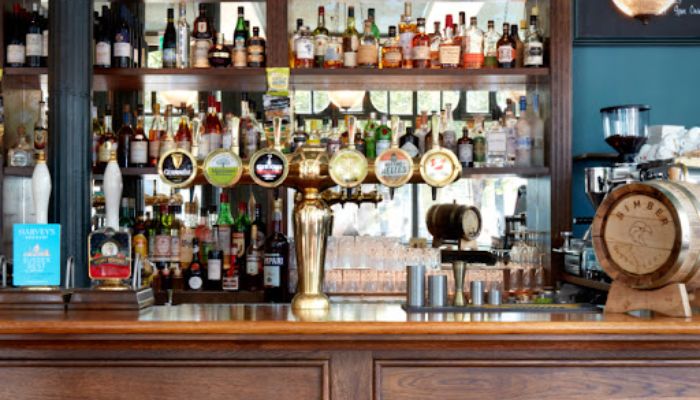 Image Source: KPH
With boutique hotel rooms upstairs and a shabby chic art deco bar décor with enormous bay windows facing the main road, the KPH (Kensington Park Hotel), a classic west London pub, has experienced a significant renovation in recent years. It is located across the street from Elgin on Ladbroke Grove. Eddie Izzard and Cerys Matthews, among others, supported the effort to save the Theatre Bar since it serves as a platform for musical and comedic performances.
With the adolescent ambiance gone, the location is now a sleek, almost hipster, tavern. The cuisine is excellent, the setting is lovely, and they provide a large variety of beverages.
Address: 139 Ladbroke Grove, London W10 6HJ, United Kingdom
Tel: +44 20 7199 7240
Website: The KPH
The Eagle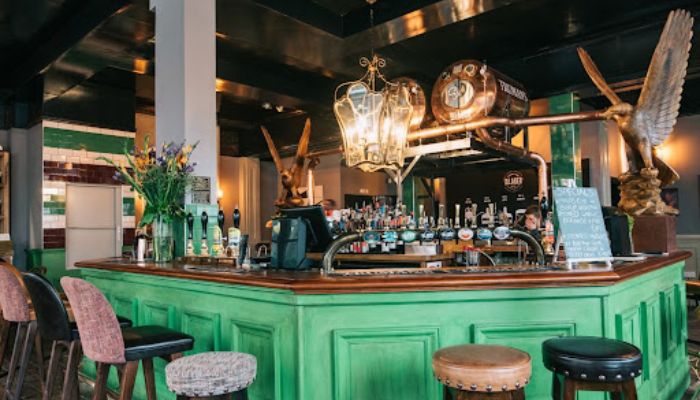 Image Source: The Eagle
We appreciate how the Eagle skillfully integrates culinary endeavors with an appealing beer roster and bar setup, with a focus on high-quality meals such as steak evenings, seasonal menus, and Sunday roasts. There are many reasons to like this place and two sizable tanks of Truman's Raw Lager, a Kolsch-style beer that is served straight from the tank, are waiting for eager patrons, along with comfortable seating and outstanding food are just a few of them. It's spacious enough that there is always a seat available and cozy enough that you will feel home-like and would want to stay here forever.
Address: 250 Ladbroke Grove, London W10 5LP, United Kingdom
Tel: +44 20 3757 8051
Website: The Eagle
The Churchill Arms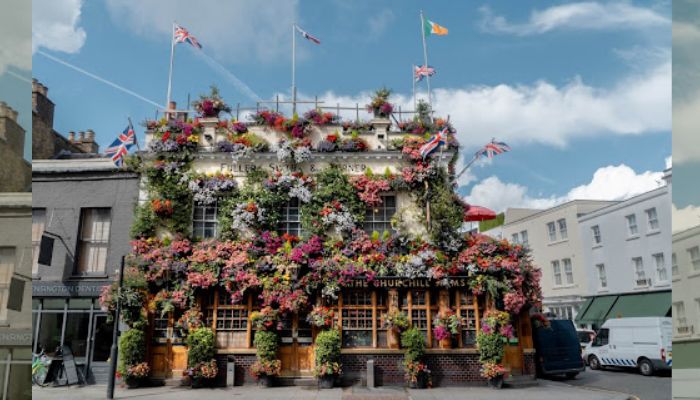 Image Source: Churchill Arms Kensington
The Churchill Arms is London's most vibrant bar. Depending on the season, the entrance is decorated with thousands of flowers or hundreds of Christmas trees. The Churchill Arms is a great Fuller's Brewery establishment that dates back to the 1750s and got its name because Sir Winston's ancestors were its regular visitors. Aside from its historical significance, this bar's cozy decor, which is filled with antiques and relics from previous wars, draws a lot of drinkers.
It's interesting to note that The Churchill Arms is largely acknowledged as having served Thai food in a pub for the first time in London. The menu is delectable and authentic, and it offers a welcome diversion from the usual gastropub fare.
Address: 119 Kensington Church St, London W8 7LN, United Kingdom
Tel: +44 20 7727 4242
Website: The Churchill Arms
The Cow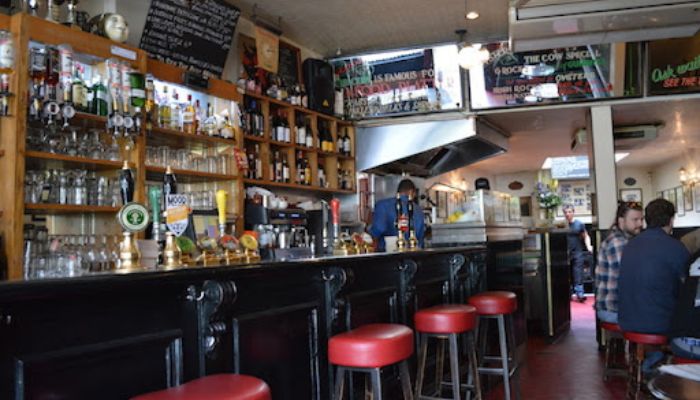 Image Source: Londonist
Many love to eat and drink at this quaint gastropub on Westbourne Park Road in west London. That's not the only reason - its bustling upstairs dining room will transport you to another time. Make sure to look out for renowned faces when you're here because celebs can often be spotted at this cozy bar. It is easy to understand why The Cow, owned by Tom Conran, influenced so many pubs to attempt to imitate some of its charm given that it mostly serves Northern European cuisine (with a clear emphasis on shellfish). It's deceptively understated, allowing the food and wine to do the talking.
Address: 89 Westbourne Park Rd, London W2 5QH, United Kingdom
Tel: +44 20 7221 0021
Website: The Cow, London
The Windsor Castle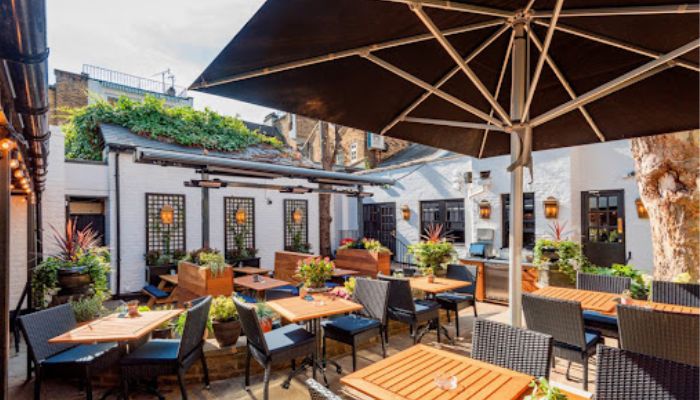 Image Source: The Windsor Castle Kensington
The Windsor Castle has nestled away on a side street close to Notting Hill Gate and has the impression of having been taken from a home country village. It doesn't get as crowded as some of its close neighbors because of its somewhat remote setting. An endearing, wood-paneled backstreet bar serving intriguing cask ales from independent UK breweries A bloody mary or a Pimm's can also be enjoyed in the charming pub garden. Sundays at Windsor Castle are equally busy, with roasts being served to both large family gatherings and small groups of friends. It has a lovely beer garden and a cozy fire that you may choose from according to the season.
Address: 114 Campden Hill Rd, Greater, London W8 7AR, United Kingdom
Tel: +44 20 7243 8797
Website: The Windsor Castle
The Sun in Splendour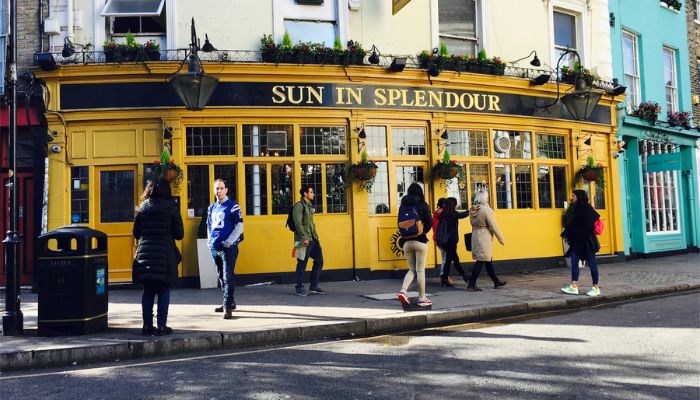 Image Source: Quiz Coconut London
The Sun In Splendour is the next establishment on the list of the top Notting Hill pubs. Located on the well-known Portobello Road next to Notting Hill Gate, its cheery yellow exterior greets visitors with open arms. In front of the large windows inside this Victorian bar are a variety of wooden tables and chairs.
The Sun in Splendour is a fine old-fashioned (though sophisticated) drinking establishment at its core, even though the menu has grown over the years and now offers a lot more wine than it did in the past. It serves traditional British pub meals like fish and chips, sausage, and mashes in addition to more nutritious dishes like nourish bowls in its beer garden out back.
Address: 7 Portobello Rd, Greater, London W11 3DA, United Kingdom
Tel: +44 20 7792 0914
Website: The Sun in Splendour Pub, London
Beach Blanket Babylon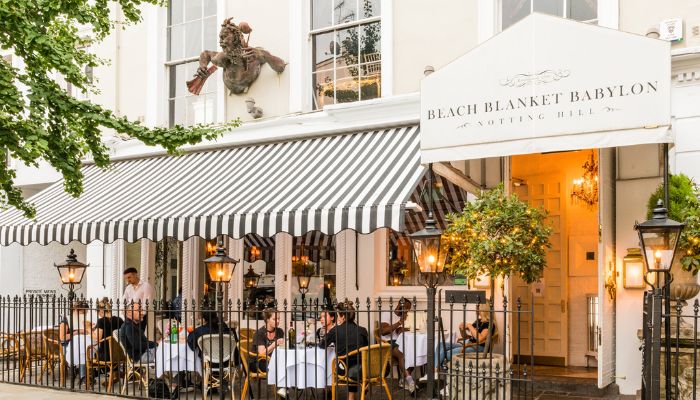 Image Source: Beach Blanket
It's no accident that Beach Blanket Babylon quickly established a reputation as one of the top bars in Notting Hill after opening way back in 1990. It's still going strong today, enticing customers with its unique blend of risqué and opulent and clever cocktail list.
Classic dishes like eggs Benedict are served alongside pasta with a Mediterranean flair and salads with an Asian flair. The whimsical, boho-chic decor of this instagrammable Notting Hill eatery combines regal, baroque, and French country traditions.
Address: 45 Ledbury Rd, London W11 2AA, United Kingdom
Tel: +44 20 7229 2907
Website: Beach blanket Babylon
The Resting Room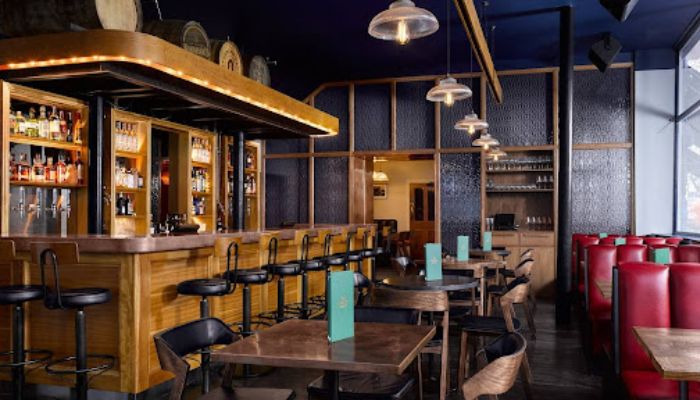 Image Source: OpenTable
Located at Portobello Road's gin hotel The Distillery, The Resting Room, which is, as its name implies, a laid-back all-day stop where you can get a great cocktail in a chic atmosphere. The cocktails are a must-try and go beyond the hotel's distinctive spirit for the non-gin drinkers in the room, so don't let the relaxed atmosphere deceive you either.
[[relatedPurchasesItems-39]]
In addition to serving distinctive gin blends, The Resting Room also distills various spirits and imaginative flavors, one of which is called Characterful Vodka. It also offers a selection of delectable charred and roast sections, all prepared in a Josper oven; the menu features traditional British meals made entirely with local ingredients.
Address: 14-2 Blenheim Cres, London W11 1NN, United Kingdom
Tel: +0207 727 6648
Website: The Resting Room - The Distillery London
The Ladbroke Arms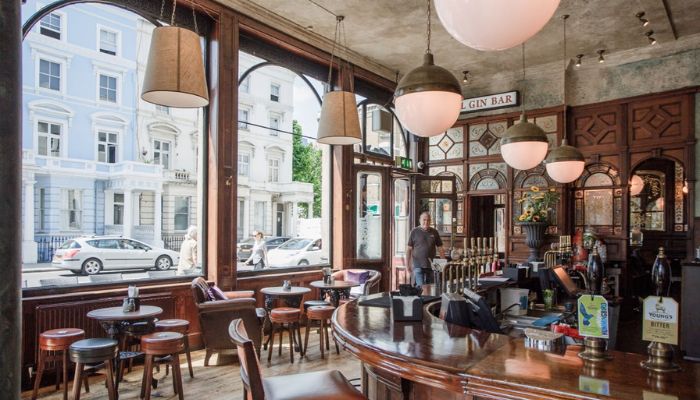 Image Source: Zomato
The Ladbroke Arms is a law unto itself, as evidenced by the large, self-standing pub sign that proudly proclaims outside that it is a "Free House." There seems to be something for everyone here, with classy dining, a drinking terrace out front, and a variety of wines and ales worth trying. Although the menu is priced relatively high, it is of high quality. Although it is not rare for a gastropub to serve British cuisine, only a few do it better than The Ladbroke Arms. It is no surprise that it does brisk business at the end of the week because of its excellent Sunday roasts.
Address: 54 Ladbroke Rd, London W11 3NW, United Kingdom
Tel: +44 20 7727 6648
Website: The Ladbroke Arms
Article by: Vidisha Dewan, Beverage Trade Network
The London Spirits Competition is now open for submissions. Register your spirits today to save BIG on super early bird pricing. Ship your samples later.