Alcohol Beverage Trends to watch out for in 2023
10/01/2023
Watch out for these top trends in the alcohol beverage industry in 2023.
1) Better for your beverages
The demand for the BFY (Better for you) range of products with perceived health benefits continue on an incline through the pandemic and after. This category is seeing innovation from using nootropics, antioxidants, adaptogens, probiotics, electrolytes, and other naturally sourced ingredients to deliver real health benefits.
As per a market report from IWSR, no/low consumers are maturing at a global level, with millennials as the largest age group. With increased product availability, visibility in retail shops and online, and increased product innovation offering authentic flavors, the no, and low alcohol ABV segment is geared for growth in 2023. No alcohol will spearhead this growth, expected to account for over 90% of the forecast total category volume growth.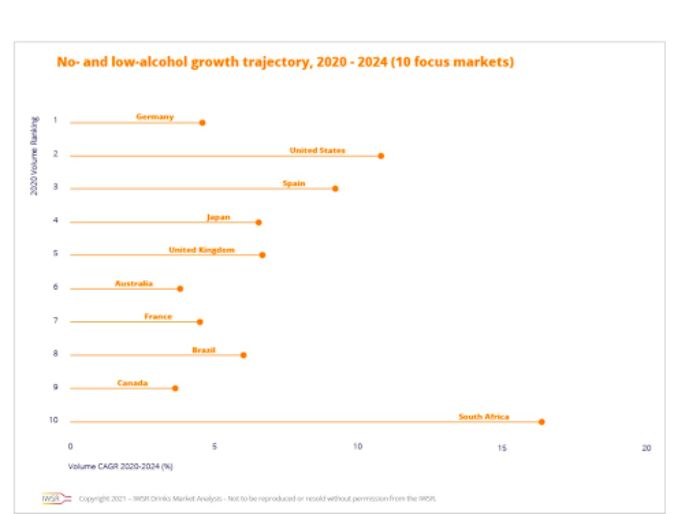 2) Bringing the party home
Although we were more than happy to hit our local bars again, we have also enjoyed spending time at home. The return to offices has been slow with many still working from home. This has urged consumers to look for a premium experience at home, opting for higher-quality drinks and making sophisticated cocktails. There is a demand for pre-mixed cocktails that promise better quality, taste, and genuine flavors and ingredients.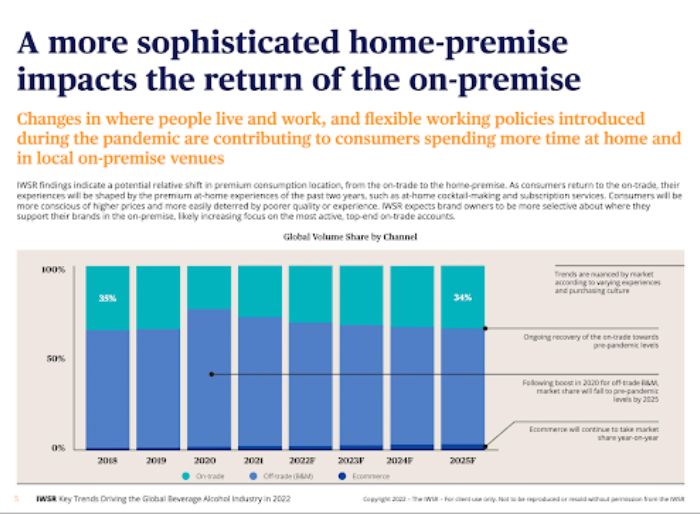 3) The RTD and Hard seltzer buzz
Consumers are still reaching for hard seltzers but the craze may be dampening with a decrease in consumption compared to the highs of 2020.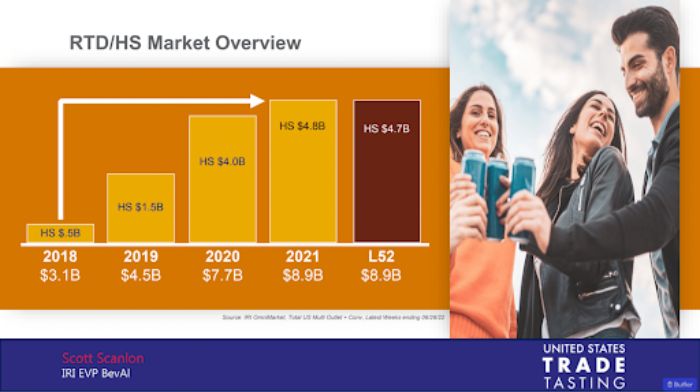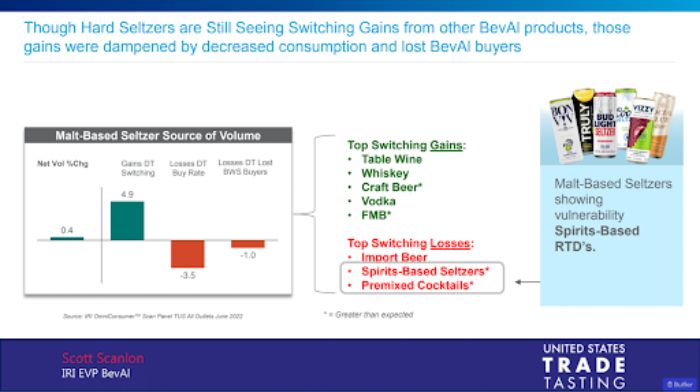 The RTD category value will increase by an additional US$11.6bn over the next five years as per a report from IWSR.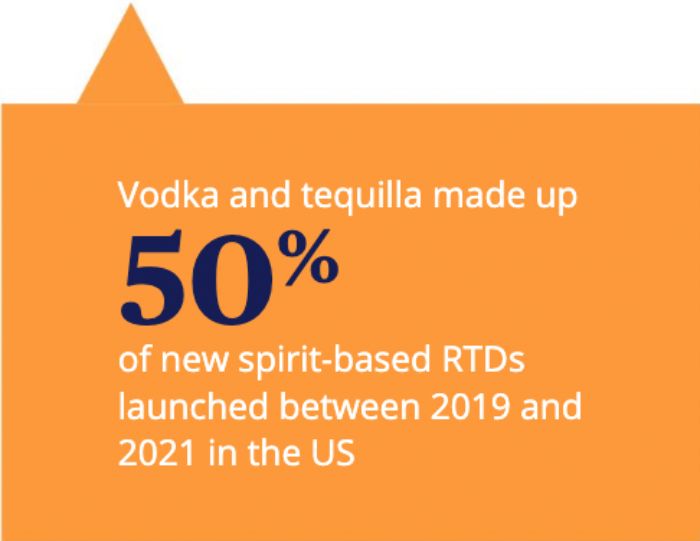 "Consumers in the US have grown accustomed to the convenience and variety offered by RTDs, which has increasingly led to people trading up to spirit-based cocktails. This reflects the overall spirits premiumization trend in the US and the popularity of bar-made cocktails," says Brandy Rand, Chief Strategy Officer at IWSR Drinks Market Analysis. "As a result, hard seltzer volume is now projected to decrease after hitting all-time highs, which will lead to more moderate growth levels across the total RTD category."
Further findings from IWSR show, that taste is the leading factor in why consumers are choosing RTDs, with packaging attributes such as portability and single-serve sizing growing compared to previous years. IWSR also tracks product innovation at the SKU level; findings show a decrease in RTDs claiming dietary benefits and an increase in brands claiming natural ingredients.
The trend toward fuller-flavored: RTDs Flavor is the main driver of RTD consumption, and IWSR's innovation tracking shows an increase in full-flavored products across all sub-categories. Spirit-based and higher-ABV RTDs are taking a large share of new product development, driven by pre-mixed cocktails.
There is a departure from previous patterns where RTDs were a quick and cheap cocktail to stock up on. RTDs are moving towards a trend of premiumization with better ingredients and flavors, a variety of spirits, and increased prices to match, which consumers are willing to pay for a better drink.
[[relatedPurchasesItems-39]]
4) Why everyone is still talking about e-commerce
E-commerce sales channels continue to see a meteoric rise since 2019 with consumers showing a willingness to pay for faster delivery. The highest demand is for wine followed by spirits.
As per IWSR, China has the highest proportion of online shoppers among all beverage alcohol buyers, at nearly 60%, and the US has the highest proportion of online buyers who made their first purchase during the pandemic (54%). Although currently accounting for less than one-fifth of total eCommerce value, beer, cider, and RTDs are expected to grow strongly over the next five years, gaining share mainly from wine.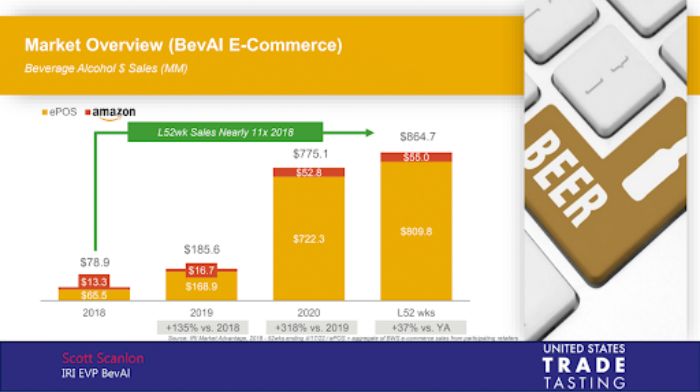 The e-commerce landscape is now seeing maturity with lines within sub-channels blurring. Retailers are partnering with logistics providers to offer consumers faster delivery, online platforms are establishing 'dark stores' to reduce delivery timeframes, and also stepping into creating brick-and-mortar stores.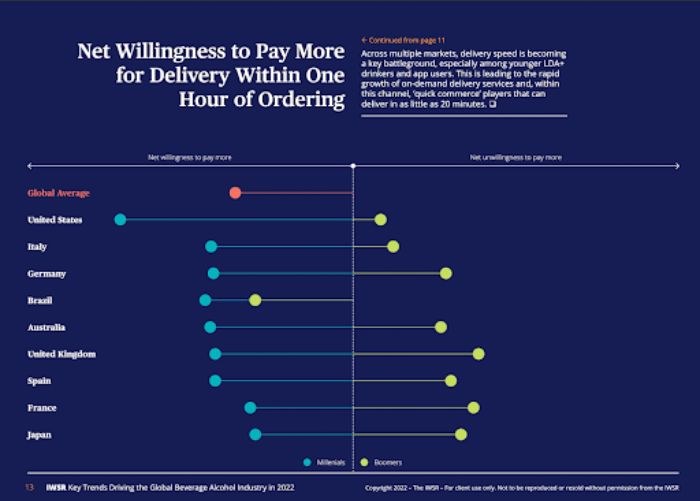 Leading brands have been preparing to be in this space rather than be a dying breed. AB InBev's acquired Master of Malt in 2018. The Campari Group bought into Italy's Tannico at 49% in 2020. This has grown into a joint venture with Moët Hennessy to develop a pan-European eCommerce platform. In 2021 Pernod Ricard bought The Whisky Exchange based in the UK and previously European drinks etailer Uvinum in 2018 (rebranded as Drinks&Co in 2020) and Spanish platform Bodeboca in 2019.
E-commerce platforms offer a quicker route to market for new products prompting brand owners to step into this space. Profiling consumers and analyzing consumer behavior with real data also becomes a possibility. It is key for companies to understand this data, process it into meaningful information, and tailor their product offerings with the right packaging, flavors, and pricing accordingly.
Brand owners ensure that they maintain their online marketplaces independently, and do not acquire data from these platforms to further their brands, so competing brands do not feel threatened to list their products here and reveal upcoming special prices, offers, and marketing strategies.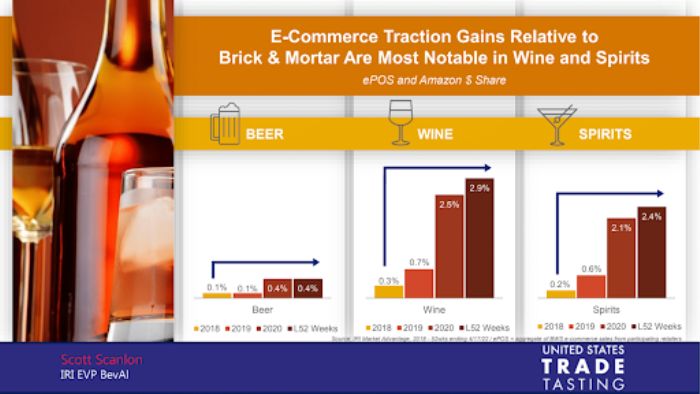 5) The return to on-premise
The return to the on-premise space is back to pre-covid levels but consumer expectations have now changed. The customer is more experienced with drinking better quality alcohol at home and even dabbling in making cocktails. Therefore, they are expecting higher quality cocktails in bars together with a great experience. It is also more likely that consumers will be looking for particular brands, higher quality ones so these will be more active in on-premise accounts.
The on-premise will continually be challenged by the ongoing virus situation, consumer expectations of quality, and a better experience along with the increased prices.
6) Selling for occasions
Although this has been the goal for many years, the shift is happening where producers are creating and selling beverages for occasions rather than categories. This leads makers to diversify and try new product lines and even dilute older lines. With drinking at home becoming an elevated experience, consumers abstaining from alcohol more often, often substituting, it opens up a whole new arena for drinks companies to step in and create innovative product lines.
People are more open to trying new products like Japanese whiskies, craft beers, and hard seltzers and not be loyal to a particular drink or brand. Leading drink companies are responding by creating space in their age-old portfolios for new product lines while letting go of standard products that have been showing a steady decline over the years.
7) Sustainability
Not just a buzzword, consumers are sincerely looking for brands that have a commitment to sustainability. This may come in the form of greener packaging solutions, the use and reuse of water, obtaining water and other materials from local sources, and reducing waste.
On-premise establishments are also making an effort to move to zero waste and sustainable practices, and this proved to be a point of attraction for consumers.
During the pandemic, there was a shift to supporting local businesses. This has continued in keeping with consumers having a sustainable mindset and being connected to small and local brands.
Key Takeaways:
1) Innovation is the only way forward.
2) Consumer behavior will be economy driven as costs rise
3) RTDs continue to grow
4) New focus areas: No / Low alcohol, E-commerce, premiumization likely to continue
5) On-premise will continue to face challenges like the virus, cost concerns, and experience.
It's time to enter your brands in the 2023 London Spirits Competition and grow in 2023. The submission deadline is February 22. Enter now and ship your samples.