Cocktail Trends in UK
29/06/2018
Insights from Terrile Massimilanio at the London Spirits Competition on Cocktail Trends in the UK.
LSC interviewed Terrile Massimilanio, a judge at the 2018 London Spirits Competition on Cocktail trends in the UK.
Terrile Massimilanio: So I think we have reached a point where the Rope length of the drink and the training of the drink are very important and it's the base of every single stuff around in the world. Does not matter if you work in a bar, a restaurant or just in hospitality but...
Watch the full video here:
About Terrile Massimilanio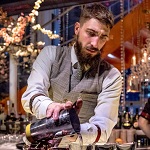 Terrile Massimilanio is a Head Bartender at Duck and Waffle, London, UK. Terrile has more than ten years of experience in the hospitality business. He has worked with various restaurants and bars including 21 The Print Room cocktail bar (Covent Garden), Smith's of Smithfield cocktail bar (Barbican), Avalon club (Piccadilly), Giraffe (Soho) and Portofino Kauai.