Deadline
September 30, 2023
Enter Now
Indian Single Malts That Are Making A Global Impact
Indian Single Malts Have Earned Themselves a Seat at the Global Table, With These 4 Malts Standing Out Of The Crowd Unique Characteristics And Flavours
The Indian Whisky Market is booming. In terms of consumption, India consumes over a billion litres of whiskey each year, more than half the total volume produced worldwide. Additionally, 7 of the top 10 Best-Selling Whisky Brands In The World are Indian and now Distillers in India have really upped their game as well.
India is racing through as one of the most exciting countries to make single Malts. Why ? India has what experts may call a new "terroir" – a unique warm, climate with a high angel share. Whisky in India ages around 4 times faster, a 10-year-old aged malt would be similar to a 30-40-year scotch.
The use of 6 row barley which has more husk and using a non-chill filter process which gives their whiskies more proteins and fatty acids and hence flavour. Here are 4 unique Indian Single Malts that have impressed Globally.
Amrut Fusion Single Malt

(Rated the third best whisky in the world by Jim Murray's Whisky Bible)
Amrut Distilleries, a Bangalore based Distillery that dates back to 1948 only came out with this world class whisky in 2009. Amrut truly put India on the global stage with this award winning Whisky. A unique fusion of 25 % peated Scottish Barley and 75 % unpeated Indian malt (both distilled independently) which is where it gets its particularly clever name from.
Nose: first whiff and you know this is a complex whisky. Dark fruits in the beginning and a sudden emergence of tropical fruits ; banana, guava, wisps of lemon. Vanilla, sugar cane, caramely texture balanced well with a smoky backbone gives a good idea of the maltiness.
Palate: Rich and distinctive, flavours of smoked liquorice, coffee, dark chocolate. The aging adds its notes of caramel and vanilla intermingled with baking spice flavours. A nice mix of sweet and savoury flavours which closes with its peaty finish.
Finish: Long finish with a touch of spices leading towards a certain sweetness.
Paul John Brilliance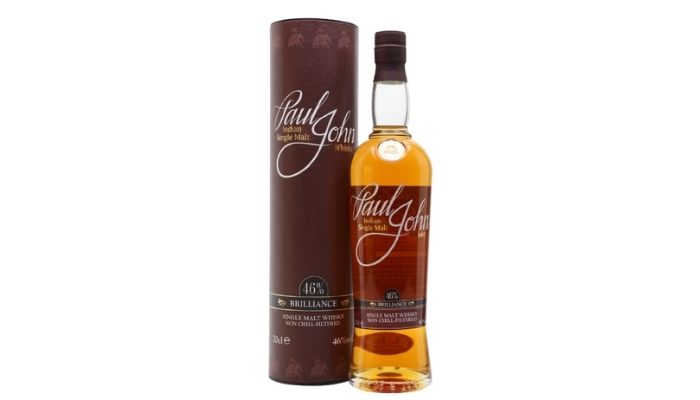 Paul John – launched in 2012 in UK then 2013 India. This Goa based distillery wanted to produce Premium Single malts and cater to the growing and changing Indian market. John Distilleries' Mithuna scored 97 points on Jim Murray's Whiskey Bible, giving it the distinction of the world's third finest whiskey this year.
Brilliance's six-row barley is sourced from the foothills of the Himalayas then matured in ex bourbon casks.
Nose: Delicate nose, whiff of sweet fragrances – orange blossom honey, vanilla and sultanas. The aromas of the bourbon influence slowly kicks in with coconut and mild coffee beans. Some milk chocolate too.
Palate: Extremely rich mouth feel, a fabulous balance of sweet and spice flavours. A touch of oak with cocoa and cinnamon. Closes on tropical fruits with banana and mango.
Finish: Smooth and crisp finish, mild spices and powerful vanilla. Tastes like a typical Speyside whisky.
Rampur Select Indian Single Malt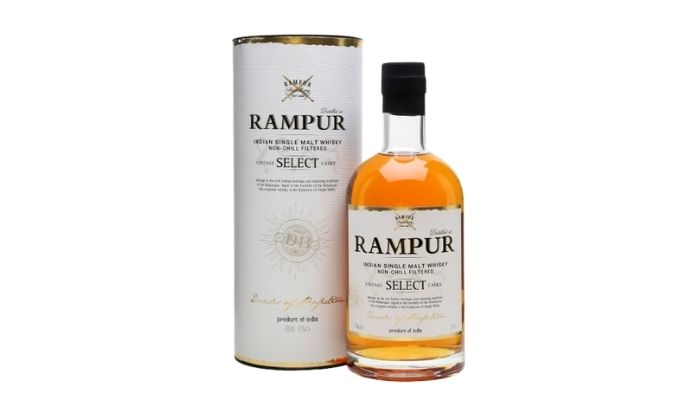 One of the first distilleries in India, Radico Khaitan started in 1943 and has been producing malted barley for blends since 1990 but only launched its first single malt in 2016. Rampur is a non-chill filtered single malt, distilled and matured in the foothills of the Himalayas. Styled as "The Kohinoor of Single Malts.
Nose: Immediate notes of honey with floral notes. An amalgam of nougat which expands into butterscotch, apple blossom and this certain spiciness. Also, a touch of dried fruits and toffee.
Palate: Wonderful herbal flavors, a hint of eucalyptus. Gets more floral and fruitier as it opens up. Apples, peaches and apricots. Balanced well with malty and creamy notes.
Finish: Long and rich finish, not a particularly complex whisky, very upfront.
Kamet Indian Single Malt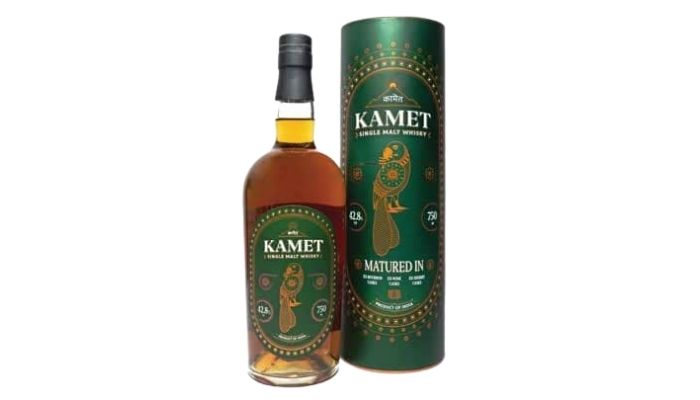 Kamet is a duet, a unique collaboration between two Master Blenders – Surrinder Kumar and Nancy Fraley envisioned by Peak Spirits, run by Ansh Khanna and Mater Sommelier Ken Frederickson. Kamet whisky is made using the now familiar six row barley, sourced from the foothills of the Himalayas and irrigated by melting glacier water. Matured then in a combination of ex-Bourbon American Oak, ex-Wine French Oak and historic ex-Sherry casks.
Nose: No surprise as there are spice forward notes beautifully complimented with oak notes of vanilla, caramel and coconut. A raisin like aroma as well with a backbone of this pungent pepper that lingers all the way through.
Palate: A cocktail of fresh and dried fruits with an unbelievable integration of spice. Nutty, chocolatey and cocoa flavours which closes down on its sweet spices and oak notes.
Finish: Long, warm complex nutty finish with a balanced dry and sherried sweetness.
Prithvi Nagpal is one of the youngest sommeliers and critics in the world and is on course to complete his WSET level 4/ diploma in wines and spirits from Hong Kong. Extremely passionate about wines and spirits, He runs a beverage consultancy and a luxury wine and spirits review page on social media where he reviews premium, artisanal wines and spirits to create awareness and help grow the culture.