Irish Whiskey for Beginners: Tips for Getting Started
27/09/2018
Apart from Jameson Irish whiskey, there are plenty of other options when it comes to choosing Irish whiskey for beginners. See how to get started.
If you look at national sales trends, Irish whiskey has been gaining momentum for years. And that has led to more people than ever before deciding to try out Irish whiskey for themselves. A natural question, though, is "Where to begin?"
---
For most people, the easiest way to answer that question is simply opting for one of the biggest, best-known names in the market and taking it from there.
And, indeed, Jameson Irish whiskey is by far the most common way that people get started with Irish whiskey. But there are plenty of other options out there, including most that not be immediately recognizable to the typical consumer. With that in mind, here's a quick overview of what you need to know before you get started.
Choose an Irish whiskey with a smooth finish
As a whiskey beginner, it's best to opt for a whiskey with a silky or smooth finish. That should be your first consideration. That's one major reason why Irish whiskey is so popular – there's less alcohol burn when drinking than with other types of whiskey. As a result, it's viewed as being more approachable. In fact, many first-time Irish whiskey drinkers say that the liquid can feel "quite delicate" in the mouth, and not nearly as harsh as they expected. So if you're reading reviews about Irish whiskey, look for descriptive terms like "smooth" or "silky."
Don't feel like you have to buy the most expensive Irish whiskey
Yes, there is a direct correlation between price and quality, but that doesn't mean that you have to sacrifice much in quality if you opt for an Irish whiskey priced at less than $20 per bottle. Two of the best options at this price point include Clontarf and 2 Gingers.
Clontarf has drawn rave reviews from new Irish whiskey drinkers, making it a possible alternative to Jameson as a first introduction. Clontarf is a mass market, blended Irish whiskey. It's routinely described as light and flavorful, and makes for a wonderful introduction to Irish whiskey at an affordable price. The retail price of Clontarf is typically anywhere from $15.99 to $19.99 per 750 ml bottle.
Experiment with pot still whiskey
If you have decided to experiment with Irish whiskey, one term that you will begin to see almost immediately is "pot still whiskey." This is a very specific term and refers to the way the whiskey is produced. It requires a mashbill of malted and unmalted barley, which is then distilled in a copper pot.
One great introduction to the pot still whiskey is Green Spot, which is aged for at least 8 years. Green Spot is a mix of one-quarter sherry oak-aged whiskey and three-quarters bourbon barrel-aged whiskey. It's routinely described as one of the best possible intros to a single pot still whiskey for beginners.
One way to experiment with pot still whiskey is as part of a whiskey flight, in which you sample at least 3 different Irish whiskies at one time. Most long-time whiskey drinkers say that pot still whiskey should be the second type of whiskey that you try, right behind a mass-market whiskey like Jameson or Clontarf. In fact, some say that pot still whiskey is the way that they fell in love with Irish whiskey in the first place. You get a bigger body and a better mouthfeel, and you can really feel the extra time and effort that went into making it.
Try one single malt whiskey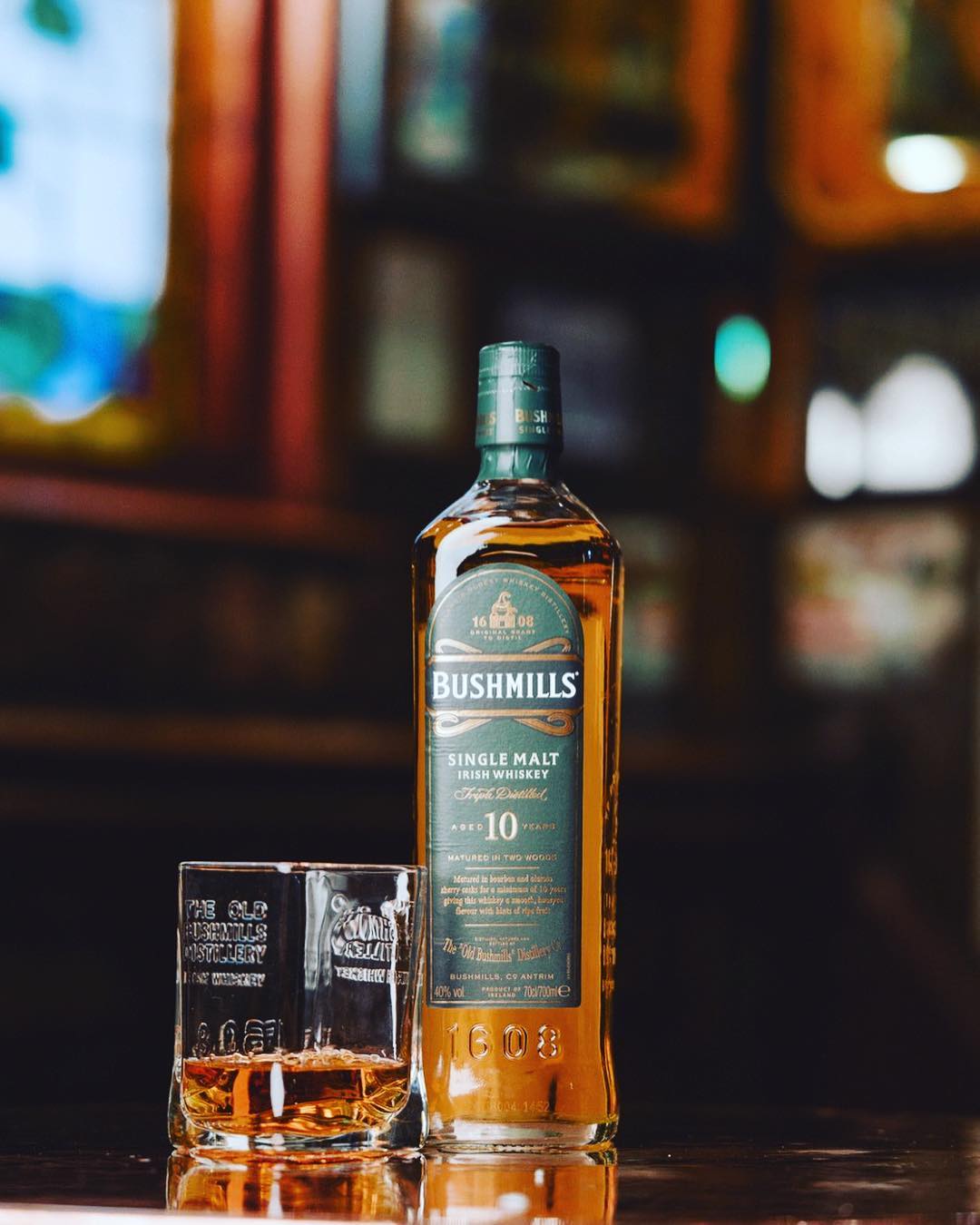 If there's one single malt Irish whiskey that you absolutely have to try, it's Bushmills. This company is now Ireland's second-largest distiller, and you have plenty of options across a variety of price points. For the beginner, though, a good starter Irish whiskey is Bushmills Single Malt 10-Year-Old. This whiskey is moderately priced, widely available and comes with a very rich flavor. Bushmills describes this Single Malt as having flavors and aromas of honey, vanilla, and milk chocolate. There's no burn, either, just flavor. Plus, this Irish whiskey is triple-distilled, so you know you are getting real quality. Best of all, Bushmills is moderately priced and widely available.
Look for award-winning whiskies
In 2010, the Whiskey Bible named Redbreast "Top Irish Whiskey of the Year." Even though Redbreast might not have the same name-brand recognition as Jameson or Bushmills, it routinely wins awards for being the best overall Irish whiskey. The best option for Irish whiskey newbies is Redbreast 12-Year-Old. This is one of the most approachable whiskies that the distillery offers.
Try a small batch craft whiskey
Finally, with the outgrowth of the craft distilling movement, it's only natural that we are beginning to see the arrival of excellent craft distillers in Ireland. One favorite is Teeling Small Batch, which many consider having exceptional quality – even more so than you'd find with a mass-market whiskey like Clontarf. Teeling is a premium blended Irish whiskey that is finished in rum casks, giving it a sweet and very approachable taste.
Getting started for less than $20
As can be seen above, you have plenty of options for how to get started with Irish whiskey. What makes things interesting, of course, is that "getting started with Irish whiskey" is usually synonymous with "getting started with whiskey." You'd be surprised at how many people first try Irish whiskey before then experimenting with Scotch or Bourbon. So it's important to get things right from the very beginning, otherwise, you might be turned off whiskey in favor of lighter spirits.
That's why Irish whiskey is so unique – when it comes to flavor, aroma, and mouthfeel – it's usually smooth, silky with plenty of batter-coated mouthfeels. And you can get started for just $20 if you opt for a brand like Clontarf, which is generally acknowledged to have the same quality as Jameson, at just a fraction of the price. There are plenty of restaurants and bars that now perform whiskey tastings in addition to wine tastings, so look for a chance to sample Irish whiskey with a group of your closest friends or family. You will soon begin to appreciate why there are so many Irish whiskey fans in America, with national sales continuing to show real momentum.
Image credit: Bushmills on Instagram (@BushmillsUK)