London's Best Outdoor Bars & Restaurants To Check Out during Covid-19 Times
02/11/2020
The below-mentioned bars and restaurants combine great value, unique characteristics, diverse appearance, and great food. Pick your favorite.
Covid-19 has introduced uncertainty and chaotically shifted our daily lives. However, life must go on and we still want to go out and enjoy small things such as a taste of a food or a drink. London still has many of its restaurants running strong. During these times, one of the best venues to attend are the ones with outdoor seating. Outdoor dining provides more safety, social distancing with a vibrant appearance, and a breath of fresh air. Some of them also have breathtaking views of the city's skyline or simply great coziness. Let's explore some of London's best outdoor venues to visit during Covid-19 times!
Aviary Restaurant
Aviary Restaurant is easily one of the best and unique spots in London for an outdoor experience. The outdoor rooftop terrace is located on the ninth floor of Montcalm Royal London House Hotel.
The menu offers Mediterranean flavors and good cocktails while the restaurant delivers a unique dining experience in their private "Igloos". These glass pods will allow you to enjoy 360 views of London's skyline, get cozy, and enjoy more privacy.
Even before the Covid-19, this concept was already rising in popularity. And now, it just so happens that these igloos are perfect for social distancing and safe dining!
Full Address: 10th Floor Montcalm, 22-25 Finsbury Square EC2A 1DX
What People Are Saying: Yelp
Bentley's Oyster Bar & Grill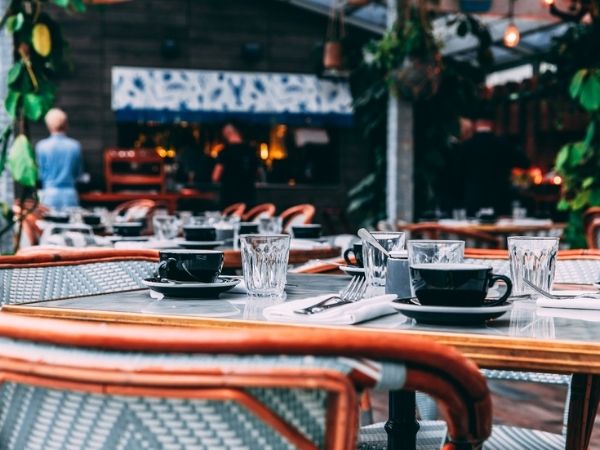 Bentley's Oyster Bar is the city's icon and a timeless venue that has been around since 1916. Pass-by the marble-topped bar and enter an extended alfresco outdoor terrace that delivers views of Swallow Street.
The restaurant focuses on the finest British seafood which comes in the forms of seafood platters, sushi salad bowls, fish pies, and more exciting stuff!
The bar also offers fine spirit drinks, a variety of desserts, or even a selection of cheeses to indulge in. Brighten up your day during these times in this excellent and value venue.
Full Address: 11-15 Swallow St, Mayfair, London W1B 4DG, United Kingdom
What People Are Saying: Yelp
Radio Rooftop Bar
How about some cozy blankets, vibrant lanterns, and a warm hot chocolate that will also make you tipsy?
If something like that sounds like you, check out the Radio Rooftop Bar. Splendid views of Central London will accompany you from any seating position on the terrace. Menus here are seasonal changes and exciting.
Radio Rooftop Bar also has social bubbles of its own, delivering a safe, warm, and comfortable stay under the stars. With a brilliant cocktail in hand, of course!
Full Address: 336-337 Strand, London WC2R 1HA, United Kingdom
What People Are Saying: Yelp
Flat Iron Square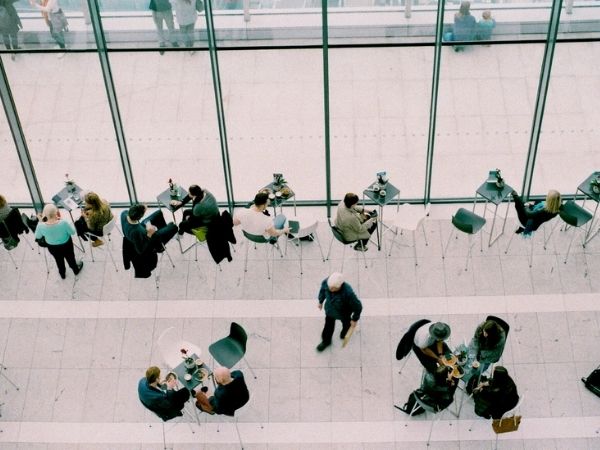 Composed of multiple series of outdoor spaces, Flat Iron Square is an interesting concept to consider, especially these Covid-19 times.
Here you will find anything from delicious street-food stalls and cool bars to artisan bakeries and culinary masterpieces. Add season menus and seasonal drinks with extensive menus and we have something intriguing here.
These different outdoor venues are covered and heated making it perfect for a cozy winter experience.
Full Address: 53b Southwark Street, London Bridge SE1 1RU
What People Are Saying: Yelp
Dalloway Terrace
Blooming in Autumn colors, the Dalloway Terrace is another beautiful venue with an outdoor terrace to consider during the Covid-19 times. At the moment, the restaurant's outdoor seating is equipped with golden leaves, illuminated branches, and more Autumn vibrations.
The restaurant has a partnership with Johnnie Walker Black Label which gives their seasonal dishes and cocktails a different twist.
Weather is also not a concern here as the alfresco terrace with a retractable roof, walls and heating that will take care of any winter conditions.
Full Address: 16-22 Great Russell Street, Fitzrovia WC1B 3NN
What People Are Saying: Yelp
Jimmy's Lodge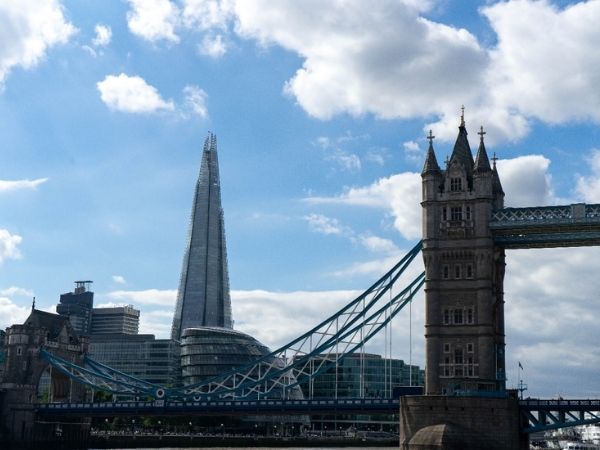 We enjoyed rooftop views and bustling markets, it is about time we go down to the picturesque Thames river.
Jimmy's Lodge restaurant started in 2011 and grew into something intriguing and unique. Steaks are cooked on the hot stone and drinks are plenty to choose from. However, the main draw is private dining snow globes beside the river.
Perfect for Covid-19 times with outstanding location and fulfilling dishes, Jimmy's Lodge just might be your getaway for an evening.
Full Address: The Queen's Walk, Bishop's, London SE1 8XX, United Kingdom
The Churchill Bar & Terrace
Welcome to the Churchill Bar & Terrace. A sound name for British history and an even more sound award-winning alfresco terrace!
Fur rugs and warm blankets are just the beginning to ensure an enjoyable stay here. Indulge in a gourmet burger menu, excellent brunch service on weekends, and interesting cocktails that are prepared by an award-winning mixology team.
Oh, and did we mention they have an exclusive cigar menu too? Defeat Covid-19 depression and enjoy the moment in this outstanding venue.
Full Address: Hyatt Regency, 30 Portman Square, Marylebone, London W1H 7BH, United Kingdom
What People Are Saying: Yelp
The Botanist Broadgate Circle
The Botanist Broadgate Circle is another interesting concept in London. Its bright and massive sun terrace is perched right on Liverpool Street Station's doorstep.
The venue offers an excellent range of signature cocktails, lagers, and a food menu that combines both classic British and European flavors.
If the terrace got you wanting for extra fun, check their late-night party spot and even space downstairs where DJs blast music on Fridays until early mornings.
Full Address: 35 Broadgate, London EC2M 2BY, United Kingdom
What People Are Saying: Yelp
The Ship
Let's make our way back to the riverside to visit another brilliant destination – The Ship Pub & Dining venue.
Get fancy with steamed mussels or fresh oysters while overlooking the Thames river. Besides delicious seafood, you will have a large menu at your disposal filled with sandwiches, burgers, salads, puddings, and more! Just as the food menu, their wine selection is also rich alongside other boozy drinks.
If you are looking for social distancing, you can always book their private riverside cabin with cozy sofas and flatscreen TV to provide everything you need besides drinks and food.
Full Address: 1 Jews Row, Wandsworth, London SW18 1TB, United Kingdom
What People Are Saying: Yelp
Peckham Bazaar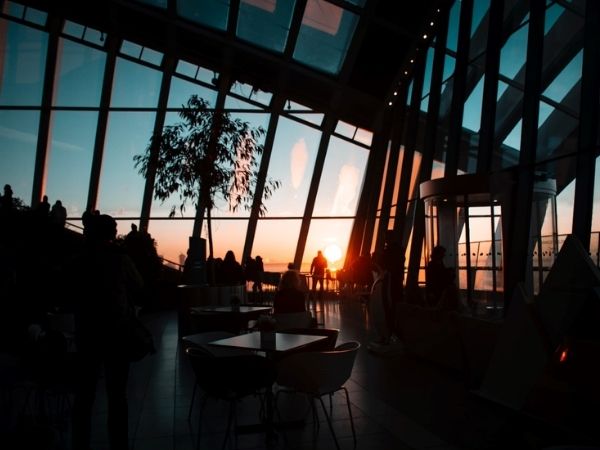 Let's stay in London, but at the same time take a little trip to the Balkans. How? By visiting Peckham Bazaar, an Eastern Mediterranean Pan-Balkan venue that gathers influence from Albania to Greece to Iran and beyond.
As you might suspect, the food here is hearty and packed with strong flavors. Whether it's a tender octopus or a cigar-shaped pastilla filled with braised lamb – whatever you choose, they guarantee a piece of history and freshest produce from London's markets.
Their outdoor seating is often filled with folk music, rustic wood, and a great atmosphere where you will feel different vibes than usual!
Full Address: 119 Consort Rd, Peckham, London SE15 3RU, United Kingdom
Pergola Paddington Central
Known as a botanical alfresco dining destination, this 850-seated rooftop outdoor venue is an unusual yet excellent venue to explore.
What about American fried chicken, excellent sushi rolls, juicy ribs, and tasty kebabs with some classical and innovative cocktails and beers? It's foodie heaven and it is going to surprise even the savviest diners out there!
Besides its massive seating capacity, Pergola Paddington Central also has seven day-beds, two bars on different levels, DJs on weekends, and bottomless brunch on Sundays.
Full Address: 4 Kingdom St, London W2 6PY, United Kingdom
What People Are Saying: Yelp
Pop Brixton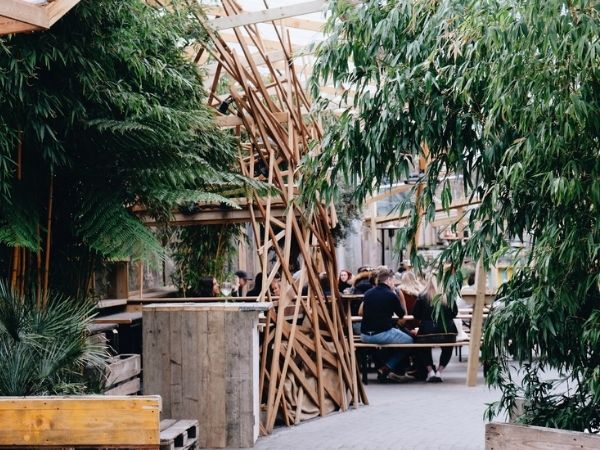 Did we mention interesting concepts? Oh yeah! Pop Brixton just might be one of the most intriguing ones for those who are looking for outdoor venues to dine, drink, and do more.
Pop Brixton is an inexpensive eating destination that is housed in shipping containers. These shipping containers are different bars, street food stalls, and restaurants with live music, entertainment events, and shopping opportunities besides them.
The outdoor venues are colorful with laid-back vibes and include highly-rated restaurants such as Smoke and Salt. Explore and enjoy it!
Full Address: 49 Brixton Station Rd, Brixton, London SW9 8PQ, United Kingdom
What People Are Saying: Yelp
Conclusion
London has over 18,000 restaurants while many of them host an outdoor terrace of some type. Out of these many eateries to discover – be assured that the ones mentioned above will combine great value, unique characteristics, diverse appearance, and great food. Just pick one or more and give it a try and see how desperate times fade away when the moment is enjoyed to its fullest. Let's stay safe and live life at the same time. Enjoy!