2023 Winners
London.
March 22, 23 & 24
Announced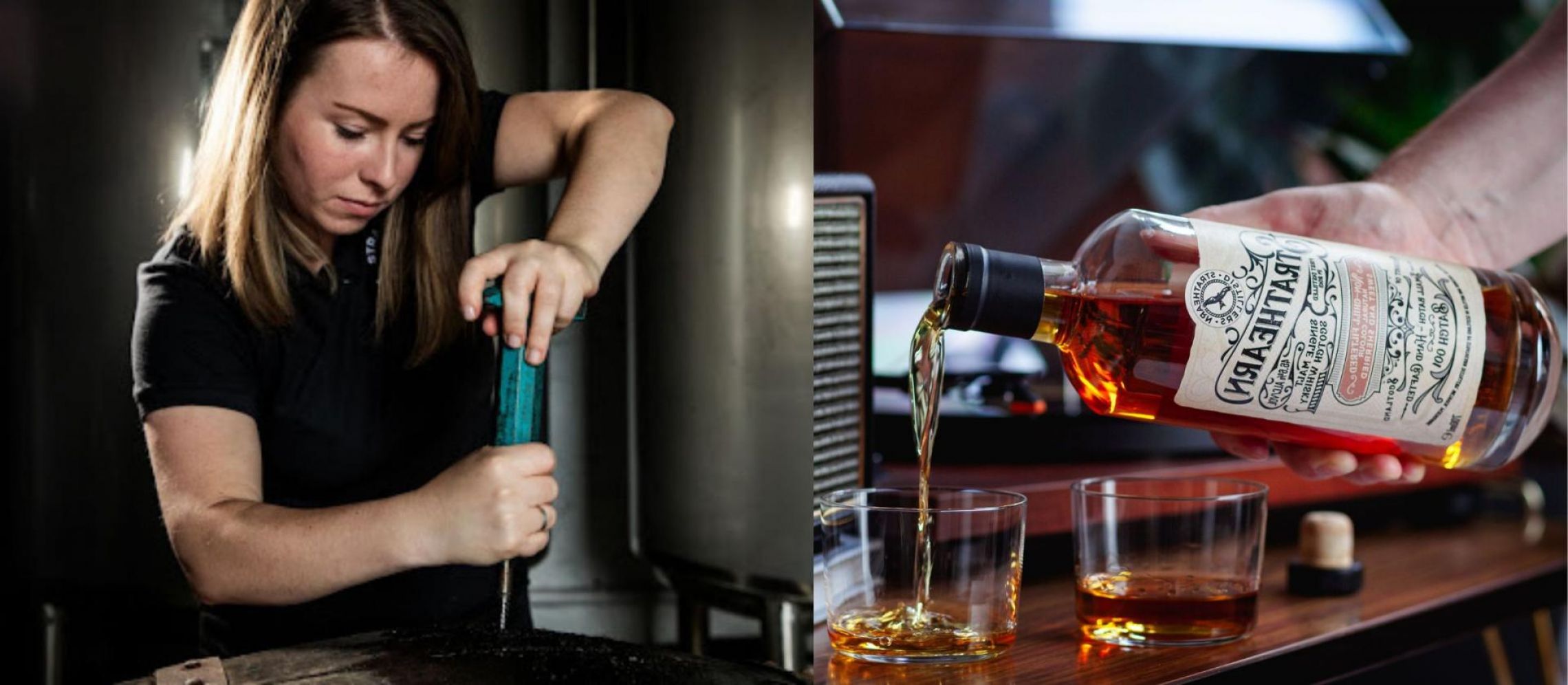 "The Key to a Good Life is to Have a Great Work-Life Balance." Says Angela.
Angela Brown, the Lead Distiller at Strathearn Distillery, talks about her distilling career in the spirits industry and shares some brand pitching ideas for Brand Ambassadors.
Angela took the opportunity to enter the whisky, gin, and rum market after spending four years in the brewing industry. Angela has previously worked as a brewer at The Innis & Gunn Inveralmond Brewery Ltd and a technical brewer at Williams Bros. Brewing Co. She is quite involved with the Institute of Brewing and Distilling and is a member of the committee. She is delighted to have joined the Strathearn and Douglas Laing family as a Lead Distiller. As a lead distiller, she takes care of inventory, staff training, plant maintenance, paperwork, and hosting VIP tours and tastings. Learn more about her journey in the interview below.
What has your distilling career been like? Tell us a little about your background.
My time in the distilling industry has been very short and sweet, as I only started in June last year. Following my Master's degree in Brewing and Distilling at Herriot Watt, I was brewing for a few years, getting my start as a Brewer at Innis and Gunn Inveralmond Brewery and then as a Technical Brewer at William's Bros Brewery. A distilling position came up at Strathearn Distillery. I'd previously done two days of work experience there years ago, so I had a rough idea of what the distillery was about and had always wanted to get into the distilling world. It was an obvious choice for me – a gorgeous setting on a farm/wedding venue, crafting a special spirit in one of Scotland's smallest but highly regarded distilleries.
During covid, Strathearn made high volumes of hand sanitiser rather than whisky. Luckily for me, my first day last June was when we began making the whisky destined for 'Batch 2', so I felt a strong connection to the distillery from very early on. I am pleased to say that I am now the head distiller here and have made many improvements with yield, quality, consistency, sustainability, look of the distillery and doubled production volumes. However, I still want to keep the distillery traditional and continue producing a truly handmade malt. We are a small, tight-knit team of 3 at the distillery, and we put a lot of effort into making a 'barrel' a day of new make spirit.
[[relatedPurchasesItems-39]]
We make Strathearn Single Malt whisky and have recently released bottles of our new make spirit named 'The Heart' as a teaser of the quality spirit to come in the future. I am also pleased to say that some of our Strathearn whisky is married into our (Douglas Laing & Co.) Timorous Beastie Highland Malt, which is more widely available. It's been great working in such a small distillery yet having the support of Douglas Laing & Co. They have extensive whisky knowledge, having been in the industry since 1948. With their recent opening of Clyde Bottlers (Hillington) for warehouse maturation and bottling, it's nice to know that everything can be taken care of in-house.
I am also quite involved with the Institute of Brewing and Distilling and have become a member of the committee. I enjoy attending tours of other sites and meeting people in the spirits industry. I am organising a 3-day 'Technical Tour' of 10 distilleries and breweries in and around Dublin in October, which I am looking forward to.
How do you think the Spirits industry has evolved?
I would say consumers are more switched on and are more aware of where their products come from. People are more interested in the provenance of their spirits, where the ingredients come from and how things are made. We aren't open to the public, but we do have whisky enthusiasts who drop by, and they are enamoured with the size and look of our stills and are always keen to learn more about how our whisky is different.
Another change would be inflation - consumers are more focused on value for money than ever, which doesn't necessarily mean they are pursuing cheaper products. I think they are happy to pay for spirits with a story, ownership and something that is not mass produced (our mash tun is only 400kg).
Tell us a little about your day-to-day role.
It's been such an exciting role and working in such a small distillery, I have been able to do so many more tasks than I ever would have expected. For distilling, my day-to-day role involves everything from carrying bags of malt upstairs (400kg/16 x 25kg carried up for every mash), looking after the mash, distilling, tasting and smelling for each cut point in the spirit (all done the traditional way) and lots of cleaning. It must be one of the only distilleries where we get to make whisky, rum and gin, which keeps things very exciting, and we have learned a lot. As a head distiller, I take care of inventory, staff training, plant maintenance, paperwork, and hosting VIP tours and tastings. We are now a tight-knit team of 3 who all enjoy working here. I have also enjoyed getting stuck into making improvements in all areas of Strathearn and have doubled production, increased yield, and worked on improving our water and efficiency.
To know more about Strathearn Distillery, please visit www.strathearndistillery.com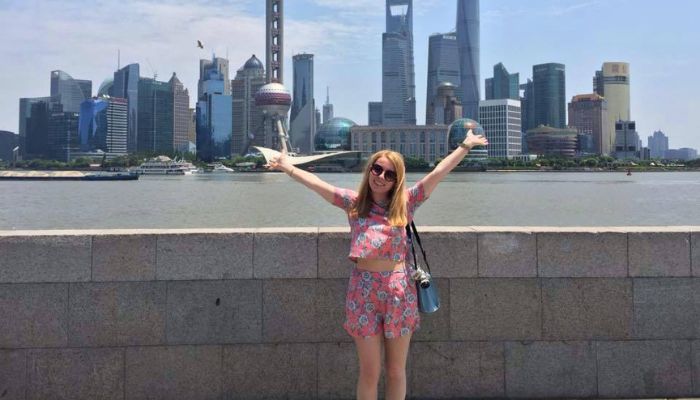 Image: Angela Brown; Source: Facebook
Share some Brand Pitching Ideas for brand ambassadors.
- Timorous Beastie Highland malt is not timid on flavour, and there are so many exciting expressions of this brand, so it's brilliant to work with. I enjoy drinking it neat but also in an Old Fashioned cocktail, which is one of my favourites. I feel like the whisky 'holds its own when mixed due to its sweet and spicy nature, adding contrast and complexity to bitters and orange peel. I am a huge fan of sweet flavours, and the honey and meringue of Timorous Beastie add a moreish twist to this cocktail for me.
- Strathearn Single Malt I would suggest serving neat and appreciating the huge flavours of such a young whisky. Its rich, red berry flavour and bold colour are largely owed to Strathearn's great 'wood policy', and it has tricked many a seasoned whisky drinker into thinking it's a much older malt.
- I find Strathearn's 'The Heart' new make spirit does very well in an Espresso Martini. It packs a punch being 63.5% ABV, and its intense porridge and malted barley flavour adds depth to the cocktail and complements the bitterness of the coffee.
- Douglas Laing & Co. / Strathearn do not use add colouring or chill-filtration on any of their products which I think is a great decision – nothing is ever added or taken away, and the whisky is as natural as it gets.
- Anything we make at Strathearn truly is handmade and hard work. It's a very traditional production style, and nothing happens in the stillhouse without us having full control over everything, making it quite a unique product in today's market.
- Douglas Laing & Co. offers a huge variety of whiskies and something that would suit every palate. They offer various age ranges, finishes, casks, regional malts, and single cask bottlings. I really believe they have brands which every bartender would enjoy working with.
- At Strathearn, we are committed to using Maris Otter malted barley, a variety not known for its efficiency in distilling; however, we love the flavour and are willing to sacrifice yield as we don't want to compromise on our flavour.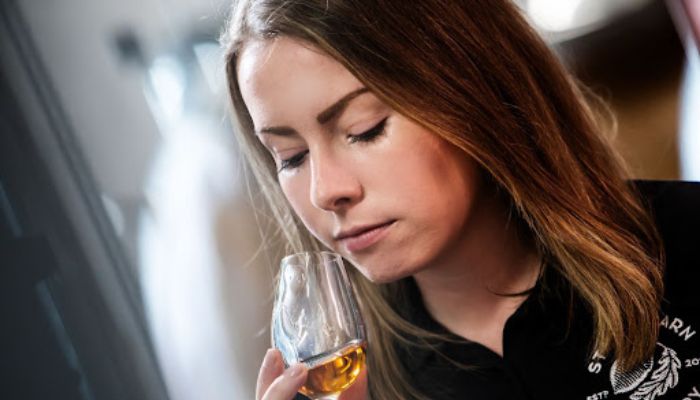 Image: Angela Brown
How do you think a distiller can help drive marketing and sales personally?
Strathearn distillery is generally closed to the public, and we don't have a shop on the site, but we often have whisky enthusiasts popping in for a look around. We try to take 5 or 10 minutes of our time and talk them through a bit of the process and what makes our whisky so special. I enjoy introducing people to the magic of distillation and love it when people appreciate how traditional, handmade and hard work our distillery is. I've worked at some of the whisky festivals, and it's great to meet people and personally represent our brands. It's important to be friendly, share stories and experiences, and answer questions, and I think this would help welcome people to our brands.
Define a good distiller.
I would say a good distiller pays attention to detail, does everything with care, and shows passion for what they do. They take pride in their product and are keen to share knowledge and experience about their product is made. They are excited about the future release for the distillery. However, it's not just about the process or end product. We must always look at the bigger picture and how to increase sustainability, be more environmentally friendly, increase yield, and strive to improve everything.
Which is your go-to drink, and what is the perfect setting you enjoy it in?
My go-to drink would be a sweet yet bitter Boulevardier featuring Douglas Laing & Co's Scallywag 10YO. My ideal setting for enjoying this sophisticated drink would be during a long weekend away, having drinks at a rooftop bar in London or New York, where I could take in the views and enjoy a couple of cocktails with my husband, who has a similar taste to mine.
What do you do when you are not distilling?
My favourite thing to do in my free time is travelling, and I love planning my next trip (or two!) I've travelled extensively in Scotland, enjoying the food, drinks and wildlife of the NC500, highlands and islands. I've visited China, and India, gone interrailing and seen a bit of the USA. To keep fit, I enjoy a bit of a challenge, including hill walking, wild swimming, fitness classes and round this off with some yoga. I thoroughly enjoy meeting family and friends in our local bars and restaurants in Perth, Edinburgh and Glasgow.

Image: Angela Brown; Source: Facebook
What is your idea of a good life?
I would say the key to a good life is to have a great work/life balance. At work, I have plenty of time to be focussed, determined and challenged and can leave feeling like I have done a good job. When I go home, I have time to relax outside of work, but I enjoy being challenged in my free time, too – it's great to push boundaries, grow and feel satisfied. At Strathearn Distillery, I now have a 10-mile commute per day which makes a huge difference from my previous job, which was an 80-mile round trip. I'm happy going to work, and I'm happy going home, also. I also love always having something to look forward to and rarely have a weekend with no plans.
Header Image: Angela Brown