A Great Palate & Passion for Work, Makes a Decent Distiller
12/05/2022
Oliver Kitson, Master Distiller & Apprentice Farmer at Warner's Distillery, shares his experience working as a distiller and his views on the evolution of the spirits industry. 
Oliver is a skilled brewer and distiller with a scientific and engineering background and a track record of successfully directing projects and delivering growth in beverage production and logistical operations. With more than 10 years of working experience in the beverage industry, Oliver started his journey as a Brewer at Purity Brewing Co and Dorset Brewing Company. Soon after, he switched to spirits and took over running the Sipsmith distillery in London as Head of Production. Later, he worked as a Master Distiller at The Republic of Fremantle, Australia. And now he is currently working as a Master Distiller at Warner's Distillery.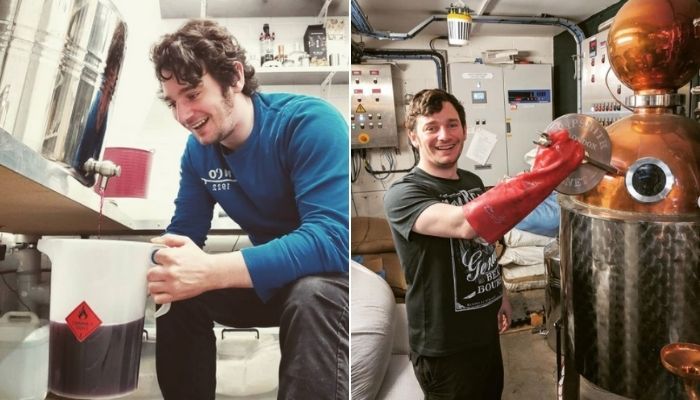 Image: Oliver Kitson
What has your distilling career been like? Tell us a little about your background.
I went to University in Edinburgh, where I studied biomedical sciences for my undergraduate. I fell in love with the city, particularly the culture and its food and drink scene, which, if you haven't visited, is far more expensive than deep-fried pizza and battered confectionery. I grew ever more interested in cocktails and became more passionate about real ale in my early 20s, so I decided to stay in Scotland and complete an MSc in Brewing and Distilling at Heriot-Watt University, which is basically Hogwarts for brewers and distillers. Initially, I went into the beer industry. But, five years later, with a new wave of gin producers starting to take off in the UK, I switched to spirits and took over running the Sipsmith distillery in London as Head of Production.
[[relatedPurchasesItems-23]]
After a whirlwind time delivering massive growth at Sipsmith following the buyout by Beam Suntory, I was looking for a new challenge. A bit of fortuitous timing led me to work on a project with Olivier and Julia Ward, starting up a new distillery in Australia called the Republic of Fremantle. This was a massively ambitious undertaking to build a distillery that would make all its spirits from scratch, grape to glass, using West Australian wine. Six months after moving out there, though, Covid turned everyone's life upside down, including my own. I was unable to see my family for the two years I spent in Perth creating the recipes and honing the process of transforming wine into brandy, vodka, and gin. Eventually, the call for home was too great, so my wife and I decided to move back to Warwickshire, and I am now Master Distiller at The Warner's Distillery.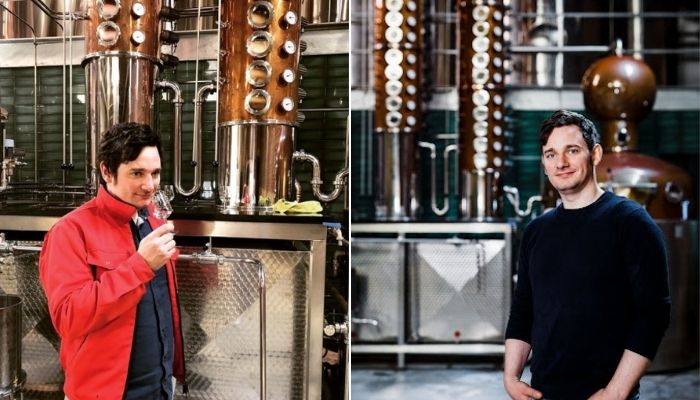 Image: Oliver Kitson, At Republic of Fremantle Distilling
How do you think the Spirits industry has evolved?
I think the spirits industry has exploded with creativity following a renewed sense of appreciation of craftsmanship and provenance in food and drink as a whole. I feel this has led to a revival of traditional brands and institutions as it has driven all sorts of category innovation. Giving us everything from ultrasonic macerations and vacuum distillation to bartending techniques like switching. What the next big thing will be, can anyone guess? I think it will ultimately come from the on-trade now that we are returning to a post-Covid normal as that is the part of the drinks industry most connected to consumers.
Tell us a little about your day-to-day role.
I try to start each day with some form of exercise, even if just 10mins of yoga, and after a quick breakfast, I head to the distillery to check in with the distillers and the blending team to make sure everything is running smoothly. At the time of the meeting, with the operations team, we go over all aspects of production and engineering to enable the future growth of the business and make sure the gin keeps flowing. By noon, if I don't get around to it already, there will be an array of liquid samples on my desk to approve for bottling. We have an extensive horticulture program and grow many botanicals ourselves, so if the weather is pleasant, it's good to take a walk to the botanical gardens afterward. Lunch is usually something I've brought in from home; however, I insist on taking the time to prepare something different for myself instead of just the same leftovers from supper. I love to cook and make myself a drink. I would not trust anyone to make a drink for me who doesn't enjoy food. In the afternoon, I alternate between working on developing new spirits with our resident innovator Rachel Sutherland and hosting visitors at the distillery. Sometimes I get home quite late because it is easy to get sucked into work when your job is your passion.
What's unique about your Distillery that you like?
At Warner's Distillery, we grow many of our own botanicals, such as angelica, and are committed to nature positivity by promoting biodiversity and minimizing waste. We believe that real gin has the countryside in, so the unique character of our gins is defined by our terroir and the very fact that they are farm-born. We also have Trash & Treasure botanical rum, which is our take on a spiced rum distilled using weeds and upcycled ingredients, including leftover citrus peels.
What were some of the challenges you faced when you distilled your first spirit?
When I started at Sipsmith, I had a two-week handover from Chris Garden, who was leaving to start Hepple Spirits with Nick Strangeway and Valentine Warner. After this, I was distilling everything on my own for the first time since university, which was obviously a little bit daunting initially. A few months later, I started to develop the first of my own recipes with occasional success! One of these early experiments was Lemon Drizzle, which would eventually be released a couple of years later. Being the first brand I created, it is still something I'm immensely proud of.
How do you think a distiller can help in driving marketing and sales personally?
The person who actually creates the spirits usually knows more about the liquid than anybody else in the business. Over time it's natural to develop so much understanding about the subtle nuances of your product and how it is made. But it also acquires a few funny stories to tell. I think people always like to meet the maker, but I really enjoy it too as it allows me to talk with people just as excited as I am about food and drink.
What are some of the essential skills required to distill? Define a good distiller.
Too often, I believe, as an industry, we venerate this image of some wizard-like figure crafting all sorts of weird and wonderful concoctions. However, running a distillery is no different from hospitality, where those who've known to cut their teeth know that working as a team to deliver the highest quality day-in-day-out is far more challenging than making one single good recipe from a dozen attempts. Becoming a decent distiller requires scientific acumen and specialist training coupled with an exceptional pallet and a passion for working diligently every day, no matter what. But most importantly, it requires patience and humility. It is impossible to ever know everything about the field and, I think that part of becoming any good at it is realizing this fundamental truth.
What advice would you give to future distillers?
Finding great mentors is the best way to turbocharge your career no matter what you pursue. I've been so lucky to have had the people that have given me their time and champion me so far throughout my journey, and without them, I wouldn't be where I am now. Beware those making out they know everything or acting like their knowledge is secret, likely won't know very much at all! I am always looking to learn something new and can't wait to attend some talks and lectures that are coming up this summer. The fact that every day is a school day is one of the reasons why I love what I do so much.
Which is your go-to drink and what is the perfect setting you enjoy it in?
I have an unashamed love for tiki, which drove me to build a beach bar on my balcony in Australia. Here I'd love to mix all sorts of cocktails, including some rather potent punches, but I'd say my go-to for any occasion is some variation on a Tom Collins. Warner's gins are perfect for this, often overlooked serve, whether it's the London Dry, Elderflower, or even the Raspberry Gin.
What do you do when you are not distilling?
I like to stay active and keep a good work-life balance. But when things get busier, it can be a struggle to carve out the time to fit everything in. I love snowboarding and motorbikes, and during my time in Australia, I learned how to scuba dive. So I am hoping to be able to do more of that soon.
What is your idea of a good life?
I believe a life well-lived is one with some sort of purpose. Working with a team to create something authentic I can share and celebrate with so many people is something that I find genuinely rewarding, even on the days when things don't exactly go to plan!
Header Image: Oliver Kitson, At the Republic of Fremantle Distilling.