A Sip of The Authentic Life with Marcello Cauda
21/10/2021
With an earth-forward, zero-waste focus and made from scratch, organic ingredients, sip on Marcello Cauda's 'The Authentic Life' cocktail menu at The Mezzanine.
Where do you work?
The Mezzanine bar at the Stratford Hotel, London.
Tell us something about yourself
I'm Marcello, a 26 year old Italian bartender. I've been in the industry for almost 10 years. I've always been fascinated about this industry. At 19 I left Italy and started to travel around the UK (Bristol, Bath, London) with a year spent in Australia (Melbourne).
What inspired you to get into bartending?
Turin-born Marcello's love for the art of cocktail making emerged early; it was at a friend's birthday party at just 10 years old that he first started experimenting with soft drinks, mixing and playing around with everything he could find. Inspired and enthused, a few years later, at the age of 14 his education took a new path as he enrolled in hospitality school, supporting his passion by working in a small bar in southern Italy during his summers.
How according to you has the role of the Bartender evolved, especially now during Covid times?
The Bartender's role has now evolved to be more vast. Nowadays in some places you are required to be able to work on the floor as well, so that the guests' experience can be much more intense and complete. Having the person who actually created or designed the drink to explain every single detail in a cocktail. During Covid time everyone has seen an issue with staffing as many people left the country. This translates into having less people that can cover more positions.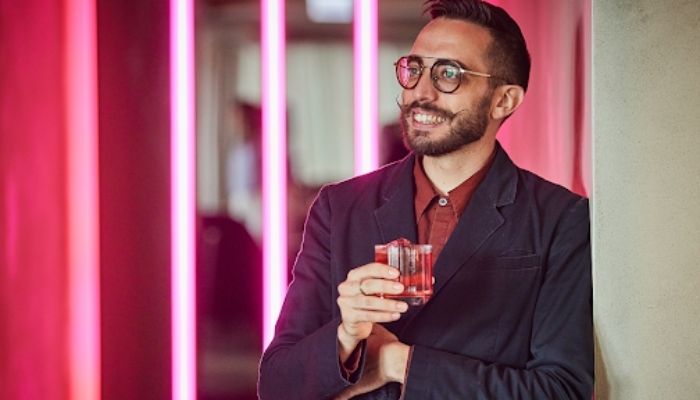 Marcello Cauda, Head Bartender at the Mezzanine, The Stratford
What are some of the most important skills for a bartender to have?
First of all, the smile. Personally I think the smile is a 'skill' that is not often taken into consideration. Often the smile means that the person who is serving you the drink really cares about what he does and wants you to have the best experience ever. Hospitality is a word that is not used a lot anymore. When you have had amazing hospitality and service, the drink you have comes in second place. You will always remember the bartender's name rather than the drink you had.
What do you look for when you plan to buy spirits for your bar?
When I want to buy a spirit for my bar, I've always looked for something more interesting, something that has never been done before, (of course it needs to taste great). I also look into how I can sell this product to a guest, how can the customer understand the process/story behind it?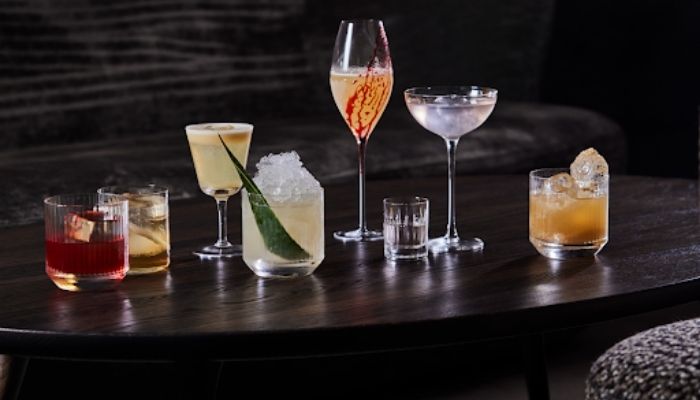 Marcello Cauda, Head Bartender at the Mezzanine, The Stratford. A world-class cocktail bar tucked away in The Stratford, a beautiful SOM-designed, 42-storey building from the team behind The Chiltern Firehouse and St Pancras Renaissance Hotel.
What support programs work best for you from suppliers?
In the end we always have to reach some budget/revenue for the company. We always look into deals where the price of the bottle can be brought down in some way.
What cocktails and drinks trends do you see in 2022?
Well, this is an interesting question. I think 2022 will take into consideration the trend that we had in the 2021 before the pandemic, as with the pandemic the take-away cocktails really showed up. 2022 will see an acceleration of solutions in pursuit of more sustainable food systems from those aimed at minimising waste to ways to maximise value at every stage of the product life cycle. Also, as it's been going for many years the mocktail world will always continue to grow. Nowadays, many people conduct a super healthy diet, mocktails definitely will fit into this.
What's the best part of your job?
The best part of my job is when I see guests coming back to your place because we have created a great connection. I also love creating super delicious cocktails!
What are your favorite TV shows right now? Or your favorite movie?
Mmmh I'm not sure, if I have to pick one I will choose Inception, full of twists and in the end you don't really know what happened, a bit like our own life!
If you had to pick one spirit as your personal best, which would it be and why?
I would choose whisky, especially Japanese. I really love the history, and I love to explain them to customers and the tasting profile (more for sherry oak) hits my taste buds perfectly.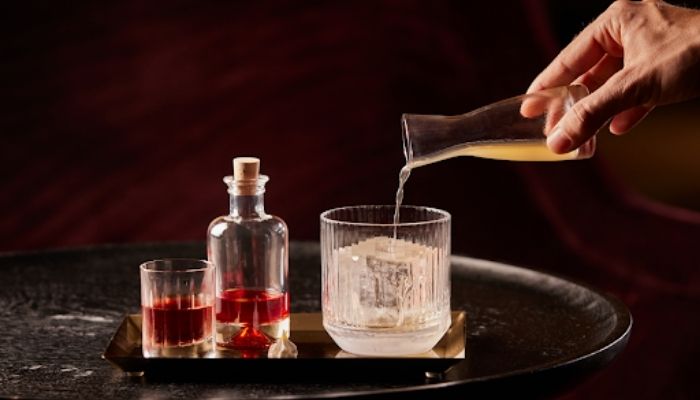 Americano Rosa. This show-stopping drink is intended to be a fusion of an aperitif and dessert; it's sweet and bitter, complex yet smooth, opulent but accessible.
How are you marketing your bar to drive some foot traffic post covid-19?
Well, we try to create something interesting and new. For example, we have an open deck night on a Thursday evening where you can bring your vinyl or key drive with your music and play it a bit like you are at home, while you are tasting some delicious cocktails! Also we launched a new cocktail menu, so our regular guests want to come to try our new creation!
Any tips for new bartenders?
Try to learn as much as you can, be humble and keep pushing, you will arrive where you want if you really want it.
What's the most underrated cocktail ingredient or spirit?
Cognac, I think in the next few years we will see a rebirth of it, especially in cocktail-making.
What is an experience or a customer story you thought was funny and that you remember?
Once I was asked to create a violet drink for a photoshoot, then the company tagged me in the post and I realized that it was a dildo company.
What are some challenges you face in your business and how do you overcome them?
Well at the moment a big challenge in finding staff, especially now coming up to the Christmas period where everyone is hiring. To overcome this challenge we try to train the staff as much as we can, pushing them to learn to do more than only one job. Another challenge is being a constant source of motivation. As much as you might want them to be, not every task that you need your employees to complete is going to be an exciting one.
This is where one of a manager's main challenges comes to light: you have to work to motivate your employees in all situations. Also, the constant need to ensure the workforce is up-to-date on the latest trends, knowledge and skills is a big challenge we are facing today especially in London. Skills are constantly becoming outdated, so as a manager it's important that you constantly nurture knowledge and inspire growth in your teams.
What's your career goal? Where do you want to be and how are you working towards it?
My career goal is to become a Hotel Manager. Not sure where I want to go, I like London. So far, I'm working towards always trying to learn from others or by experience. I also do some courses in management in my free time.
June 1, Promoted to Head Bartender.
Tips for brands looking to pitch to bars? What should they cover in their pitch? What you do not need to know? Give us the best elevator pitch brands can do to you.
I think first of all they need to be truly honest and transparent and genuine.
Define a good Bartender according to you.
A good bartender is someone that is genuine, that follows the guest's indications, and gives attention to details. They should be organized, and need to be friendly. Also creativity plays a big part! Needs to be flexible. Sounds like a lot but there are some good bartenders out there!
What's an ideal bar drinks menu? what should it include, what profit metric should it try and achieve?
A good drink menu needs to be balanced. For example, having a drink for each one of the main spirits is a good start. Then personally I like the bar menu to have a concept that reflects the Bar/ Bartender's ideas. For example, our current menu is based on Lifestyles.
The Authentic Life was inspired by and celebrates 8 different lifestyles inspired by our collective passions and personalities that we discovered and nurtured during the intermittent months of lockdown during the pandemic.
With ingredients sourced from The Stratford's very own organic farm, every element, bar the liqueur, is created from scratch at The Mezzanine. With an earth-forward mission to prevent anything from going to waste, you can bet that your night out at The Mezzanine is going to be as very authentic as you.
Ideally every bar should try to achieve at least 75-80% GP on every cocktail.