Deadline
September 30, 2023
Enter Now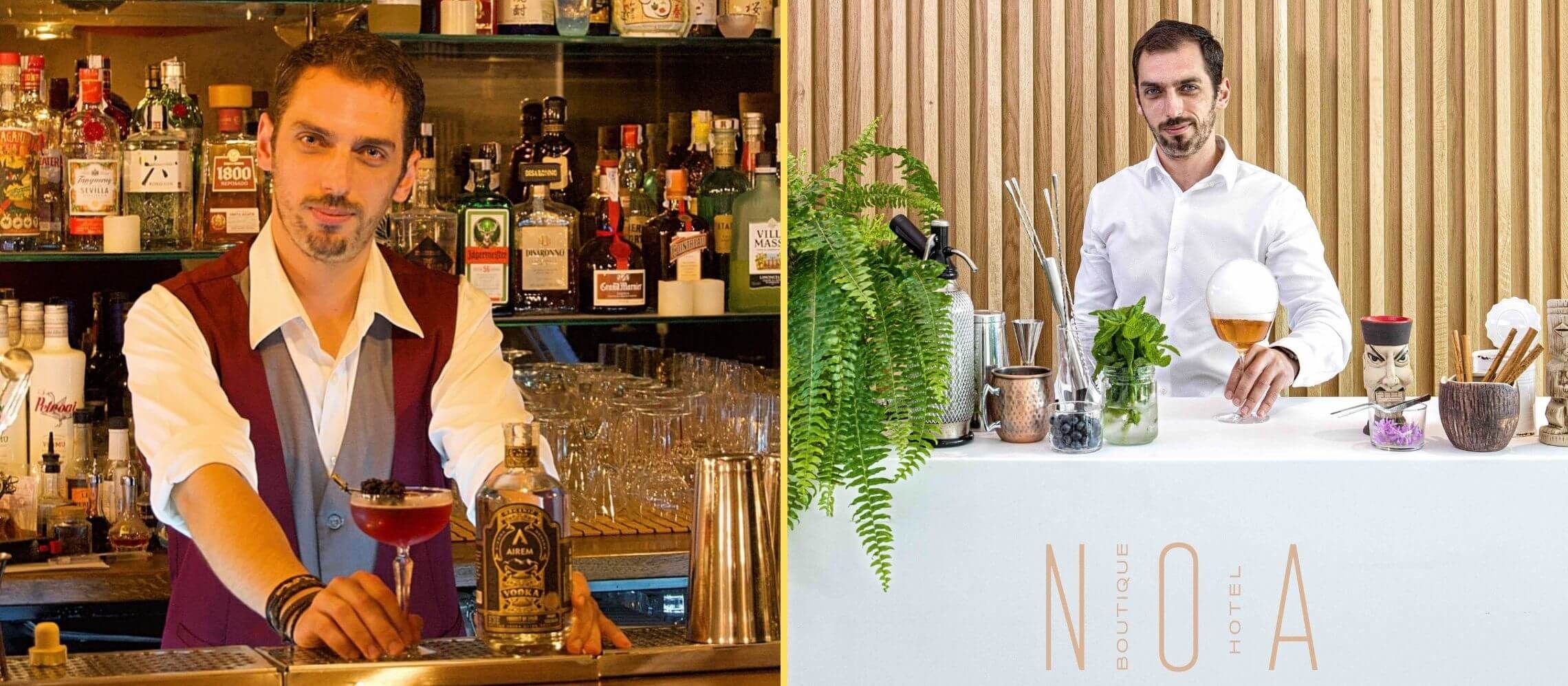 Alberto Gómez on creating his dream drinks list at Spain's Noa Boutique Hotel
Alberto Gómez on creating dream drinks list at A Coruna's Noa Boutique Hotel
Alberto Gómez looks back on his career in the drinks industry and how he has trained and developed as a bartender to his current role as head of drinks at the Noa Boutique Hotel in Santa Cruz, A Coruna on the coast of northwest Spain.
Can you tell us about your background and how you first got into drinks?
I had just graduated from the military when the owner of a bar offered me a job as a busboy. There I began to discover what hospitality was all about and, little by little, I began to be curious about this wonderful world.
Why did you want to work in the bar sector?
I like to talk to people, learn and create new things, and with drinks, it is very exciting. Of course, it takes a lot of effort and dedication, but when you see the result you realize it is all worth it. But it is all about constant learning.
How did you progress into your current role?
A lot of effort and dedication and continuous training. I have worked as a kitchen assistant, waiter, restaurant waiter, bar waiter, up to manager. The most important thing is to be clear that mistakes are an important part of success, as long as one is able to learn from them.
What is involved in your current role and your main tasks?
As a head bartender, I have to create the entire range of spirits and cocktails at the Hotel Noa Boutique. We have a terrace where you can select from our cocktail menu and a selection of spirits where you can enjoy music from our DJ sessions. For the restaurant, we create a cocktail menu more in line with the gastronomic offer, where we are looking at the style of cocktail to the dishes on the menu. I am also in charge of the management and training of the bartenders.
If you were given a bar program and asked to grow sales where would you start and what steps would you to take?
Increasing sales in the bar is not the responsibility of just one person, but the entire team. As a head bartender, you are in charge of managing the bar's cellar and stock control. To get an increase in sales you need to have a good range of cocktails and spirits, and well-trained staff who can advise our clients on the right drink for them. If the guests are well cared for and enjoy the experience and atmosphere that you have created in your bar then sales will go up.

Cocktails by Alberto Gómez
What questions would you ask of the owner to know what sort of drinks list to create?
When creating a drink menu you need information about the project, what is their gastronomic offer? What sort of atmosphere do they want the bar to create? What sort of customers do they want to attract? The more you know about the bar and its customers, the more everything else becomes easy.
What do you most look for and want from drinks suppliers to help drive sales?
You have to believe in the products that your drinks suppliers are giving you. That is crucial. That way you sell and talk about them with a passion to your guests. If you don't think you sell the best drinks, your clients won't believe it either.
Can you think of any good examples of partnerships with suppliers and drinks you have listed as a result?
I was able to take part in a bartender training program that Pernod Ricard Spain invested a great deal of money in. That really helped me grow a lot as a professional, and see first-hand the passion of the master distillers for their products.
What does success look like for you from a drinks program - what are the key ways to show success?
When a glass returns empty to the bar when customers say goodbye with a smile. For me, these things are all signs of success, the fruits of a job well done. There are people who compete to be better than others, I compete to be better than the day before. Rewards and people's recognition over time are forgotten. It is the steps you take to constantly learn and improve yourself that last a lifetime.
How have you devised the drinks program in your venue - what are the key factors about the list that help the bottom line?
The terrace has a more relaxed atmosphere, with fresher and more refreshing cocktails, while the restaurant menu is more for a gastronomic client who wants to enjoy and try different things that are not too complex. It is important your guest feels comfortable in the venue they are in and what it is offering.
What do you focus on to be good in your role?
For me, order and discipline are essential if I want to do my job well. I cannot organize myself if there is chaos around me and if I cannot organize myself then how will I be able to organize my team?
What do you see as being the key skills and talents needed to be a good bartender?
This question was answered by the legendary Argentine barman Santiago Policastro who set out what it means to be a good bartender back in his 'The Decalogue of the Barman' in 1954. Be honest, clean, elegant, cordial, a patient at all times and in all places. The bartender's 'Decalogue' will never be out of date and it is something that we should all always keep in mind.
* You can find out more about Noa Boutique hotel here.