Alexia Vrignon on her bartender life and creating the perfect drinks list
23/08/2021
Alexia Vrignon on creating the perfect drinks list at Montpellier's Willie Carter Sharpe
We talk to Alexia Vrignon about her life in the drinks industry and how working as a bartender and cocktail specialist at the Willie Carter Sharpe bar - the must-visit speakeasy-style venue in Montpellier in the south of France.
Can you tell us about your background and how you first got into drinks?
I'm 28 years old and have been a cocktail bartender for over 10 years. I have done almost all the positions possible in the drinks industry, from bartender to beverage manager for a group of venues. I have worked in France, England, and Australia.
My first job in drinks was a summer job in a nightclub in the international ski resort, Les Deux Alpes, in France. At the end of the season, I decided to leave school and jump into the world of drinks. I fell straight away in love with the industry. I learned English within six months, met lot of beautiful people from lots of countries, and every night was fun, laughs, and joy. I was working hard, doing long hours for little money but I was happy. I had found a family.
Why did you want to work in the bar sector?
The bar sector makes me happy. Even after 10 years, I'm still happy. Every day is like a challenge, there is competition, a need to be on top of your game, and an incredible relationship with your customers. We meet bartenders from all over the world and we learn every day's new techniques and help improve our knowledge with new stories about spirits. I never get bored and every day is different and intense.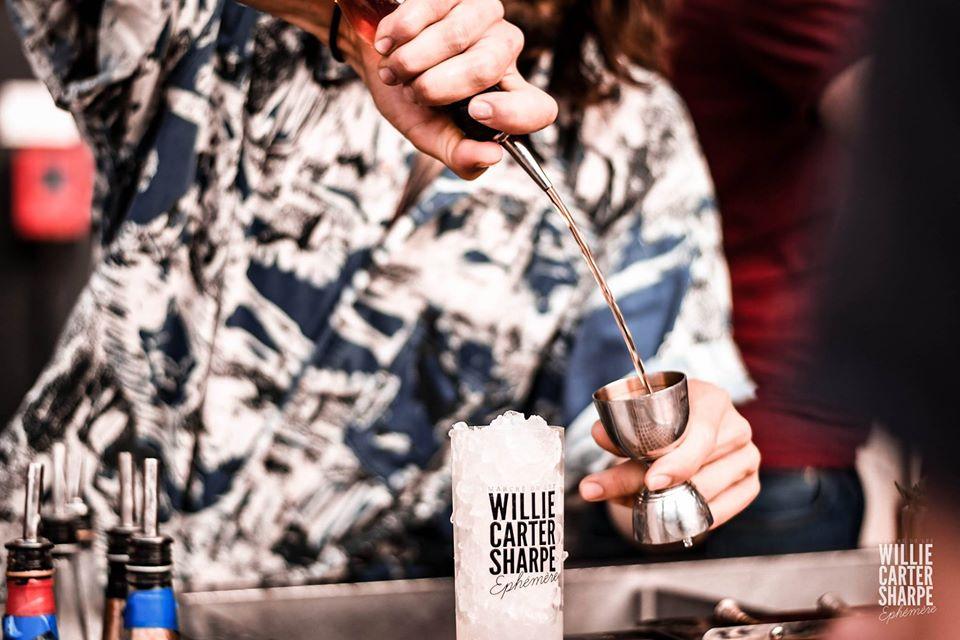 Bar of Willie Carter Sharpe bar
How did you process into your current role?
The constant desire to learn and progress. The desire to advance the team and the bar.
What is involved in your current role and what are your main tasks?
Currently, I'm a cocktail bartender at the Willie Carter Sharpe bar in the south of France, Montpellier. My main role is to make cocktails, but being a small bar, we do everything. I help prepare all the ingredients we work with and as we work only with fresh products everything is homemade (syrups, garnishes, fermentation, etc…). I am also involved in housekeeping, the stock management, and go on the floor to serve and advise customers, and think about creative cocktails for future menus. I also look to pass on my knowledge to any new team members and apprentices.
If you were given a bar program and asked to grow sales where would you start and what steps would you take?
If it's a new bar I will try to find out what the identity of the bar is and what type of clientele does it want to attract. I would also want to know the kind of drinks they like to buy and make sure our identity meets their needs from day one. we are targeting, what are their consumption habits and how can we ensure that our identity
If it's an already existing bar I will find out what is not working, and how we can evolve it. I would look to develop the customer service, train the staff, modify the cocktail menu, the back bar, and look at how the bar is decorated. The customer should feel good from the moment they walk in the door and that is all part of the experience of the bar. Every detail is essential and makes a difference.
What questions would you ask the owner of the venue to know what drinks list to create?
I will ask the owner what vision they have for this bar, what customers do they want, the drinks suppliers they want to work with and what sort of budget do they have.
What do you most look for and want from your drinks suppliers to help drive sales?
It is very important to have a good relationship with your drinks suppliers and you are in close contact with them. In turn they need to be responsive and available to you and understand what kind of bar we are and want to be. Drinks suppliers should be able to give our staff masterclasses and help them become better educated about their drinks which, in turn, will help them give our customers a better experience and ultimately sell better. And, of course, they need to have excellent products and sell their drinks at a good price.
Can you think of any good partnerships you have had with your drinks suppliers?
I remember when I was working in Australia, I was working in The Duke of Clarence in Sydney and Bacardi was our drink supplier. We had an excellent relationship with the reps and the director. They were always in contact with us and sent in their brand ambassadors to talk to us about their drinks brands. They were very reactive if any problems arose. That was a real relationship of trust, honesty, and sincerity.
What does success look like for a drinks program?
For me, the success of a drink program is simply when the bartenders have fun behind the bar and customers enjoy the drinks. The key is to work with good spirits is to understand what your customers want and then have bartenders who can use their talents to create magic cocktails for them.
How have you devised the drinks program at Willie Carter Sharpe?
I have broken it down like this.
We have 10 house cocktails: 2 gin, 2 vodka, 2 rum, 1 mezcal, 1 tequila, 1 bourbon and 1 whisky.
- 5 classics cocktails.
- Wine by glass: 2 rosé, 2 red wine, 2 white wines.
- 2 Champagnes by the glass.
- 3 Champagnes.
- 9 Wine by the bottle: 2 rosé, 4 red, 3 white.
- 3 draught beers and 6 choices of bottled beer.
- Soft drinks.
- Fresh fruit juice
We have one bar open from 11 am where we sell mostly coffee, beers, and apéritif up to 1 am. Around 6 pm customers start to drinks cocktails and beers.
What are the key factors about the list that help the bottom line?
You have to be able to combine the spirit and personality of the bar with the expectations of the customers and then you should have a winning combination.
What do you focus on to be good in your role?
The team. If the team is happy to come to work and work together then that is the most important. That they feel they are part of a team where everyone is important. It's why you have to look after the details, the details make the difference. To do that you need to be very good at watching, observing, and listening.
What do you see as being the key skills and talents needed to be a good bartender?
To be a good bartender you have to be passionate, curious, want to learn, always be up to speed with your bar techniques, and know about the products you are selling. You also need to develop your palate. Be humble, serve the customer and their expectation before your own. Accept you will need to work hard and earn little money. But the most important is to be happy when you do your job.
* You can find out more about the Willie Carter Sharpe bar here.