Bringing Farm to the Glass With Brandon Egbert
23/05/2022
Head Distiller at Washington's First Apple Distillery, Brandon Egbert shares some Interesting Insights about the Distilling Industry.
Brandon Egbert started his career as a Treasurer at his family farm which he ran along with his father and brother. In 2015, Brandon took a different path to learn the craft of distilling and that is when he entered the beverage industry. Learning more and moreover over the years, he gained great expertise in distilling. He now works as a Head Distiller at the Bellewood Craft Distillery, a farm-to-glass distillery, where he brings his vast distilling knowledge to the table while being close to the farm life.
What has your distilling career been like? Tell us a little about your background.
I feel like my distilling career has been a little backward. I started by opening my own little distillery, after running it for about four years I had to close it down. Then I got the job I'm at now which is the Head Distiller at a much bigger distillery than I had. Usually, it's the opposite, you learn the craft at a distillery and then you break off to start your own. My background before distilling was farming. I grew up a farm kid and as an adult, I was part-owner of the farm with my brother and father.
How do you think the Spirits industry has evolved?
Craft distilleries have changed the industry. We are in the 1980s and 1990s where beer was at. More and more craft distilleries are starting up every day. There used to be really not that many spirits to choose from. Craft distilleries started making interesting spirits from different products and flavoring spirits in different ways. Customers are loving it and are buying those spirits. The big distilleries have noticed and have also added them to their portfolio to capture those sales. So now there are many different spirits to choose from.
Tell us a little about your day-to-day role.
My day-to-day role in the distillery can be hectic. I am the only employee in the distillery and tasting room except on the weekends, there is someone that runs the tasting room on the weekends. On any given day, I could be distilling and also bottling and labeling. On some days, I could be fermenting mashes and also bottling and labeling. While on some days all of the above. Plus giving samples in the tasting room to guests and sales.
What's unique about your Distillery that you like?
The most unique aspect of my distillery is that every spirit I make is made from apples that we grow. I make Brandy, Gin, Vodka, and Liqueurs all made from apples. Trust me, a lot of people don't know you can make spirits from apples.
What were some of the challenges you faced when you distilled your first spirit?
The biggest challenge I faced when distilling my first spirit was actually fermenting. I had a hard time getting my mashes to constantly ferment with the amount of alcohol I needed.
How do you think a distiller can help in driving marketing and sales personally?
I think having me as the distiller in the tasting room pouring samples helps sales. So many customers have questions about the process and I can answer any of their questions. Sometimes an employee working in the tasting room might not know those answers. I've found that the customer really enjoys the tasting experience and will usually buy more after talking to me and understanding the process more.
What are some of the essential skills required to distill?
To me, the essential skills required to distill are Taste and Patience.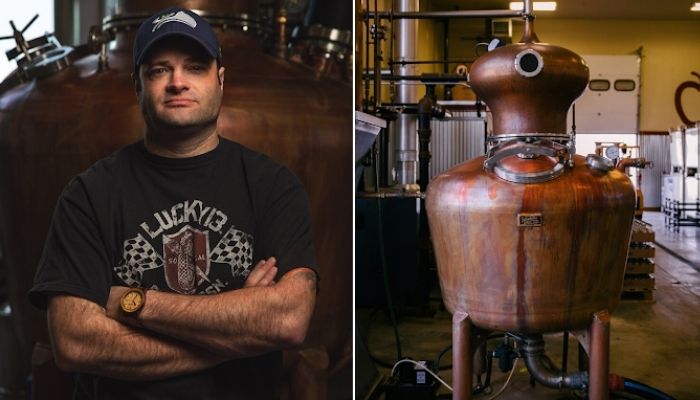 Define a Good Distiller
That's kind of a hard one. I guess a good distiller is someone who can consistently distill spirits and give you an end product free of any off-putting tastes. Sometimes you can distill and do everything right and end up with something that just doesn't taste that good. It really had nothing to do with the distillation process. It could have been the product that you fermented or the fermenting process itself or many other things. But as the distiller, you still can be good and have the right cuts and temperatures and leave out the harsh flavors, heads, and tails.
What advice would you give to future distillers?
My advice would be to distill at home, even though it is illegal, or try and volunteer at a distillery. It's all about learning, understanding, and practice.
Which is your go-to drink and what is the perfect setting you enjoy it in?
Old Fashioned and anywhere.
What do you do when you are not distilling?
When I'm not distilling I'm usually just hanging out at home with my wife and kids, anything from just watching TV, mountain biking, hiking, or just playing cornhole.
What is your idea of a good life?
A good life is enjoying life with my family and making a decent living financially. I don't need to be rich but I would like to not worry about having enough money to do the things I want to do later in life, like traveling with my wife.