Hamza Najdaoui Brings the A Team
31/05/2022
Hamza Najdaoui brings his A-Team for the A-class experience for his guests whether it be at bars or for fashion houses or private gigs.
Where do you work?
A-TEAM private hire and bar consultancy.
Tell us something about yourself.
I have been working in the hospitality industry since I was 16 years old. I have a huge passion for this field. I have had different types of experiences. I worked in high volume places, I managed clubs and PR relations, I had managerial positions in fine dining and Michelin starred restaurants in London. And since the pandemic started I changed the approach to my job, investing more in consultancy and private gigs for private clients and famous fashion brands.
What inspired you to get into bartending?
My inspiration to get into this industry has been driven by my character. I'm a sociable person with the ability to talk and understand the needs of people. I also enjoy delivering the best experience to my guests and make sure every time is a memorable experience. I had my uncle as an inspiration because he was the one that took me on board his restaurant bar in Perugia when I was 16.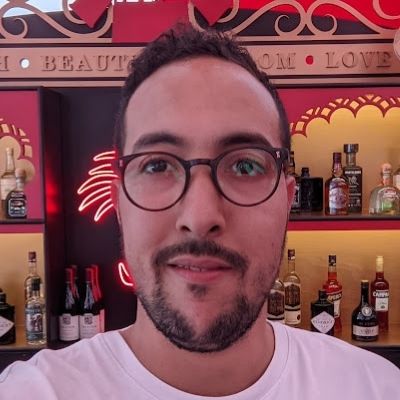 Hamza Najdaoui, Head Bartender at kai Mayfair
How according to you has the role of the Bartender evolved, especially now during Covid times?
COVID Times have been eye-opening for everybody. We have all had to rethink our priorities and use our creativity to make the best use of our open hours. I think we have become more creative and efficient in how we use the time available; not just in terms of profitability, but for guest and staff experience as well. Well-being and enjoyment are much more central to our focus now than ever before.
I think in the latest period, people are discovering the pleasure of bringing the bar experience to their homes. The clients are more open to organising private parties in great locations with their closest friends to enjoy their freedom, rather than being in a restaurant or a bar with hundreds of people.
What are some of the most important skills for a bartender to have?
In my personal opinion, the most important skills for bartenders are the love for what they do, reliability, a positive attitude and a strong hunger for knowledge. These make the perfect recipe for creating a strong and professional bartender because the technical and the theoretical part can be built along the way. Especially in our job where every day we should learn something new regarding products, technique, or the customer service.
What do you look for when you plan to buy spirits for your bar?
When I buy spirits I normally rely on very trusted suppliers that I have been working with for the last 6 years. However, sometimes I do look at Wine-searcher for premium and precious spirits, liquors and wines. Also, whisky exchange, imbibe and Hedonism Wines.
What support programs work best for you from suppliers?
I believe in human relations and for me, the supplier is a part of the business. The role of the supplier is not only for supplying products but is to understand the type of business and try to suggest the right product, the right prices to help the consolidation of the business. The role of the supplier is also important in adding knowledge to the members of staff, organising weekly tasting on-site and masterclasses that can upgrade the confidence of the members of staff.
What cocktails and drinks trends do you see in 2022?
I can say the seltzer, its appeal lies in its low content of carbohydrates, sugar and calories. Therefore, it is considered an alternative to other alcoholic beverages, both to relieve the hot summer days and to enjoy a drink on the beach.
Also, I can say that young people are enjoying more classic cocktails thanks to the vibrant professionals around London that are bringing back the love for classic cocktails. Also, I would like to mention an interesting brand of vodka that is produced in Poland with old techniques, and that is simply perfect for martinis. The name of this Vodka is Kavka.
What's the best part of your job?
The best part is after a successful shift, or when you see the happiness on the faces of the guest. Because in our jobs we are selling products, but we are also selling dreams and experience.
What are your favorite TV shows right now? Or your favorite movie?
Cocktail 1988.
If you had to pick one spirit as your personal best, which would it be and why?
Kavka Vodka. I chose this brand because I'm a vodka lover and since I had the pleasure to taste this vodka I have been using it for my martinis and espresso martini. And I do believe in this brand because it is freshly new and they managed to get into the best places in London and the world during a very difficult time such as the pandemic.
How are you marketing your bar to drive some foot traffic during covid-19?
Quality and efficiency.
Any tips for new bartenders?
Be yourself always, and don't try to emulate someone else. We are all different, and we see the industry from a different perspective and this is the quality that can differentiate our success.
What's the most underrated cocktail ingredient or spirit?
Boulevardier. I don't see many orders for it. and I don't see it in many menus around the city.
What is an experience or a customer story you thought was funny and that you remember?
One of my guests in the previous restaurant I worked at was coming 2 times a month from Boston with his wife to enjoy our hospitality and our service. And each time he wanted to see the same faces, same service, same cocktails, same table, and same food. And he was always sending very wealthy clients to us because he always said when he came to us he and his family felt at home. And I think this is one of the main goals in our job.
What are the 4-5 challenges you face in your business and how do you overcome them?
Our job is full of challenges, and this is the way in the previous questions I underline the positive attitude. Part of our job is to adapt to the client request, external factors that can have an impact on our job. But the best part is that in our industry we can be creative and overcome any type of challenge. For example during the pandemic, many bars started to deliver bottled cocktails to the home of their clients and that was very smart.
What's your career goal? Where do you want to be and how are you working towards it?
I would like in the future to set up a bridge between London and North Africa in terms of event organisation and cocktail creation. And have the possibility to supply the same service in London, in Casablanca, in Tunis.
Tips for brands looking to pitch to bars? What should they cover in their pitch? What do you not need to know? Give us the best elevator pitch brands can do to you.
The best thing that they can do in my opinion is to invest more in the quality of the product rather than marketing. Because if the value of the product is excellent it will sell itself.
Define a good Bartender according to you.
A person driven by passion in this industry.
What's an ideal bar drinks menu? What should it include, what profit metric should it try and achieve?
My ideal cocktail menu is 12 classics, 6 mocktails. Plus an open menu that can allow the client and the bartender to express their creativity on creation a la minute.
It's time to enter your brands in the 2023 London Spirits Competition and grow in 2023. The submission deadline is February 22. Enter now and ship your samples.