Deadline
September 30, 2023
Enter Now
How Starward Distillery works with bars and restaurants
Sam Slaney from Australia's Starward Distillery chats about increasing sales, creating a premium whisky, and more.
Owned by David Vitale, Starward Distillery is known for crafting premium whisky in red wine barrels. As its new addition, Unexpeated, takes the industry by storm; we spoke to Head Distiller and Production Director Sam Slaney.
Sam has been a part of Starward since 2009 and has played a major role in bringing the distillery where it is right now. "Starward was crafted to be a modern Australian whisky.
We set out to make a versatile and accessible whisky that spoke to the place it's made – Melbourne. At Starward we are always reaching further, pushing the boundaries of what whisky can be, and sharing our uniquely Australian whisky right across the globe," says Slaney.
Today, Sam continues to craft premium whiskies alongside David, making sure that David's main aim - to create a whisky for the dinner table - is met with the release of every bottle.
Tell us a little about yourself
I started out as a very keen homebrewer whilst studying Geology. After working in rocks for a while I soon realized that booze was a better path! I met David Vitale in 2009, and the rest is history.
My Starward journey has included everything and anything - from general operations and maintenance to product development and distilling, along with hiring and managing staff and being part of creating Starward's first-ever whisky.
When I'm not at the distillery, I'm tending the veggie patch, running, and raising two kids.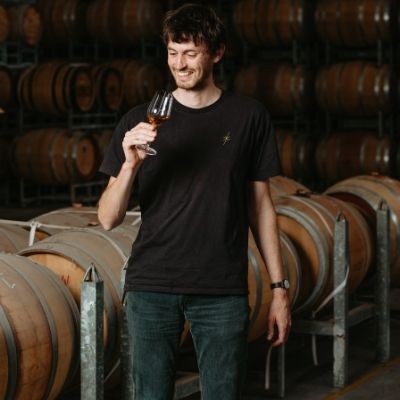 Head Distiller and Production Director, Sam Slaney.
According to you, what makes a great spirit?
I really value balance in spirits. I am looking for flavors to meet and marry, creating a harmonious union that excites the palate. Occasional craft spirits can be very flavor-forward but with spikey, obtuse, characters that don't integrate well into the rest of the drink. While this can be entertaining for the first nose and taste, they don't make for enjoyable drinking.
Sessionability or drinkability is another attribute i look for. Coming from a beer background, this is a key mark of a good beverage and really demonstrates that the balance, mouthfeel, and finish are spot on.
Beyond that, the story, place, and people behind the spirit – why does it exist and what can I learn from it. Spirits that can meet these three attributes will always find a home on my shelf!
What would be your typical day at work?
Checking in with the teams across distilling, maturation, blending, packaging, planning, and logistics, to make sure everything is running smoothly and according to plan. Sensory panel assessment and project work are also some things I look at.
Currently, I'm working on an expansion project which is also keeping me busy! We've got a really strong team so it's getting easier for me to step away from the day-to-day jobs and focus on the longer-term plans of the distillery, looking at NPD, and future whisky availability.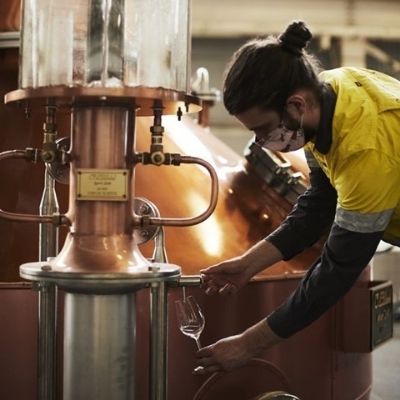 Typical Day At Work
How often are you firing up the stills and how long does a batch take?
Currently, we're running brewing and distillation five days a week, across three shifts. Each distillation cycle takes six hours, so we can fit in four still runs over 24 hours.
It's ideal to keep the stills running continuously, as everything flows well and the heat recovery and energy efficiency is much better than if we were to let the stills cool down every day.
What excites you the most about your brand?
Being a modern Australian whisky, we are able to offer competitively priced, delicious whisky, that has a story to tell. We've chosen a different path with full maturation in Australian red wine barrels which really speaks to where we are from and has created an incredibly unique flavor profile that pairs perfectly with food.
We are also fortunate to have access to excellent barley, maltsters, water, and barrels that are all sourced within a day's drive of our distillery.
What do you consider your flagship spirit and why?
Nova is our flagship single malt. It's fully matured in Australian red wine barrels, utilizing both French and American oak. It displays our bright, estery spirit character, jammy red fruits from the wine, and soft tannins, spice, and vanilla from the mix of oaks. It works well neat and mixed in cocktails.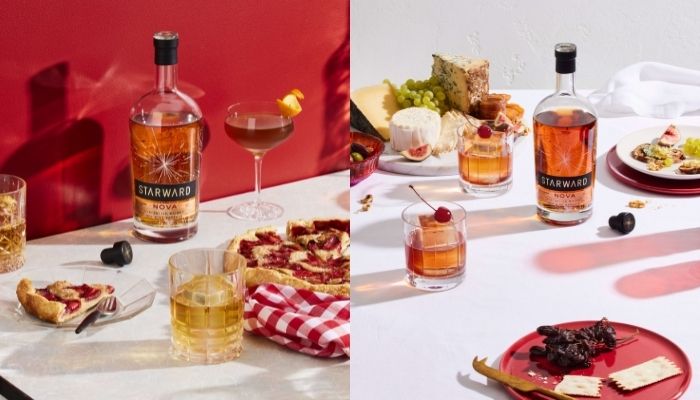 Starward Nova Single Malt
Earlier this year we launched a new single malt whisky, Left-Field, in the EU and UK. Left-Field is matured in 100% French Oak which has given it a rich and spicy mouthfeel and has enhanced the complex oak characters while maintaining the delicate wine flavors of our red wine barrel maturation.
Left-Field has been really well received in these markets and I think that's down to it being a really approachable and versatile whisky.
Are you working on something new right now?
We're always innovating to craft new and exciting whiskies. The great thing about being in Australia is we aren't bound by overly restrictive regulations as to how we make spirits, and this allows us to experiment. We've just released Unexpeated, which is our red wine matured single malt, finished in casks from Islay, Scotland. The peaty maritime influence on the whisky is fantastic!
What are some of the things you do to make sure your distributor has everything they need?
Locally based brand ambassadors in the market can really assist with providing advocacy, trade and consumer engagement, and education. We also conduct educational training on the production processes and products with the local sales and marketing teams.
It's also key to provide an armory of sales tools and product guides to inform our distributors about our products and our portfolio strategies.
How do you work with restaurants, bars, and retailers to increase sales?
We often work in partnership with restaurants, bars, and retailers to create immersive experiences such as whisky dinners, educational sessions and tastings, and whisky cocktail classes. These activities provide unique opportunities for our customers to engage with their consumers whilst also building brand awareness and trade advocacy.
What advice would you give to fellow distillers looking to get their spirits into bars/what has worked for you?
Make sure you've got a really clear reason to exist that links with both the liquid and the brand. With such a boom of new craft spirits coming into the market, it's very important to stand out and offer something that doesn't already exist.
We have framed our whisky to be served on the dinner table, neat or mixed, and this has been an effective way to reach a broader group of drinkers. We love seeing people who 'don't drink whisky' trying a Starward cocktail and suddenly realizing that whisky is pretty darn delicious!
Tell us a little bit about your DTC channel.
Our DTC channel offers a digital space where our customers can come to discover the breadth of our unique product offering and understand more about the process and products we make.
Our DTC channel provides a great opportunity for our customers to get their hands on our limited-edition projects and small-batch releases. Proudly, this channel forms a direct connection with our consumers and drives further engagement with our brand.

Starward Distillery
Have you incorporated any new technology in distillation recently?
We made a major upgrade on our distillery last year, commissioning a 7,000l Frilli copper pot still to grandfather our existing Frilli still. We invested in an external steam heater, and it has been very well engineered – providing excellent gentle heating on the wash.
The other fun bit we installed was a Coriolis flowmeter on our spirit still so we can read live ABV straight off the still. The use of smart instrumentation and controls has made our ability to make consistent new spirits much easier so the distillers can focus on sensory assessment and process improvement rather than watching a spirit hydrometer in a spirit safe.
How big of a part does social media play in your brand's marketing?
Social media is a key pillar of our marketing activity that allows us to increase our brand awareness with new and existing demographics and create lifelong fans of Starward.
We have an always-on approach to both our paid and organic activity. We invest in producing content that's developed with our audiences and their devices in mind. We also invest significant time in the community management of our channels to ensure we spark conversations and nurture consumer connections with the brand.
What are some upcoming drinks trends we can expect to see in the market?
There is a lot of change in the market now, some of the trends I'm seeing include:
Broader use of ingredients in spirits, especially within whisky. I'm seeing more brewers enter the space and that's leading to an increase in the types of grains and malt being integrated. There is also more emphasis on fermentation and yeast strain to create interesting flavours.
The push for local drinks and provenience will continue with increased trackability through the supply chain. Consumers will be able to see where all the ingredients have come from, with a greater focus on local indigenous ingredients being used alongside traditional materials.
In Australia, we will continue to see more bottled/canned cocktails with the pandemic increasing the popularity and interest in cocktails outside of the bar environment. We will see more thoughtful whisky highballs on the market.
The low alcohol trend will continue with more zero and low alcohol beverages being released.
What are some of the spirits you have on your personal shelf?
A bit of everything. Currently, I've got some Gospel Straight Rye from Melbourne, which has a fanatic earthy rye character. A bottle of Four Pillars Olive Leaf gin, which makes a fantastic martini. I also have a pretty healthy range of Starward bottles (of course!).
Lastly, what are you drinking right now?
I'm making whisky sours at the moment as our lemon tree is absolutely laden with ripe fruit. I need a way to use them all!