Deadline
September 30, 2023
Enter Now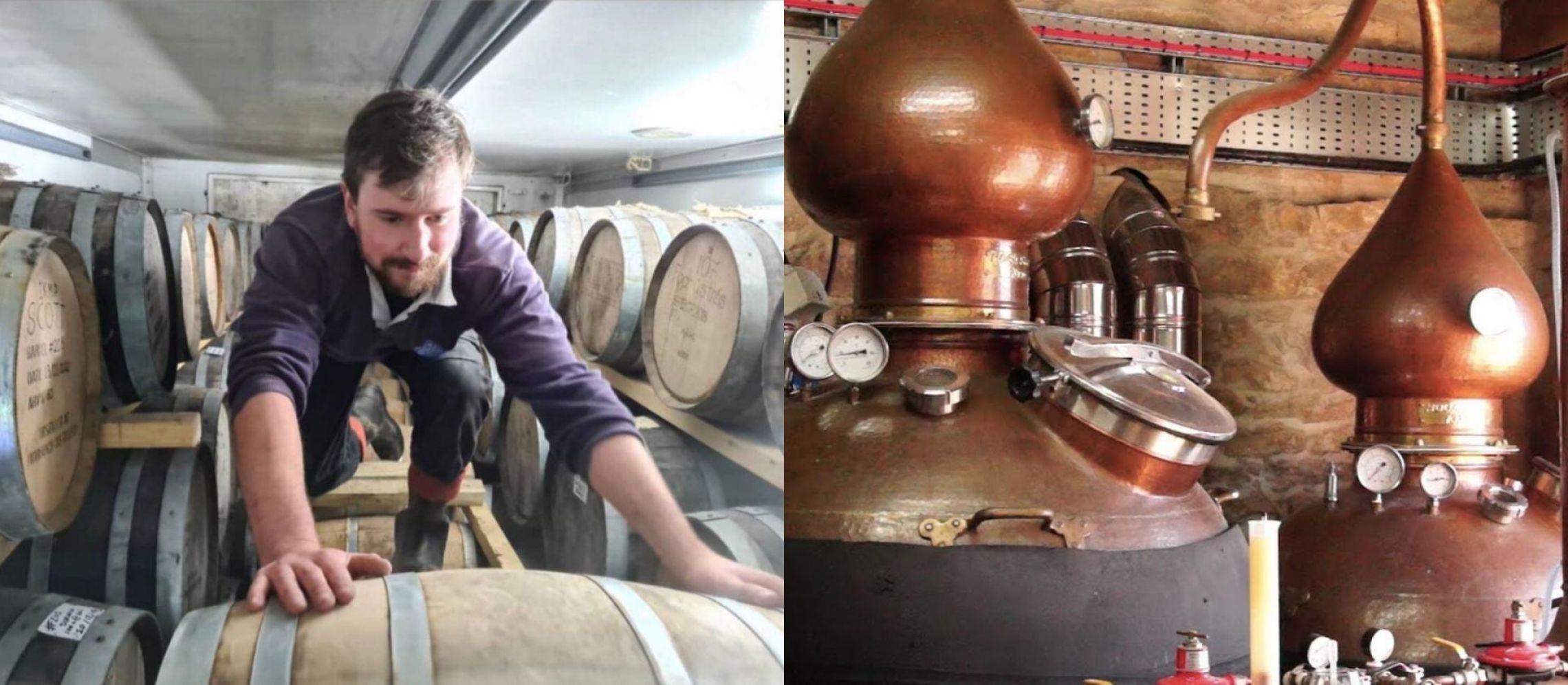 In Conversation with Euan Christie, Distiller Manager at The Dornoch Distillery Company.
Euan Christie talks about his role and conducting and covering product training with the bartenders in the interview below.
Euan graduated from Heriot-Watt University with a Master's in Brewing and Distilling. He accepted a position as an assistant distiller at The Dornoch Distillery Company soon after graduating. He is well versed in the scientific concepts underlying the manufacture of various alcoholic beverages. His stints as a volunteer and a paid distiller provided him with excellent hands-on knowledge in all facets of small-scale whiskey and gin production. He has expertise in customer-facing positions, having worked as a barman at the acclaimed Dornoch Castle Hotel Whisky Bar and as a senior visitor assistant at The Scotch Whisky Experience, in addition to his production work.
What has your distilling career been like?
I've only been distilling full-time for three years and working in the wider spirits industry for five years. My gateway to the spirits industry was through hospitality. I stumbled across a job as a waiter at the Dornoch Castle Hotel that offered "Live-In" employment opportunities. I didn't realize at the time that the Dornoch Castle Whisky Bar was world-famous, so when I arrived and found myself behind a bar with over four hundred rare and exclusive whiskies, including the likes of Brora, Port Ellen, old bottlings of Laphroaigs, and an incredible selection of Japanese whiskies, I was pretty overwhelmed. However, Simon and Phil Thompson, the founders of the bar, and the then bar manager, Nick, gave me a lot of help and advice, taking the time to explain to me why these bottlings were special, in particular the merits of "old-style" production techniques.
At the same time, the brothers were operating their recently launched distillery. To increase my knowledge of whisky production, I would volunteer to help out with emptying the mash tun, cleaning floors, bottling gin, and more. I learned a lot in that time, gaining a much deeper appreciation of these "old-style" production techniques. I began to feel that whisky was what I wanted to do with my career. I left Dornoch after ten months to study at Heriot-Watt University to study the MSc in Brewing and Distilling and took a part-time job as a tour guide at the Scotch Whisky Experience on the Royal Mile. Working here introduced me to the wider whisky industry, which combined with my studies massively increased both my knowledge and enthusiasm for whisky and the drinks industry in general.
While studying in Edinburgh, I found myself focusing more and more during my studies on novel production techniques and the more experimental side of the industry, and I knew that I wanted to focus my career on small-scale production, where we as producers can have a direct impact on the nature of our spirit. When a job became available at Dornoch, I couldn't wait to get back.
It's been a busy three years since then. We've had challenges such as the COVID pandemic, where we made and distributed hand-sanitizer, and launched a wide range of new products, including our first single malt, produced spirit from some incredibly special and unique heritage barley varieties, and grown significantly as a business. It's been an incredibly varied and fast-paced five years for me, but I'm privileged to have worked where I've worked, had the teachers and professors I've had, and worked with a great team, which has made it incredibly fun.
How do you think the Spirits industry has evolved?
I am relatively new to the spirits industry, but even in the five years I've been working within it, there has been a significant change. Consumer knowledge has increased massively, which encourages us, distillers, to not only push for the highest quality but also look for new ways to experiment and innovate. With whisky, it is no longer just about the taste and taste alone; consumers want to know where the product has come from, the story behind it, and the brand; try different expressions, and see variation across products. I think this has increased the range and overall quality on offer, and it's incredibly exciting and rewarding as a distiller to see how the consumer responds to spirits produced with different barley varieties, yeast strains, cask types for whisky, or unusual botanicals in gin.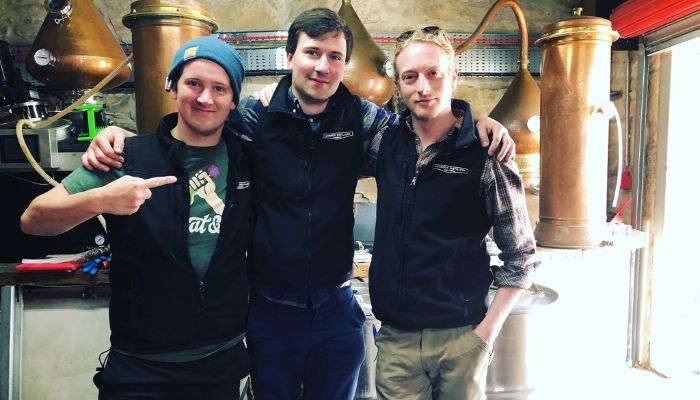 Image: Phil Thompson, Euan Christie and Simon Thompson; Image Source: Dornoch Distillery
I think whisky has also become more accessible. In recent years, It's become incredibly popular in the last few years and is no longer seen as an "old man's" drink. It was great to see so many people attending the National Whisky Festival in Inverness recently, and especially great to meet so many people who were relatively new to whisky. This has spilled over to the trade as well. Many bars have a wide range of whiskies on offer, often including independent bottlings, premium bottles, and international whiskies, which is great to see. I'm also meeting an increasing number of bar staff who are incredibly passionate about their offerings, whether it's spirits, wine, beer, or cocktails. Factors like price increases could be a potential challenge for the industry, but as long as producers focus on quality, the trade continues to provide a great offering in a welcoming environment, and everyone involved in the industry works to make sure that whisky is accessible to everyone, I think the industry is in a strong place.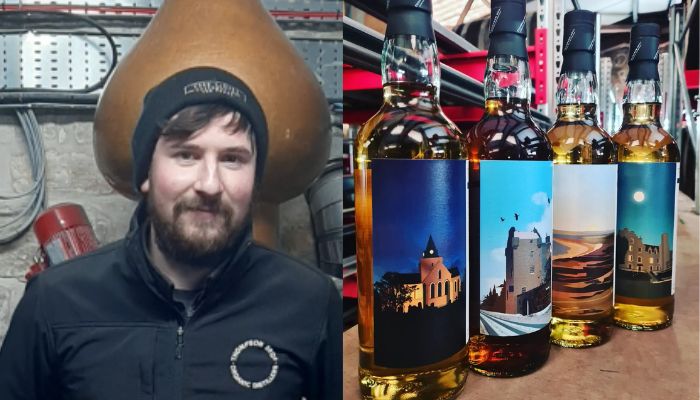 Image: Euan Christie; Image Source: Dornoch Distillery
Tell us a little about your day-to-day role.
We're incredibly hands-on with our production at Dornoch Distillery, so no two days are the same. The first thing I will do every morning is, fire up our stills. We use no anti-foam in our wash anymore, so it must be carefully monitored, as it reaches boiling point. At the same time, I will start my spiritual practice. Again, this must be closely monitored, at Dornoch we make our spirit cuts by sense, which means keeping track of the sensory qualities of the spirit and deciding when it is optimal to make our heads and tails cut based on not only the smell and taste of what is coming off the still. Here at Dornoch, we are looking for a predominantly fruity character and a waxy mouthfeel, and so will make our cuts around these qualities.
Once my wash is set, and my head cut has been made, I will begin with either mashing if it is a mash day, or emptying and cleaning washbacks if it is a non-mash day. Both these jobs are done by hand. For the mash, that means the malted barley is poured in by hand, the mash is stirred manually to ensure an even consistency, and factors such as draw-off speed and temperature are dictated based on what we are trying to achieve that day. If I am not mashing, I might be cleaning washbacks, which is often done by using hot water and a scrubbing brush! Throughout all this, the stills need to be constantly monitored, and the mash draw-off analyzed. During the intermittent periods around these processes, we need to cask new spirits, assist with warehousing and bottling of our various products, maintain records and paperwork, and plan for future projects or research new avenues for production or ways to improve. We also make our award-winning Mediterranean Gin, where all the botanicals are distilled individually and blended to create the final product. As with our whisky, cut points are made by sense rather than a pre-determined set point. Additionally, when blending the final product, the recipe will be varied based on the individual distillations that have been produced. We're busy here at Dornoch, but that's essential to keep our hands-on, interventionist style of whisky production that we believe produces a quality product.
What's your elevator pitch to a bartender when pitching your brand?
We are a small-scale, quality-driven brand that prioritizes quality across all our products. We prioritize creating a distinct, flavor-driven single malt based on "old-style" production methods such as long fermentations, brewers yeast, heritage grains, and cut points made by hand, looking for quality and character over quantity and efficiency. With our gin, by distilling each botanical separately and blending them, we can create a gin that manages to be well-balanced whilst, being bright and lively on the nose and palate. Our single cask independent bottlings come from our director's years of experience and vast knowledge of quality whiskies, which has resulted in an incredible range of high-quality single malts, and our newly launched SRV5 Blended Malt is produced by blending a variety of malts in a solera system to create a whisky that is fresh, fruity with a great waxy mouthfeel.
How do you help bartenders with the depletions of your brand?
We will generally advertise that the bar or venue has our product in stock, and is offering them in some format, usually on social media. We like to do our bit to help out the venues that support us, especially given the difficult time the hospitality industry has had over the past two years. Recently we did a "break-even cask" for trade customers, to support the industry that's been supportive of us.
What do you cover in your product training with bartenders?
We're extremely lucky to work with several fantastic on-trade customers and hospitality establishments. A great many of our team come from hospitality backgrounds themselves, so it's always exciting to see your product in these venues, see whisky bars talk about our production methods, or cocktails bars use our gin in a new creation. When I talk to bartenders about our company and products, I try to emphasize our production methods and how they lend flavour to our products, as our production philosophies and methods have always been a key focus for us as a brand. I will highlight our use of heritage barley varieties, brewers' yeast, and long fermentations for our single malt, our solera system for our blended malt, and the use of single botanical distillations to help make our gin bright and vibrant. If we can get the bar staff to be as excited about these methods and products as we are as producers, that enthusiasm will be passed on to the customer.
How do you think a distiller can help drive marketing and sales personally?
There is great potential for a distiller to help drive sales and marketing, especially in the whisky industry. With consumers becoming more knowledgeable and increasingly interested in the process behind the product, many want information directly from the person producing it. If distillers can inform the consumer as to why they made a particular decision during production, where the inspiration came from, elaborate on how it is made, or even just tell a few anecdotes about its production, it draws the consumer in, gets them closer to the brand, and enhances the overall experience for them. This can happen at a festival or tasting, where enthusiasts can pick the brains of the people behind the whisky, or even through social media, where a distiller can have a public work account that can be used to share "behind the scenes" information from the distillery. I think this also holds true when we are promoting our product to on-trade customers. These trade customers are enthusiastic, passionate, and incredibly knowledgeable. If distillers can help to communicate their brand's message and what about their production makes them unique and distinct, it all helps to create a special connection between the brand and its customers.
Define a good distiller.
I might still be figuring this out myself, but if I had to pick two qualities, I'd say that you need to be geeky and inventive. In the production of any spirit, there is a myriad of ways to experiment or try something new, from raw materials to production techniques and maturation methods. Additionally, there are some incredible sources of inspiration available, such as the new research being published by the Institute of Brewing and Distilling, or the wealth of historical information and research being done into production methods that have fallen out of favour over time but can still produce some incredible results. Being geeky enough to delve into this research and inventive enough to try new things or explore new options is important if you want to create something different in the spirits industry.
Which is your go-to drink, and what is the perfect setting you enjoy it in?
Simplicity and character are the two big things for me when I'm enjoying a drink, and for me, a great Cask Ale and a Single Malt Scotch are unbeatable. My favorite drink and setting was a bottle of a stunning session IPA, accompanied by a single cask single malt, in the Highlander Inn on a summer's day in Speyside overlooking the Telford Bridge at Craigellachie. Absolutely unbeatable combination.
What do you do when you are not distilling?
I try to relax and recharge the batteries. It can get busy here at the distillery, and the work is often quite physically demanding, so when possible, I like to get out of Dornoch and go for a hike in the local area. If not, I'll make the trip down south to visit my partner, family, and friends, or try to read something other than brewing and distilling texts. Saying that I always seem to end up in a whisky bar, so I don't want to escape from whisky that much.
What is your idea of a good life?
I am incredibly privileged to have the life I do now; working at a great company, with great people, in an industry that's constantly expanding and producing something new. It struck me at Heriot-Watt how fortunate we are in this industry to be surrounded by genuinely talented and enthusiastic people. So, good life for me includes staying in the whisky industry and the wider brewing and distilling world. I get great satisfaction knowing that our products are doing well, being enjoyed and that new people and enthusiasts are finding them. If we can keep that up and keep growing, I'll be happy.
Header Image: Euan Christie; Image Source: Dornoch Distillery
The London Spirits Competition is now open for submissions. Register your spirits today to save BIG on super early bird pricing. Ship your samples later.