James Gibbons' Take On Start-Up Distilleries
23/05/2022
The Head Distiller at Spirit of wales Distillery, James Gibbons talks about his experience as a Distiller and the man behind Start-up Distilleries.
An enthusiastic and hardworking Distiller, James Gibbons has great experience within the production teams of three successful start-up distilleries crafting a range of award-winning Spirits. Currently working on the installation of molasses to glass distillery in South Wales, he is constantly involved in the development of a range of Rums, Gins, and Vodkas. Here we chat with James about his experience in the spirits industry.
What has your distilling career been like? Tell us a little about your background.
During my studies, I spent a year in an internship at Mondelez working on a couple of research projects around the design of household coffee machines and pods - my first taste of working in the beverage industry. I started my career in distilling shortly after graduating with a Masters's Degree in Chemical Engineering from the University of Birmingham in September 2016.
I was lucky enough to be working with the Head Distiller, Abhi Banik, at the Copper Rivet Distillery in Kent. We spent the first couple of months commissioning a 20hL brewhouse, a 2000L Pot Still, a 2000L Column Still, and a one-of-a-kind 660L Gin Still. By December 2016 we had made our first batches of grain-to-glass Vela Vodka and Dockyard Gin, having worked with local farmers over the previous year to grow wheat, barley, and rye for our mash bill.
In the new year, we set our eyes on building up a good stock of single malt and grain whisky casks, filling a mixture of ex-Bourbon ASBs and new charred American Oak ASBs. By September 2017, we were already planning our first extension to increase our pot still capacity to 4000L, allowing us to keep up with the demand for our gin while managing a good output of whisky.
By April 2018, I had moved over to Mallorca to help with the start-up of Mallorca Distillery. I arrived at the distillery and the equipment and contracting team arrived to begin the installation. By July we had completed our first gin distillations and launched Palma Gin, shortly afterward. We sourced locally grown organic citrus fruit, juniper, almond blossom, and tomato branches in collaboration with farmers on the island to produce Palma gin.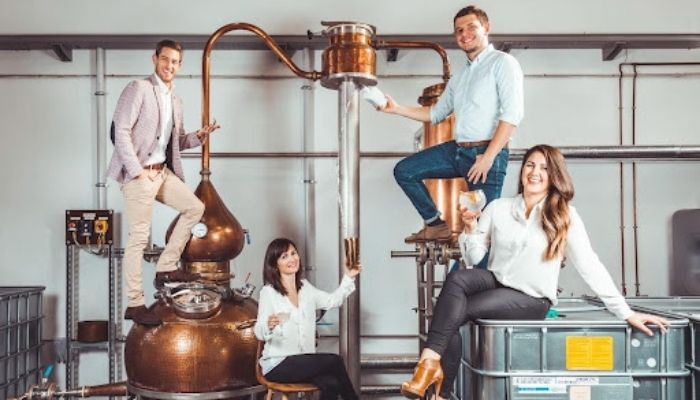 The team at Mallorca Distillery
With Christmas soon approaching, I developed and launched Palma Spiced Gin for the island's Christmas markets, rest in Mallorcan Red Wine Casks with vanilla, cinnamon, and cloves. Our trio of spirits was completed in early 2019 with the launch of Palma Vodka, infused with sea salt harvested on the island's salt flats, and we began to focus on export to an international market throughout the year.
Fortunately, by the time COVID hit, we had established a good network of customers in the UK, Germany, Sweden, Switzerland, Austria, and the Czech Republic. We focused on helping our partners in these countries to push out sales online and we actually saw our output volume grow significantly by the end of the first lockdown.
Inevitably, with my fiancée and family based in the UK, I chose to move back to Wales in November 2020 with the threat of further lockdowns looming. I was excited to take a bit of time off to catch up with friends and family, and focus a bit more on studying - however, within a couple of weeks I was already with Spirit of Wales and making plans to launch a new distillery in 2021.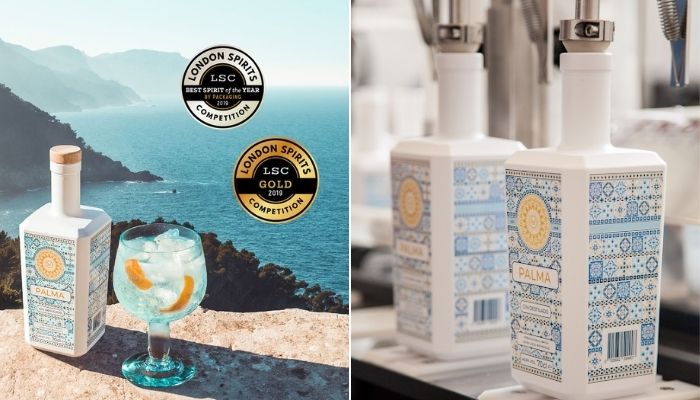 The brand also won the best spirit by package award at the 2019 London Spirits Competition. Source: Mallorca Distillery
[[relatedPurchasesItems-23]]
How do you think the Spirits industry has evolved?
I think the spirits industry is in a constant state of change and thankfully, at the moment in a state of growth across all categories. From the consumer side in the UK, it seems that huge growth in the popularity of gin over the last 10 years is now spilling over into other spirits, with consumers more open to trying something new and interesting.
From the delivery side of things, there are more and more producers on all scales delivering a great variety of quality spirits – a good mix between those sticking tightly to traditions and those taking a more innovative and explorative approach.
I think we're somewhere in the middle of those two extremes at the Spirit of Wales, I enjoy being creative when it comes to recipe development, raw material, and equipment use – while respecting the traditions and quality markers of the spirits we produce.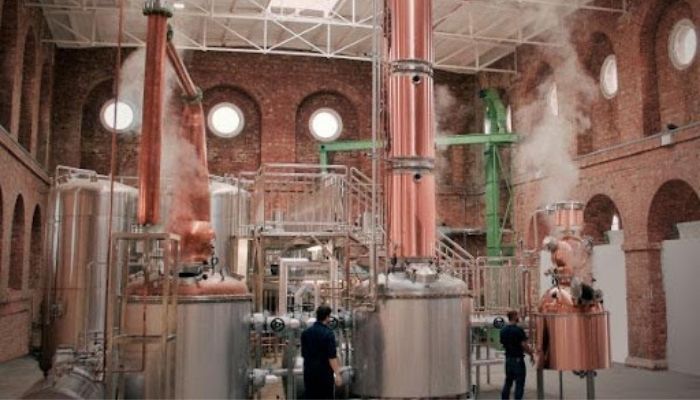 James and Abhi at Copper Rivet Distillery
Tell us a little about your day-to-day role.
At the Spirit of Wales Distillery, I have taken on a broader role. I have been primarily responsible for the set-up of the Distillery, the development of new products, and the continued production of our range of five spirits. However, I am actively involved in all areas of the business from hiring all the way to marketing, product design, and strategic planning.
What's unique about your Distillery?
Setting up in the middle of the pandemic must be quite unique? It was definitely a challenge! We also chose to use second-hand equipment wherever possible, recovering two 600L stills from a closed distillery and modifying them to meet our requirements. We also have a small brew kit that we have put together from a lot of tanks from a nearby contract winery that was downsizing due to the pandemic. We're slowly putting this brew kit to use to produce a range of rums from molasses.
What were some of the challenges you faced when you distilled your first spirit?
I remember when we did our first brew for Vela Vodka, it was quite a day. Due to the large portion of wheat and rye, we ended up with a stuck mash - I think we eventually finished up by 10 pm, just in time for last orders at the nearest pub.
At Mallorca Distillery we set ourselves up for a long night when we did our first lot of distillations. As we got delayed in getting three-phase installed in the distillery, we chose to hire a generator for three days. The plan was to do three nights of distilling, due to the summer heat, and to get a bulk of Palma Gin ready for launch.
The first night went smoothly. The second night, we were surprised when the generator cut out - the fuel gauge hadn't registered correctly due to the slight slope the generator was placed on. Unable to get a delivery at 2 AM, we shuttled back and forth to the nearest petrol station to get it topped back up with diesel.
Eager to make up for a lost time, we inadvertently caused a boil over - sending us back to square one, resetting the distillation. Needless to say, I'm too keen to do another 23-hour shift in the Mallorcan summer heat with temperatures reaching around 50ºC at one point in the distillery.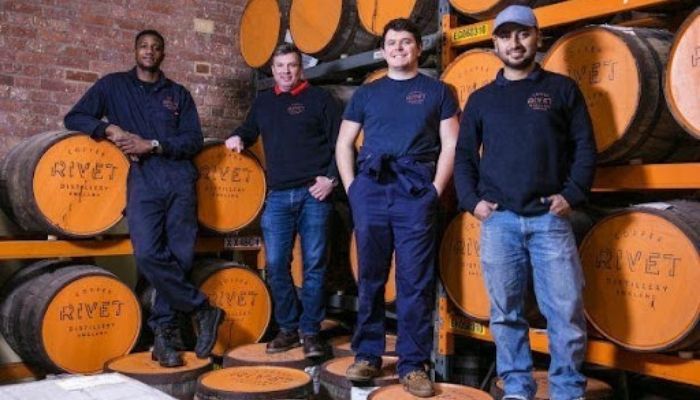 The team at Copper Rivet Distillery
How do you think a distiller can help in driving marketing and sales personally?
Customers really enjoy hearing all the details that surround a spirit and I think it's important to engage with customers when you can as a distiller.
It's definitely something I struggled with initially, as I preferred to take more of a background role and in general, I prefer to be more humble, rather than singing my own praises - not the best technique for sales.
However, I feel I've struck a good balance now and like to take an honest and open approach when talking to customers about the spirits I've helped to produce.
What are some of the essential skills required to distill?
Great attention to detail, meticulous note keeping, and a first-principles mindset founded on a well-practiced problem solving and numerical-based skill set. On top of this, a keen sense of exploration when it comes to the world of spirits, their production methods, characteristic style, and quality.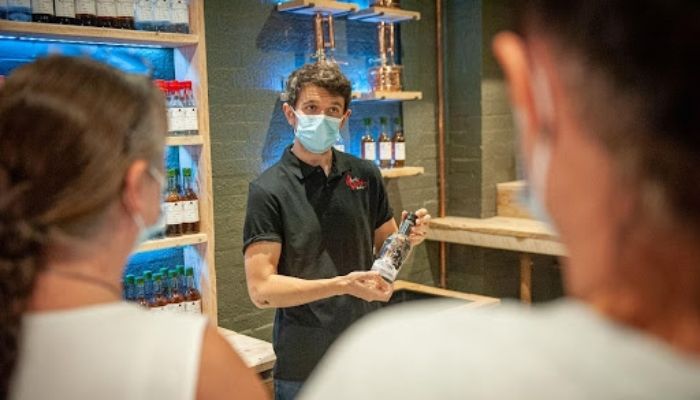 Define a good distiller.
Most importantly, a good distiller has to have a lot of patience, whether it's taking the time to run a distillation slowly or waiting another few months for a spirit to develop fully in cask - there's a lot of waiting around in the name of delivering quality.
What advice would you give to future distillers?
I definitely need to follow this advice a bit more myself, but I think the best thing you can do is to get out there and visit other distilleries, meet other distillers, as much as you can. Now I am back in the UK, and travel is a bit more open, I am looking forward to doing a bit more of this – shoehorning visits whenever I am visiting somewhere new.
I also remember when I first sat down with Abhi and Matthew Russel, Co-founder of Copper Rivet, and being asked if I did much sensory evaluation. I panicked a bit and scrambled to discuss some of the tasting panels I was a part of when I was working in coffee research and development. However, it turns out this is not what they meant – they were asking, tongue in cheek if I liked going to the pub. Felt like a bit of a trick question for a first interview, but I've come to learn that interviews in this industry are always a bit unusual.
Nevertheless, I would recommend getting your nose in the glass of something interesting whenever you're out at a bar or restaurant – Try New Spirits! I would also recommend seeking guidance when it comes to sensory evaluation, tutored tastings are invaluable and courses such as those delivered by the Wine and Spirits Education Trust (WSET) definitely helped elevate my appreciation of spirits.
Which is your go-to drink and what is the perfect setting you enjoy it in?
Despite the job, I'm not the biggest drinker - I think it's important to keep a check on things, as it can be easy to get carried away in this industry.
I do miss a cold lager on a Mallorcan beach on the weekend, but I have learned to enjoy a stout by the fire during these colder Welsh winter days.
When it comes to spirits, I've really been enjoying the wealth of Rum recently - particularly funkier Jamaican Rums and fresh Rhum Agrícoles.
What do you do when you are not distilling?
I try and get a few runs in before or after work during the week and head out for a longer ride on my bike or hike when the weather is favourable.
I'm looking forward to getting out and about a bit more with my camera now that things are starting to return a bit more towards normality. Perhaps a couple of trips back to Spain this year, if the circumstances permit.
What is your idea of a good life?
I think balance is what makes a great life. For me, that means being in the right place, with the right people, and working towards projects, both in and out of work, that challenge me and constantly move me in a forward direction.