Know Your Bartenders: Marius Bitegye-Pop, Bars Manager at Strand Palace Hotel
17/10/2022
Marius Bitegye-Pop shares how he manages his bar team at Strand Palace Hotel.
Marius Pop fell in love with bartending at the young age of 19 and decided to pursue a career in it. He realised that he could work in the bartending industry for a very long time because of the fast-paced nature of the service, the guests' amazing expressions when they saw a bartender multitask while wearing a smile, and the pleasure that a good drink and some light conversation could bring to someone.
Learn more about him and his experiences in the space below.
Your current place of work / Last place of work.
Tell us about yourself.
I was born in Romania and raised in Portugal, where I started working in hospitality at a young age. I fell in love with bartending when I was 19 and decided to pursue a career in it. I moved to London at 23 and worked my way up to managing bars, passing through high-end venues such as Pollen Street Social, Shangri-La Hotel at the Shard, Sanderson Hotel, Aqua Shard, and now Strand Palace Hotel. I love spending time with my family and travelling to new countries to experience their culture and cuisine.
[[relatedPurchasesItems-39]]
Why did you want to become a bartender?
For me, it was the exciting rush of the service, the impressed looks on the guest's faces when seeing a bartender multitask with a smile on his face, the enjoyment that a good drink and a little chat could provide to someone, and not forgetting the late-night parties. All these made me realise that this is something that I could do as a long-term job.
What are some of the most important skills for a bartender?
Consistency to ensure the drinks are made in the same recipe throughout the whole shift; knowledge to be able to entertain/educate guests on the products we sell, which also helps to upsell top-shelf items; humility, which helps one extend more compassion and empathy to others, as well as being receptive to opinions and point of views of colleagues and managers; and positive attitude, a can-do attitude goes way further than a "not my job" approach to bartending.
What do you look for when you plan to buy new products for your business?
I look for a good quality product, accessible and helps the community that it comes from, and brings a positive impact to the world.
If you had to pick one spirit brand that you love, which one would that be?
Sauvelle vodka.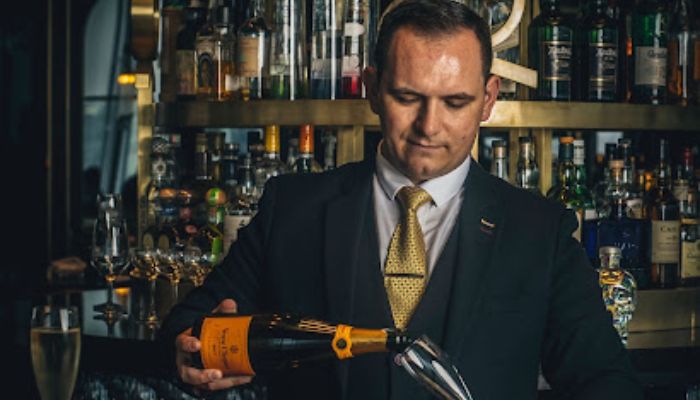 Image: Marius Pop
What's the best part of your job?
Making guests happy. It fills my heart when guests tell me they had a great night and will return because of my service.
Please share some tips to increase beverage sales in a bar.
Training your staff is a top priority. Giving them the necessary knowledge helps the team sell the most profitable products and upsell the top shelf items; stay in trend and focus on products and flavours that are in the spotlight; menu engineering is also a good tool to identify less profitable items and make the necessary changes; create an atmosphere: your guests won't feel the need to go somewhere else if the lights are at the right setting, the music, and the volume are great, and let's not forget the staff friendliness, which helps to create a good vibe; have a few "instagrammable" drinks that will spark attention; promote your bar on social media by sharing your most popular and visually attractive offerings; reward your regulars with some discounts or create a loyalty program for them.
What do you love hearing as a bartender?
"This is the best drink I've ever had."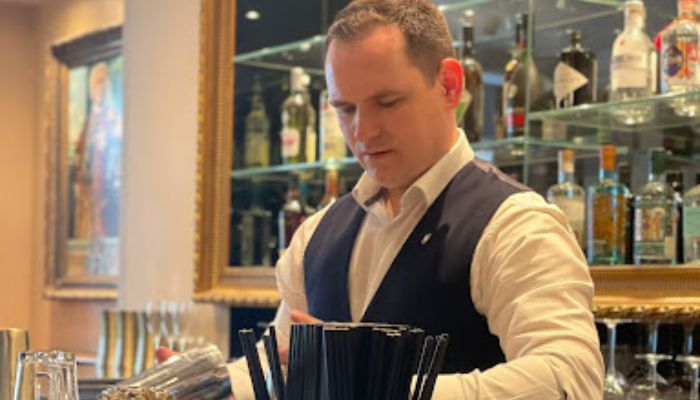 Image: Marius Pop
How can a customer get your attention in a crowded bar?
A look should be enough to know that a customer needs attention. A bartender should immediately acknowledge him/her and see to their needs as soon as possible.
What is your go-to "surprise me" order?
Vodka, fig liqueur, lime, fresh basil, and champagne. It's fresh, bubbly, balanced, and easy to drink. It never failed me.
Please name 3 bars that you admire and why?
The Connaught bar - when I think of someone who truly perfected their craft, Agostino and Giorgio are the first ones that pop into my mind. They are doing great things, and it is inspiring the way they run their bar.
Scarfes bar - it's my go-to bar for a date night, where the live jazz and blues create the perfect atmosphere for an intimate night alongside a glass of bubbly or a cocktail.
The Churchill bar and terrace - if you like the occasional celebratory cigar with friends like me, this is where you should go. Relaxed environment, attentive and knowledgeable staff, and a recently launched menu to experiment with new flavours.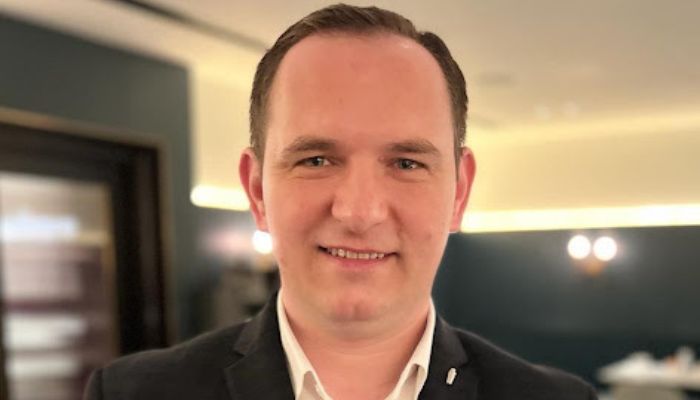 Image: Marius Pop
Do any good customer stories that you recall come to mind?
I once helped organise and decorate a whole setup for a proposal in the Gong bar at the Shard. The gentleman was so nervous, and we exchanged many emails to ensure everything would be perfect for him to propose to his loved one. We even rehearsed the moment for the next day when this would happen. When the evening came, the proposal ran smoothly, and he popped the question in the middle of a heart made with rose petals surrounded by candles on the 52nd floor with an amazing view over London. It was a great ending to somewhat stressful planning.
Header Image: Marius Pop; Source: Instagram
It's time to enter your brands in the 2023 London Spirits Competition and grow in 2023. The submission deadline is February 22. Enter now and ship your samples.