Deadline
September 30, 2023
Enter Now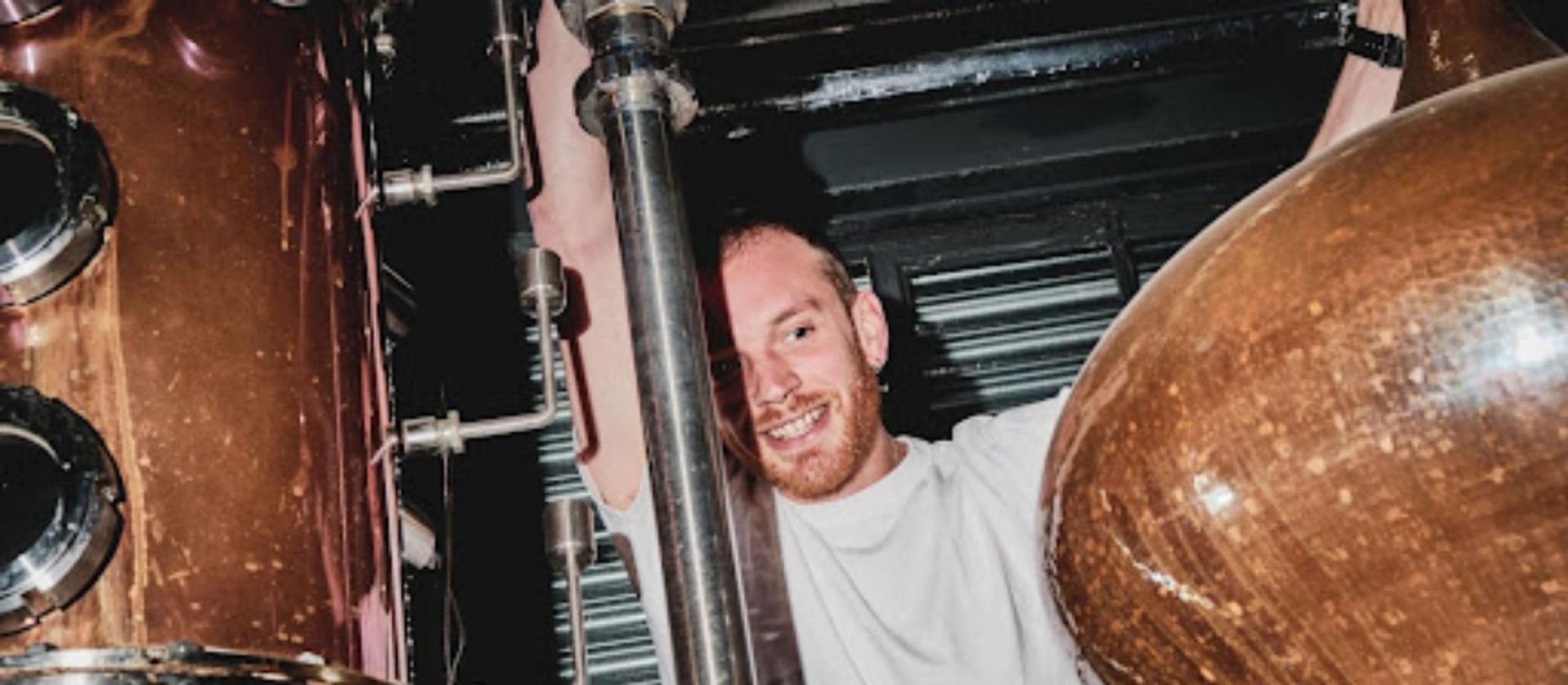 Life Would Be Boring If There Weren't Obstacles And Challenges To Overcome.
Thomas Hills, Director Of Operations & Head Distiller at East London Liquor Company, talks about his distilling career and shares his views on the evolution of the spirits industry.
When the "gin craze" took off, Thomas earned his biochemistry degree. He developed a recreational interest in spirits, cocktails, and their science. He believed it was the perfect time to start working toward being a distiller. Fascinated by technology and science, his innate curiosity in science and as a creative expression distilling fit all the prerequisites for him.
What has your distilling career been like? Tell us a little about your background.
I studied biochemistry at university and found myself developing a recreational interest in spirits, cocktails, and the science behind them as an antidote to dreary 9 am lectures focussed primarily on the molecular detail of how the more enjoyable things in life are going to kill us all. Fortuitously this was the early 2010s, and new gin distilleries were appearing on a fortnightly basis, so the minute I finished my finals, I snuck into Imbibe Live with a fistful of CVs to find myself a job. I spent eight months hopping between various roles at a couple of different brands learning the ropes and generally being a nuisance at industry events. A special mention at this point to Jonathan Clark, now of Wessex Distillery, formerly of City of London Distillery, who I worked for briefly during this period and who had faith in my ambitions. To this day, he remains a fountain of industry rumours and advice and continues to call me regularly by mistake, thinking that I'm Tom Nichol (of Tanqueray fame).
Image: Thomas Hills; Image Source: Gin Journey
I met Alex Wolpert, founder of ELLC when the site was still an empty building, who was looking for a head distiller, and I jumped at the opportunity. That was eight and a half years ago, and Alex and I have learned a lot in that time. We now make a range of whisky, gins, and vodka, import two different blends of rum, produce a range of RTD cans, and have a bar, two shops, and a restaurant, so to say that we have a couple of plates spinning would be an understatement. Despite the multitude of different things going on, I always return to the spirits and remember that we are a liquid first business and the amazing drinks we distill and produce are the reason we're all here. There's nothing quite like coming to work and having to make a heads cut first thing in the morning with a mild hangover.
How do you think the Spirits industry has evolved?
The spirits industry seems to be in a constant state of flux, but the trends are often a flash in the pan. We must resist the temptation to jump on the speeding bandwagon many times over the years. It's all well and good if you want to turn a quick buck, but having a solid and coherent portfolio of core spirits and a strong brand vision tops chasing the easy money every time. The danger with trying to evolve with the whims of the industry is that consumers and buyers are fickle and impressionable when it comes to shiny new things. Investing in NPD in (sub)categories that might only be in vogue for a single summer is madness. Or you might do amazingly well, but suddenly you're no longer the brand you wanted to be. People will always come back to the classics. Becoming a classic takes hard work, and we might never get there. Still, the ambition is to become the spirit or brand that people turn back to when they realize that they've been sold the emperor's new clothes in the form of a gin infused with hen's teeth and are now standing stark naked in the town square looking for something to cover their privates and a stiff drink to forget the experience.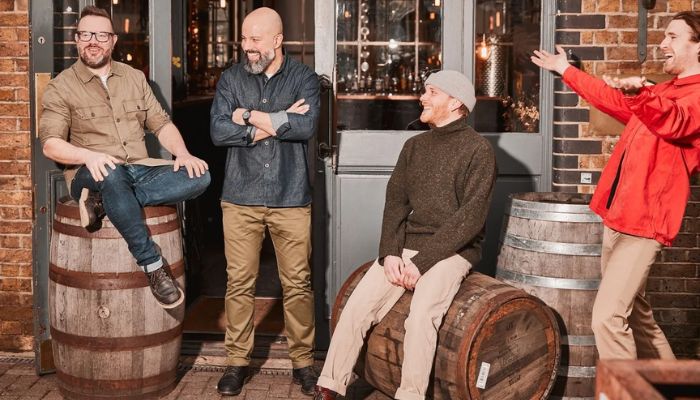 Image: Thomas Hills; Image Source: Instagram
Tell us a little about your day-to-day role.
As the operations director and a head distiller, I spend a lot of my day putting out (metaphorical) fires. Supply chains are completely up the shitter at the moment, and everything is getting more expensive, so a lot of my day-to-day work is ensuring that all the spirits are flowing off the stills, making their way into barrels and bottles, and working hard to insulate our customers from the worst of the chaos behind the scenes. I've got a great team in the distillery. We've recently hired two trainee distillers, who we are looking forward to teaching our bad habits, so I have plenty of time to be buried in spreadsheets and working on longer-term projects for the company. We've submitted our BCorp application, which has taken a lot of time recently, and we are always working on interesting things behind the scenes.
What's your elevator pitch to a bartender when pitching your brand?
As a company, we always stand by our mantra of 'decent spirits, for decent people, at reasonable prices. We make great spirits at a price that bartenders can afford to serve and make a decent GP, and that consumers can pick up and knock back a couple of G&T's on a Wednesday night watching Love Island without feeling guilty (our London Dry Gin retails around £22). We believe our spirits are made to be drunk and shouldn't be the Sunday best gathering dust on a shelf somewhere. We are the house pour in many places across London and the country more widely, and knowing that bartenders are choosing to put us on the rail over many more established brands shows that we must be doing something right.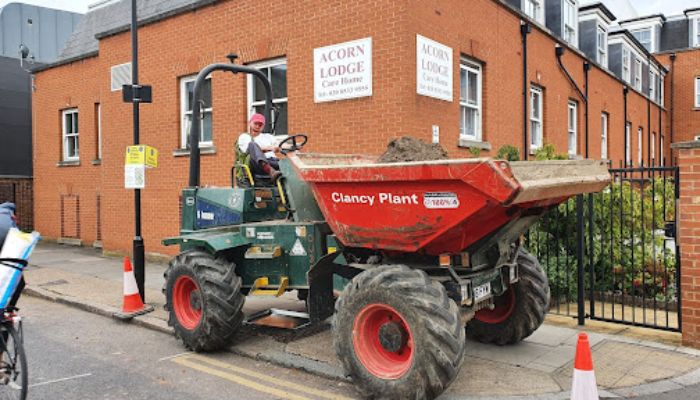 Image: Thomas Hills
What do you cover in your product training with bartenders?
We are extremely lucky that the distillery is in Zone 2 in London (Mile End is the closest tube, for anybody reading who fancies visiting us). Having bartenders physically visit the distillery to taste the spirit coming off the stills is valuable in communicating our story and vision to those on the frontlines who serve the stuff daily. Depending on what accounts we are working with, we offer comprehensive category training to get people up to speed with the basics if they need it. We are also an accredited WSET training centre, so we run courses several times a year (up to Level 2 spirits) for those looking for a more official curriculum. The sales team is always helping accounts with innovative services and working with them to make sure that the spirit shines wherever it's being drunk.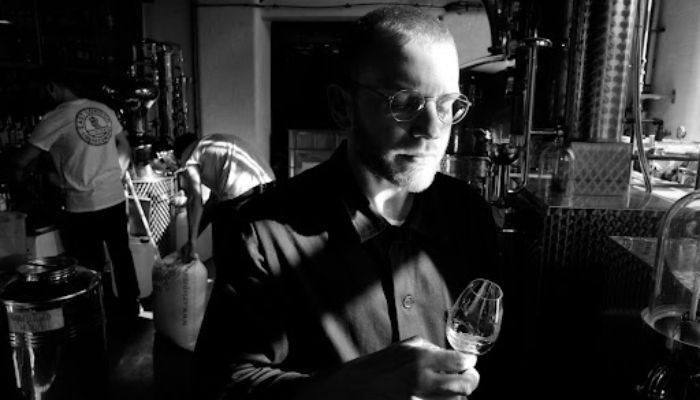 Image: Thomas Hills
How do you think a distiller can help drive marketing and sales personally?
Being visible and being a person who's willing to talk to customers is always a positive thing. People like to know that their spirits are made by people and not a robot. I regularly get wheeled out at trade and consumer events and am always heartened by the interest in what we do here and in who we all are as people. Having a voice and vision and communicating that to those who are buying and drinking the products, and receiving their feedback, goes a long way in generating goodwill and a rapport with customers.
Define a good distiller.
Having a good palate and developing flavour and recipes is only a fraction of the job of being a distiller. Taking a step back and asking why something is the way it is is the most important part of the job. Whether that's nosing for a tail's cut and working out why something is a bit different from the day before or tearing down a broken pump to work out what's gone wrong, having a curious mind and a desire to solve problems is the most valuable asset a distiller can have in my opinion.
Which is your go-to drink, and what is the perfect setting you enjoy it in?
I'll probably be admonished by the comms team if I don't write East London Gin and Tonic here. However, outside of work, I tend not to drink spirits too much (busman's holiday, etc.). My favourite drink of the week is a cold glass of sherry at about 4 pm on a Friday as I'm clearing my inbox for the weekend, preferably on a warm day next to an open window watching the world go by.
What do you do when you are not distilling?
I cook a lot and love hosting. Creating an atmosphere where everybody is fed, tipsy, and happy in good company is a bit of an obsession. I love the restaurant scene in London and am always seeking places that excel at creating that perfect evening I'm trying to imitate. I regularly climb in an attempt to keep fit, and I love working with my hands. I have an almost myopic obsession with tools and am always working with wood, trying to fix something that's broken, or finding more broken things to fix.
What is your idea of a good life?
Waking up on a Monday morning and looking forward to going to work in a great place surrounded by awesome colleagues and making something that we all truly believe in, but also having the time and the headspace to step back and indulge other interests and passions outside work is so important. That feeling of having a sense of purpose and achievement is all I wish for. Life would be boring if there weren't obstacles and challenges to overcome.
Header Image: Thomas Hills
The London Spirits Competition is now open for submissions. Register your spirits today to save BIG on super early bird pricing. Ship your samples later.