2023 Winners
London.
March 22, 23 & 24
Announced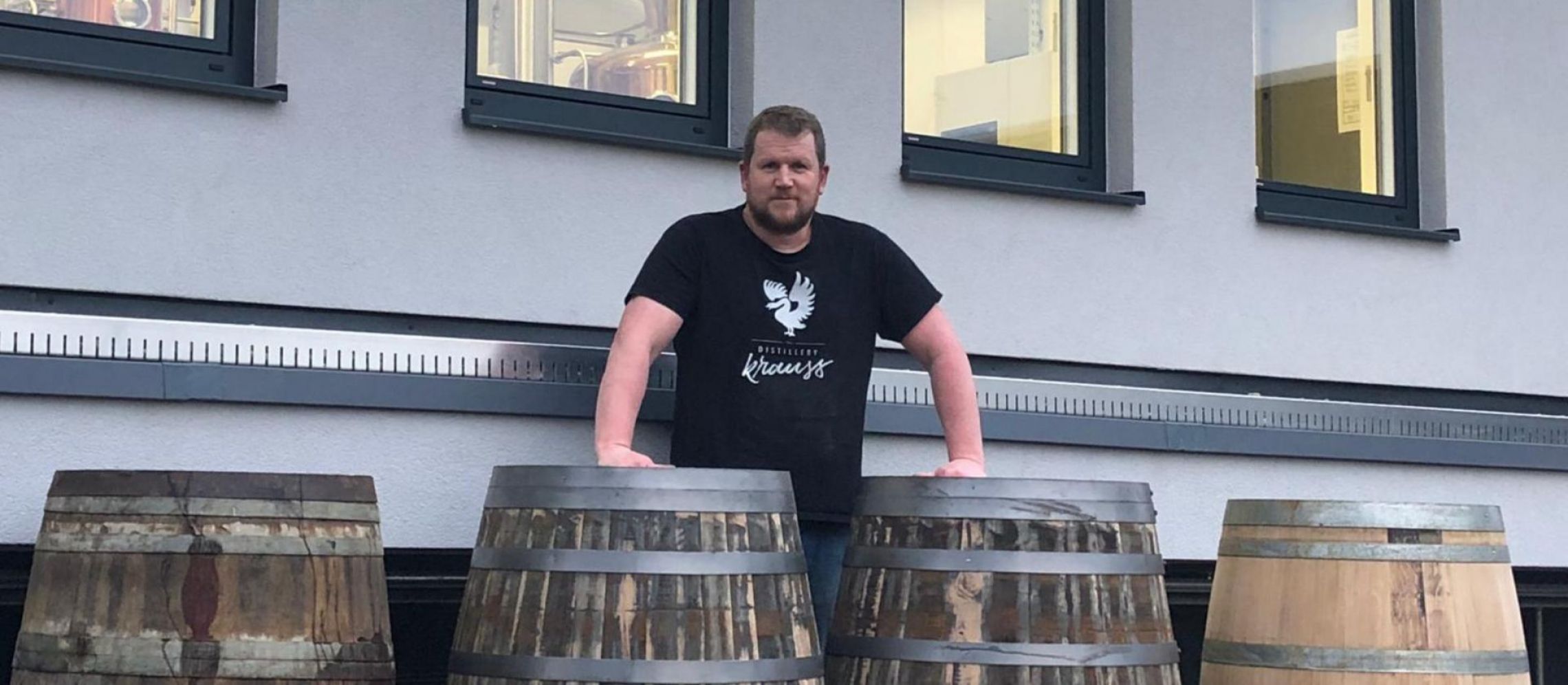 "Love What You Are Doing."- My Idea Of Good Life, Says Werner.
Werner Krauss, Owner and Master Distiller at Distillery Krauss, talks about his journey of becoming a master distiller, his role and responsibilities, and shares his views on the ever-evolving spirits industry.
From studying chemistry at the University to having a PhD degree as a technical chemist. Werner initially worked in the electronic industry as a developer of electro ceramic materials and as a process engineer. He also worked for two and a half years for the company that produced the Jägermeister for Austria as head of the product before starting his own spirits business years later. Werner is an award-winning master distiller with hands-on experience in the field. In addition to 7 different gins, Distillery Krauss also produces rum, whisky, vodka, anise, and vermouth have been added to the lineup, and many spirits come in various flavours.
What has your distilling career been like? Tell us a little about your background.
After business school, I went to university to study chemistry, and now I have a PhD degree as a technical chemist. I worked in the electronic industry as a developer of electro ceramic materials and as a process engineer. I am on two patents as an inventor. There I got my lessons for innovation and understanding processes.
[[relatedPurchasesItems-39]]
Several years after we started our spirit business, I also worked for two and a half years for the company that produced the Jägermeister for Austria as head of the production.
But since I was a little boy, I have had two goals. I wanted to be self-reliant, and I wanted to work with fruits. My grandfather grew fruits and grapes, and I wanted to do them also. But you do not earn enough money by growing fruits, but you can step up in adding value by producing spirits.
My wife and I started in a garage with one still producing fruit spirits. After several years and many gold medals, we wanted to change our portfolio and the markets. We wanted to go international in both cases. First, we produced whisky, then rum and gin. Apple Brandy, we already had. Our first gin was awarded double-gold in San Francisco in 2015, and after this, we started an international collection of about 80 platinum, double-gold, and gold medals in several competitions.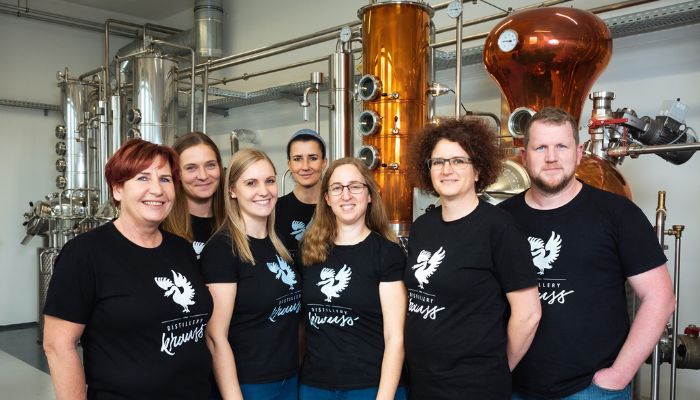 Image: Distillery Krauss; Source: Distillery Krauss
How do you think the Spirits industry has evolved?
It is much faster. Innovation took place in shorter steps. One has to be much more flexible. There are many more high-quality products in case there are many more very good craft distillers worldwide. But there are also so many, just marketing brands, coming up with new products but focusing on marketing, not on the quality of the products. That is, for me, an issue.
Tell us a little about your day-to-day role.
Early in the morning, I start the alembic before breakfast. After arriving with the employees, we have a short meeting and then go on with production. Between there is also some paperwork to do. If possible, my wife and I go to play tennis for one or two hours, because it is easier before noon. At noon I cook for the family and after lunch till 6 p.m. I have my usual working day. Now the relaxation starts with reading a book, watching TV or doing some activities with the family.
What's your elevator pitch to a bartender when pitching your brand?
I tell him about the intensity of our spirits and the passion they are made with. And usually, after tasting, everything is clear.
What do you cover in your product training with bartenders?
They are usually interested in the production process and the raw materials we use because they want to know what we are doing differently from the others and that our products are of such amazing quality and intensity. We talk a lot and are very detailed about the processing because this is not what they get from brand ambassadors or marketing agents.
How do you think a distiller can help drive marketing and sales personally?
It is not easy to handle, but it is indispensable for trade shows, tastings with experts (bartenders, journalists, bloggers), or special customers. But being in the distillery is the main job of the distiller; otherwise, the quality would suffer.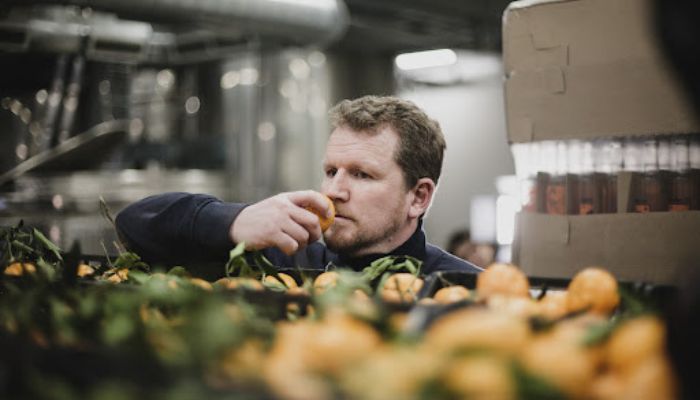 Image: Werner Krauss: Source: Facebook
Define a good distiller.
100 % passion for his work. Very sensitive in smelling and tasting. Understanding the whole process, from choosing the right raw materials to finding the right time when the spirit is ready to bottle. He or she should be able to imagine innovation in the brain before realizing it in the distillery. Openminded to everything new.
Which is your go-to drink, and what is the perfect setting you enjoy it in?
Having a clear mind during the working day is important, and it would be the wrong setting for me to enjoy it. After my working day, I like to have a Gin&Tonic, Cuba libre, or Mojito if it is for fun, and then the setting should also be funny with other people just talking about everything. If I want to enjoy something special and neat, I choose rum, whisky, or fruit brandy, usually alone or with friends but discussing the product and enjoying it.
What do you do when you are not distilling?
Spending time with my family. I love to cook. Playing tennis. Reading books.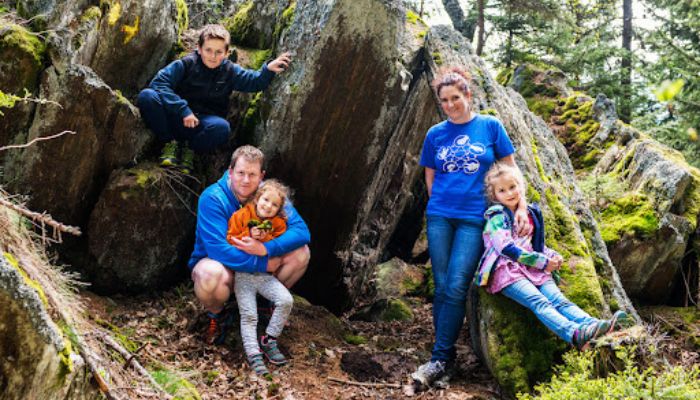 Werner Krauss With his family
What is your idea of a good life?
Love what you are doing. Arnold Schwarzenegger – who grew up near our place – said in a speech that more than 75 % of people do not like what they are doing, which is why they are unhappy and unsuccessful. Distilling is my passion, and it gives me the freedom to do what I like and to be successful.
Header Image: Werner Krauss; Source: Facebook