Meet the Brand Ambassador of The Iconic Jägermeister
22/05/2022
Jägermeister's UK Ambassador, Florian Beuren on his training modules, Jäger's versatility, and his promotion strategies.
Originally from the birthplace of Jägermeister, Florian Beuren is the UK brand ambassador for Jägermeister. He has worked in hospitality for a long time as a mixologist, fixing drinks behind some of the finest bars in Germany and London. He has also bagged several awards for his excellence in bartending and impressive flaring skills. Since 2014, Beuren has been leading the training, sales strategies, and the Hubertus Circle, changing people's perception of this herbal liqueur. He has been educating the crowd about the versatility of this unique liqueur, bringing people together and saving the night.
[[relatedPurchasesItems-23]]
Can you tell us a little about yourself and your role as a Brand Ambassador at Jägermeister?
I have been in the industry since 1996, starting off in Germany studying Restaurantfachmann while working for the Maritim Hotel Group. After finishing my degree in 1999, I stayed at the hotel for one more year before moving on to a trend and saw a bar called Weststadt Bar in my native town called Darmstadt. In 2001, I became the bar manager for a very famous German Chef called Alfonse Schuhbeck at his new place at the Time called Schuhbeck's Check Inn. I stayed there for nearly two years before deciding to follow my passion and move to London to work hard on my flair-bartending skills working for TGI Fridays. During my early days in London, I met Nicolas Saint-Jean and we became friends founding together the Flairmotion (Crew/school). I won the UKBG championship in 2007 representing the UK in Taiwan. I won the Bacardi street fighter battle world championship in Bratislava in 2009 to name a few. I traveled the world sponsored for brands performing and teaching bartenders from South Africa, India to Geneva and Monte Carlo. Since 2014, I am the UK Brand Ambassador for Jägermeister where I am looking at drink strategies, our Hubertus Circle (Jägermeister Bartender program), hosting educational training for industry and consumers. I created together with HQ the newest liquid on the market, Jägermeister cold brew coffee.
Being a bartender in the past, how did you end up in this role and how has it helped you to grow as a Brand Ambassador?
Jägermeister opened up the UK business in 2014 so I applied and got the job. I love working for the brand as they give me the freedom to be creative and trust me to implement the right strategy for the brand.
I think it's the perfect match coming from the bar to work for a drinks brand as you know the trade and give a lot of knowledge towards changing perception teach people what Jägermeister is (a shot) and how to drink it (ICE COLD -18) plus showcasing the versatility of the liquid and how well it works in cocktails.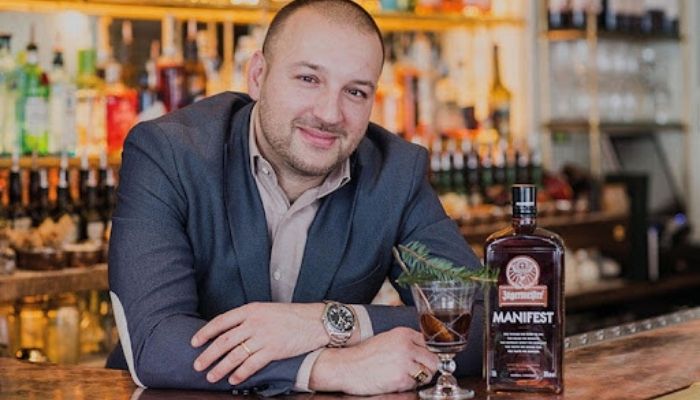 Source: World Flair Association
How do you increase Jäger's visibility and promote awareness around consumers and trade?
I am a big believer in education showcasing how and why plus teaching people about the huge heritage and history of the German herbal liquor. I always say drinks and food is the same if I don't like something and someone cooks with it and I try it even if I have this perception of not liking it but it tastes nice I can't deny it that it tastes nice and the same is with Jägermeister, you might not like the brand or you tried it warm or you say it does not work in cocktails but then I give you an ICE COLD SHOT or a cocktail and its delicious you have to admit to yourself yes it taste nice.
What strategies do you use to gain distribution, increase volume sales and gain cocktail placements? Could you give me an example of an account you recently cracked?
This year we put the focus on ICE COLD as that is the best way of drinking Jägermeister. I always use the example of coca-cola, if someone gives you a warm coca-cola you do not enjoy it but if the coca-cola is cold you feel like heaven. Due to perception, we had always struggled to work with the top bars in the UK together but due to training and masterclasses, we are now working with so many top bars together throughout the UK. The Gibson, Night Jar, Swift … to name a few.
What is the biggest challenge you face in your role?
Like I said our biggest challenge is the perception I call it a positive problem everyone drinks Jager Bombs which is the party shot-tail and it gives us volume but as well people think hangover etc… but we are so much more we are a shot and great cocktail ingredients which makes bars, restaurants and clubs a great margin as we are infused with 56 botanicals and this I something bars looking at the moment cutting back on the back bar saving money infusing liquids putting fewer ingredients into the drink but using infusions to create a complex drink and Jägermeister, Jägermeister Cold brew Coffee or Jägermeister Manifest do just that as we are infused with so much flavor.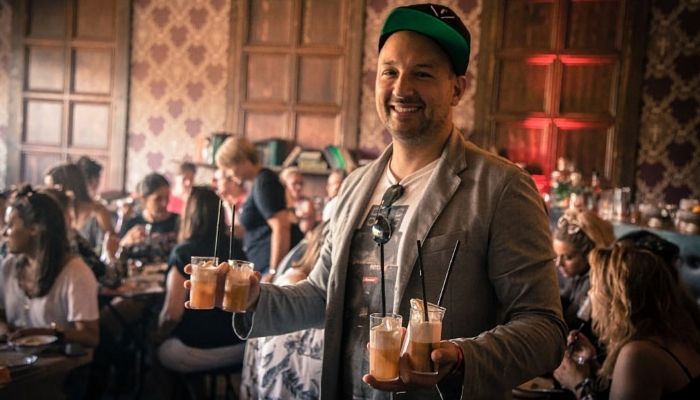 Source: The Spirits Business
What do you focus on in your training and masterclasses? Could you take us through your training module?
I focus on 4 different pillars :
1. History of the brand which was founded in 1878.
2. Heritage and some interesting anecdotes about the brand (why do we have the logo with the gold stag or a story of the iconic green bottle)
3. The making of Jägermeister (people think Jägermeister is cheap but really like I said it's a very complex liquid and it takes over 12 months to make 1 bottle of Jägermeister. I covered insides about some of our botanicals were we get the from, region and what do we do with them)
4. Showcasing why ICE COLD and make cocktails to showcase versatility.
Maintaining relationships with your clients is a big part of your role, what are a few simple yet effective ways to keep that going?
I think it's important for an Ambassador to be in trade a lot and visit your accounts as much as possible to showcase how important bars and bartenders are for us as a brand and that we appreciate every single one of them!
Could you tell us a bit about the Hubertus Circle?
The Hubertus Circle is our Jägermeister bartender program. In the UK they play a big part in our family. We host yearly gatherings to celebrate, but we are hosting over 300 events, training, and festivals in the UK every year which is run/supported by our Hubertus Circle. We have 30 bartenders (City Ambassadors) in the UK and we are super proud of our specialists. They work closely together with our sales force in their city.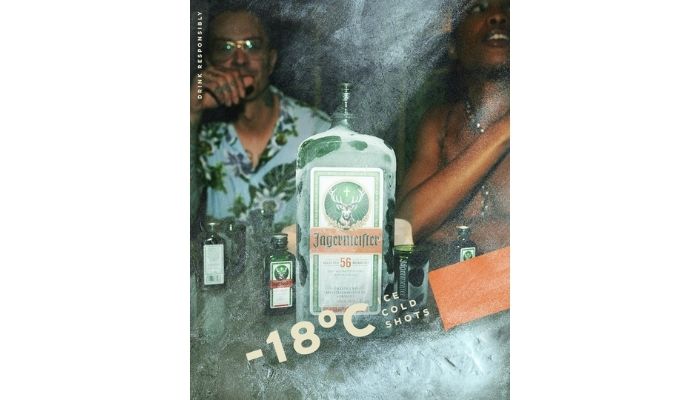 Source: Instagram / Jägermeister
How has digital marketing proved to be an effective tool for you? Can you tell us about your digital marketing strategy?
I think in times of Instagram and digitalization it is super important. We host our UK Cocktail Championship every year "The Meister Hunter" and the first round is an online round with the second round heats in 4 cities throughout the UK and a grand finale in London. In 2020 due to Covid, we had to run the whole competition online and due to our digital department, it was a huge success.
How do you motivate distributor sales reps?
Again through training and Education showcasing how cool, complex, and delicious Jägermeister is and what you get from it when you activate it the right way!
Lastly, could you take us through some of your favorite Jägermeister recipes?
My go-to drink when I am out in trade is a Jägermeister Sour (40ml Jägermeister, 25ml fresh Lemon Juice, 15-20ml sugar syrup, 1 egg white), with Jagermeister Cold Brew Coffee I advise to try Salted Caramel Espresso Martini (40ml Jagermeister cold brew, 35ml espresso, 10ml vanilla syrup, 1 spoon salted caramel spread) with Manifest it's a highball (40ml Jagermeister Manifest, 25ml fresh pink Grapefruit Juice top up with peach Fanta)
Header image source: Save The Night, Jägermeister
Interviewed By Tushar Anand, Junior Writer, Beverage Trade Network