Deadline
September 30, 2023
Enter Now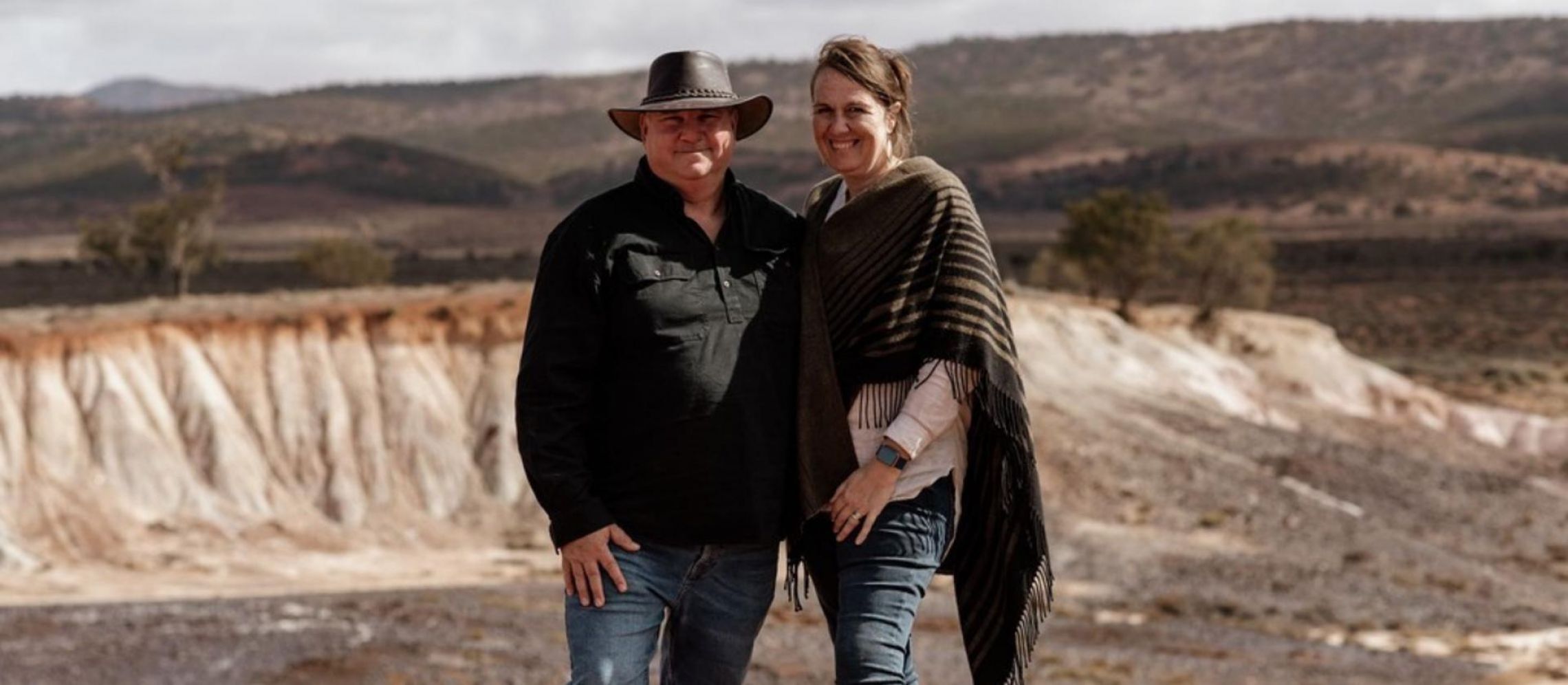 "My Love Of Artisan Production Began In Childhood." Says Alby Trotta
Alby Trotta, Master Distiller at Flinders Gin discusses his career and role in distilling and talks about his artisan Flinders Gin range.
Alby, a former certified baker and specialist advisor in product development, export, and cold chain management, is now using his artisan talents to create hand-made, small-batch gin. He learned this expertise from his family in Italy and refined it in London while taking Masterclasses for Gin. According to Master Distiller Alby Trotta, "The Flinders Ranges is home to some distinctive native cuisine, and I wanted to infuse those flavour profiles into Flinders Gin.
What has your distilling career been like? Tell us a little about your background.
Having launched on 1st June 2021, Flinders Gin is still a new addition to the vibrantly rich Flinders Ranges but has been many passionate years in the making. I'm often asked, "how did you come to start a distillery in the middle of nowhere during the pandemic??"
Before starting this business, I owned several successful businesses in the past. I've also worked in corporate roles, so my experiences have added together, bringing me to a place where I've been able to draw on all those skills and experiences to do something unique.
Born and bred in rural South Australia, I established the Flinders Gin distillery with my wife of 25 years, Leah, in a restored farrier and stable, just a few streets away from her paternal grandmother's Quorn birthplace. While the brand aims to bring an element of rustic luxury to the outback through authentic tastes and unique experiences, it also commemorates both sides of my family's heritage. It focuses on the region's beauty and vibrancy, providing consumers with unique enjoyment and localized experiences through products.
I'm a baker by trade and have always been fascinated by the simple yet powerful ingredient yeast and what else can be made from it, including alcohol which can be distilled into gin.
My love of artisan production began in childhood when as the "naughty one", I spent many family gatherings sitting in the kitchen under the watch of my southern Italian Nonna. While she watched me, I also watched her. Her skills in everything from her knowledgeable use of herbs to the value of using what you have and what grows nearby, as well as her intuitive incorporation of natural yeast into her daily bread production, transferred.
[[relatedPurchasesItems-39]]
How do you think the Spirits industry has evolved?
The industry has come full circle. In its early history, it was about local craft and even at-home production, using what you had and developing local flavours. Then globalization and big corporations changed the nature of this, and the marketing of big-name brands and standardized products drove the consumption and sales patterns. Thankfully we have remembered the old times and haven't lost that uniqueness that comes with an artisan approach. Today we've got the benefit of new knowledge and technology as well as a renewed interest in buying local, so we're back to local craft products being of interest. It's a magical time.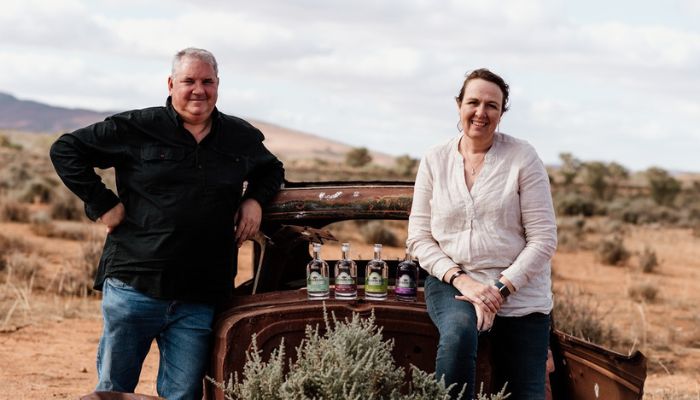 Image: Alby Trotta with Leah Trotta; Source: Facebook
Tell us a little about your day-to-day role.
Flinders Gin is a hyperlocal artisan distillery based in Quorn, the gateway to South Australia's stunning Flinders Ranges. I live and work in a pristine and spectacular but rough and rustic area. I enjoy that and the outback characters that come with it every day.
I make my own spirit, triple distill it with a curated selection of botanicals, and then hand-pour every bottle. It's traditional, and quality assured.
The pristine flavours of the Flinders Ranges are found in locally sourced native quandongs and other botanicals, which are the heroes of our brand. I buy locally, and often foragers come to me with items to purchase. We supply pubs, restaurants, retailers, and tourism providers across a 1000km span of the outback, and throughout the week, I get to meet these business operators and also the daily visitors to our region.
Every day I offer guided gin tastings by appointment at the distillery as a visitor attraction to our hometown of Quorn. The tasting starts with gin but continues through the senses, bringing the outback's flavours, stories, people, and experiences to life.
The rich and raw culture and the unique tastes found in the region are shared through our authentic stories and personable experiences. In addition to our gin varieties, I talk to people about what else we offer, such as a range of tea, candles, giftware, and our very popular "Gin Salt", which introduces our zero-waste Story.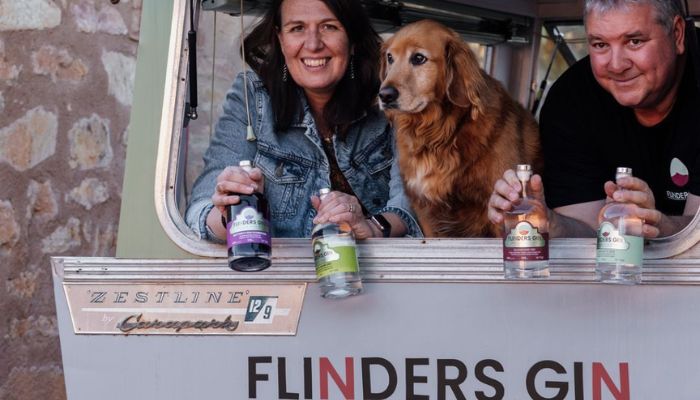 Image: Alby and Leah Trotta; Source: Instagram
What's your elevator pitch to a bartender when pitching your brand?
We're local, and you'll be able to taste the love for our region where this product is made with. I make my own base spirit and then triple distill it, finishing with local botanicals. The flavour is clean and smooth, and the process is managed from end to end.
How do you help bartenders with depletions of your brand?
We run a unique model where we collaborate with bartenders in amazing outback pubs to bring our product to people in regional and sometimes very remote areas. We train bar staff (used to pouring a beer) to make great G&T and to make some perfect but simple three-ingredient cocktails. We make it easy. We offer tastings and support staff in running their first cocktail nights. It's a lot of fun; everyone gets something out of it. We also offer point-of-sale product stands and merchandise such as t-shirts that keep people interested in the drink.
What do you cover in your product training with bartenders?
Number one is to make the customer happy and to emphasize that there aren't rules about how to enjoy the product - mix it how you prefer, and garnish it with things you like. It's very empowering for the bar staff and also the patrons.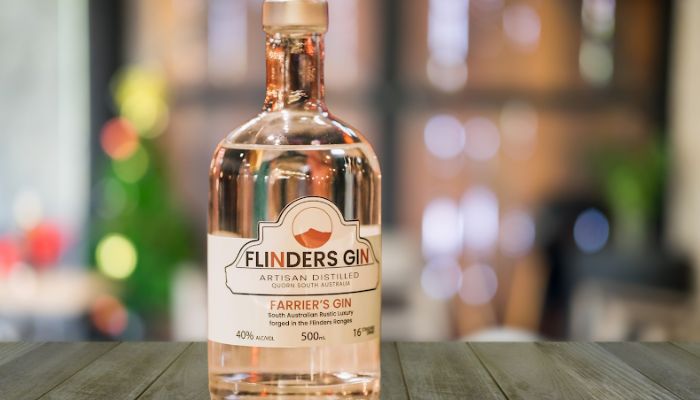 Image: Flinders Gin
We go through the production process, and the experience of tasting the varieties, and we get them comfortable with telling our story as well as talking about and using native botanicals. The bartenders in our region tell and retell our story for us as a part of their hospitality. Outback pubs are great places for yarn, and you can be sure Flinders Gin is a topic that the bartenders are well versed in.
How do you think a distiller can help drive marketing and sales personally?
My experience is that the distiller is actually the face of the brand. Being personable and willing to share knowledge and stories is a core part of the role. Craft brands are sharing their story as much as their product, and the distiller helps to drive marketing and sales by leading this. And it is the fun bit of the job, for sure!
Define a good distiller.
I passionately believe that a good distiller is one that starts with its own alcohol production and controls the process right the way through to the finished product. A good distiller listens to the publicans, bartenders, and patrons and knows how to adjust the flavours and pairings to make things sing.
Which is your go-to drink, and what is the perfect setting you enjoy it in?
Flinders Gin drunk anywhere in the Flinders Ranges, with gum trees and kangaroos around, is absolutely my favourite. Flinders Gin Outback Lemon Lime Gin is made with Desert Lime, and our native lemongrass goes down a treat.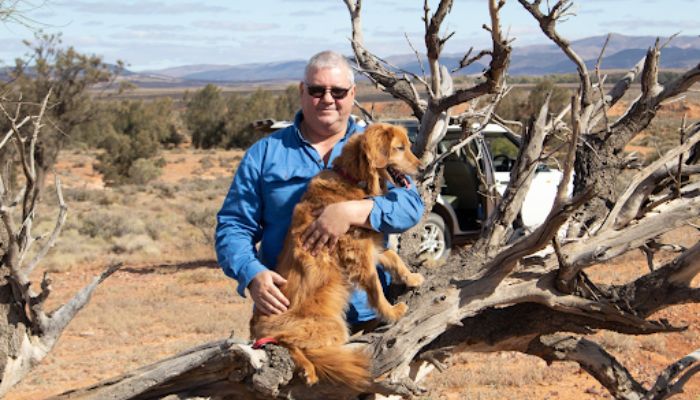 Image: Alby Trotta; Source: Instagram
What do you do when you are not distilling?
I'm a blacksmith, too, so I get the forge fired up and start making, or I head out back with Ernie, our distillery dog, for a drive.
What is your idea of a good life?
Having family around and being creative.
Header Image: Alby Trotta with Leah Trotta; Source: Instagram