Robert Lorrigan: Turned his Hobby into a Career
28/01/2022
Erstwhile Film Director, Robert Lorrigan is now a Wine Educator and Head of Beverage at Fife Arms - A Boutique Hotel in Scotland.
Starting his career in Advertising and Marketing, Robert Lorrigan worked as a Film Writer and Director for 15 years. Having grown up in a wine-growing state, he later realised his passion for wines in 2012 when he started visiting cellar doors and turned his passion into a career. Robert worked as a wine buyer for Hawksmoor for 7 years and later took up many wine consultancy roles. With a Diploma in WSET, he later became a WSET teacher and started sharing his knowledge. He now works as the Head of Beverage at the F&B establishments of Fife Arms which is a stunning Scottish boutique hotel.
Tell us about yourself
I'm currently the Head of Beverage at the Fife Arms Hotel. I currently oversee the beverage program, though I joined the company as a wine buyer and Group sommelier. Prior to this I studied and received my DipWSET and also became a WSET teacher while employed by Hawksmoor where I worked for around 6/7 years.
I came to wine by chance. First I gave up an early advertising & marketing career and started developing a career in film writing & directing, in conjunction with this as you do, I ended up working in some great dining rooms and enjoying a lot of nice wine. I also grew up in a wine-growing state of Western Australia so I used to surf in my youth in Margaret River with friends and visit cellar doors on the way home. Somehow my hobby of enjoying wine became a bit more obsessive and turned into my career.
How according to you has the role of the sommelier evolved, especially now during covid times?
Just more expectations, visibility in the whole dining process. The Sommelier will often have great knowledge of the food menu as well as the wine so they become an important senior member on the floor for guests and other F&B staff. I think the days of working in isolation are diminishing and relationships between Somms and other staff are getting closer as they should be. Wine is pleasurable, it shouldn't be a distant role from other team members of nerve-racking for guests to speak to one.
What are some of the most important skills for a sommelier?
Good Palate
Intuitive
Humility
Curiosity
Memory
Approachability
Keen to learn all sides of the business
What do you look for when you plan to buy wine for your business?
Always juice first, I look for something special in the energy, balance, complexity of the wine, even at lower price points. Viticultural practices are important too. Finally, the story and packaging of the wine are important, guests often associate design these days with experience, as they purchase with their eyes.
Your favorite places to enjoy great wine in London?
I left London a few years ago and have been in the Highlands. As we've been in the pandemic mode for so long it seems long overdue I visit and try some new venues. There are many on offer and I look forward to this exploration.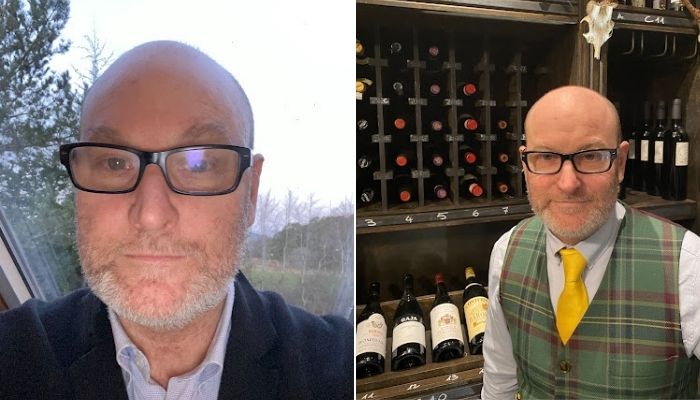 What is your approach to matching food and wine?
Every time there's an opportunity if you have time. I think texture, the individual layers that are prominent in the concentration of juice, and the freshness or energy of the wine will suggest what they may go with. Sometimes an interesting note in a wine may be all that's needed to connect to a dish, rather than just looking at pairing weights and cliched light/powerful flavour profiles. Always fun to try something new.
If you had to pick one red and one white wine as your personal best? Which wines would they be?
If you mean varietal gosh that's tough, so many moments to enjoy different wines. Maybe Nebbiolo in all its forms and geographies, Roussanne a great white so long as it's got freshness and drive.
What's the best part of your job?
Discovery is always the adventure of finding new gems and tasting that sense of place. Even better to get to visit the home of those gems and taste them where they come from.
What are 5 challenges you normally face in your job and how do you tackle these?
1. Logistics at the moment, be patient.
2. Allocations at the moment, be patient.
3. Staffing at the moment
4. Understanding the full role of a sommelier or wine buyer within the workplace. I think many people don't know how much work goes into the learning and then the process of putting together a wine list. I have seen many Sommeliers get frustrated with this which hasn't maybe helped the Sommelier's image. You just need to stay humble and try to help others see you are working hard, not just drinking. Share your process.
5. Drinking every day. This sounds funny though at some point but every day you'll have to taste, so get used to it. Exercise the palate like you would your brain or body.
Any favorite food and wine pairing suggestions for London drinks enthusiasts?
The best Fish & Chips you can find along with the best bottle of champagne you can find.
Any tips for wine brands trying to grow in on-trade and how they can help sommeliers.
It's hard going indirect as most Sommeliers/Buyers are buying through their niche supply chains. Do your homework on finding the Importer who suits your style of wine, stage you are at in business, then invite Somms to see your wines.
Explain your weekly tasks, please go into detail about what you do.
Wine taster, spirit taster, wine and product buyer, event planner, menu creator, human counsellor, adventurer, chameleon, accountant, forensic investigator into any range of things financial, logistical or product-related, teacher, friend, bon vivant, tech-challenged, tech problem solver, host, conceptualiser, storyteller, system fighter, relationship builder, manager, server, bottle opener and so many more things, it really requires flexibility and openness to learn new things and keep evolving the existing skills.
What's your personal career goal? And how are you investing or planning to get there?
To keep evolving, stay interested, and stay well. I try to stay present and stay open.
Give us one good story that you remember of a customer and you.
A customer came in to drink two rare bottles of Henri Jayer Echezeaux Grand Cru we had on the list many years ago. So they decided to buy something to eat with it rather than the other way round. He was nice enough to share some of each vintage with me, the wines were magic, very deep, energetic, and continually unfolding taste experience. Opened up a new understanding for me.