Deadline
September 30, 2023
Enter Now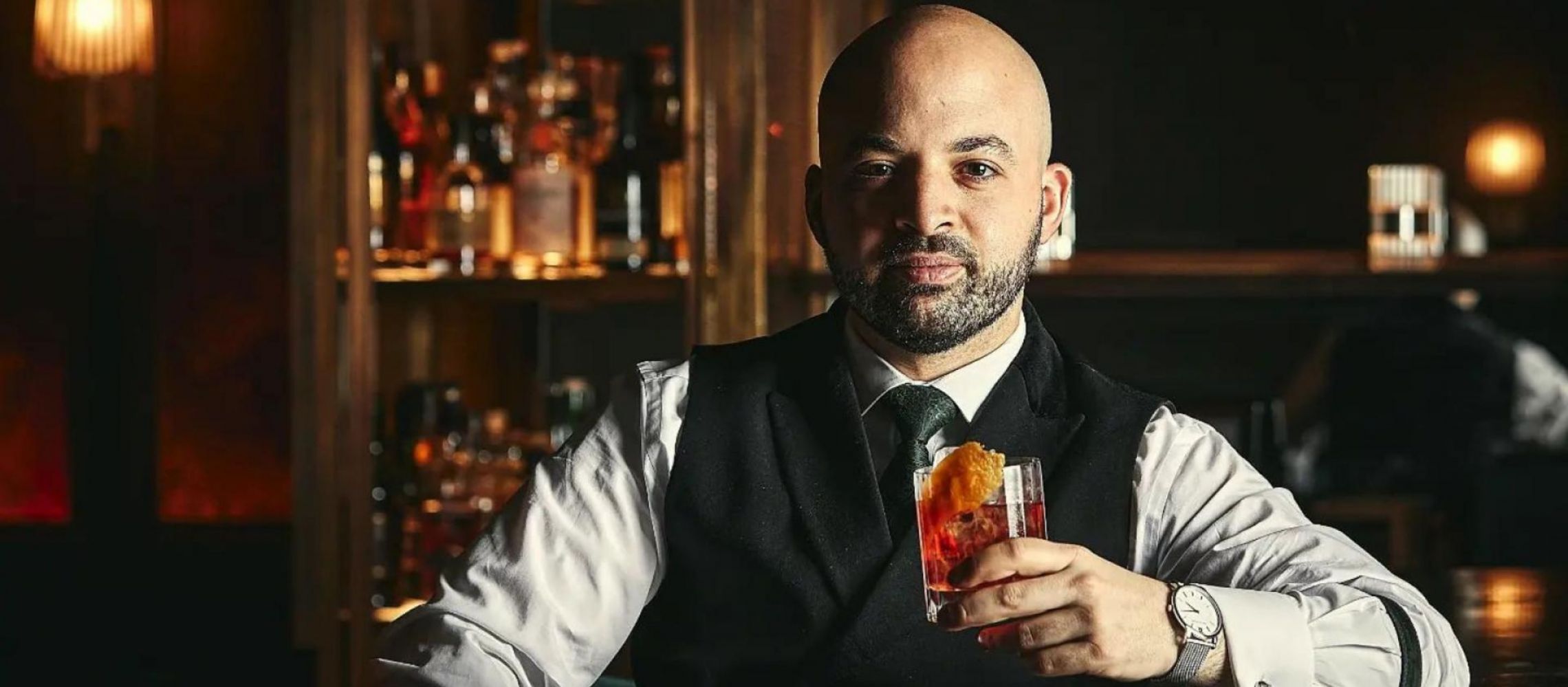 Simplicity is the secret to grow beverage sales says Angelo Sparvoli, Head Bartender, St. James Bar
Angelo Sparvoli discusses how he increased his own network all over the world with his unique way of bartending.
Angelo started bartending in 2014 and had the chance to work in the American Bar at the Savoy in August 2016. He now works at St. James Bar at the Sofitel, London as a head bartender. Angelo loved the interaction with people and the stories from every corner of the world in the bar, back when he worked in a cafeteria in Italy, one of the many reasons he has built his own network from Peru to the US to Japan.
Learn more about him and his experiences in the space below.
Your current place of work / Last place of work
St James Bar at the Sofitel London St James
Tell us about yourself.
I started bartending back in 2014, after doing an American bar basic course here in London, with the European Bartending School.
After working between my hometown, Camerino, a small town in the Le Marche region, and the Algarve, the South coast of Portugal, I had the chance to join the American Bar at The Savoy in August 2016. I spent three and a half years, starting as a barback to then leaving as a senior bartender.
When I left in January 2020, I joined Erik Lorincz in his new venture, Kwant, which I left in June 2021 after a rollercoaster year very much influenced by the global pandemic. It was a sad but necessary decision. In November 2021 I got offered the head bartender position at the St James Bar at The Sofitel London St James, which I accepted with great enthusiasm and where you can find me these days stirring Negroni.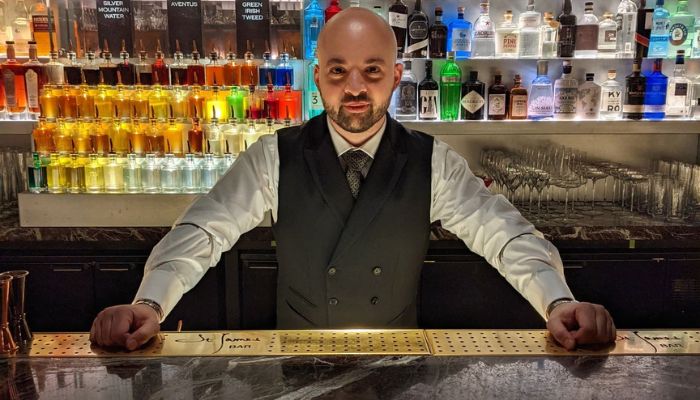 Image: Angelo Sparvoli; Source: Instagram
Why did you want to become a bartender?
When I started back in Italy, in a cafeteria, I loved from the first moment the interaction with the people and how many stories you get to know, from every corner of the world. These days I'm lucky enough to have built a wide network that goes from Peru to the US and Japan.
What are some of the most important skills for a bartender?
The ability to anticipate the needs of the guests is something quite important, as well as being able to provide a unique experience, entertain the people, and get to know them in order to provide a tailored service and make them feel at home.
What do you look for when you plan to buy new products for your business?
When buying something new I always try to understand the way it's made and its story, who's behind the making, how sustainable it is, and where the ingredients are sourced.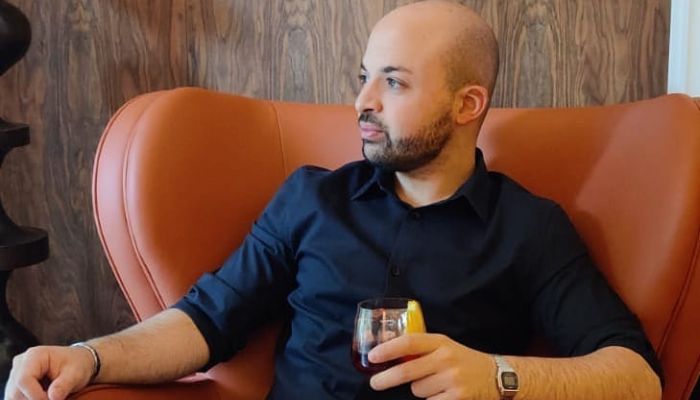 Image: Angelo Sparvoli; Source: Instagram
If you had to pick one spirit brand that you love, which one would that be?
One would be challenging, but definitely Glenfarclas whisky and Boatyard gin. Visited both distilleries a few years ago and love the family conduction as well as the great liquids that they make.
What's the best part of your job?
The best part of my job is probably getting to know new people every day and understanding different cultures and costumes.
Please share some tips to increase beverage sales in a Bar.
As a bartender when creating menus/cocktails I always think from the guest's point of view. If a drink looks too elaborated with too complicated ingredients/techniques on paper, it is very likely not to sell much. A simple approach is better most of the time: give your guests what they like and your managers will be happier too.
Another great way is to propose some food pairings, such as caviar and champagne, cheese and wine, and so on.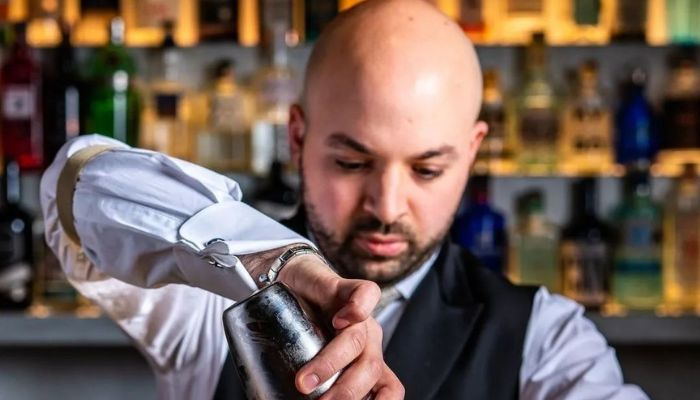 Image: Angelo Sparvoli: Source: Instagram
What do you love hearing as a bartender?
"This is amazing" is always pleasant to hear. When someone loves a cocktail, such a reaction is always very spontaneous and that makes me very happy.
How can a customer get your attention in a crowded bar?
As bartenders, it is always our responsibility to check the surrounding environment and that our guests have everything they need. With the experience, you'll know which are your priorities and who's been waiting for longer.
What is your go-to "surprise me" order?
Hanky Panky,
Brooklyn,
Sazerac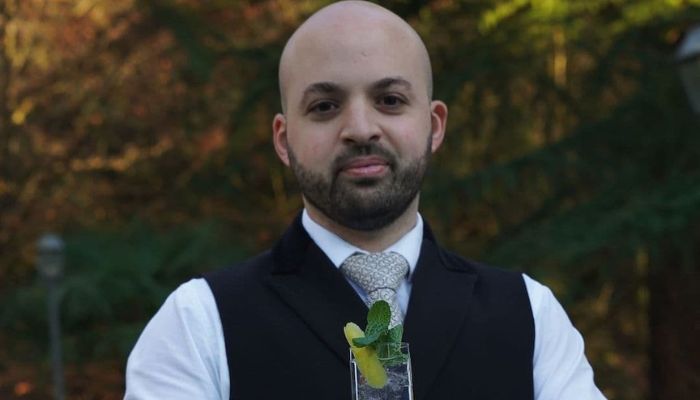 Image: Angelo Sparvoli; Source: Instagram
Please name 3 bars that you admire and why?
American Bar at The Savoy - having been my "home" for over three years, I loved the history behind it and how it has influenced the global bar scene.
Rules' Bar - I love the classic environment, the classic approach to the cocktails and the team's knowledge, the red carpet, and the history of the place. It's like jumping back into the 1800s.
Amaro Bar - Despite the huge amount of preps and technology used behind the scenes to create tasty and impeccable cocktails, the offer is very approachable to anyone who doesn't work in the industry (many times happens the opposite). In its simplicity, efficiency, and enjoyment.
[[relatedPurchasesItems-39]]
Do any good customer stories that you recall come to mind?
Generally, it is always great to have people who are catching up after many years or for anniversaries. It's a great feeling to have the duty to make their day memorable and see them back again.
Header Image: Angelo Sparvoli; Soruce: Instagram