Vladimir Cvetkovi on how he creates the dream drinks list
27/08/2021
Vladimir Cvetkovi : what you need to create the dream drinks list
We head to Serbia to talk to Vladimir Cvetkovi about his life working in bars and managing drinks lists for venues in different countries and what he thinks goes into creating the perfect drinks list.
How do you get into the drinks industry?
I am originally from Serbia, where very high-quality wines come from, also the best plum brandy. I entered the beverage industry as I always loved the quality of both food and drink we have.
Why did you want to work in the bar sector?
I became interested in the bar sector after seeing the movie "Cocktail" with Tom Cruise. I have progressed a great deal from those early days though. The last movie I watched about cocktails was "Bar Talks by Charles Schumann"
How did you progress to your current role?
It has taken a lot of blood, sweat, and tears to progress to my current position. I have been prepared to do a wide variety of jobs and put in the hard graft, and taking opportunities that have come up like working for pop-up bars, and taking part in as many workshops, masterclasses, and training courses as I could. I have also taken private training on communication skills and the key disciplines of being a bartender.
What is involved in your current role and your main tasks?
I am currently on vacation, but in my last job I was a chief bartender and my tasks included preparing coffees, cocktails, milkshakes, cleaning the bar, and buying ingredients. I was also involved in buying drinks, organizing the fruits and vegetables with the chef, serving the guests, and training, not just the other bar workers, but also the waiters, and much more.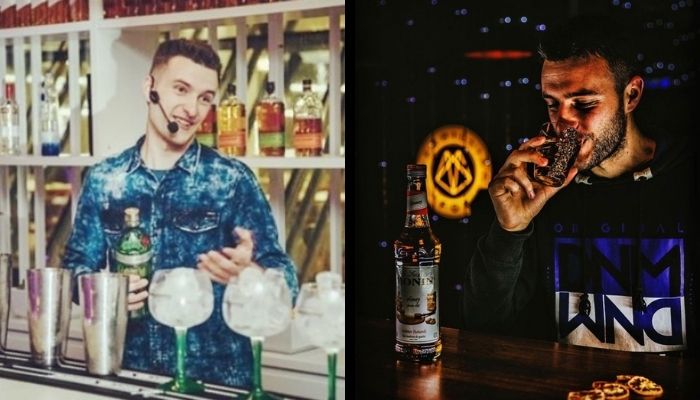 Vladimir Cvetkovi
If you were given a bar programme and asked to grow sales where would you start and what steps would you take?
Good sales always start with good ideas so to increase your drinks sales you need quality advertising, and help promote the drinks and offers you have. You also need to do a lot of research about the kinds of drinks the customers coming to your venue would like to buy.
What questions would you ask of the owner to know what sort of drinks list to create?
What type of guests do you have? How much do you want to increase your drinks sales by?
Are you interested in trailing and experimenting and exploring what a drinks list can do or do you want to work with a strict, standard list?
What do you most look for and want from drinks suppliers to help drive sales?
I am looking to my suppliers to be offering new drinks, and incentives for trying them as well as what they can do to help me promote different styles of drinks and introduce better quality liqueurs, tonics, juices and spirits.
Can you think of any good examples of partnerships with suppliers and drinks you have listed as a result?
Yes. Some of the best companies to work within my humble opinion are Pernod Ricard, G3Spirits (Balkans), Coca-Cola, LVMH, Diageo, and Kawi caffe (Cyprus). They are always looking to help you by providing lots of information, but also by organizing competitions as well as offering very high-quality lectures to take part in. We were able to increase the sales of old-fashioned cocktails, coffee, especially Mochaccino, and blended coffee through extra training and information.
What does success look like for you from a drinks programme - what are the key ways to show success?
Success in a drinks list comes from having satisfied guests, happy that they have had a nice time in your venue. The skill of the bartender comes in knowing which liqueur to put in their cocktail or spirit, which coffee they will enjoy and what sort of wines they might like. They also know how to try out new drinks and work with the staff so that they are constantly learning and being supported with compliments and suggestions to help them improve their work.
What are the key factors about designing a drinks list that helps the bottom line?
The key to a successful drinks program is to keep it simple but to provide a lot of information to the guests on the menu about the drinks, where they are from, and how they are made. Then you need to be always looking to promote different drinks and add in extra support and incentives for customers to try them.
Vladimir Cvetkovi mixing
What do you focus on to be good in your role?
As a bartender, it is important to be on top of all the little details, whilst also being able to look at the overall picture as well. Everything from the garnishes that does into the drinks, to the quality of the spirits, to the glassware to how they are served. All those details count.
What do you see as being the key skills and talents needed to be a good bartender?
The key skills of every bartender are precision, hospitality, speed, having a good memory, and knowing the right kind of questions to ask your guests. You can see the bartender world in the movie "Passengers". It is also very important for bartenders to not just know about making the perfect cocktail, but also have complete knowledge about each aspect of the drinks range from the fruit bar to the coffees you serve and the wine bar.