St. Kilian Distillers GmbH- A German Single Malt Whiskey Distillery
22/10/2020
The St. Kilian Distillers Signature Edition FOUR bagged a total of 6 awards at the 2020 London Spirits Competition including Spirit Of The Year.
(Image credit: St.Lilian Distillers)
St. Kilian Distillers makes award-winning single malt whisky in the Scottish tradition. Made in Germany and inspired by whisky cultures from all over the world.
Two whiskey connoisseurs, one idea. A village of 760 people, Germany's largest whiskey distillery.St. Kilian is at home in the village of Rüdenau, on the edge of the Odenwald. Because there was a former textile factory for sale in 2011 between green fir trees and meadows - ideally suited for a distillery.
St. Kilian Distillers GmbH is still a small, medium-sized company with 25 employees. "For Scottish conditions, our output would be extremely low at 250,000 liters a year," admits Thümmler. "An average distillery there produces around three million liters." An increase to 500,000 liters is easily possible with the current equipment.
There would also be room for another still in the former textile factory, so that one million liters could be produced per year. "Let's see what the future brings," says Andi tellingly. He is optimistic. "We are the hippies of the whiskey industry and real explorers." Thümmlers motto is very simple: "We don't need it conservative, but spectacular."
History
Andreas Thümmler, a boyish guy, welcomes us casually, but quite seriously with a black shirt over dark trousers. He has already made other appearances. His appearance as Darth Vader at an event where start-ups presented their business ideas to investors will not be forgotten. The man everyone calls Andi waved a lightsaber and relaxed the application show. The unconventional is his trademark.
The computer scientist and business administration graduate has a legendary reputation as a threader of billion-dollar deals. The 49-year-old made a fortune with venture capital. Actually, he could take it easy with his whiskey now. Because as a co-founder and partner in the M&A boutique Acxit, he continues to use the opportunities offered by the Internet, new media, telecommunications and technologies.
The down-to-earth cosmopolitan would like such an overwhelming success for his product as well. Thümmler has married German engineering with Scottish-Irish whiskey know-how. The result is the largest distillery in Germany. The first bottlings have been sold for a few months. The professional world is impressed.
Award-winning Spirit
St.Kilian Distillers have won many awards for their delightful whiskeys including the London Spirits Competition 2020. This time Gold winner with 97 is St. Kilian Distillers Signature Edition FOUR. Along with it, the whisky brought home Spirits Of The Year, Whisky Of The Year, Best In Show By Country, Best Spirit By Value and Best Spirit By Package awards at the 2020 London Spirits Competition.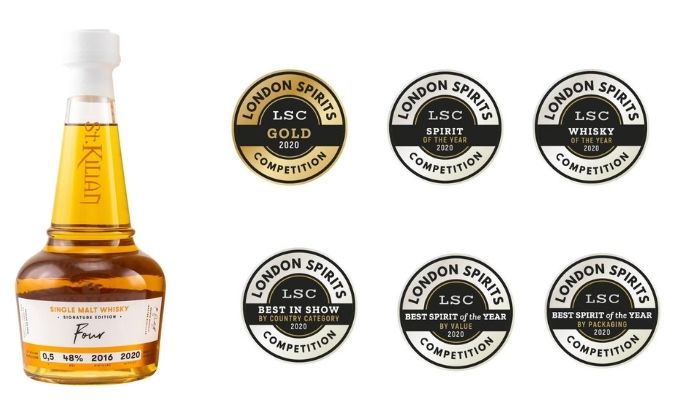 Surprisingly intense, spicy, and smoky: with a phenol content of 54 ppm in the malt, the "Four" is not only the smokiest to date, but also the most aromatic and powerful bottling of St. Kilian due to its full maturation in sherry barrels.
Online Order: Distributors or wine buyers can click here or contact the team on thorsten.manus@stkiliandistillers.com