Ambleside Distillers' Big Dry Gin Bagged The Best In Show Award For Australia
25/04/2022
Ambleside Distillers' Big Dry Gin scored 93 points, winning a gold and best in show by the country award for Australia at the 2022 London Spirits Competition.
Built-up from the garden, Ambleside Distillers brings together the tradition of distilling using homegrown botanicals with an innovative approach. Ambleside is a family-owned distillery in the Adelaide Hills that uses their on-site grown botanicals to handcraft contemporary spirits.
Big Dry Gin is distilled with jalapeño, lime leaf, sage, rosemary, and thyme, giving it a crisp and savoury profile. As the name suggests, Big Dry Gin is big, dry, and peppery. This gin is crafted in a way that the green freshness from the jalapeño is retained and the heat is well balanced. The juniper perfectly complements the intense and bold botanicals, creating a smooth and warm mouthfeel.
A balanced gin that can be best enjoyed on its own or in exotic cocktails like a dirty martini, red snapper, or different variations of G&T, with some exciting pairings like jalapeno & coffee beans, pineapple & fresh chili, or rosemary & lemon with dirty tonic water.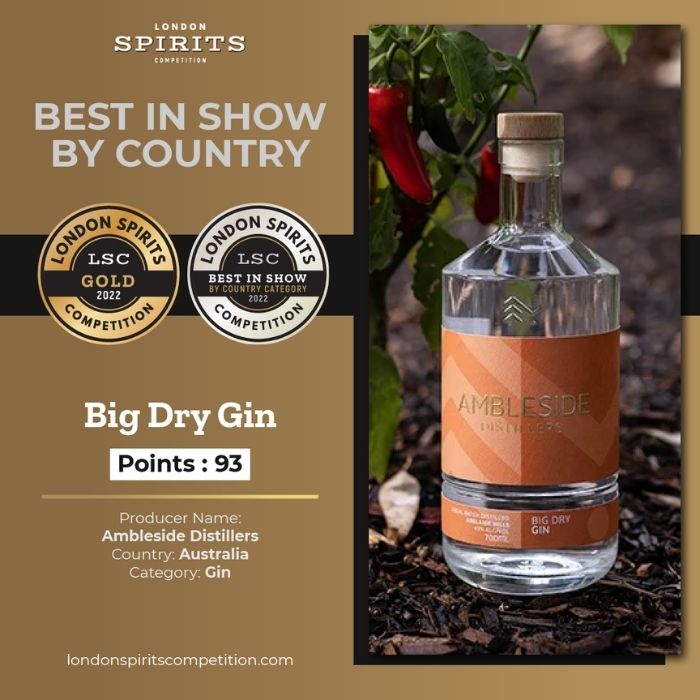 Nose: Notes of juniper, rosemary, and thyme with an extra kick of jalapeño.
Palate: Intense and robust flavours of juniper, pine, pimento, and mace with a dry base, move to a bright herbal profile.
Finish: Fresh, crisp, and dry.
ABV: 45%
Size: 70cl
The top winners at the 2022 London Spirits Competition are:
Best Spirits of The Year 2022: Bareksten Navy Strength Gin, Norway.
Best Spirits of The Year (by Quality): Bareksten Navy Strength Gin, Norway.
Best Spirits of The Year (by Value): Samuel Gelston's Single Malt Irish Whiskey, Ireland.
Best Spirits of The Year (by Package): Bareksten Navy Strength Gin, Norway.
United States - Spirit Hound Straight Malt Whiskey
United Kingdom - King's Inch Glasgow Single Malt Whisky
Netherlands - Fizzy Peachtree
Italy - Amaro San Marco
Australia - Big Dry Gin
Ireland - Samuel Gelston's Single Malt Irish Whiskey
Canada - 3 Lacs
France - Citadelle Original
Belgium - FlowersN Gin winter
New Zealand - Hemp Gin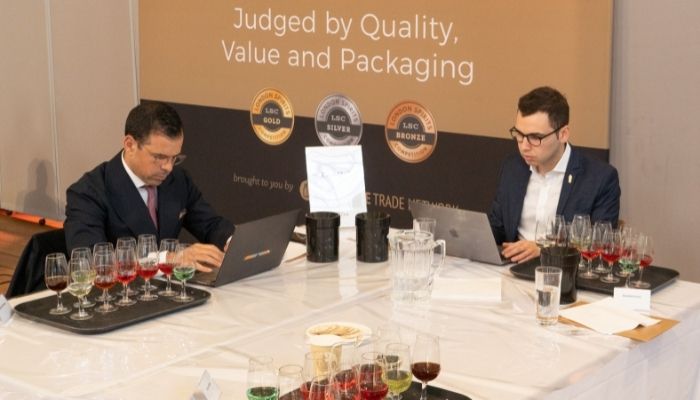 More about the London Spirits Competition
At the fifth annual London Spirits Competition, which took place at St Mary's Church in London's Marylebone on March 23-24-25, 2022, spirits from all over the world participated. Spirits were judged based on three primary criteria – quality, value, and packaging – and then scored on a 100-point scale. Spirits that scored 90+ points were awarded Gold medals, while spirits that scored 76 to 89 points were awarded Silver medals, and spirits between 65 and 75 were awarded Bronze.
Oliver Eardley, bartender at the Savoy Hotel agrees, and says when it comes to buying spirits for the Savoy, that value is also a key consideration. 'First and foremost, with spirits buying, we have to look at the cost versus the actual product quality. So it's a case of what is going into your speed rails for your day-to-day cocktails versus what is going to sit on your top shelf. It all depends on what happens in the deal and most of that is around quality and price. The value aspect is always a serious consideration, but at the end of the day if we can get a deal where it makes a premium product more affordable we can put it into a cocktail, heightening the quality of that drink, so rather than using a baseline gin, we can upgrade to Tanqueray, for example.
The primary reason for using three criteria rather than just one was to focus on the overall drinkability of each spirit. As a result, the judging panel ranked spirits not just by how they taste, but also by their overall presentation and appearance in the bottle. In addition, judges assessed spirits on their relative value in relation to their peers, as determined by retail pricing.
That's why the London Spirits Competition can claim the fact that it is a competition that puts the interests of the consumers first as it is through their eyes that the judges are tasked with making their decisions.
Contact the London Spirits Competition at Brian
Call us on : +44 330 097 0138 | +1 302 803 4758.