London Spirits Competition Announces Award-Winning Spirits Based on Drinkability
13/04/2018
London Spirits Competition announces its results of 2018 contest. The spirits were judged based on three important factors, quality(drinkability), value, and packaging. Here are the winners who scored the highest.
On March 8-9, London was the host city for the inaugural London Spirits Competition, the first competition of its kind in the world that assesses spirits not only on the basis of taste and quality but also packaging and value. The goal was for experts to judge spirits the way consumers actually judge them, in the hopes of discovering new and innovative spirits that are worthy of attention by both trade buyers and consumers.
After two days of judging, coming out on top was The Irishman Single Malt from Walsh Whiskey Distillery in Ireland. This Irish whiskey was named "Spirit of the Year" after scoring the highest out of hundreds of other entrants. Other spirits that emerged as the stars of the show included Nemiroff Honey Pepper Vodka (named "Vodka of the Year"), Ratu Spice Rum ("Rum of the Year") and High Spirits Gin from High Spirits Distillery ("Gin of the Year"). Angus Dundee Distillers of Great Britain won "Distillery of the Year."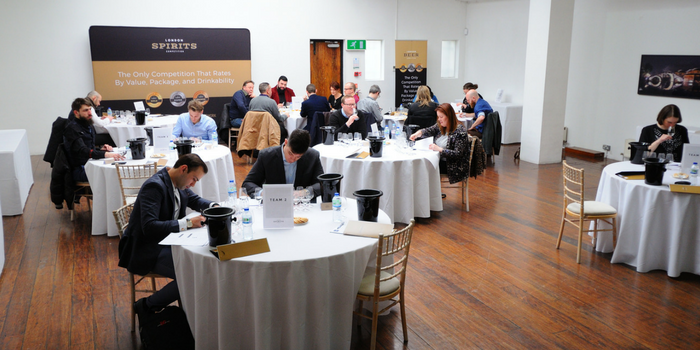 Spirits were judged on the basis of three primary criteria – quality, value, and packaging – and then scored on a 100-point scale. Spirits that scored 90+ points were awarded Gold medals, while spirits that scored 76 to 89 points were awarded Silver medals. The judging panel, which consisted of a number of prominent on-trade buyers, scored spirits on Quality (from 0 to 50), Value (from 0 to 25) and Packaging (from 0 to 25). Thus, even recording a perfect score in Quality would not be enough to come out on top at the London Spirits Competition.
Overall, 20 different spirits received Gold medal prizes in the competition, led by The Irishman Single Malt. These 20 Gold medal winners were the spirits that consumers were most likely to order from a restaurant menu or to select off a supermarket shelf. Judges were asked to put themselves into the shoes of consumers, taking a fresh look at the overall brand, presentation, and pricing of the spirit, and not just focusing on taste.
The London Spirits Competition was launched in late 2017 by Beverage Trade Network, which organizes alcohol beverage industry events all over the world. The goal of this event was to change the way the spirits industry evaluates new spirits. Some spirits may rank high on quality and taste, but simply won't be a hit with consumers. For some spirits drinkers, it might come down to a question of packaging and presentation. And for others, it might come down to a perception of value.
Chief executive of Beverage Trade Network Sid Patel commented on the results, "At all the major competitions, spirits are judged solely on the quality of what's in the bottle. We wanted to take a different approach, by asking our judges to look at spirits the way spirits drinkers do, adding appearance and value for money into the mix."
"The best-tasting spirits in the world won't attract the attention of consumers unless the packaging design and price point appeal to spirits drinkers," says Patel. "People buy products with their eyes first, and that puts a real premium on spirits that are able to offer an attractive presentation, everything from the label to the brand perception."
The 2018 Winners
So which spirits were the winners in the inaugural London Spirits Competition? Based on the judging that took place in London on March 8-9, here are the winners that won the highest accolades at the event…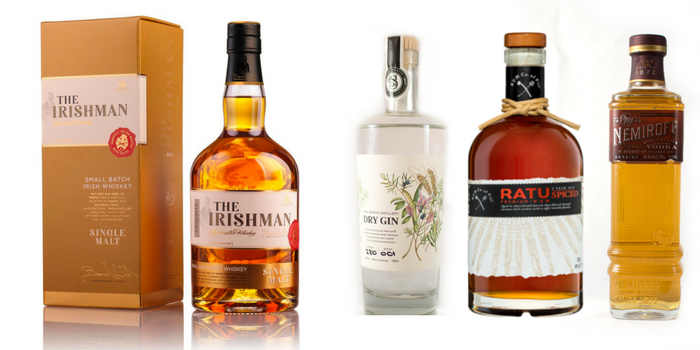 Spirit of the Year
The Irishman Single Malt - Walsh Whiskey Distillery
Gin of the Year
High Spirits Gin – High Spirits Distillery
Rum of the Year
Ratu Spice Rum – Rum Co Fiji
Vodka of the Year
Nemiroff Honey Pepper vodka – LVN Limited
Whiskey of the Year
The Irishman Single Malt – Walsh Whiskey Distillery
Distillery of the Year
Angus Dundee Distillers, Great Britain
Best in Show (By Country)
Netherlands – Organic Old Gin – BioSpirits BV
Australia – High Spirits Gin – High Spirits Distillery
Denmark – Rum Edition, batch 01 – Fary Lochan Destilleri
France – Puranique Vodka – Global Spirits LLC
Great Britain – Dewar's 18 Year Old The Vintage – John Dewar & Sons Ltd
Ireland – The Irishman Single Malt – Walsh Whiskey Distillery
United States – Hop Vodka – Drinklab Inc

London Spirits Competition Gold medal winners:
Walsh Whiskey Distillery - The Irishman Single Malt
High Spirits Distillery - High Spirits Gin
John Dewar & Sons Ltd - Dewar's 18 Year Old The Vintage
Casoni Fabbricazione Liquori - Bitter del Ciclista
The Dublin Liberties Whiskey Company - The Dead Rabbit Irish Whiskey
Poetic License - Northern Dry Gin
Brimmers Limited - Brimmers Bitters
LVN Limited (Brand - Nemiroff) - Nemiroff Honey Pepper
Poetic License Distillery - Sarsaparilla Gin Liqueur
Piperita Srl - Liquore Delle Sirene
Copperhead NV - Copperhead Black Batch
Angus Dundee Distillers - Tomintoul 16 Years Old Single Malt
Angus Dundee Distillers - Glencadam 19 years Old Oloroso Sherry Cask Finish Single Malt
Conker Spirit Ltd - Conker Cold Brew Coffee Liqueur
Isle of Skye Distillers LTD - Misty Isle Gin
Quintessential Brands - Opihr Gin
Applewood Distillery - Økar Amaro
Drinklab Inc - Hop Vodka
City of London distillery - Square Mile
Torino Distillati - VII Hills Italian Dry Gin
London Spirits Competition Silver medal winners:
Brown Forman - Slane Irish Whiskey
Northumberland Spirit Company Ltd - Alnwick Gin
L. Psenner GmbH - Grappa Barrique Riserva
Dà Mhìle Distillery - Botanical Gin
John Dewar & Sons Ltd - Dewar's 12 The Ancestor
John Dewar & Sons Ltd - Dewar's 15 The Monarch
John Dewar & Sons Ltd - Dewar's 25 The Signature
NAYA & BLAZQUEZ ASSOCIATS,S.L. - Licor de Marialluïsa
Casoni Fabbricazione Liquori - Nocino di Modena
The Oxford Artisan Distillery (TOAD) - Oxford Dry Gin
Orkney Gin Company - Orkney Gin Company Johnsmas
Global Spirits LLC - Puranique Vodka
The Walled Garden Trading Company Ltd - Gordon Castle Scotland Distilled Gin
Angus Dundee Distillers - Tomintoul Tlath Single Malt
Angus Dundee Distillers - Old Ballantruan 15 Years Old
Ben Nevis Distillery - 12 Years Old Deluxe Blend
Alpine Distilling - Preserve Liqueur
Sacred Spirits - English Whisky Liqueur
BEPI TOSOLINI - GIN T
John Dewar & Sons Ltd - Dewar's White Label
Spirit Of Harrogate Ltd - Slingsby Navy Strength Gin
The Gower Gin Company Ltd – GWYR – Gower Gin
Applewood Distillery - Espressocello
Lignell & Piispanen - Gustav Dill Vodka
The Dublin Liberties Whiskey Company, part of Quintessential Brands Group - The Dubliner 10 Year Old Irish Whiskey
Rum Co Fiji - Ratu Spice Rum
Rum Co Fiji - Ratu Signature Liqueur
Vodquila LLC - Vodquila
Angus Dundee Distillers - Glencadam Origin Single Malt
Angus Dundee Distillers - Glencadam 13 Years Old Single Malt
Access the full list of silver and bronze medal winners HERE