London Spirits Competition Special Pricing Ends On October 15, 2021
Only a few days left to get entries in for the London Spirits Competition if you are looking to get special entry pricing into the one of the leading spirits competitions in the world.
Best bar talent in the world will gather again and judge the 2022 London Spirits Competition where spirits will be judged by their quality, value, and packaging - exactly how these trade buyers buy for their business and how the consumers buy from them.
These judges are active trade buyers and evaluate hundreds of new brands on a weekly basis and monthly basis. It is also not just their knowledge about individual spirits categories, for example, but how you can work together and combine different spirits and ingredients to create unique drinks – time and time again.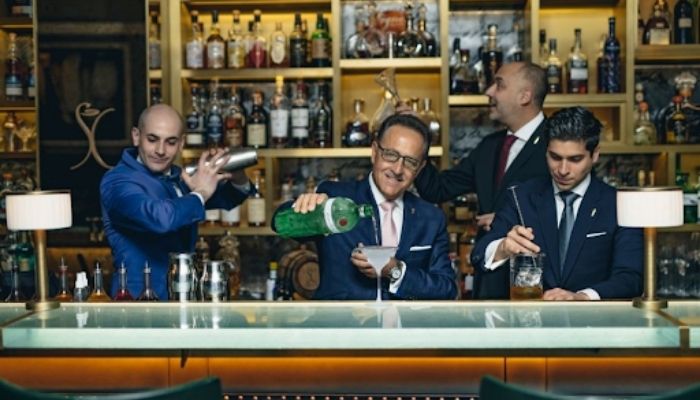 Salvatore Calabrese, centre, has helped create the cocktail menu at the Donovan Bar in Brown's hotel in London. Salvatore is also a judge at the 2022 London Spirits Competition.
The London Spirits Competition has worked in the last few years to build up the pedigree of its judges and to ensure they all have direct buying responsibilities and understand the disciplines by which certain spirits are chosen to go on a drinks or cocktail list or not.
For it is those skills that the event is looking for in order to pick out the most commercial as well as best quality drinks being entered into the competition. As the competition is focused on quality, design, packaging and value for money it requires judges that have the professional experience of analysing spirits in all aspects of their commercial competitiveness.
Points are allocated in all these key areas to come up with an overall score that will determine what medal, or not, a particular spirit is given. It means any product that is picked out for a gold medal or trophy knows it has what it takes to get itself listed in all the key places.
Judging Procedure
All spirits entered into the London Spirits Competition are organised into flights and then assessed in the following way:
- Initially all spirits are tasted blind to determine its quality. Where appropriate they will also be assessed by variety, style, region, and country. Judges will then be given a briefing document setting out the spirits' price and target consumer and trade channel where it wants to be sold. Only then will judges be asked to give their score for quality based on the initial blind tasting and then additional knowledge about the spirits' price and market position.
- The judges will then be handed the bottle or format for them to be able to assess, in detail, the design, label, and packaging and determine how well that matches up to, or complements the quality of the spirits and its price point.
- The judges will then discuss the spirits as a whole to help allocate scores in the three judging areas.
- The Gold winning spirits and all special category spirits will be re-tasted by the spirits judges on the re-judging day to ensure the scoring quality.
Key Dates:
Special Pricing Ends - October 15, 2021
Registration Ends - Feb 28, 2022
Warehouse Closes: March 4, 2022
Judging Date: March 22, 2022
Winners Announced: April 5, 2022
Fee Schedule :
£105 Special Pricing - September 1 to October 15, 2021
£170 Regular Pricing
New: Quantity Discount Now Available
3 to 8 entries: 10% discount
9 to 13 entries: 15% discount
14 or more entries: 20% discount
Here's how to enter your brands in London Spirits Competition