Deadline
September 30, 2023
Enter Now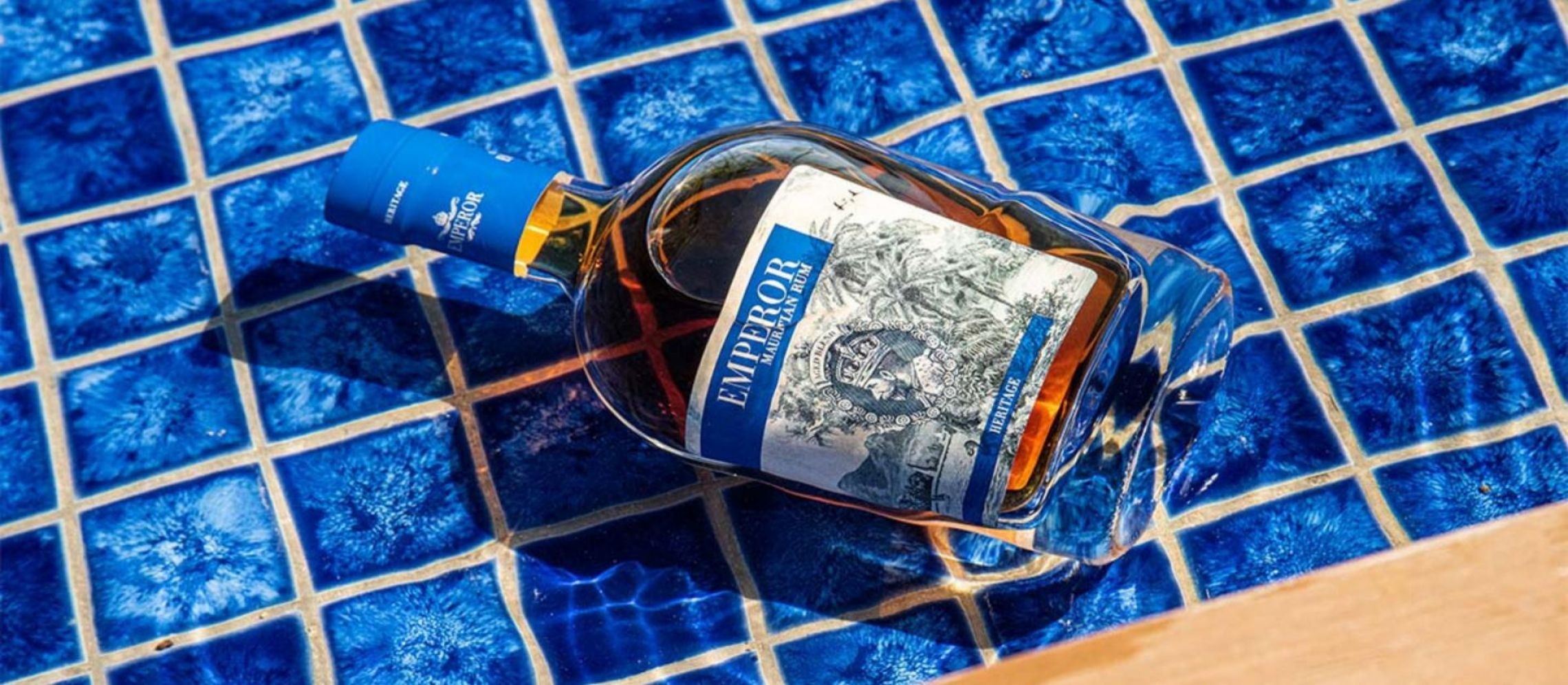 Lookout Beverages Group claims DISTILLERY OF THE YEAR 2022
The rum manufacturing giant from Mauritius has impressed the jury at London Spirits Competition 2022 earning 4 medals
The Lookout Beverages Group, major rum producer and manufacturer based in Mauritius was awarded DISTILLERY OF THE YEAR by London Spirits Competition 2022, owing to the 4 medals that its different premium rum brands collectively scored.
Innovation is an essential part of the growth strategy of Lookout Beverages Group Ltd. It enables them to ensure that the company's brands are well positioned so as to maintain their growth.Their knowledge of changing consumer trends and patterns guide the development of the products and packaging.
Customer satisfaction is at the heart of their business approach. It leads us to a strong long-term partnership where trust and transparency are the main pillars.Lookout Beverages Group also invests in sustainable development with a truly eco-friendly approach, with the goal of being able to meet today's growing needs without compromising the future generations to meet their own.
[[relatedPurchasesItems-39]]
Emperor Rums is the first brand within Lookout Beverages, and arguably the more premium one.
Emperor Rum is a blend of Mauritian aged rums stemming from the distillation of pure and fresh sugarcane juice and molasses. The brand takes its uniqueness from the Mauritian soil, climate and traditional know-how. The astounding palette of colours and flavours is the result of a complex blending of freshly squeezed sugarcane, roasted exotic fruits and flowers ending with pepper and spice accents in the typical Mauritian tradition.
Emperor Rum has an intimate understanding of the character of each selected aged rum and knows how to enhance every ingredient.
It won 3 gold medals for rums within its portfolio.
Emperor Jubilée (Cognac finish)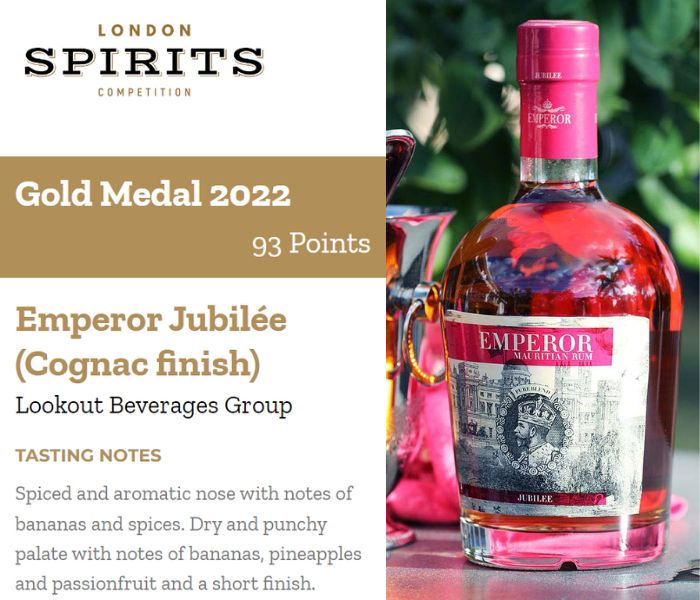 Emperor Rum Jubilee is made by of an assembly of traditional rums stemming from the distillation of pure and fresh sugarcane juice and molasses. Resulting from the rigorous selection of distilled and aged batches, a Finish in 400-liter Cognac casks that previously contained very old Cognac aged in a humid cellar.
This complex rum presents notes of jammy tropical fruits mixed with Bourbon vanilla.
Emperor Heritage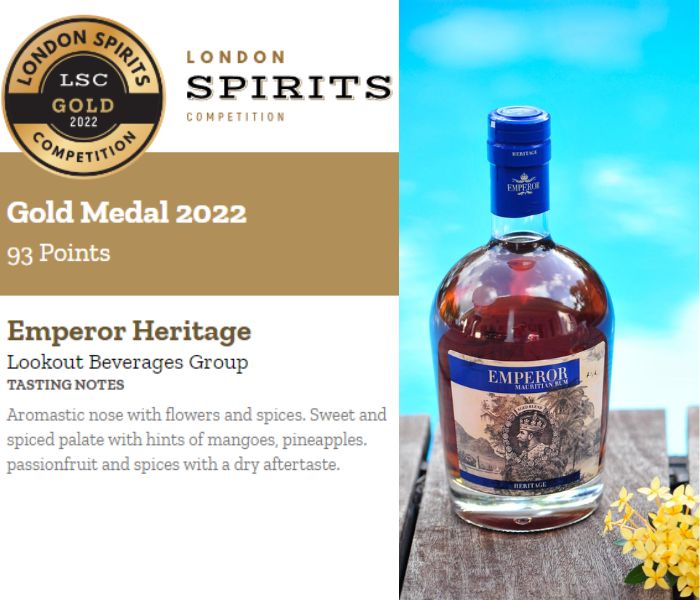 Emperor Rum is made of aged traditional rums stemming from the distillation of pure and fresh sugarcane juice and molasses.
The result is an astounding richness of colours and a complex assembly of flavours: fresh-squeezed sugarcane, exotic fruits and flowers finished by pepper and spices in the typical Mauritian tradition.
This edition is an invitation to sophistication and fine art of living.
Emperor London Bridge (Sauterne finish)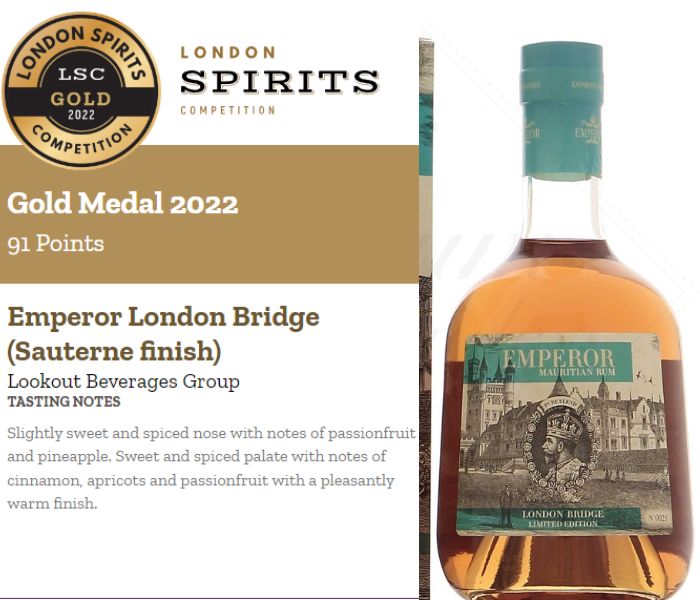 Emperor London Bridge is a blend of Mauritian rums, distilled from both molasses (around 60%) and pure cane juice. This is indeed a typical characteristic of the rums of the Emperor brand, created in 2010 by Christophe Aulner and Bruno Le Merle who were inspired by the history of Mauritius.
These rums spent between 5 and 12 years in oak barrels, before being finished for a further 12 months in old barrels that had contained a Sauternes Premier Grand Cru from Château Clos Haut-Peyraguey. This is a limited edition.
Other rums from the portfolio include Sherry Finish, Lily White, Deep Blue, Royal Spiced and Private Collection.
Kuna Ron is the second brand that won Lookout Beverages Group a silver.
The Kuna, a tribe, is one of Panama's oldest communities. They trade the sweet riches of their land and tell stories. The Kuna people have cleverly managed to retain their tribal identity and contentedly lead a balanced life, free from the complexities of modern, highly-organised societies.
With a respectful nature, Kuna people have a custom for every event and happening in their life and these customs are passed on to their children through dances, song, celebration and storytelling. These events are also documented in their Molas, their distinctive works of art.
And so, Kuna Ron, like the Kuna people, takes the time to tell its story, to whisper through the ages and generations. Some say if you listen to the wind through reeds – you'll hear the secrets of the land.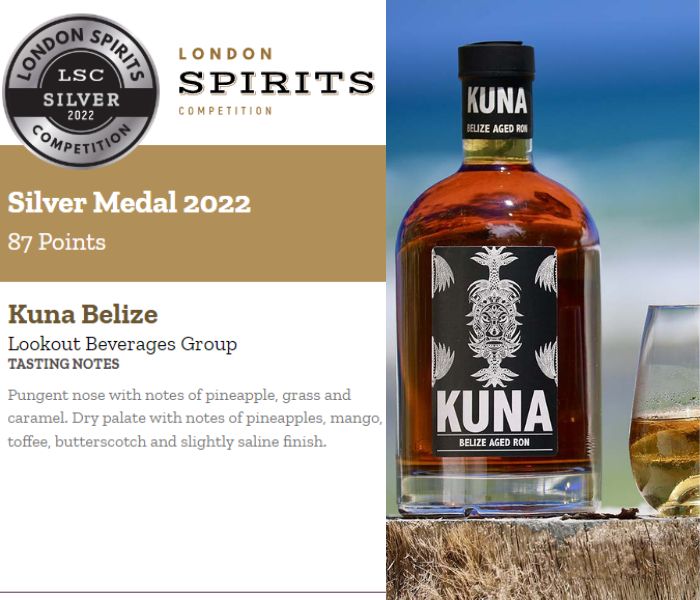 Kuna Belize Rum is a fine blend of aged rums from the best Belizean cellars known for their aromatic properties. After distillation, this rum has been stored for several years in American ex bourbon barrels facing the Caribbean Sea. It reveals an intensity and an authenticity reminiscent of its terroir.
Other rums from the Kuna Portfolio include Kuna Panama, and Davidoff (Limited Edition).
Canaoak is the third brand belonging to the Outlook Beverages Group -
Cañaoak is an 8 year old rum that uses a unique blending technique, normally associated with whisky, bringing together aged rums from Mauritius, Nicaragua and Panama. Each selected rum is carefully matured in American and European oak barrels for 4 to 8 years in its own country. Each batch is individually numbered and carefully monitored. The different rums are then blended together, combining rum know-how with modern techniques.
Mauritian rum brings powerful aromas, Nicaraguan rum intense fruity flavours and Panamanian rum adds length to the drink. Each rum gives Cañaoak its extraordinary character, consistency and distinction.
To see more category winners, head to London Spirits Competition.
Written by Stuti Khetan, Beverage Trade Network