Amber Glen- Traditional Smooth & Mellow Whisky Distilled, Matured & Bottled In Scotland
07/12/2018
Amber Glen embodies the flavours and aromas of a time gone by in a celebration of perfection for you to enjoy
Founded by Samuel Minionis CEO in 2013, The Amber Glen Scotch Whisky brand came into being when Sam, a property investment consultant at that time, was commissioned by a client to advise on acquiring a bonded Scotch whisky maturation warehouse. As Sam researched the project he discovered the incredible diversity and complexity of the many varieties, regions and ageing processes that make up Scotch Whisky and why a maturation warehouse also known as a dunnage warehouse is a very rare commodity indeed and a unique investment opportunity.
But alas the warehouse was acquired by a Scotch Whisky factor. However in understanding the uniqueness and the process that makes up this wondrous elixir of life known as uisge beatha (uishkay vhar) and as by serendipitous circumstances "chance favours the prepared mind" Sam spotted a gap in the export market and was given a once in a lifetime opportunity to create and establish a new and independent brand of Scotch Whisky, one that could find its own niche and appeal to a new wave of consumers in emerging markets around the world, as well as to new and younger age groups of consumers in the traditional export markets.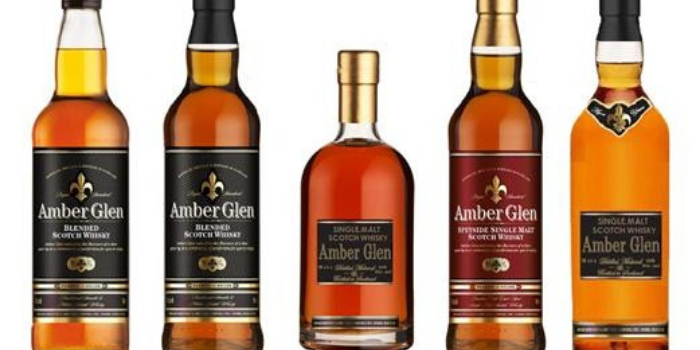 Along with his Chairman, Clan Chief Donald MacLaren, The MacLaren Of MacLaren and fellow Directors Nathan Lowry & Bhai Raja Thapa, Sam set about creating the legend and mythology of Amber Glen, a place that exists only in the mists of time, but that is embodied by the pure taste of outstanding provenance Scotch Whisky.
AMBER GLEN SPEYSIDE SINGLE MALT SCOTCH WHISKY AGED 8 YEARS
Amber Glen Speyside Single Malt Scotch Whisky is distilled in the Speyside region of Scotland, where the purity of water, excellent barley and peat found in the area combine to produce a classic single malt whisky, matured in time honoured tradition to mellow in Bourbon Oak Casks.
AMBER GLEN BLENDED MALT SCOTCH WHISKY AGED 5 YEARS
Amber Glen Blended Malt Scotch Whisky Aged 5 Years is a blend of some of the finest Single Malt Scotch whiskies from Speyside & Highlands region of Scotland.
AMBER GLEN BLENDED SCOTCH WHISKY AGED 3 YEARS
Soft, mellow grain yielding to gentle vanilla spice carried along by a subtle, sweet heather honey background. Very light and smooth, rich sticky toffee, liquorice, old-fashioned orange marmalade, and a trace of dark chocolate.
This classic Scotch whisky is specially blended from a selection of the highest quality single malts & single grain whiskies and bottled at 40% Alcohol.