Blackwater - Micro Distillery from west Waterford
26/09/2018
Ireland's most innovative micro-distillery based in west Waterford on the banks of the Blackwater River, Maryland, USA
Blackwater Distillery started in 2015, still going strong as a craft concern and is situated on the banks of the Blackwater River in West Waterford. With an abundance of clean air, fresh water and plump barley, it's the perfect setting for Ireland's first craft gin distillery.
They make small batch gin the old fashioned way with 100% Irish spirit, real botanicals and lots of care and attention.
Their products are available online. If you struggle to get hold of any bottle then contact the friendly lot at Blackwater.
PIONEERS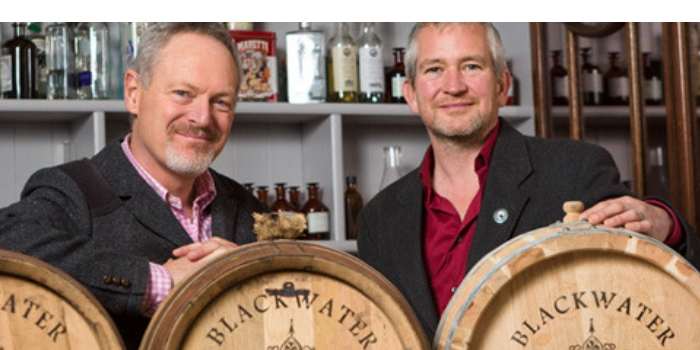 Peter Mulryan
Peter Mulryan is the founder and creative director at Blackwater Distillery. Peter is one of Ireland's leading experts on Irish whiskey. He observed the market for spirits was changing during 2014. And so he move away craft products from multi-national brands. He even noticed acceptance of gin growing in the US and UK and recognised Ireland would be next and he believed to establish a micro-distillery. Peter joined one of the company's and in the early of 2015, his first brand Blackwater No 5 Gin was released and from then, a distillery was opened.
Kieran Curtin
Kieran Curtin founded Blackwater Distillery back in 2012 with Peter Mulryan. Now he takes entire Operations Management and spends an inordinate amount of time working out how many boxes of gin will fit on a pallet.
So what's so special about their Gin?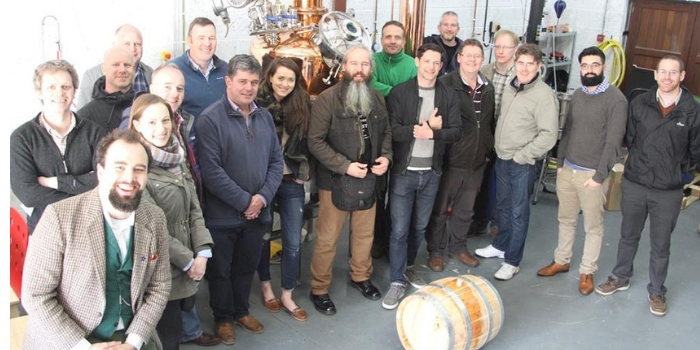 In the Victorian period, Whites of Waterford was one of the largest importers of spices in the Kingdom. They also ran a ship yard and their vessels criss-crossed the globe importing tea from China and botanicals from the impossibly romantic 'Spice Islands'. These botanicals were landed in Waterford and sent by steamer up the Blackwater River. They were landed at the pier in Cappoquin, barely a kilometre from the distillery, from which the precious goods were dispatched to the great houses in the valley.
In the dusty archives they found a treasure trove of botanicals which was once popular, but now is overlooked. They distilled each and every one of these spices and they lie at the heart of Blackwater No.5 Gin. And that's why an 1844 map of the Blackwater River can be seen on each and every bottle of their gin.
Variety of Gins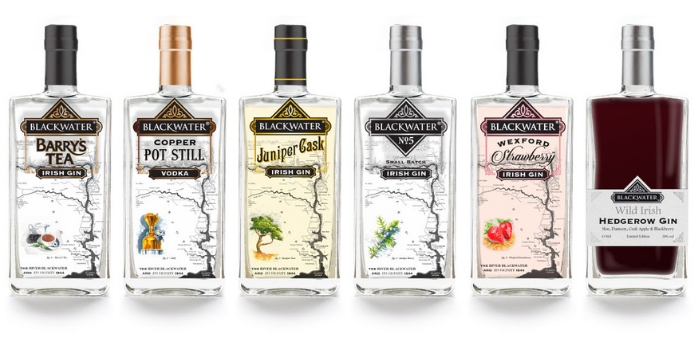 Image Courtsey - https://www.passionforcreative.com/project/blackwater-distillery/branding/
Blackwater No.5 Gin
Blackwater No. 5 is a classic London Dry Gin that is distilled from the purest spirit, the finest botanicals and soft local water. It balances the confident juniper notes of a traditional London Dry with bright coriander, warm cinnamon and zesty lemon. Blackwater No. 5 is crisp and elegant, great as a G&T, excellent in a cocktail.
Juniper Cask Gin
They use the same 12 botanicals found in Blackwater No.5, but to some extent different proportion; they push orange and the sweeter roots because, like its berries and juniper timber.
Wexford Strawberry Gin
The berries are grown for them just outside Enniscorthy (Co. Wexford) and transported to the distillery in a large cool box. After distillation, they soak even more strawberries in their gin (that's how it gets its colour), then they bottle it. In fact they don't add any sugar or sweetener of any sort.
Boyle's Gin
Boyle's Gin contains Blackcurrants from Wexford, apples from Cork and elderflower from Waterford. It is named after the most famous person ever to come out of West Waterford – Robert Boyle. And so Boyle's Gin was born.
Barry's Tea Gin
Barry's Tea Gin is a 2017 limited edition Gin. Distilled tea doesn't taste much like tea, it's spicy. However it still marries well with all the traditional accompaniments like cardamom, cinnamon and lemon. Afore bottling them have a brew up, and these large pots of tea get stirred into the gin prior to bottling and that's what gives this gin its golden glow.
Hedgerow Gin
Their Hedgerow Gin started life nearly a year ago on a roadside in West Waterford.
The sloe gin and the damson, crab apple and blackberry gin were blended. The sloes brought with them a depth of colour and flavour, while the other lighter fruits gave them something brighter and sweeter. The new Hedgerow Gin was left rest for a couple of weeks, and then they strained, gently sweetened and finally bottled the fruits of our labour.
It's time to enter your brands in the 2023 London Spirits Competition and grow in 2023. The submission deadline is February 22. Enter now and ship your samples.