Coppercraft Distillery- Hand Crafting New American Premium Spirits
03/01/2019
Every bottle of Coppercraft Premium Spirits is a tribute to the American Craftsmen
Coppercraft was founded in 2012, in Holland, Michigan, the manufacturing coast of West Michigan. This region was founded by an industrious people–American craftsman, who developed legacy as makers and manufacturers; creators and curators; designers and developers. Their forefathers' greatest success was creating quality goods and exporting their ideas nationwide.
These are the traditions they maintain today, by combining spirit, water, oak and time, either distilled on-site or blended from the finest barrels across their fruited plain. They pour every drop of their values into every bottle of Coppercraft Spirits.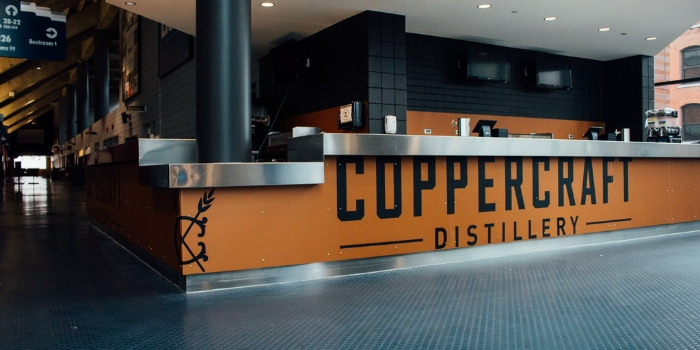 As a small, but quickly growing distillery, Coppercraft is here to prove that the same American ingenuity and artisanship that emerged from West Michigan, and created this great nation, is alive and thriving today.
Vodka- Made With a 100% Premium Grain
This 100% premium corn spirit creates a crisp, clean, neutral palate, which ends with a slight sweetness and a welcome fullness that is as pure as a Michigan rainfall.
Rum- Made With a 100% Sugarcane Molasses
Made from molasses and evaporated cane juice that evokes notes of apple and pear while complementing traces of vanilla and caramel produce a smooth honey finish.
Straight Rye Whiskey
The award-winning rye moves across your palate, first with hints of cocoa and malt, then kicks in with a peppercorn spice that is distinctly rye and finishes smooth with a hint of sweetness. A limited release in 2018, look for it to hit shelves later this year.
Straight Bourbon Whiskey
Barrels of 10+-year-old whiskey are masterfully blended to create a rich taste. Flavours of sweet caramel and vanilla really stand out with each sip.
Gin- Made With 13 Botanicals
Take a walk through Michigan's towering white pine forests and you get a sense of Coppercraft Gin. Comprised of 13 botanicals, foraged and found, its hints of juniper are balanced with coriander, orange, cinnamon, lemon and more.
Citrus Vodka- Made With a 100% Premium Grain
The 100 per cent premium corn-spirit is artfully infused with orange, lemon and grapefruit, leaving you with a warm zest and completely refreshed.
Blend Of Straight Bourbon Whiskey
Aggressive, spicy, punchy, bold, are the ways this blend has been described. Four+ and 10+-year-old bourbons artfully blended to provide flavour or that lends itself ideal to cocktails. Coppercraft Blend holds up and stand out to anything you can throw at it.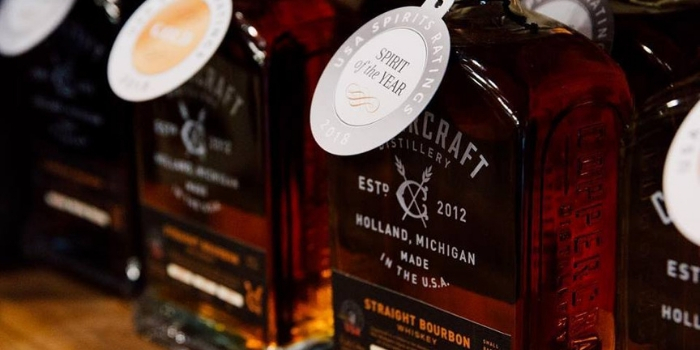 Single Barrel Straight Bourbon Whiskey
Coppercraft's premium single barrel product is straight bourbon whiskey aged for a minimum of 11 years in standard, 53-gallon, white oak barrels. Its brighter notes of citrus complements the deep flavors of dark chocolate, molasses, vanilla to produce a rich, full flavor and toasty finish.
Barrel Aged Rum- Locally Sourced
Flavors include butterscotch, vanilla, oak and honey notes, with a spicy, cinnamon and cracked white pepper finish. Coming in fall 2018.
Barrel Aged Gin- Made With 13 Botanicals
Starting with 13 botanicals, foraged and found, then barrel-aged for minimum two years. Malty, lightly tannic and with the subtle sweetness and spice of a young whiskey. Will be released in fall 2018.
Applejack- Made With Michigan Apples
The oldest of American spirits, returns with new life made from pure, ripe apples from Michigan's famous Fruit Ridge. Their apples are fermented and distilled then aged for two years in virgin oak barrels to create a sweet vanilla and butterscotch spirit with a hint of tart apple and spice. A limited release in 2018, it'll hit shelves in April.
2023 Submissions are now open. You can register your brands now to save £75 per entry with super early bird pricing that ends on August 31, 2022.