Curio Spirits Company- Producing Cornish Artisan Gin and Vodka in UK
05/12/2018
Curio introduces small-batch spirits, including craft gin, that are adventurous and selectively seducing. They dare you to try out their gin and vodka flavours
Curio is produced in Mullion, deep in west Cornwall, through years of hard work, dedication, consultation and training with two master distillers who have helped the distillery on its journey to create a delicious craft gin. Curio is inspired by fragrant botanicals and natural ingredients that reflect their culture, heritage and locality.
Curio: Curious by nature and Curio by name, the genre-redefining range from Cornwall includes age-old ingredients such as rock samphire and cardamom to create tipples that are curiously attractive and flavoursome with every sip.
The husband and wife, William and Rubina Tyler-Street who became curious about setting up a bespoke spirits brand in 2012 and celebrated seeing their first products take to the optics in December 2014. They invested in two small stills, a rotary evaporator and lots of time and experimentation with the idea of creating a range of spirituous beverages to keep on satisfying their adventurous nature and that of the consumer.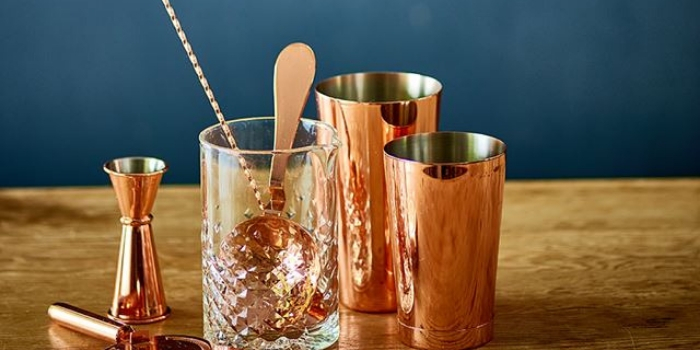 Curio Spirits Company only uses pure natural spring water from the Cornish Spring Water Company for its distillations and they work with local suppliers whenever possible. Excellent quality is what they strive for because you deserve the best.
CURIO ROCK SAMPHIRE GIN
Everything they do at Curio is inspired by flavour. Their four times distilled Rock Samphire gin captures the light, fresh sea spray and wild aromas of the Cornish coast.
Hand-foraged on the local cliff tops, their rock samphire gin is blended with fragrant botanicals and distilled in small batches, for exceptional quality and a delicately smooth gin. They recommend trying it neat with just ice and a garnish. Delicious.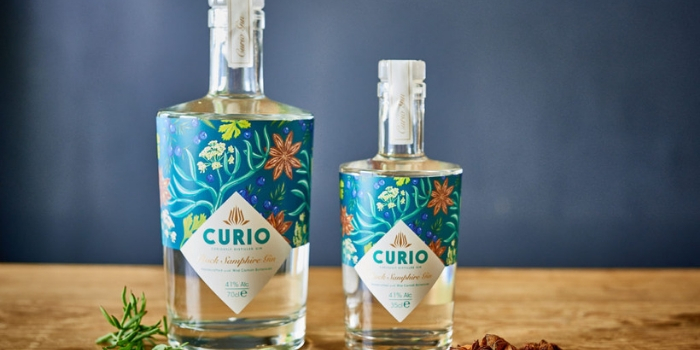 Winner of a silver medal in the International Wine and Spirits Competition 2017, and a gold medal in the International Wine and Spirits Competition 2018.
CURIO CARDAMOM VODKA
Augmenting the Curio range of handcrafted spirits is Curio Cardamom flavoured vodka.
Again using pristine Cornish spring water, organic cardamom seeds are infused and re-distilled to create four times distilled vodka flavour forged with spicy-yet-citrus instilled short that although smooth, leaves a warming aftertaste on the palate.
CURIO COCOA NIB VODKA
Curio vodkas are born from a love of natural flavours and a desire to exceed expectations. Triple distilled vodka is gently infused with Peruvian Cocoa Nibs to capture the deep chocolate taste. They produce in small batches to give you the very best vodka flavour – you can even drink it neat.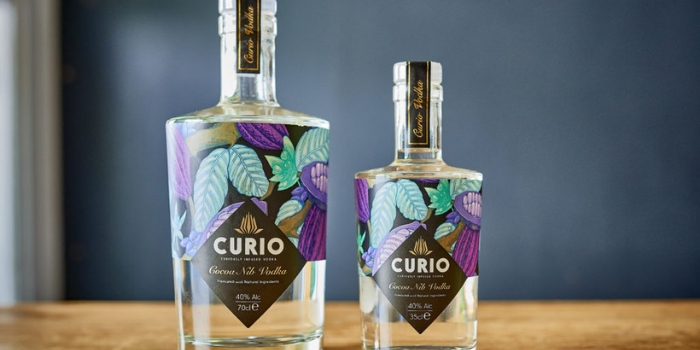 CURIO CORNISH CUP
The Cornish Cup is a drink to share inspired by the traditional punch used in the British Navy during the 17th century.
Using their Mullion Dry Gin base they have blended their own bespoke botanicals to create a Chai tea infused in the Cornish Cup. Flavours include rich, malty Assam tea with exotic cardamom pods, cinnamon.
Designed to be enjoyed communally, mixed with seasonal sippers such as lemonade with thyme or ginger beer, this is the perfect convivial drink.
CURIO FLY NAVY GIN
Hand-crafted in Cornwall, in small batches, with carefully selected botanicals, including organic Madagascan vanilla, Sansho peppers and local Cornish wild heather; Fly Navy Gin is a floral, citrus gin that is unique, full of character and can be enjoyed neat, as a G&T or in a cocktail.