Distillery Producing Liqueurs from Four Generations in Spain
23/07/2018
Ratafia Moline's enthusiasm is to publicize the liqueur and preserves culture of the small Moliné family in order to preserve and not lose aspects that are almost anecdotal but representative of the customs of their land today
The Moliné brand has its origin in the family that for four generations they have hosted the Moliné hostel and restaurant. It is located in Bruguera, a small village in the lap of the Taga, a mountain that dominates and characterizes the Ribes Valley.
Since ancient times, as in many other ancestral homes, the Moliné family prepared homemade Ratafia; from the base of aniseed alcohol and green berries, they added flowers and herbs that were harvested around Bruguera. The flora of the Bruguera surroundings differs strongly from that of other villages that are neighbouring the valley due to the great diversity of landscapes, from the most humid and humid to the most arid and solitary. Having this great variety of aromatic and medicinal plants among others is what enriches and distinguishes their products from others in neighbouring areas. All the liquors and products that they made at home were served to the guests of the hostel, who year after a year returned with the hope of tasting the new production of that year. This good reception encouraged them, and in the third generation, they decided to market their products.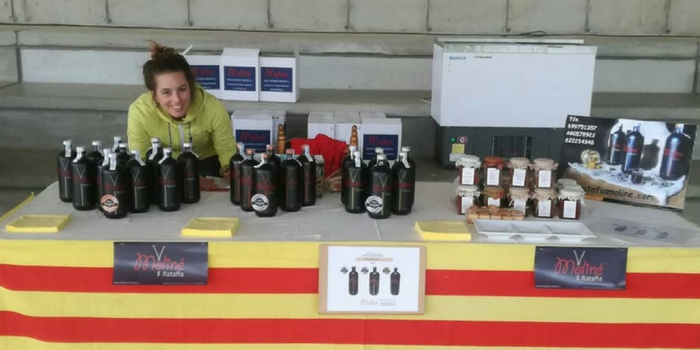 The purpose of putting them on sale was to bring to everyone quality products, with a raw material harvested by hand and in the vicinity of their town, and made in the most artisanal way possible. Respecting the maximum processes of elaboration of their products as they were from old but, of course, with more modernized methods to adapt to new times and to ensure a small production for their customers.
Els Moliné are people of an uneasy nature who, despite following the traditions, they like to try new things and experiment with the products of their land. The result of this concern is their liquors of Marialluïsa and Poniol that once they have tasted by their customers they have been unable to stop working. These two liquors are brand of the house today!
MARIA LLUISA: Absolutely handmade elaboration by macerating herbs. Maria shines carefully harvested and dried. The maceration is done in selected alcohols and for a minimum of two months, adding natural sugar and a variety of spices that end up giving this special and aromatic taste that characterizes it. This one has been entitled with Silver Medal at London Spirits Competition 2018.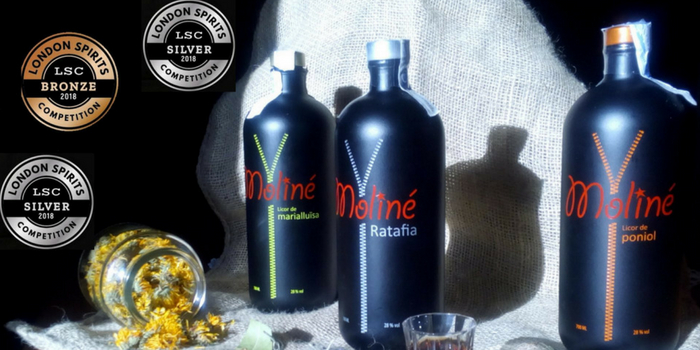 RATAFIA: Fully handmade elaboration: in perfect harmony, they macerate during the solstice of summer to the sun and serene for a minimum of 40 days, new greens, spices and twenty-eight plants, as medicinal as aromatic, that grow naturally in this Pyrenean place. Winner of Bronze Medal at London Spirits Competition 2018.
PONIOL: Made entirely of craft macerating poniol, previously dried, for a minimum of 30 days in select alcohol, adding natural sugar and a mixture of spices that will give the final touch with this special taste.
Also their seasonal jams, where they try to find combinations between the flavours of the fruits that are cultivated by Bruguera with the special touches of the aromatic herbs that they have. They always had a lot of success in the breakfasts at the hostel! More recently, they have also started to market their Moliné Sauces made of their own which has been very well received by the public accompanying great variety of salads and different dishes.
It's time to enter your brands in the 2023 London Spirits Competition and grow in 2023. The submission deadline is February 22. Enter now and ship your samples.