Hand Crafted Gin Made In The Heart Of Rural Northumberland
11/07/2018
Alnwick Gin is made using the secret recipe, the finest botanicals and no small amount of love they have
The Northumberland Spirit Company was created by neighbours Andy and Neil in June 2016. Andy was at that time looking for a new challenge, whilst Neil was nearing the end of the contract he was working on. By late October 2016, all the necessary licences and permissions had been granted; a trial batch had been successfully produced, sampled and approved by the neighbourhood and the boys were ready to roll.
Late one Friday evening Andy decided to break the news on his personal Facebook page that a new product (Alnwick Gin) was being launched and that the first batch of 200 bottles was now available for sale. The response was incredible. With almost 80 responses that first evening a website and shop were quickly created resulting in the entire batch being sold by Monday morning. They were off to a flying start although Andy had forgotten just one small detail, which was that batch 001 hadn't yet been made.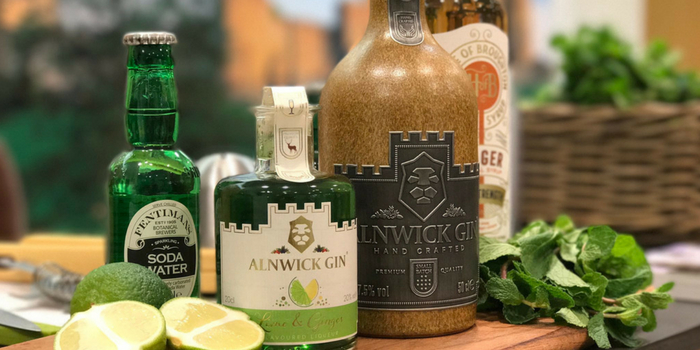 It quickly became apparent that Neil's shed was wholly inadequate for even small-scale production so within the first couple of weeks one of Andy's 3 garages was commandeered by the Company, scrubbed, painted and readied for manufacture. That first winter saw sales take off beyond all their hopes, although manufacturing in a garage with no heating or running water proved somewhat challenging at times. One garage quickly became two, which was soon followed by the addition of a large tent and finally, an even larger shed before the plainly obvious became impossible to ignore.
July 2017 saw them move just outside Alnwick to Rock where the luxury of running water, heating, internet and telephones coupled with the rolling countryside and a lovely view of the North East coastline is in stark contrast to their earlier homes but which gives them a fantastic base from which to take Alnwick Gin to the next level.
The Ranges
Alnwick Gin: Handcrafted with love in the heart of Northumberland and proudly displaying their Silver Medal. Alnwick Gin is created using a secret recipe and made using the finest botanicals. Prepare for an incredibly smooth and surprising taste sensation.
Triple Tiple Fruit Liqueurs. 3 x 20cl Fruit Liqueurs: This set contains 3 bottles of flavoured gin and is presented in a gift box. The 3 flavours are Lime & Ginger, Raspberry & Vanilla, Rhubarb & Strawberry.
It's time to enter your brands in the 2023 London Spirits Competition and grow in 2023. The submission deadline is February 22. Enter now and ship your samples.