Orkney Gin Company- Maker of Orcadian Gin in United Kingdom
03/12/2018
Orkney Gin Company is a family run business based in Burray that produces unique, handcrafted gin in small batches using traditional methods
At the Orkney Gin Company, they make their spirit the traditional way. They are a small scale, family business, and they are proud of their Orcadian roots. Their gin is produced on the Isle of Burray – the 'Broch Isle' of Scapa Flow- using the time-honoured 'bathtub' or 'cold compound' method.
Traditional cold compounding takes time, but it's worth it. The distillery uses the only premium, seven times distilled grain spirit, infused with the very finest natural and local Orcadian botanicals. Avoiding the high temperatures used in some production methods allows a fuller botanical profile to emerge, so there's a real flavour of the islands in their gin.
The process is labour intensive. The process requires ultra-small batches of spirit to be blended with carefully selected botanicals, repeatedly sampled and filtered before being bottled and labelled by hand, resulting in unique, smooth and delightful gins. The gin is produced in tiny micro-batches. Infusion is undertaken in stages, and they carry out constant, meticulous sampling for quality. Once the perfect balance has been achieved, they blend, filter and bottle. Hand labelling lends a personal finishing touch.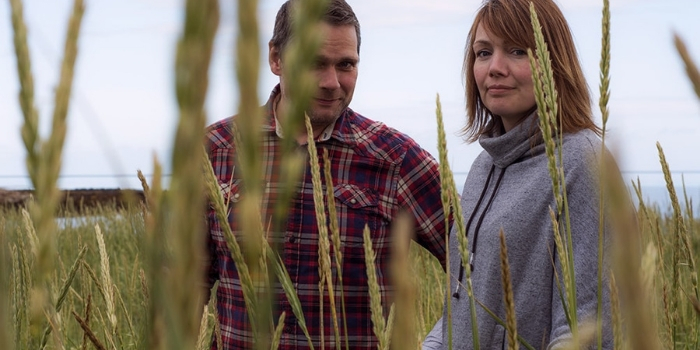 Their bottle depicts an Orkney 'Selkie'. The Selkies are mysterious, shape-shifting creatures of Orcadian legend. In the sea, they take the form of seals. On the land, they cast aside their sealskins and emerge as beautiful young men and women, mysterious and alluring. They hope you'll agree that this elegant Selkie woman is the perfect symbol for their unique Orcadian spirit.
The Orkney Gin Company draws inspiration from their island's rich culture, archaeology and traditions, their award-winning gin takes a refreshingly modern twist on a traditional style, producing unique and distinctly Orcadian gin.
Beginning as a hobby, Orkney Gin's recipes been perfected over years of practice. As a family run business, they pride themselves on the high quality of their meticulously produced gin, using seven times distilled premium grain spirit and the finest botanicals from their islands and beyond.
Johnsmas
The Johnsmas Gin is inspired by the long, clear days of an Orkney Summer where the sun barely sets behind the standing stones of the Ring of Brodgar. Fragrant, fresh and light, Johnsmas Gin is crafted using a variety of hand-picked seasonal botanicals from their islands and beyond to capture the clean and refreshing floral notes of midsummer.
Traditionally marked by bonfires, festivals, and music, this time of year is steeped in traditional Orkney folklore.
Mikkelmas
The Mikkel Feast or the Feast of St Michael was traditionally celebrated by Orcadians from the 29th of September to the 12th of October. This celebration marked the end of the harvest and the end of an Orkney summer. The tradition still exists today with each island hosting its own Harvest Home, a traditional meal and dance that lasts long into the night.
Bold, seasonal botanicals are used to capture the warming autumnal spirit of Mikkelmas in a spicy, silky smooth gin. As the sun sets into the Autumn sky's this gin captures all the magic and autumnal colours.
Rhubarb Old Tom
This is their latest Gin and is their 'summer' captured in a bottle! Made to traditional Old Tom style which originates in the 18th century, this is a soft lightly sweetened gin. Botanicals include juniper, cinnamon, rose and Seville orange peel all infused in large quantities of chopped rhubarb.