Pearse Lyons Distillery- Irish Whiskey Distillery Nestled in the Heart of Dublin
04/12/2018
Pearse Lyons Distillery at St. James has been born out of a personal passion for brewing and distilling, an entrepreneurial spirit and a deep-rooted family connection with The Liberties
Pearse Lyons- the founder had always dreamed about having an Irish Whiskey distillery in Dublin. They set upon a journey of finding the perfect location, and in 2013, they discovered St. James' Church and were drawn to its rich history and The Liberties. The location in the centre of Dublin's historic whiskey district was ideal, and the cast of colourful characters associated with St.James' Church, including his grandfather, John Hubert Lyons who is buried in the graveyard, made it even more special.
His wife, Deirdre, painstakingly restored St. James' Church to its former glory for you to discover and explore the site from past to present. Their new glass steeple, which is now regularly referred to as the "Liberties Lantern," is a beacon marking a new era for St. James' Church.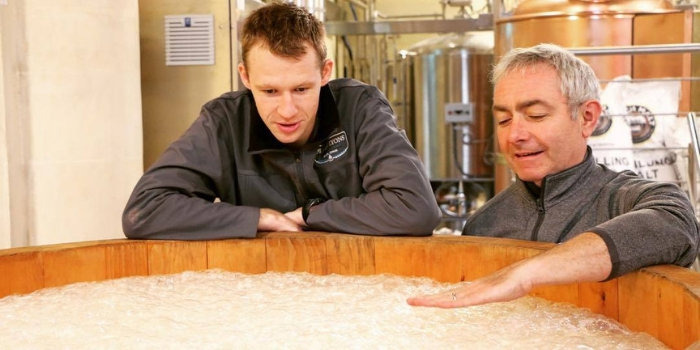 Pearse Lyons Distillery at St. James marks the next step in their brewing and distilling journey, building on the success of their sister distillery in the USA that produces Town Branch® Bourbon at the heart of the Kentucky Bourbon Trail.
The distillery hopes that you enjoy the atmosphere, the stories and of course the whiskey, in the unique surroundings that is Pearse Lyons Distillery at St. James."
The Original
A blended Irish Whiskey aged in all Bourbon barrels ranging 3-5 years grain and malt blend. This Whiskey has malt whiskey in it that has been produced on the stills that are now in place at Pearse Lyons Distillery at St. James.
On the nose, this is a relaxing whiskey with a slight citrus note and a subtle wisp of smoke. It has mellow malt tones and has an aroma of light honey fruits with floral notes. This whiskey has a light, smooth and easy taste with a hint of spearmint that warms to hints of semi-sweet chocolate, light oak wood, creamy vanilla and light caramel. It has a mild malt character, is well balanced and finishes with a crisp smooth spice.
Distiller's Choice
A blend of Irish grain and malt Whiskeys, hand selected by their head distiller. It is predominantly aged in Bourbon barrels with a small amount of Sherry barrel aged whiskey in the mix. It is a 3 to 9-year-old blend. This Irish Whiskey has single malt in it that has been produced on the stills that are now at Pearse Lyons Distillery at St. James.
On the nose this specially blended Irish Whiskey gives fresh citrus notes with subtle spices and dried fruits giving a light fruit cake finish. On tasting Pearse Distiller's Choice, you will experience a smooth, warm, light oak flavour with hints of green grape evolving to caramelised pear. As Pearse Distiller's Choice develops you will savour a hint of cocoa and dried fruits while finishing with notes of stewed apple, clove and custard.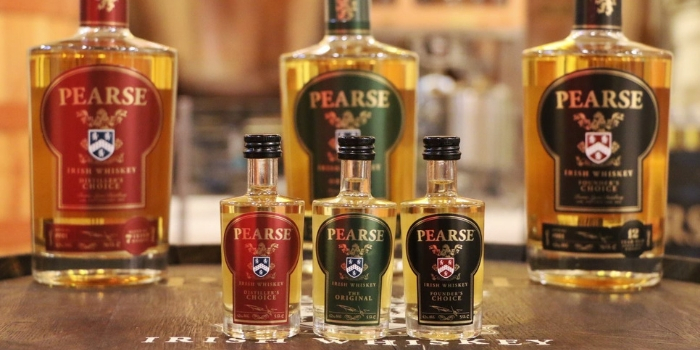 Founder's Choice
Pearse Founder's Choice is a 12-year-old Single Malt. On the nose, this Irish Whiskey ripens with orchard fruits of white peach, apple and a tingle of spiced pear that come together to produce herbal and pine notes. Hints of lemon, dried orange and a touch of honeysuckle can be experienced from this Irish Whiskey. Pearse Founder's Choice has a medium to long finish, is deliciously silky smooth and leaves you with warm notes of ginger and clove.
Cooper's Select
This Irish Whiskey is a malt grain blend that was first aged in bourbon casks and then re-casked into first fill sherry barrels. This has a big wood and sherry influence.
On the nose you can get, dried orange, pineapple and lemon peel to start followed by mellow coffee, chocolate biscuit and a hint of gingerbread. The palate has a big dried fruit and oak char palate initially which develops into raisins, juicy citrus, vanilla and red apple. Pearse Cooper's Select has a finish of honeyed gingerbread, sweet stewed pineapple, apricot and oak spice.