2023 Registration
London,uk
March 22, 23 & 24
Closed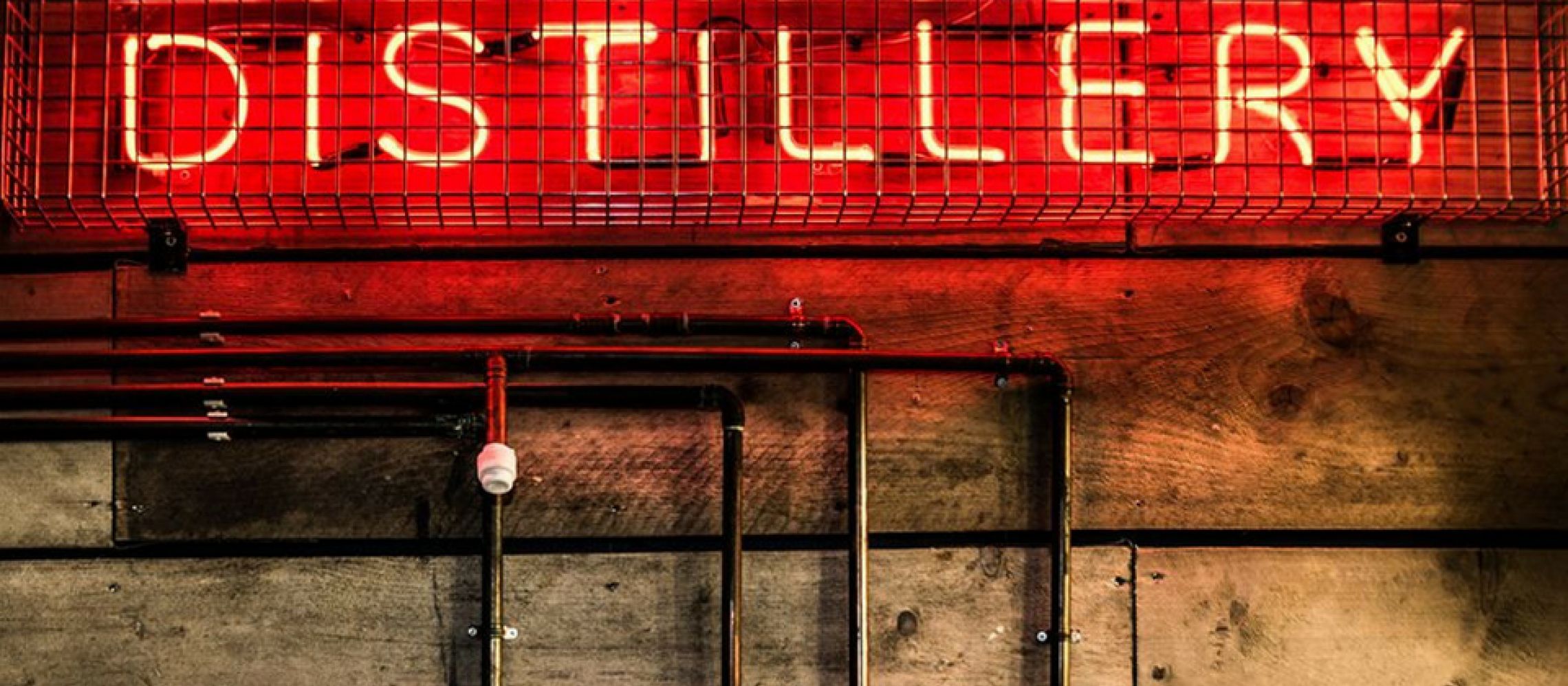 Poetic License- Making Bold Gin In The North East of England
Poetic License believe in bucking the trend and being bold - it's what moves them forward and make them believe in their booze and craft.
Poetic License have a small but passionate team who work hard to create unforgettable flavours, so you can enjoy their spirits with the difference in mind. The distillery is based in their very own Poetic License Baron the glorious and rustic North-East coastline, within Roker Hotel.
They use a traditional production method that, although labour intensive, means they can ensure they are crafting high-quality spirits they are happy to give the Poetic License name to.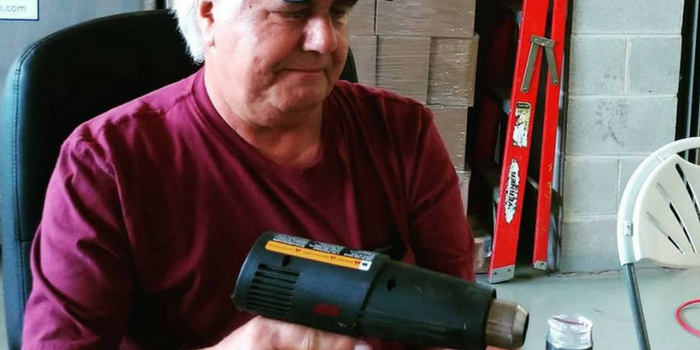 For their gins, they hand-crush botanicals, macerate and then boil them to gently and gradually release their delightful flavours. As the liquid evaporates and makes its way around the still it takes with it molecules of oil extracted from the botanicals, meanwhile filling the air with a glorious gin aroma. When it cools back down to a liquid it begins to come out the other end of the still as gin.
Each of the botanical flavours come through in stages and they know exactly the order so they can track the distillation by taste. They only take the centre cut known as the hearts, which are the purest and most flavoursome parts of the batch.
Poetic License have an abundance of tasty tipples which they split into ranges to help you find what you fancy without delay!
The Classics: The trusty original range is done with Poetic License Panache
Northern Dry Gin: Expect a big punch of juniper that is finely balanced with green cardamom for a warm and spicy flavour. With undertones of lemon and eucalyptus, the inclusion of Persian lime intensifies the citrus feel while adding a note of perfume. As for the other botanicals…well, that's their secret for now.
Old Tom Gin: This classic originating from the mid-1800s delivers a sweeter and more peppery taste in comparison with their Dry Gin. From the botanicals alone they nurture its sweet taste, while their oak casks continue to add flavour and colour. The inclusion of rose petals infuses a distinct character to the sweetness as well as a slight rose gold tinge.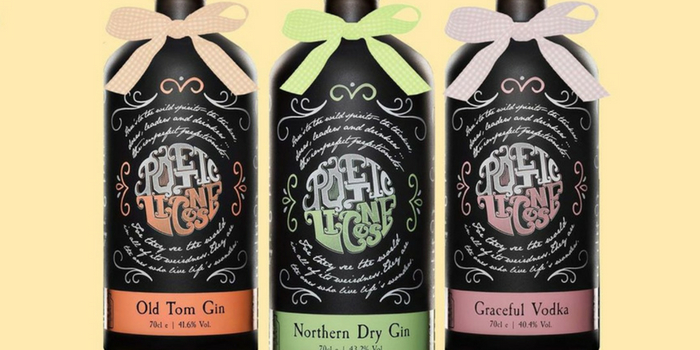 Graceful Vodka: When they say Graceful, they mean it's a gloriously smooth spirit, to be sipped and savoured. Created entirely from British wheat, giving a velvety smooth texture, they distil their vodka 7 times for purity, while preserving its subtle taste.
Seasonals: Poetic License aim to encapsulate a time of year and set a scene with just gin.
They have taken inspiration from the season to create gins that drink perfect for the time of year.
Fireside Gin: This gin acts as a blanket for the knee with its toasty flavours. As well as usual gin notes coming from juniper, coriander and orris root, there is a sweetness from dried winter fruits but also a zingy freshness from clementine. The mulling spice blend of cinnamon, clove and nutmeg gives a warming flavour reminiscent of your favourite seasonal treats, sure to warm you from the inside out!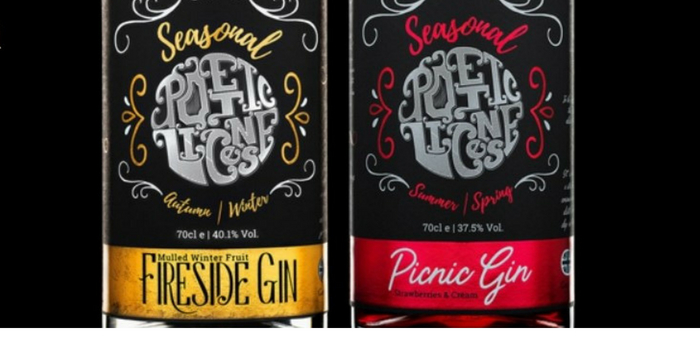 Picnic Gin: It is a beautifully sweet gin, creamy in texture and in taste, with a strong fruity nose as well as more typical gin notes of juniper, coriander and orris root. For added strawberries and creaminess, they distilled as well as infused with the botanicals which also give its deep red colour that tints to a blushing pink when mixed with tonic.
Gin Liqueurs: Lower in alcohol and a bit sweeter but gin-based, a good stepping stone into harder stuff.
An easy-drinking range of liqueurs using a gin base with some delicious flavour combos.
Baked Apple & Salted Caramel Gin Liqueur: A tempting aroma of spiced apple lures you in. The drink first delivers flavours of sweet, cooked apple backed up by warming cinnamon which complements the spiciness of the Old Tom Gin. The further sweetness then comes through from the seasoned caramel which lingers to leave lasting flavours of caramelised apple.
Blackcurrant & Ginger Gin Liqueur: The sweet berry flavour from the blackcurrants coupled with the fresh juniper and spice from Old Tom Gin is brought together with ginger to create a warming, fruity drink with lingering spiced berry flavours.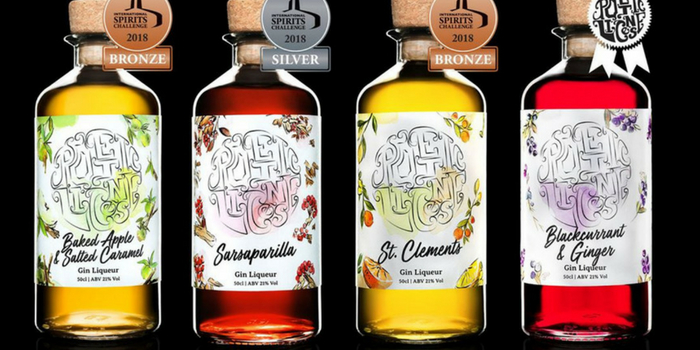 St Clements Gin Liqueur: You're hit with aromas of fresh orange on the nose, which comes through first and foremost on the palate. This is followed by the tart, bittersweet flavour of lemon, which is supported nicely by the citrus kick from the Northern Dry Gin. Its fresh juniper and fragrant cardamom flavours work well to balance the heavy citrus fruit flavours.
Sarsaparilla Gin Liqueur: All sensory evidence throws back to the much-loved soda-pop from years gone by. This grown-up version takes the unique flavour of sarsaparilla root coupled with a slight note of aniseed as well as sweetness from liquorice root and vanilla, to produce the unmistakable flavour which works surprisingly well with the spicy Old Tom Gin.
Poetic License's flavours are how they express ourselves. They break the rules to find a tastier way. They believe in bucking the trend and being bold - it's what moves them forward. And it's why they believe in their booze and their craft. You can enjoy a bottle of Poetic License spirit knowing it was crafted with care and commitment by hand.