Sacred Spirits of London
20/07/2018
Otherworldly liquids, liqueurs and vermouths, inspired by nature and hand-crafted in Highgate
THE GINESIS
Sacred Spirits was founded in 2008 when Londoner and distiller Ian Hart decided to reframe the city connection with small-batch gin distillation in a more positive light. This time the onus was on quality. Instead of using traditional pot distillation, Ian opted for vacuum distillation as a way to preserve the richness of flavour and aromas of his hand-picked botanicals. A new era of London gin production was beginning.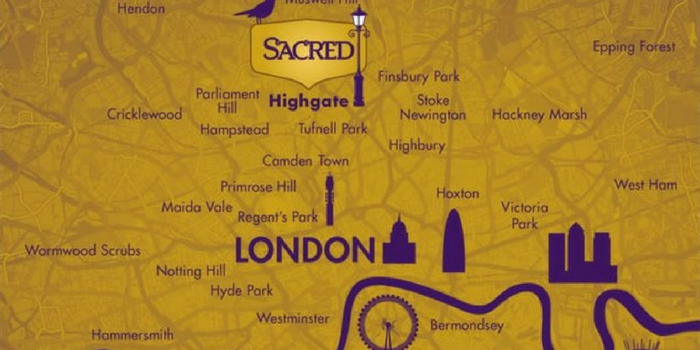 The Sacred Spirits distilleries are unique as they are designed by Ian to his exact specification. The setup, complete with bespoke handblown glassware from York, gives him complete control over a small volume/ high-quality production process, enabling him to adapt the delicate apparatus to suit every distillation.
Sacred Gin: Each of the organically sourced botanicals is distilled under vacuum to create a fresh, creamy, beautifully balanced gin like no other. Made with fresh cut organic Spanish & Italian Pink Grapefruit, Sweet Orange, Lemon & Lime, perfectly offset by Tuscan & Bulgarian Juniper, Angelica & Orris Root and rounded off by subtle Cinnamon & Frankincense (Boswellia Sacra) from the Sultan of Oman.
Sacred London Dry Vodka: A vodka for gin-lovers, and a gin for vodka-lovers. Strictly a vodka, this sits comfortably between the two as it is influenced with distilled botanicals including cubeb, fresh-cut citrus & frankincense, but crucially no juniper. The product of a very successful experiment, this is the only London Dry Vodka in the world!
Sacred Organic Sloe Gin: An original English classic, made with organic sloes, rested in Sacred Gin for two and a half years (a very long time!), before being dosed with an extra kick of juniper right before bottling. Rich and fruity, with an unusual Juniper-piney backbone, this is perfect with sparkling wine, or in a hip flask.
Sacred English Whisky Liqueur: They take fine English Whisky and blend it with Spanish Sweet Orange Peels, Indonesian Cubeb & Vietnamese Star Anise for a classic orange liqueur with evocative notes of a Vietnamese spice market.
Sacred Bottle-Aged Negroni: They have taken each ingredient from the classic Negroni cocktail and developed the very best all-natural English equivalents to make The Complete English Negroni. Equal parts of their classic Sacred Gin, Rosehip Cup & English Spiced Vermouth, combined in the bottle to allow the ingredients to marry. Perfect straight from the fridge over ice with a slice of orange, great to take to parties, picnics or wrap up as a present for a cocktail lover.
Sacred Cardamom Gin: An exuberant expression of the most aromatic of spices, Organic Green Cardamom Pods - a beautifully fragrant gin. Perfect with high-quality tonic water or ginger beer.
Sacred Juniper Gin: Truly a gin for all Juniper lovers, this has about as much Juniper as you can squeeze into a bottle. This gives the character of freshly crushed dark green pine needles on the palate, set against a background of mountainside Juniper.
Sacred Organic Gin: An organic version of their classic Sacred Gin with extra juniper berries and a higher abv - but the same lush, fresh flavour and mouthfeel.
Sacred Old Tom Gin: The high-strength interpretation of the 18th-century staple, with bold notes of Juniper & naturally sweet Liquorice Root, alongside a modern flourish of vacuum-distilled Spanish Sweet Orange Peels, which accentuate this classic sweeter gin.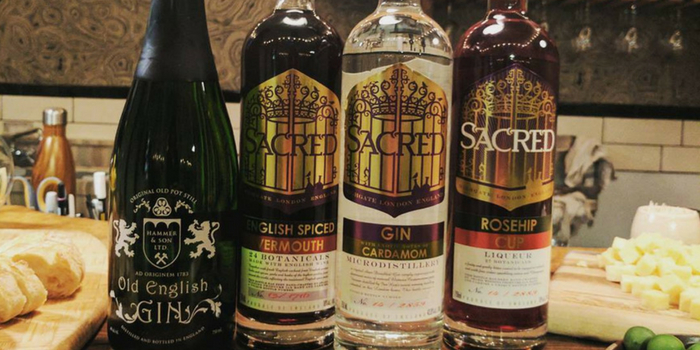 Sacred Pink Grapefruit Gin: Fresh cut Spanish & Italian Pink Grapefruit shines in this vibrant and zesty gin. Perfect for a G&T in the sun, or for a citrusy twist on a classic cocktail.
Sacred Coriander Gin: A dry, citrus spice leads this gin, made with vacuum distilled Indian Coriander Seeds. This gives a combination of crushed black peppercorns and Amalfi lemon zest on the palate.
Sacred Orris Gin: Made with Tuscan Orris, the root of the Iris flower, this light and subtle gin expresses a plurality strongly reminiscent of the colour purple.
Sacred Christmas Pudding Gin: Made with real Christmas Puddings, steamed for 8 hours to Ian's Great Aunt Nellie's Victorian recipe, as handwritten in her cookbook and printed on the inside of the back label of this gin. A rich 'cakey' mouthfeel, candied peel and raisins are at the forefront of this gin, which might be taken as a shot from the freezer instead of Christmas Pudding, lengthened with a dash of tonic, or mixed into any festive cocktail. The ultimate Christmas present!
Sacred Organic Vodka: An organic variant of Sacred English Vodka (coming Summer 2018), they take the highest quality organic wheat and rye spirits, and blend them as inspired by the 'assemblage' method used by high-end winemakers, to perfectly balance the individual spirit constituents. This gives a creamy mouthfeel, followed by a gentle hazelnut finish, perfect on the rocks, with fine sodas or in a Bloody Mary.
Sacred Peated English Whisky: Sacred Spirits take English Whisky from bourbon barrels and recast them in London for further maturation (finishing) and flavour development in sherry hogsheads - old Pedro Ximenez casks from Bodegas Navarro in Montilla, Spain. These nutty and rich nuances give a truly deep and satisfying single malt. Log-fire smoke from a country pub, sea salt, dried pineapple, clove spice, sweet vanilla and Christmas cake.
Sacred English Dry Vermouth: Made in collaboration with Alessandro Palazzi of Dukes Bar, SW1, it is no surprise that their bone-dry vermouth is used in every Dry Martini served at this world-famous martini bar. Spicy, herbaceous and gentle Wormwood bitterness gives a full five-minute length on the palate, built on a backbone of English wine from Three Choirs, Gloucestershire.
Sacred English Amber Vermouth: Delicate, floral & with a distinct note of Spanish Sweet Orange, this vermouth is now recognised as the closest equivalent to the legendary Kina Lillet in the Vesper Martini (immortalised by Ian Fleming in Casino Royale, 1953). As such, it is served by Alessandro Palazzi of Dukes Bar, SW1, in all of their Vespers, and also works well on the rocks with a lemon twist, or in a more sophisticated take on the classic Spritz.
Sacred English Spiced Vermouth: A rich, deep and gently bitter vermouth, made with English wine from Gloucestershire, organic Wormwood & Thyme grown for them in Somerset and Sweet Orange studded with Cloves from Madagascar. Mix two-to-one with your favourite whisky for a flawless Manhattan, without needing any further bitters, or combine in equal measure with Sacred Gin & Rosehip Cup for The Complete English Negroni.
Sacred Rosehip Cup: This all-natural gently bitter aperitif is made with English Rosehips, Spanish Sweet Orange, organic Peruvian Ginger & naturally coloured with Red Grape skins. It makes a fruity and sophisticated Spritz, lengthens beautifully with fine sodas or mixes in equal measure with Sacred Gin & English Spiced Vermouth for The Complete English Negroni.
It's time to enter your brands in the 2023 London Spirits Competition and grow in 2023. The submission deadline is February 22. Enter now and ship your samples.