Scotland's Finest Whisky
12/08/2018
Nestled at the foot of Britain's highest mountain, Ben Nevis Distillery has been crafting Scotch whisky for nearly 200 years
Ben Nevis Distillery is one of the oldest licensed distilleries in Scotland. The distillery is nestled at the foot of Britain's highest mountain, Ben Nevis, which has a summit elevation of 4'406 feet above sea level. This imposing mountain provides an impressive background to a traditional Scottish craft.
Nevis Dew "Special Reserve": This product was added to their range after some of their potential customers felt that their "Supreme Selection" blend was "too smooth". This blend was created with those people in mind. This blend does not carry an age statement on the label but I can tell you that some of the malts used in this product are over 5 years old. Jim Murray's "Whisky Bible 2004" describes it thus:- 'very firm malt, sweet, full-bodied and punchy grain, even a hint of honey on the spicy finale'.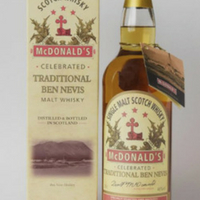 McDonalds Traditional Single Malt Scotch Whisky: The Traditional Malt is a non-age statement single malt distilled using peated malt in order to reproduce the flavour of Malt Whisky as it would have been produced using very traditional methods of distillation that many have confined to history. The label itself is derived from a historic bottle that they have in their possession dating back to the 1880's. This peated malt gives the Traditional a slightly smoky, light peated flavour which distinguishes it from their other Single Malts, yet it is unmistakable as a Ben Nevis single malt product. Matured mainly in sherry casks, 46% ABV, non-chill filtered.
McDonald's Glencoe "8 Year Old Vatted": This whisky was launched back in the late 1960's by Rory McDonald, a direct descendant of Long John McDonald, the founder of the Ben Nevis distillery in 1825. Despite the high strength of this product it is highly regarded by the passionate whisky drinker. Jim Murray has this to say of it in his "Whisky Bible 2004":- 'Mouthwatering in parts, lots of cereal, spice and kick'. Monde Selection awarded a silver medal to this vatted malt in 2002.
Nevis Dew "Blue Label": The "Blue Label" blend started out in life as their contribution to the stock of millennium whiskies which proliferated the market at that time. Most companies presented aged and most very expensive products, whereas they produced a new blend which did not carry an age statement on the label thus being a new whisky for the new millennium. This whisky won their first gold medal from the International Wines & Spirits Competition in 2000. Now that the millennium is behind them they decided to continue selling this product but re-named as "Blue Label". Jim Murray,s "Whisky Bible 2004" describes this blend as 'weighty malt; has that "married" feel, where the malts have combined to make a busy, impossible-to-describe whole, back to the grains again: quite bitty and complex; chunky and complex.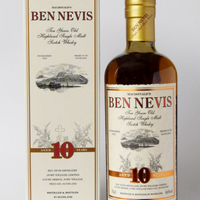 Ben Nevis "10 Years Old Single West Highland": Their single malt was introduced to the market back in 1996 using whisky produced in 1986, the last year that Long John International produced whisky at Ben Nevis distillery. Initially, sales were very slow until they packaged the bottle in a presentation tube since when this has gone on to become their largest selling whisky. In Jim Murray's "Whisky Bible 2004" he says this:- 'such a massive introduction to the palate: soft oils, citrus notes and very big oak on the malt, but sweet enough to chew forever; the integration of the oak really makes for some finish: long, hints of bitter roast coffee against the sweet oils; the nose makes you say oh-oh, but you need a knife, fork spoon and napkin for the taste'.
Nevis Dew "Supreme Selection": This, along with their 12 Years Old Deluxe blend were the only two whiskies that they had for sale when they first opened their Visitors' Centre in July 1991. This whisky is offered for tasting in their Visitors' Centre after completing a tour of the distillery. This is an exceptionally smooth, well-rounded whisky which is appreciated by most palates. Up until they introduced their 10 Years Old single highland malt this was their biggest selling whisky.
Nevis Dew " 12-Year-Old Deluxe": This whisky is so rich in malt content that many people think of it as a malt whisky. As part of his whisky Tasting evenings, their Danish importer has in the past conducted 'blind' tastings using their "12 Years Old Deluxe" blend and having the audience compare it with some of their larger competitors more famous blends, of the same vintage. The tide of opinion favoured the Ben Nevis whisky each time this challenge was tried. This product sells particularly well in their Visitors' Centre and also on the internet with many orders being repeats. This product gained a gold medal from Monde in 2000.
It's time to enter your brands in the 2023 London Spirits Competition and grow in 2023. The submission deadline is February 22. Enter now and ship your samples.