Deadline
September 30, 2023
Enter Now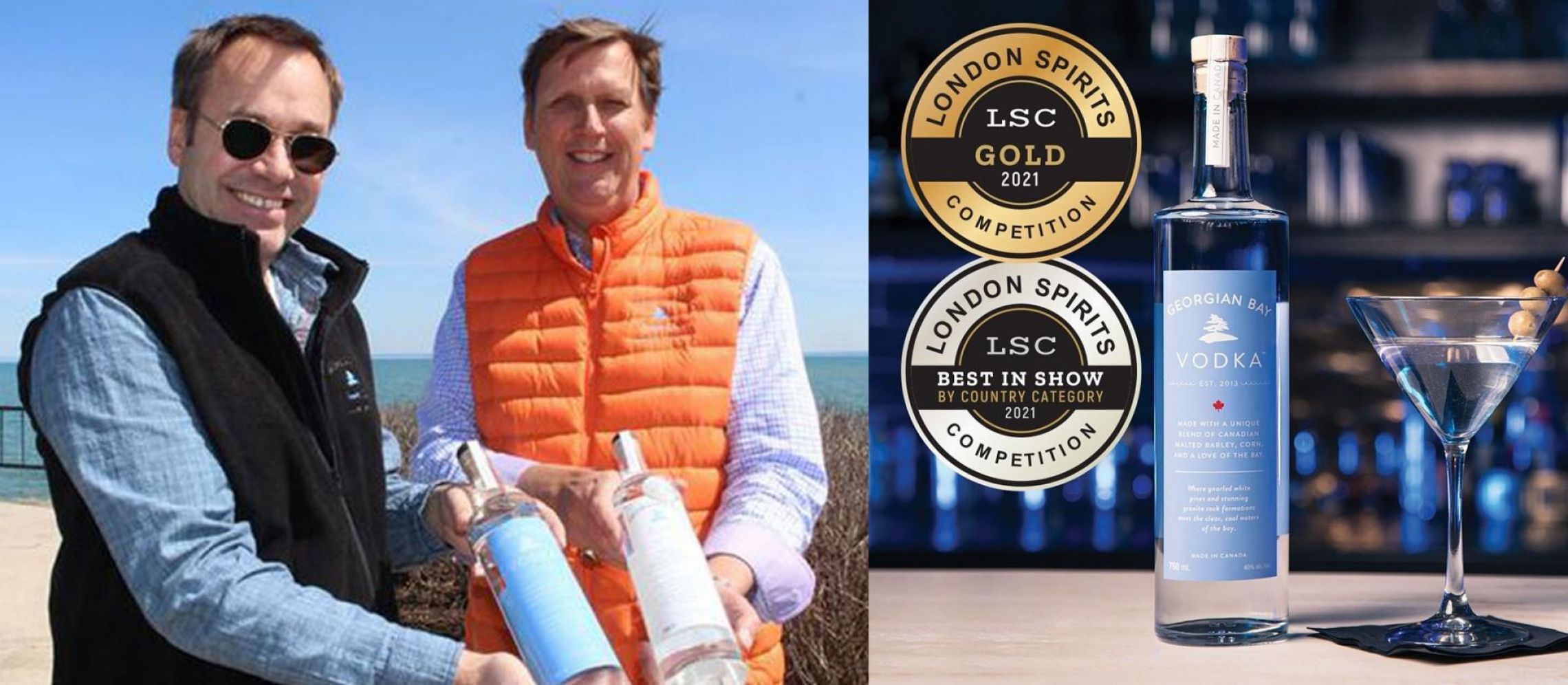 Small Scale Brand Wraps A Powerful Punch
Discover a Canadian Vodka brand that was applauded by critics all around the globe.
Georgian Bay Vodka was included in the top 10 list of the best vodka in the world by Forbes magazine. The vodka market is valued at more than $42 billion and each country has thousands of vodka manufacturers. To compete in such a saturated market and to finish on top is an incredible achievement.
Two gentlemen from the marketing and communications business have made a world for themselves by shifting industries and working on vodka which made the critics raise their eyebrows and add it to the list of premium quality alcoholic beverages. The idea of founding this venture struck both partners, Denzil Wadds and Tim Keenleyside after realising the opportunities Georgian Bay had to offer. After successfully crafting a gin with pure resources available and wild Juniper berries that grew in abundance at their cottage property on the bank of Georgian Bay, the duo decided to craft vodka. "We have been building other peoples' brands for 20 years and we decided we wanted to build our own brand," said Denzil Wadds in an interview with Simcoe.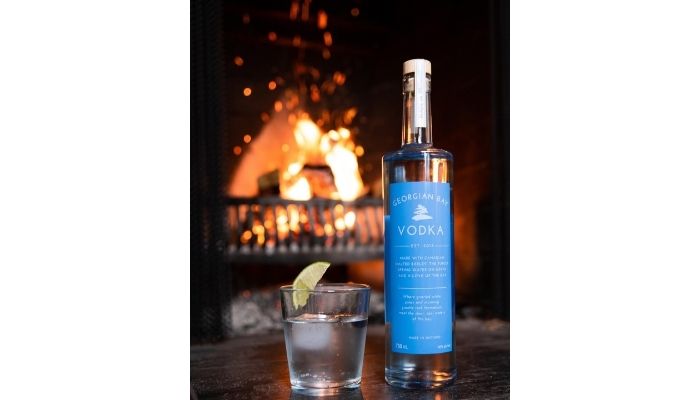 The vodka can be mixed in cocktails or preferred neat., Source: Instagram
In 2015, they decided to increase their portfolio by distilling an unconventional vodka. Contrary to famous vodka producers, this small scale distillery does not use charcoal filtration just to make it smooth on the palate and flavourless. They intended to give a personality to the spirit and for this, Tim and Mark Cohan (a partner added in the later stages) tried recipes of vodka to create the perfect balance between the alcohol and underlying tones of the raw ingredients. After a year of experimenting, in 2016 they launched the Georgian Bay Vodka which was an instant success.
It received numerous accolades and recently was converted with the gold medal and Best in Show award at the London Spirits Awards 2021.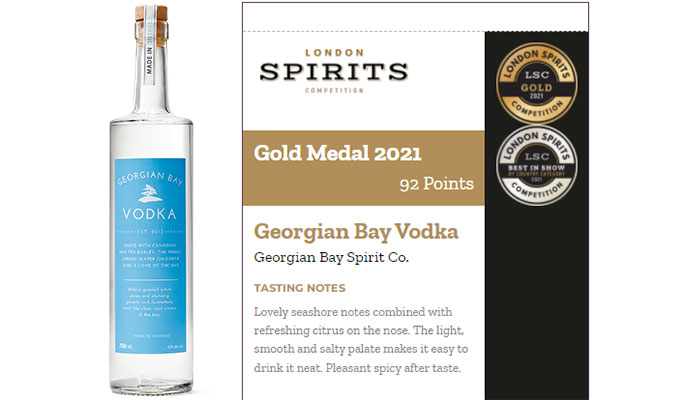 It is a great achievement to scale out at such a large and saturated market
Review of Georgian Bay Vodka from the 2021 London Spirits Competition
Points Scored: 92 points
Medal won: Gold, the Best in the show by country category
Tasting notes: Lovely refreshing notes combined with citrus on the nose. The light, smooth and salty palate makes it easy to drink it neat.
In an interview with Markets Insider, Joshua Beach, Head Distiller of Georgian Bay Spirit Company said, "To be recognized internationally, by such respected competitions amongst such iconic spirit brands is both thrilling and humbling. Each day we strive to produce the best small-batch, handcrafted spirits we can possibly make."
The vodka can be used to make delectable cocktails. The company has a dedicated page to create new recipes using their flagship vodka and gin. I have listed a couple of them below.
Halloween Martini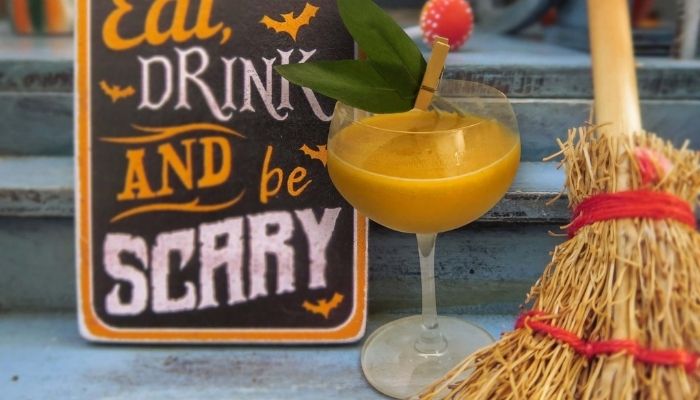 Image source: Georgian Bay Spirit Co
Ingredients
1.5 oz Georgian Bay Vodka
1oz Pumpkin purée
1oz Cashew milk
0.25 oz Lemon juice
2 dashes of Angostura bitters
1-inch knob ginger sliced, Pumpkin Pie Spice
Garnish: Sprinkle of Pumpkin Pie Spice and a slice of ginger
Glass: Coupe
Instructions
1. Add ginger into a shaker tin and gently muddle.
2. Add the remaining ingredients to the shaker tin and shake on ice for 8 seconds.
3. Strain into a coupe glass and garnish with a slice of ginger. Serve and enjoy!
Eggnog Latte Martini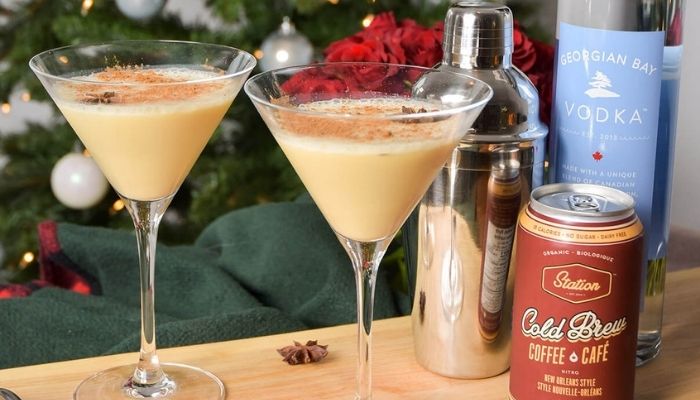 Image source: Georgian Bay Spirit Co
Ingredients
1.5oz Georgian Bay Vodka
1.5oz Eggnog
1.5oz Station Cold Brew Coffee - New Orleans Style
Garnish: Ground cinnamon and star anise
Glass: Coupe
[[relatedPurchasesItems-39]]
Instructions
1. Add all ingredients to a shaker tin, and shake on ice for 8 seconds.
2. Strain into a chilled coupe or martini glass.
3. Garnish with sprinkled cinnamon and top with star anise. Serve and enjoy!
You can find more interesting recipes on Georgian Spirit Co.
What's next?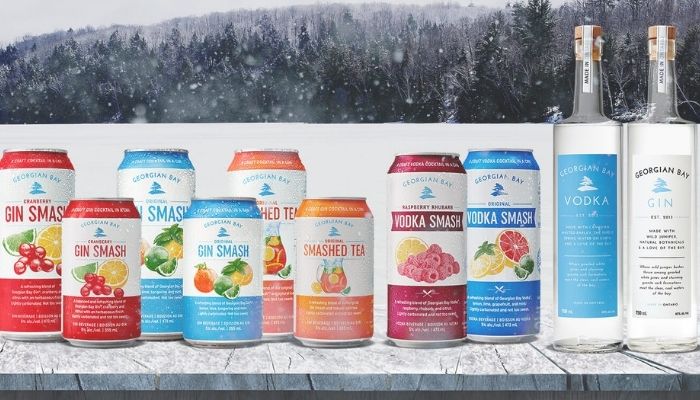 They have expanded the business at an exponential rate and made it globally recognised, Source: Georgian Bay Spirit Co
The future of this small scale brand looks promising. Along with their flagship spirits, the brand has a vast portfolio of ready to drink cocktails which include cranberry gin smash, tequila smash, smashed tea etc. They are set to expand their business and establish a distillery in Collingwood, Canada just next to the Georgian Bay. Currently, they are focusing on production and sufficing consumer needs. However, in the later stages, they will include a tasting room and other facilities to elevate the experience of people visiting Georgian Bay.
Article by Arjun Moghe, Beverage Trade Network
Header Image Source: Simcoe