The Connacht Whiskey Company- Hand-Crafted Single Malt in Ireland
03/01/2019
They distil and barrel-age their spirits in a rural, coastal environment unique to the West of Ireland
The Connacht Whiskey Company Ltd. is the result of a dream shared by four men, three Americans and one Irishman, to bring single malt pot still Irish whiskey back to the West of Ireland after an absence of over 100 years. These men share bonds of family and friendship. They also share respect of heritage and a commitment to Connacht, one of the most natural and unspoiled regions of Ireland.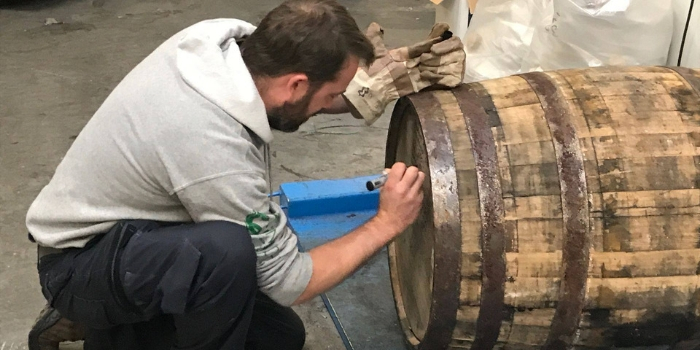 Their master distiller, Robert Cassell, is not just an employee or a consultant of the company. He is the founder and director of Connacht Whiskey Company Ltd. Robert studied and trained in Scotland at Heriot-Watt University. His award-winning craft spirits command an impressive following, and he has won numerous international gold medals in four spirit categories – gin, whiskey, vodka, and specialities.
Connacht Irish Whiskey
Since 2016, they have been distilling and laying down their own double distilled single malt Irish whiskey that will reflect the unique terroir of unspoilt, rural western Ireland. The master distiller, Robert Cassell, has selected a unique blend of the finest Irish grains which he has combined with water that is sourced from the nearby County Mayo lakes of Lough Conn and Lough Cullin.
These two elements form the backbone of their whiskey. After their whiskey leaves their copper pot stills, they transfer it to American oak barrels that once held American bourbon. The choice of barrels is a nod to the Irish-American heritage of several of the founders.
Brothership Blended Whiskey
Has it been mentioned that some of their founders are Irish-Americans? Theirs is a story of Atlantic crossings, of "goodbyes" and "welcome home," of holding fast to heritage and building new traditions, but most of all it is a story of family, friends, and neighbours. To celebrate this history, their master distiller, Robert Cassell, has re-imagined a whiskey that creates something new and different. He combines the best of two traditions, the smooth warmth of Irish whiskey and the rich boldness of American whiskey, into one beautiful product that pays homage to the heritage of each component.
They buy Irish malt whiskey that has aged 10 years as well as American whiskey that has also aged 10 years, Robert has skillfully blended the two whiskeys and bottled it at Connacht's partner distillery New Liberty Distillery in Philadelphia, Pennsylvania.
Conncullin Irish Gin
Conncullin Irish Gin is an exquisitely crafted small batch premium Irish gin. A signature blend of juniper supported by hawthorn berry, elderberry and other botanicals marry to form a complex flavour profile. Conncullin has a beautiful berry nose but finishes big and bold with nice juniper notes and hints of citrus. It is pot distilled and hand bottled at full 94 proof (47% ABV) at their distillery in County Mayo.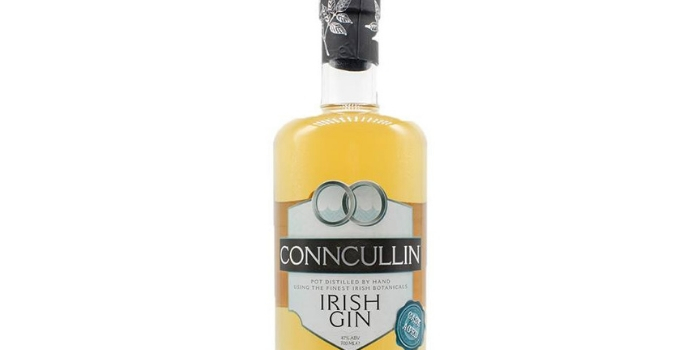 Conncullin Irish Gin has already been awarded a Gold Medal and 92 points by the International Review of Spirits. Irish gin is a fairly new product as spirits go, so their gin's name and image evoke the modern, clean nature of Irish gin.
Spade&Bushel Irish Whiskey
Spade&Bushel Cask Strength 10 Year Old Single Malt Irish Whiskey Spade&Bushel 10-Year-Old Cask Strength Irish Whiskey is a single malt Irish whiskey that has aged for at least 10 years in used oak barrels. They present this product at full cask strength of 115 proof (57.5% ABV) because their master distiller concluded that the full depth of flavour would be lost if the whiskey was diluted to a lower proof.
They wanted their first Spade&Bushel offering to be memorable and think this 10-year-old meets this criterion. Spade& Bushel was awarded a Gold Medal for cask strength Irish Whiskey at the 2016 Irish Whiskey Awards.
Ballyhoo Irish Whiskey
They buy the very best four-year-old Irish grain whiskey, which has a mash bill of 93% corn and 7% malted barley and brings it to their distillery in County Mayo. They re-barrel it in once used port barrels for at least three months. It is not chill filtered, so they can preserve the smooth easy taste. The fresh grain whiskey slowly picks up the colour and sweetness of the port, giving it a gentle but sweet nose with some appealing vanilla notes and floral bouquet. Finally, they hand bottle it on site at the distillery.
Fun, bright and festive, Ballyhoo Irish Whiskey is made for celebrations. Ballyhoo is an exclamation of triumph over the rival team. A rallying cry between lifelong friends. A toast to a difficult journey or a hard-fought victory. A celebration of the now. Raise a glass of this Irish whiskey to exuberant moments that become enduring memories.
Straw Boys Irish Poitin
Poitin, pronounced "put′ cheen" and sometimes spelt poteen, is unaged, white whiskey that has been made in small Irish villages for decades. It's essentially what Americans call "moonshine." While Dublin distillers benefited from economies of scale, rural distillers operating in western Ireland's isolated townlands relied more on a keen eye for the excise man and their neighbours' generosity to pitch in and pay the fine if they were caught.
One of their founders had a great-great uncle, a John Mullarkey, who spent a few months in the Sligo Gaol for the crime of illicit distillation. Whereas John Mullarkey would have used a small, portable still up in the Ox Mountains, they use Connacht Distillery's beautiful copper stills and a traditional malted barley base for the mash.
Straw Boys Irish Vodka
Because Americans often equate potatoes with Ireland, using potatoes to make Irish vodka makes some sense, at least at first blush. However, because the Connacht Distillery is located in western Ireland where potato farming is not particularly prevalent, they opted to base their vodka on grain. It is batch distilled in their copper pots stills and hand bottled at their distillery at 80 proof (40% ABV). Their vodka has a rich mouthfeel that is luscious, silky, and semi-sweet. As they do for their Poitin, they are using the Straw Boys name and logo with their vodka. Like the wedding crashing straw boys of western Ireland, their vodka is fun and spirited.
2023 Submissions are now open. You can register your brands now to save £75 per entry with super early bird pricing that ends on August 31, 2022.