2023 Registration
London,uk
March 22, 23 & 24
Closed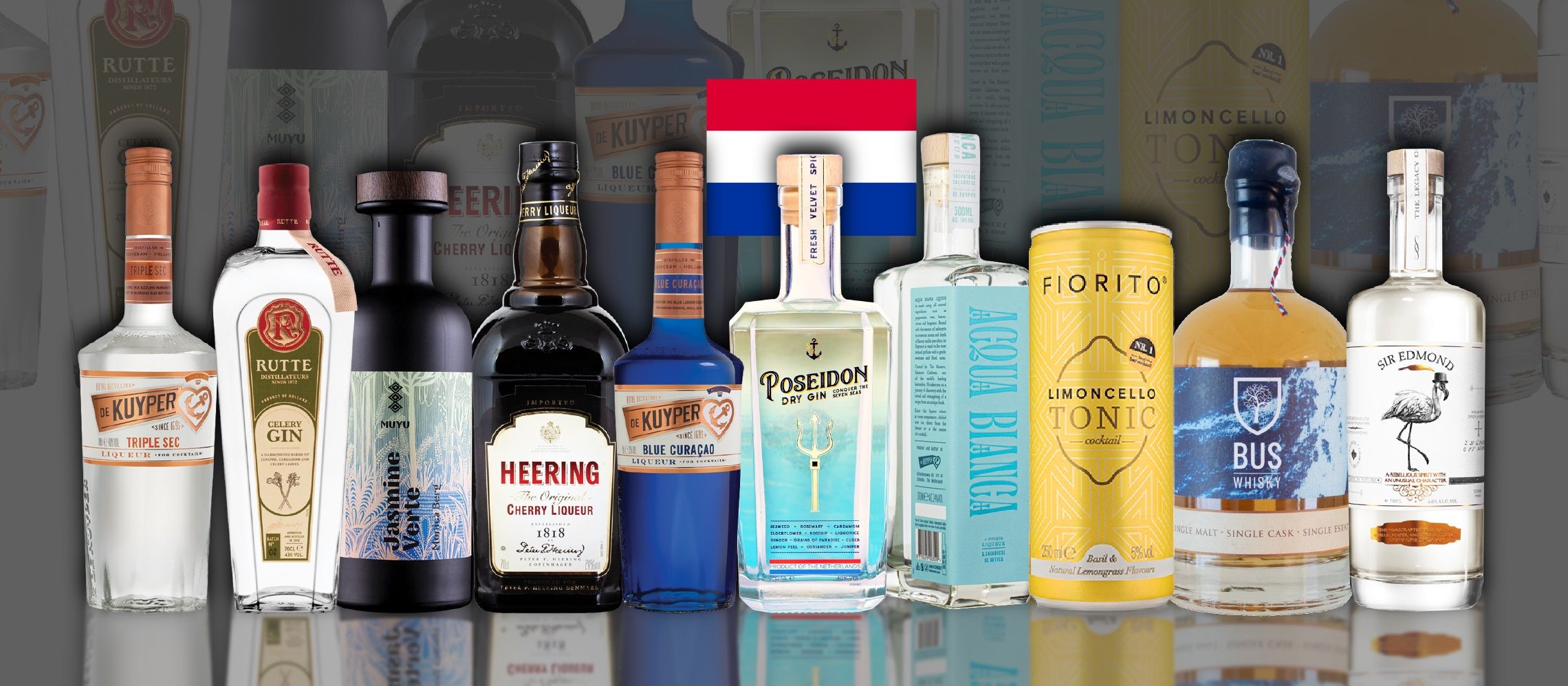 11 Dutch Spirits That Need To Be On Your Shelf
These 11 spirits have dramatically made a huge impact in the liqueur shelf of the beverage industry and now need to be on your bar, to give the drinkers a taste of excellence and a subtle flavor. 
The Netherlands, the land that is the birthplace of Gin definitely knows how to make a drinker remember the spirit with its exceptional essence and touch contributed to the beverage industry.
Here are the 11 must-have spirits which were reviewed and were declared winners in the London Spirits competition and made it to the list of top 100 spirits that need to be on your shelf that may change your cocktail game forever.
1. Muyu Vetiver Gris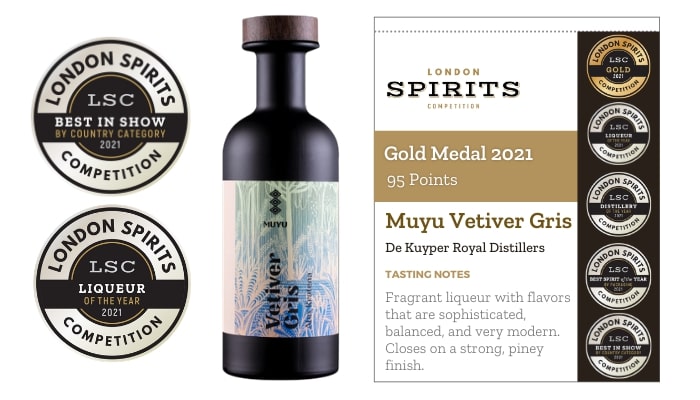 Muyu Vetiver Gris by De Kuyper Royal Distillers isn't a classic liqueur that is produced with inspiration from amazon, using only natural ingredients. This Dutch beauty aims to change the look of liqueurs on the bar shelf since it's designed for use in cocktails. With a combination of woody and earthy liqueur which is full of cedarwood, vetiver, and notes of patchouli, it's certainly an addition you need in your cocktails to know what we are talking about.
Reviewed by our judges, here's a tasting note you could use to taste this spirit at its optimum. Fragrant liqueur with flavours that are sophisticated, balanced, and very modern. Closes on a strong, piney finish.
Other than the fact that this is an exquisite addition on the bar shelf and a missing gem to a complete masterpiece cocktail, The Muyu Vetiver Gris has won a Gold medal in the London Spirits Competition and has been declared as the 'Liqueur Of The Year' too, guess it has to be tried to know why.
2. Muyu Jasmine Verte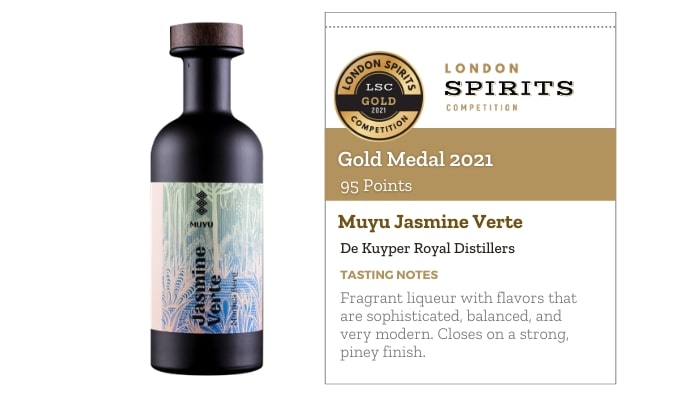 Muyu Jasmine Verte by De Kuyper Royal Distillers is another liqueur that is inspired by the Amazon forests for its design and content of ingredients that are floral, refreshing. The Spirit has been crafted to be the best part of a cocktail and that to be shared in the highballs to get the best out of it.
Here's what our judges recommend for the tasting notes of this elegant liqueur - Well captured jasmine and some yuzu and bergamot in the background.
The Muyu Jasmine Verte also claimed a gold medal in the London Spirits Competition for its unique design and taste, thus stands right on all the claims made.
3. Acqua Bianca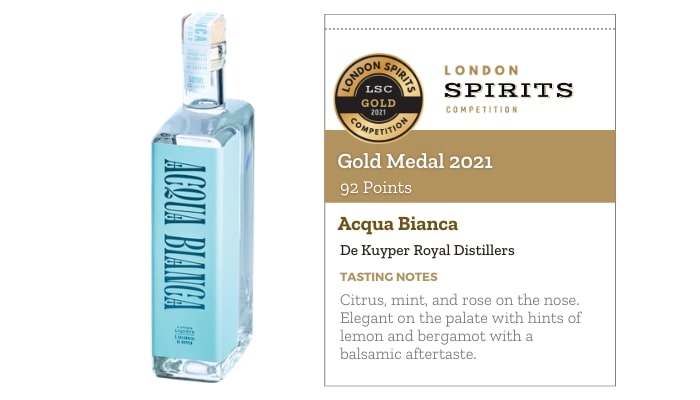 Acqua Bianca by De Kuyper Royal Distillers has its own unique taste and flavor that it brings to the table with a touch of floral and freshness paired wisely with the liqueur and a hint of citrus with a combined essence of ambergris which is conventionally used in perfumes, this one adds flavor with a scent to your cocktail, they say scents are the most memorable essences in our memory, well here's a drink to remember.
[[relatedPurchasesItems-39]]
Judges recommendations on the tasting notes - Citrus, mint, and rose on the nose. Elegant on the palate with hints of lemon and bergamot with a balsamic aftertaste.
Apart from the fact that the drink is extraordinarily an addition of aroma to the cocktail but is also a gold medal winner in the London Spirits Competition.
4. Muyu Chinotto Nero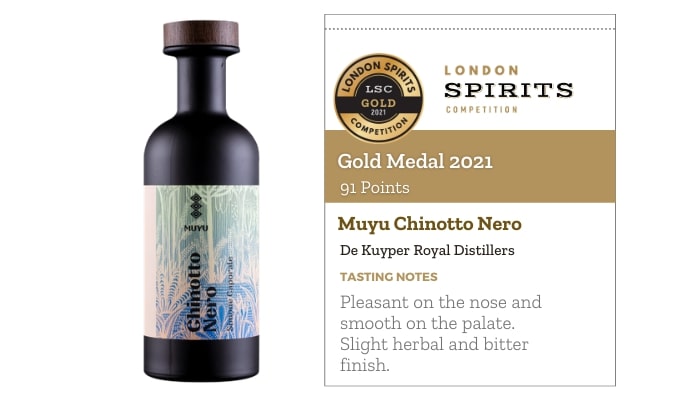 Muyu Chinotto Nero by De Kuyper Royal Distillers appears to be a very citrusy and rich content-filled liqueur that is quite elegantly lush with chinotto that is mystical with the accents of Oakmoss, curacao orange, and cacao that makes this an addition to the cocktail to make it come alive. The addition settles well with any drink while complimenting the flavors of the drink at its best.
Tasting notes that are to be noted to get an exquisite hint of the liqueur - Pleasant on the nose and smooth on the palate. Slight herbal and bitter finish.
The Muyu Chinotto Nero has made it to the top 100 London Spirits Competition with a gold medal and now has made it to the addition of the brags that this liqueur can back.
5. Sir Edmond Gin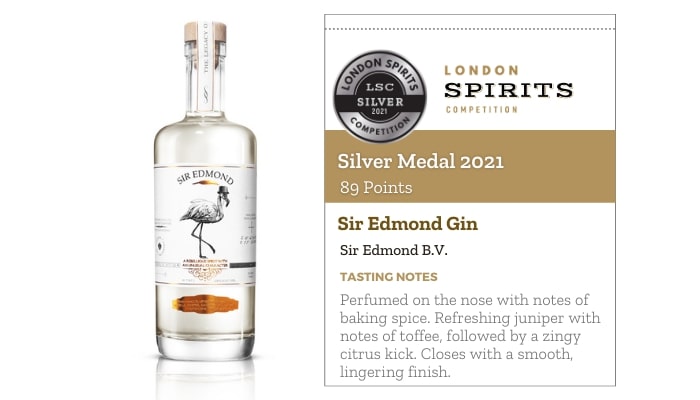 Sir Edmond Gin by Sir Edmond B.V. is an unusual and rebellious character addition in the spirit family as the brand states, Sir Edmond Gin really has an appetite for new boundless adventures, well the drink really has a lot of new things to offer, why not start with acknowledging its vanilla-infused Gin, something unusual right? But there's a reason this drink made it to the list of spirits you must have.
Tasting notes by our judges - Perfumed on the nose with notes of baking spice. Refreshing juniper with notes of toffee, followed by a zingy citrus kick. Closes with a smooth, lingering finish.
Yes, the drink bagged a medal too, in the London Spirits Competition, Sir Edmond Gin has made its way to the silver medal with its unique ways and unconventional techniques. A must-have on your shelf for something unusual.
6. Poseidon Dry Gin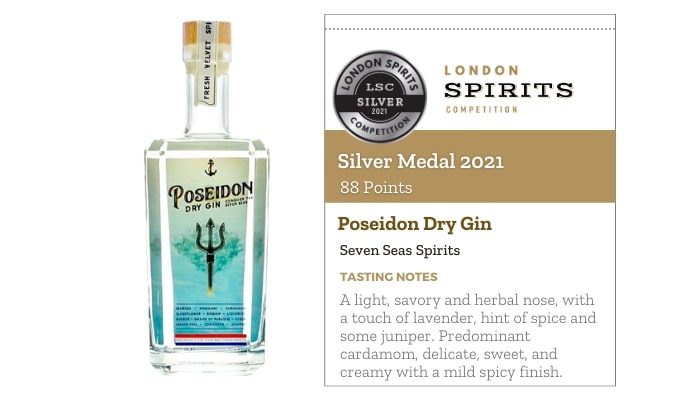 Poseidon Dry Gin by the Seven Seas Spirits is pretty much like the ocean itself, it's bold, a bit twisted, and has an extra card of being layered that adds up to make it something new in the crowd of traditional. With more additions of fresh citrus, a velvety core, and a subtle finishing of spices. This drink really is making a statement that it comes from the sea with its distinct use of seaweed that settles in quite balanced.
What our judges thought about the tasting notes - A light, savory and herbal nose, with a touch of lavender, hint of spice, and some juniper. Predominant cardamom, delicate, sweet, and creamy with a mildly spicy finish.
The Poseidon Dry Gin is a unique and distinct cocktail companion that has made it to the top 100 spirits in the London Spirits Competition and well to enhance your favorite cocktails or to harmonize with the sunset when served on the rocks get this must-try Dutch beauty to your shelf.
7. Heering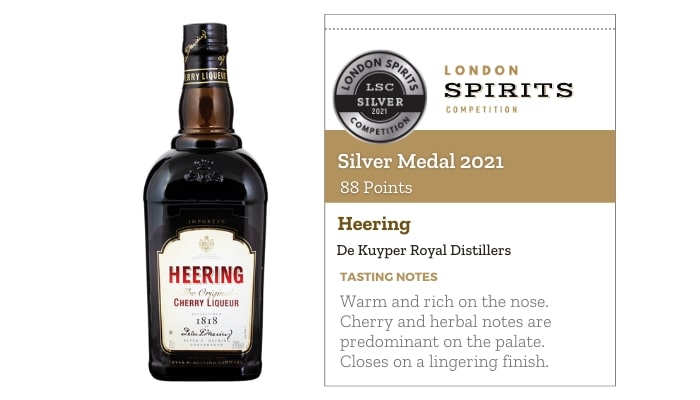 Heering by De Kuyper Royal Distillers is an elegant and full cherry-flavored liqueur that seems to appear as an essential ingredient for real iconic cocktails such as the Singapore sling or the Blood and sand. But if you ask us you may experiment with it only to find out that the drink is the most flavorful addition to the cocktails to make them significantly better.
What our judges have to recommend on the basis of tasting notes - Warm and rich on the nose. Cherry and herbal notes are predominant on the palate. Closes on a lingering finish.
The Heering is a silver medal winner in the London Spirits Competition and has made it to the top 100 spirits, which definitely gives the right credibility to the drink.
8. De Kuyper Triple Sec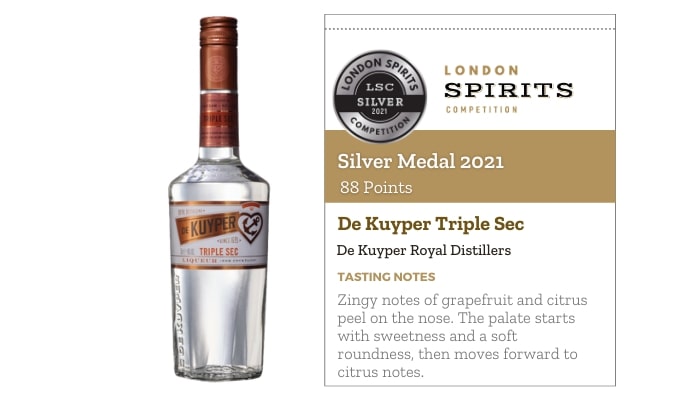 De Kuyper Triple Sec by De Kuyper Royal Distillers is almost like de Kuyper spirits, the liqueur is an essential part of the minimal range of liqueurs that are a requisite to modern bars and a perfectly settled cocktail, that may be of any kind. How it portrays itself is a bit stronger than the rest in the De Kuyper liqueur family part with the aroma of fresh citrus fruit, and another reason why you need to taste the cocktails with this liqueur as its main ingredient.
Tasting notes that are to be noted reviewed by our judges - Zingy notes of grapefruit and citrus peel on the nose. The palate starts with sweetness and a soft roundness, then moves forward to citrus notes.
The De Kuyper Triple Sec is a liqueur that has scored a silver medal in the London Spirits Competition and now stands on all the statements made.
9. Rutte Celery Gin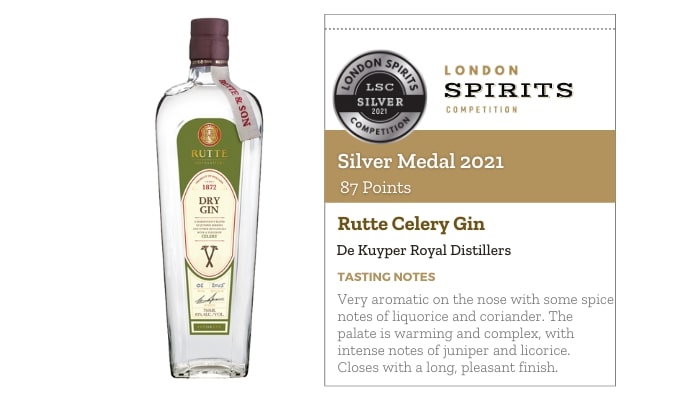 Rutte Celery Gin by De Kuyper Royal Distillers' has a taste that is fresh, a bit crunchy with light notes of herbs and mint with a slight essence of parsley and celery nuances of anise. The aftertaste is really pure with a longing effect, pleasant, and with a texture of thin brackish.
The tasting notes by our judges - Very aromatic on the nose with some spice notes of liquorice and coriander. The palate is warming and complex, with intense notes of juniper and licorice. Closes with a long, pleasant finish.
The Rutte Celery Gin is another winner candidate of the London Spirits Competition and has bagged a silver medal while making it to the top 100 spirits, I mean there has to be a reason why it is a winning candidate.
10. Fiorito Tonic RTD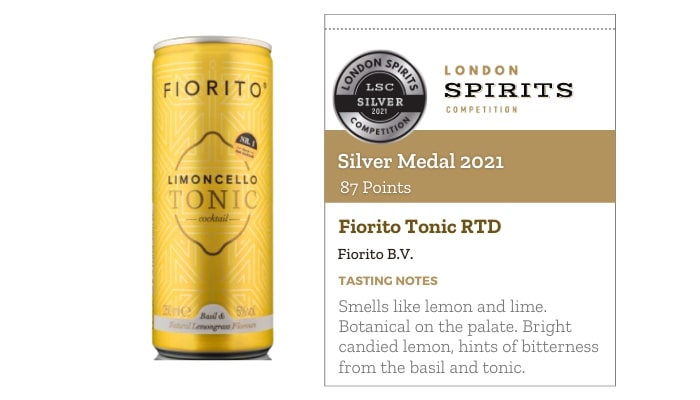 Fiorito Tonic RTD by Fiorito B.V. was made with the best bartenders having an exquisite choice in taste. The refreshing combination of ingredients of the drink consists of Lemongrass, Lemons, and Basil fused together with a sparkling light bitterness of tonic water with quality too high. This ready-to-drink beverage is the perfect companion of yours on a warm sunny day. The reasons to back the statement of why it's a must-have been too many, why not just give it a go, to know?
Tasting notes by our judges - Smells like lemon and lime. Botanical on the palate. Bright candied lemon, hints of bitterness from the basil and tonic.
The Fiorito Tonic RTD goes on to win a silver medal in the London Spirits Competition and has all the bragging rights to show off the drink.
11. Bus Whiskey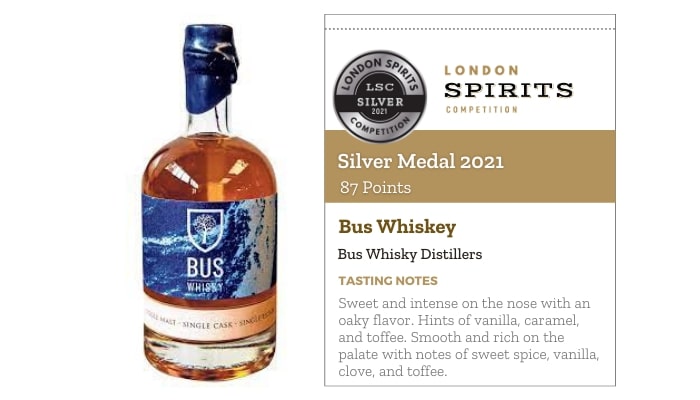 Bus Whiskey by Bus Whisky Distillers is a Dutch Single-Malt, Single-Cask, and Single-Estate whiskey considering it has its own malting barley cultivation. The Whiskey has an enriched aroma and a longing aftertaste that goes on to tell you why you have to have this beverage by your side. Since the firing volume of this whiskey is exclusive, it gives a character the tag of 'Limited Edition'.
Judges have a quick recommendation on the whiskey too with their tasting notes - Sweet and intense on the nose with an oaky flavor. Hints of vanilla, caramel, and toffee. Smooth and rich on the palate with notes of sweet spice, vanilla, clove, and toffee.
The Bus whiskey claimed a silver medal and has ever since a must-try spirit, with its taste, packaging, and value for money too. This beverage is all the backup you need on your shelf for a good time.