2023 Registration
London,uk
March 22, 23 & 24
Closed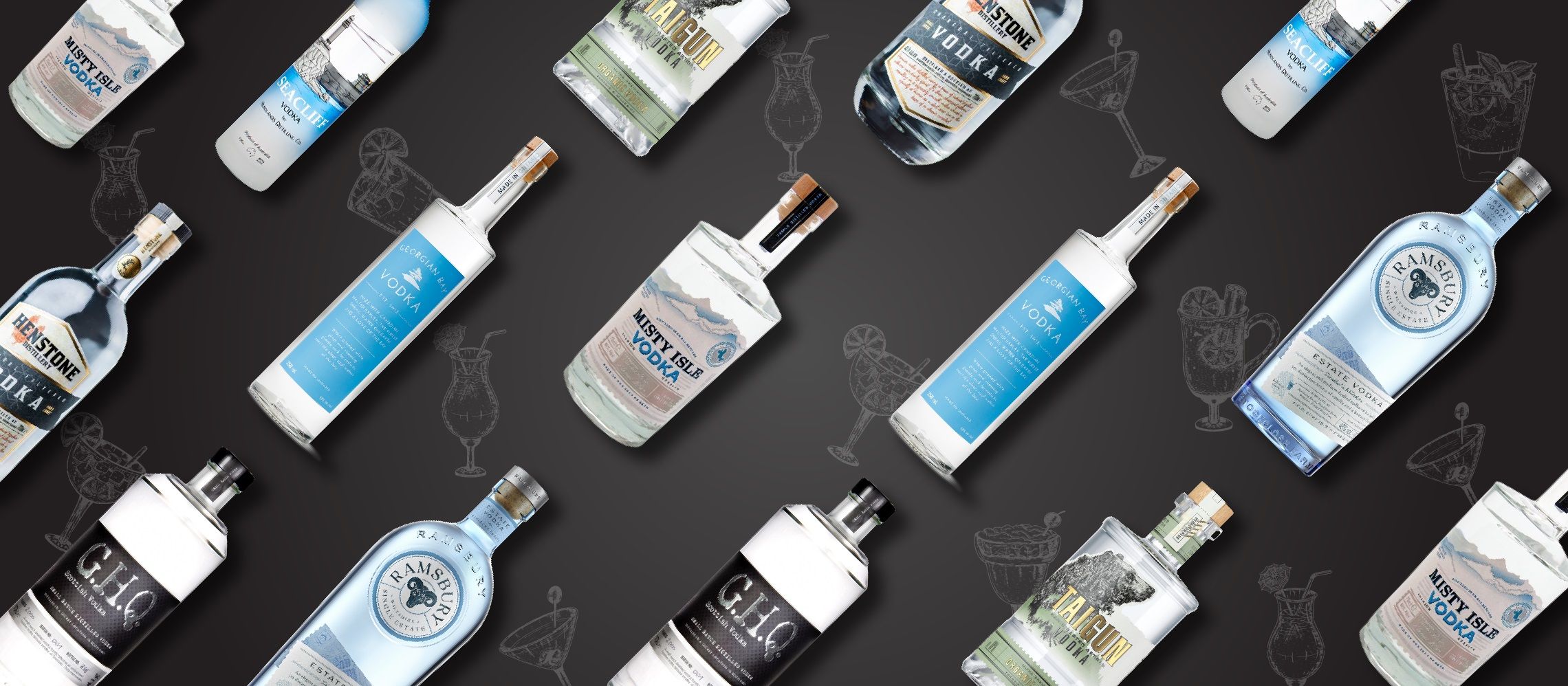 Top 7 Award-Winning Vodkas You Should Stock In Your Bar
If you're looking to stock your bar shelves with some top-rated vodka brands, these are your top choices!
These vodka brands were personally assessed by real trade buyers and experts at the recent London Spirits Competition keeping in mind how they make purchase decisions. The below brands deliver you great quality for incredible value and also will not disappoint you in their packaging.
1. Ramsbury Single Estate Vodka
UK's Ramsbury Single Estate Vodka produced by Ramsbury Brewing & Distillery took home the title of "Spirit of the Year" with 96 points at the recent London Spirits Competition. The vodka also took home the title of Best in Show by Country, Vodka of the Year, and Best Spirit by Quality.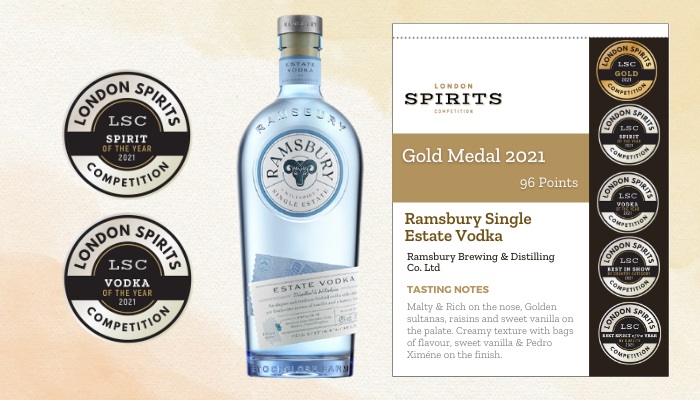 This vodka is made with two ingredients: Horatio wheat grown in the distillery's fields and their chalk filtered water, resulting in one of the smoothest and most elegant spirits available.
Here's what our judges had to say about this enchanting vodka:
"Sweet aroma with marshmallow notes, creamy body with interesting milk chocolate notes" - Ludovica Fedi, Head Bartender at The Gleneagles Hotel

"Malty & Rich on the nose, Golden sultanas, raisins and sweet vanilla on the palate. Creamy texture with bags of flavour, sweet vanilla & Pedro Ximenez on the finish. Sublime product!" - Kieran Grieves, Head of drinks development at the Cairn Hotel Group

"Estery notes, some fruitiness, alcohol a bit pronounced, peppery and long-lasting." - Luca Ponte from JW Marriott Grosvenor House
2. Taigun Organic Vodka
Hailing from Kazakhstan, this Taigun Organic Vodka produced by Maximus Llc acquired a gold medal with 93 points.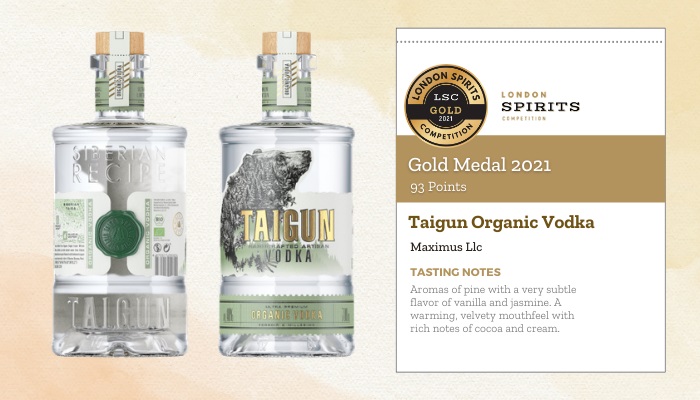 With 75% distilling experience, TAIGUN® Vodka is the world's highest quality wheat vodka, made with the finest Prairie Organic NON-GMO Verified Winter Wheat and manufactured using the artful science of handcrafted distillation.
TAIGUN Vodka has an authentic look that is influenced by a brutal character. The illustration of a bear serves as the main image. Splashes of Siberian berries, spices, and needles adorn the surface. As a reminder of the best that nature has to offer.
[[relatedPurchasesItems-39]]
Tasting notes: Aromas of pine with a very subtle flavour of vanilla and jasmine. A warming, velvety mouthfeel with rich notes of cocoa and cream.
3. Georgian Bay Vodka
Our second-time winner from Canada, Georgian Bay Vodka produced by Georgian Bay Spirit Co has picked up Best in Show by Country (Canada), and a gold medal with 92 points.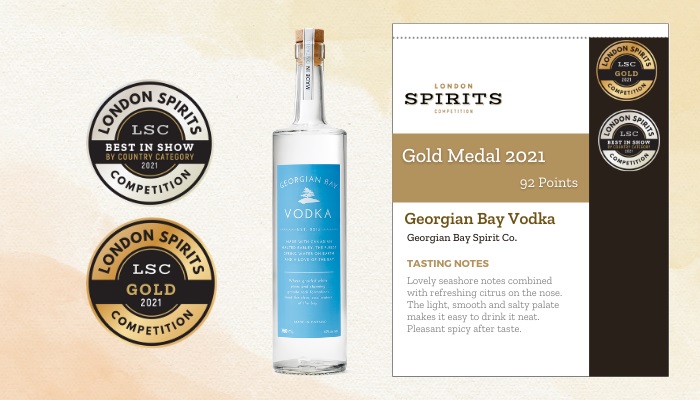 Crafted in small batches, its unique blend of two-row malted barley vodka and corn-based vodka lends unique notes of cereal, spice, and vanilla.
Tasting notes: Lovely seashore notes combined with refreshing citrus on the nose. The light, smooth and salty palate makes it easy to drink it neat. Pleasant spicy aftertaste.
4. Seacliff Vodka
This Australian vodka, Seacliff Vodka produced by Headlands Distilling Company was felicitated with a gold medal.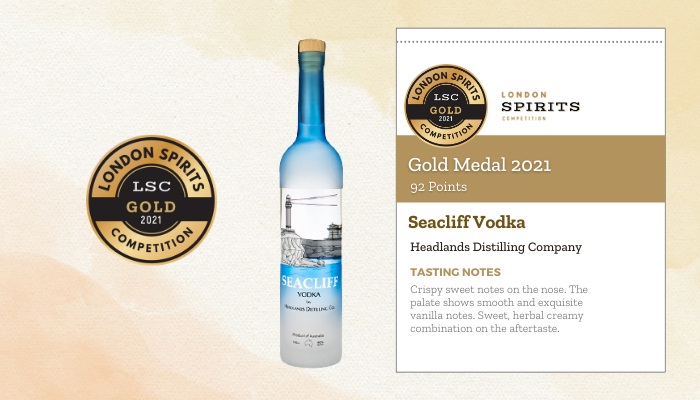 Seacliff Vodka is made from barley grown in the local area and can be traced back to individual paddocks. From the sowing of the seed to the bottling of the vodka, every move is carefully monitored. As a result, you'll have award-winning vodka that's eloquently smooth and ready to share.
Tasting notes: Crispy sweet notes on the nose. The palate shows smooth and exquisite vanilla notes. Sweet, herbal creamy combination on the aftertaste.
5. Misty Isle Vodka
Scoring 91 points, Misty Isle Vodka created by Isle of Skye Distillers, UK won a gold medal at the 2021 London Spirits Competition.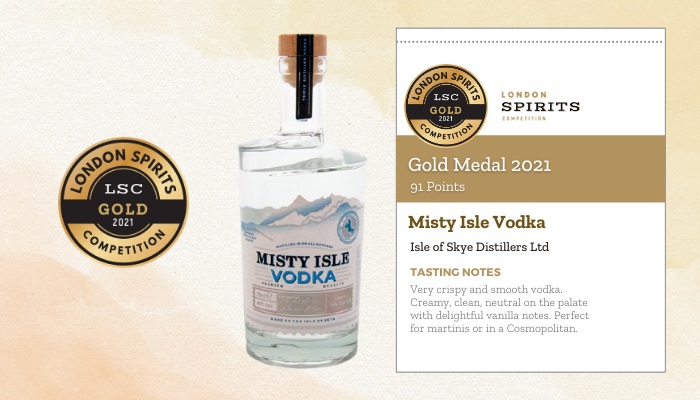 Misty Isle Vodka — the first vodka distilled on the Isle of Skye. To make a crisp, clean, and smooth spirit, it is triple distilled in small batches and finished by hand. The vodka is triple distilled in small batches using water from the Storr Lochs in Scotland.
The producer recommends serving the vodka over ice or with a premium mixer. It is also great in bespoke or classic cocktail recipes.
Tasting Notes: Very crispy and smooth vodka. Creamy, clean, neutral on the palate with delightful vanilla notes. Perfect for martinis or in a Cosmopolitan.
6. Henstone Distillery Charcoal Filtered Vodka
Winning a gold medal, this Henstone Distillery Charcoal Filtered Vodka produced by Henstone Distillery scored 91 points.
This award-winning vodka is distilled using a base of wheat together with our barley spirit. It's than charcoal filtered resulting in superbly smooth vodka which is equally at home as a shot, over ice or the base of a classic cocktail.
Tasting Notes: Fruity nose with hints of overripe bananas. Smooth, juicy mouthfeel, some fruit sweetness, and notes of banana and malt.
7. G.H.Q. Scottish Vodka
Hailing from the United Kingdom, this G.H.Q. Scottish Vodka produced by G.H.Q Spirits secured 91 points and won a gold medal.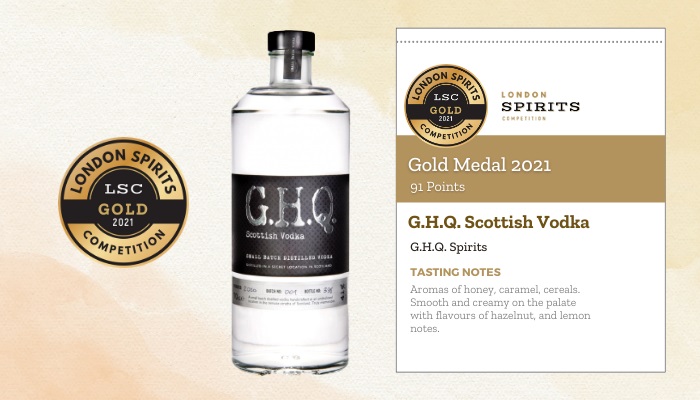 This is a fairly mysterious vodka from the G.H.Q. series made all the way up in Scotland. Made with a hint of hazelnut and honey, as well as Cairngorm Mountain water, this should work well in a variety of classic cocktails and mixed drinks.
Tasting Notes: Aromas of honey, caramel, cereals. Smooth and creamy on the palate with flavours of hazelnut, and lemon notes.