Top 7 Scotch Whiskies that Impressed the Judges in 2018 London Spirits Competition
06/07/2018
Here are the top 7 Scotch Whiskies that Impressed the Judges in 2018 London Spirits Competition.
The judges of the London Spirits Competition 2018 blind tasted more than 250 whiskies and assessed them on three factors, Quality, Value and Packaging. Here are the top 7 Scotch Whiskies that Impressed the Judges in 2018 London Spirits Competition.
Dewar's 18 Year Old The Vintage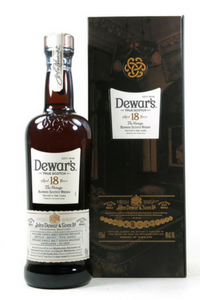 Dewar's 18 is in bright gold colour. The whisky has a fruity aromas of candied orange peel and lemon, anise ripe berries, green pear cobbler, and banana bread with a satiny, fruity light-to-medium body and a silky, compelling, medium-length frosted cherry pop tart and stewed raisin, cinnamon-dusted creme brulee, ground ginger with heather, and pimiento and honey sesame candy finish. Flavour Notes HONEY Heather honey poured over fruit. MARZIPAN Almond and vanilla cream, with smooth butterscotch.
Tomintoul 16 Years Old Single Malt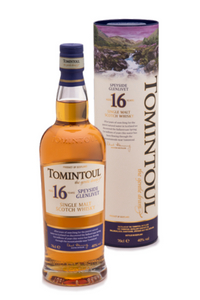 Tomintoul Single Malt is the 16 year old single malt Scotch whisky from the Tomintoul distillery, matured in selected bourbon casks. The nose is made up of apples and pears topped with vanilla ice cream. Soft, indeed every bit as gentle as the label promises, as the light oils coat the palate with a fabulously intense and delicately sweetened barley skin. A wonderful, multi-layered interplay between malt and oak-vanillas.
Glencadam 19 years Old Olorosso Sherry Cask Finish Single Malt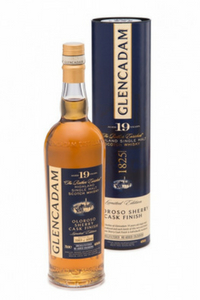 Glencadam Distillery launches limited edition of its Highland Single Malt – Oloroso Sherry Cask Finish Aged 19 Years. The Glencadam 19 years single malt whisky is ripe golden barley in colour. A 19 year old single malt Scotch whisky, from the Glencadam distillery up in the Highland region, which has been treated to an Oloroso Sherry cask finish before bottling at 46% ABV with no additional colouring or chill-filtration.
Old Ballantruan 15 Years Old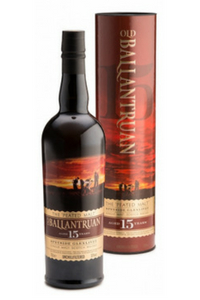 This is the first Old Ballantruan to come with an age statement, having matured for a decade. The softly spiced single malt is a delight, conjuring strong peat notes and bottled at a stout 50% ABV. Old Ballantruan 15 Year Old is distilled in the traditional manner in the prestigious Speyside Glenlivet region, and unusually for this district, it is made with heavily peated malted barley to impart a distinctive and unique flavour.
Dewar's 12 The Ancestor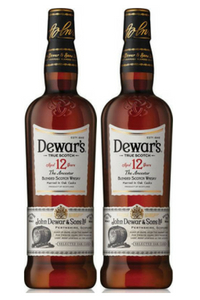 Dewar's 12 years old blend, called 'Double Aged' due to the 6 months of marrying in oak casks that the whisky does after initial maturation and blending. The colouring is dark gold, light brown plus some faint reddish tints. The nose is a very pleasant surprise. It's middlingly aggressive in nature, but without any alcohol burn. It's full of sweet oak, fruit and accompanied by a nice floral compliment.
Tomintoul Tlath Single Malt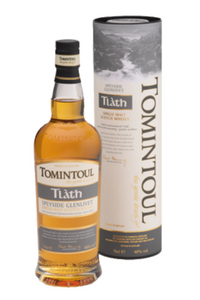 Tomintoul Tlàth is the result of a very careful selection of individual casks. The hand-chosen collection consists of whiskies of various ages matured in first-class American oak bourbon barrels. The Malt colouring is golden straw. The nose is quintessentially Speyside light, with some sweet toffee and vanilla and hints of mint leaf and citrus peel.
Dewar's 25 The Signature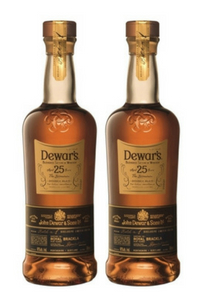 DEWAR'S remains dedicated to age statements as a sign of craftsmanship and quality. The release of DEWAR'S 25 is part of a testimony and ongoing commitment for age statements across the premium range. Over 40 of the finest grain and single malt whiskies aged at least 25 years and older are blended together and then filled into the specially selected oak casks to begin the six months long double-ageing process. In an extra step unique to the new 25-Year-Old expression, the whiskey was then filled into a set of freshly disgorged Royal Brackla casks for an extra period of finishing.