2023 Registration
London,uk
March 22, 23 & 24
Closed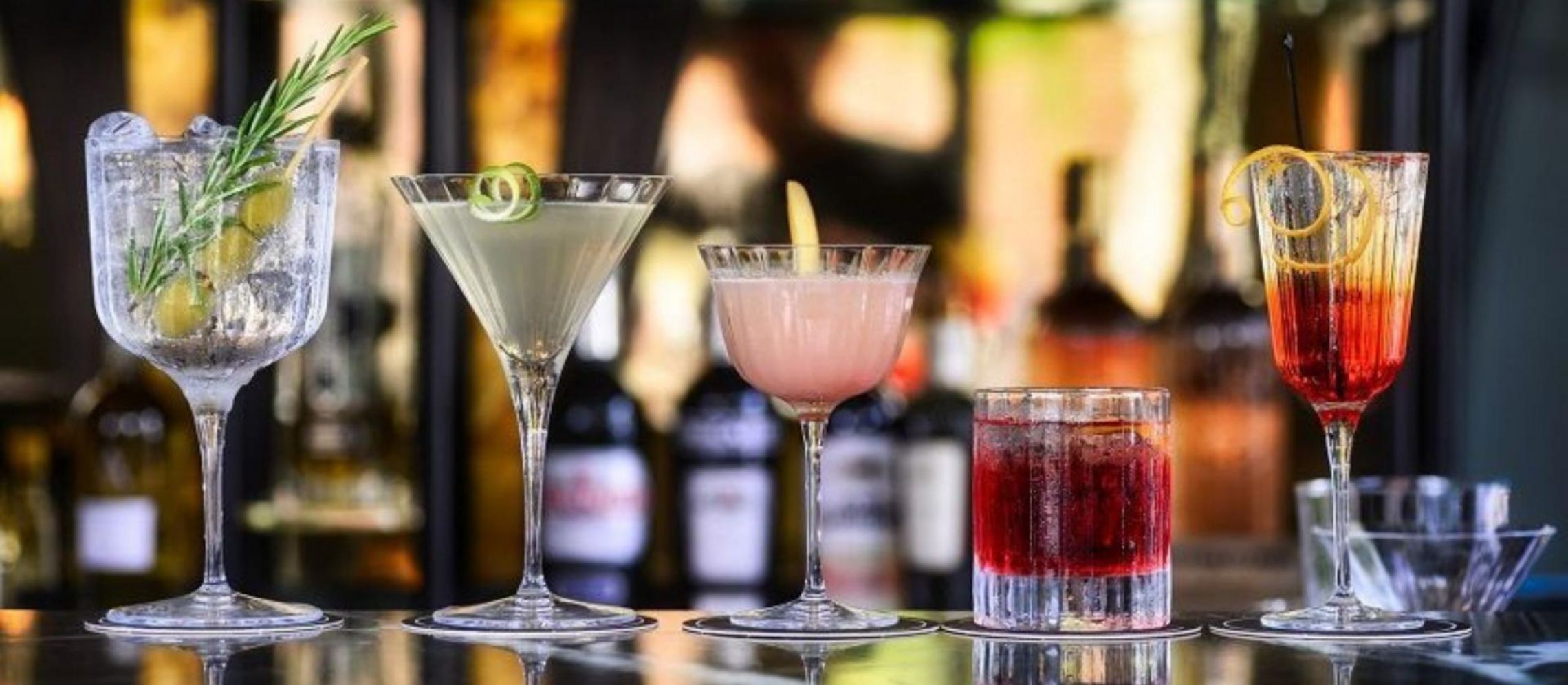 Top Hot-Shot Bars To Visit in London in 2022
It's hard to choose just one bar when you have multiple options available. Don't worry; this list of the top 5 hot-shot bars in London will assist you in making a decision.
When it comes to restaurants and bars, London is world-class. There is no surprise that with a new day, a new bar or restaurant pops up in the city, but which of them are worth going to is the question. This list below will help you keep track of the best bars in London with which you can not go wrong. This list includes some classic bars, so no matter if you're looking for a place to chill with your friends on the weekend or a place to have a meeting in the middle of the week, we have got you covered. Whatever you're looking for, we've already found it!
1. American Bar, The Savoy London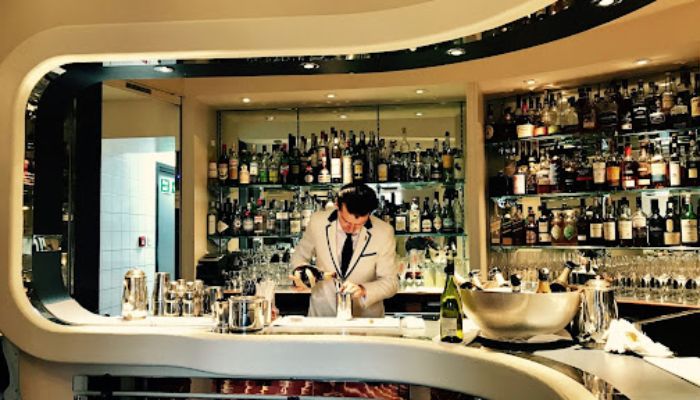 Image Source: A Man walked into a bar
Opened in 1893, the American Bar is one of the most well-known cocktail bars and has been around the longest in London. The bar serves 'American' drinks or cocktails, as the name suggests. Even though the bar is pretty old, you'll not feel it when you visit. It's the perfect blend of vintage and new drinks with a twist, and you definitely can not miss Harry Craddock's famous White Lady, which was first served here in 1919 before it became famous worldwide. It received the World's Best Bar Award at the Tales of the Cocktail Spirited Awards in 2018 and the World's 50 Best Bars in 2017.
- Visit American Bar's Website
- Location: The Savoy, Strand, London WC2R 0EZ, United Kingdom
2. The Connaught Bar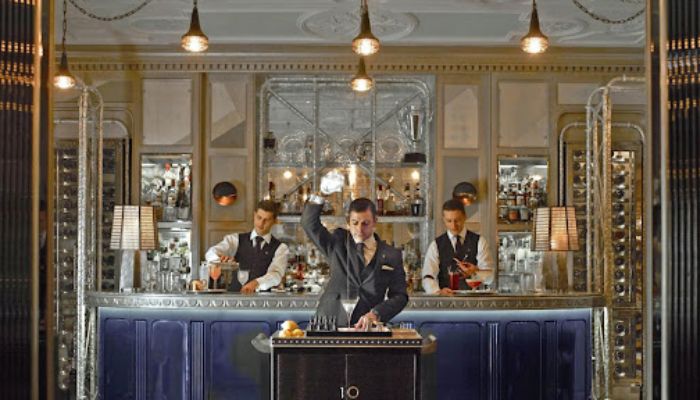 Image Source: Forbes
The Connaught Bar, designed by David Collins Studio, is inspired by 1920s Cubist art. The lounge is stylish yet elegant and oozes sophistication and class. Agostino Perrone the Master Mixologist for the Connaught Bar shares his secret for making the cocktails, "The secret to building a great cocktail is the ice". Winning the World's Best Bar Award in The World's 50 Best Bars 2021, The Connaught Bar is hard to compete with. The Drink collection is outstanding. Not only their wines but only the whiskey and champagne collection are worth trying. Few of their delicacies you can indulge in are egg toast caviar, crispy sushi with chipotle mayo or black truffle, and Comté fritters. They also have a very unique tradition called the 'The Martini Trolley' herein, you can decide if you want a dirty martini, a twist, or one infused with flavors. The trolley has everything to make the perfect martini for you.
- Visit The Connaught Bar website
- Location: The Connaught, 16 Carlos Place, Mayfair, London
3. Nightjar, Carnaby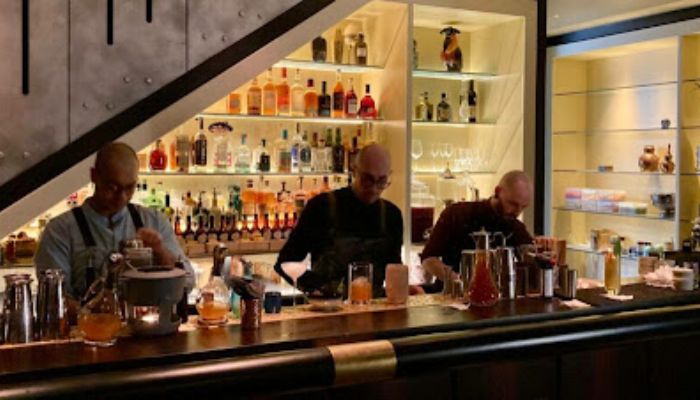 Image Source: Miss Jones Group
Nightjar first opened ten years ago in Old Street, London, and has been one of the greatest bars ever since. In April 2022, they opened another outlet in Carnaby, Soho, with the same 1920's vibe and live music. The cocktail menu includes drinks like Aztec Tapache- a refreshing drink made with Herradura, Chinotta & chamomilla liquor, Toronto - an old-fashioned style cocktail of Woodford Reserve Bourbon whiskey, and Name of the Samurai - Nikka whisky from the Barrel, Genmaicha popcorn tea infusion, and burnt bamboo shoots. It also has an authentic speakeasy when you crawl down the stairs.
[[relatedPurchasesItems-39]]
- Visit Nightjar, Carnaby's website
- Location: Nightjar Carnaby, Nightjar Carnaby, Kingly Court, 49-51 Carnaby Street, W1F 9PY
4. Lyaness, South Bank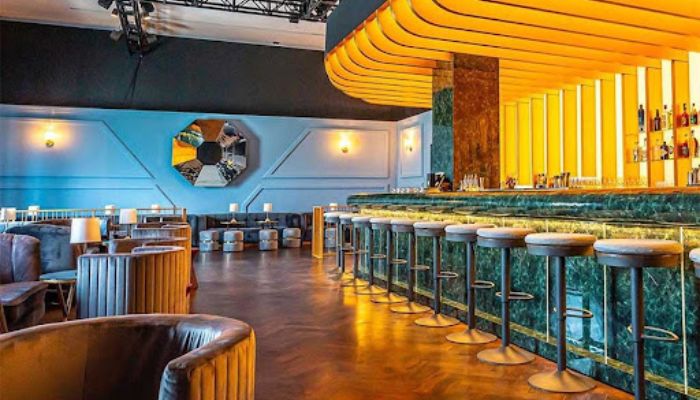 Image Source: Hot Dinners
Lyaness was created by Ryan Chetiyawardana, AKA Mr. Lyan, the Master Mixologist of London and is designed by Jacu Strauss and the Lore Design Team, who originally designed the Dandelyan. It borrowed a lot from the previous bar, Dandelyan, in terms of architecture and heritage. The team uses different and unusual ingredients to curate their menu. The space overlooks the Thames and is a comfortable but fun place. The bar is electric blue with green marbles and is quite pleasing. From Double Painkiller and Morning glory fizz to Highball and Snap Crackle Bellini, the cocktail menu is varied and flavourful.
- Visit Lyaness South Bank website
- Location: 20 Upper Ground, London SE1 9PD, United Kingdom
5. Bar Termini, Soho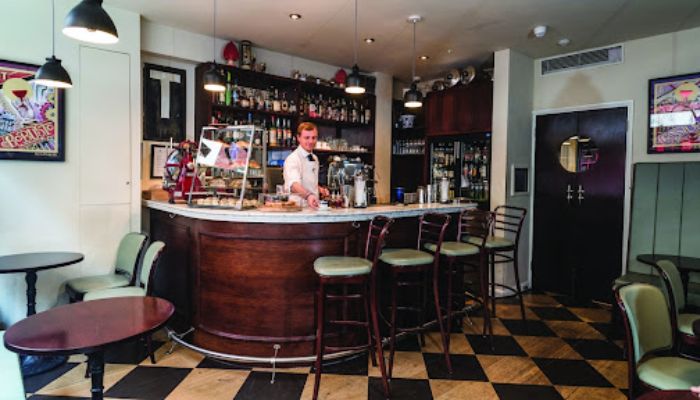 Image Source: Foodetective
Situated on Old Compton Street and inspired by the 1950s decor, Bar Termini is a tiny Italian bar. It has appeared in the World's 50 Best Bars list three years in a row, from 2016 to 2018. For people in need of caffeine, this place is a must-go-to. It has five flawless flavors of caffeine and some delicious pastries to pair along with it. The alcohol menu is not very elaborate, but the Negroni is a must-try. The drinks menu consists of the Spritz Termini, the Marsala Martini, and Death in Venice. If you're someone looking for food pairing along with your drink, you can try their burrata salads, caponata, Italian cheeses, and charcuterie.
- Visit Bar Termini's Website
- Location: 7 Old Compton Street, Soho, London, W1D 5JE
Header Image: Life Style Asia
Article by: Vidisha Dewan, Beverage Trade Network